Iran, or Persia, as it was called until 1935, has long exercised a powerful fascination for British politicians and adventurers and the British public.
The Victoria and Albert Museum embarks on its own milestone show this month, 'Epic Iran', in which curators are taking on the daunting task of telling 5,000 years of Iranian history in about 300 exhibits.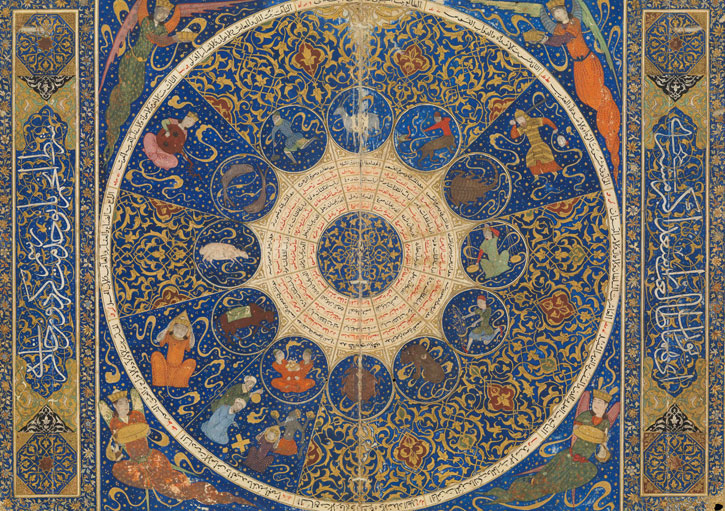 It will be, says the V&A, 'the UK's first major exhibition in 90 years to present an overarching narrative of Iran from 3000 BC to the present day.'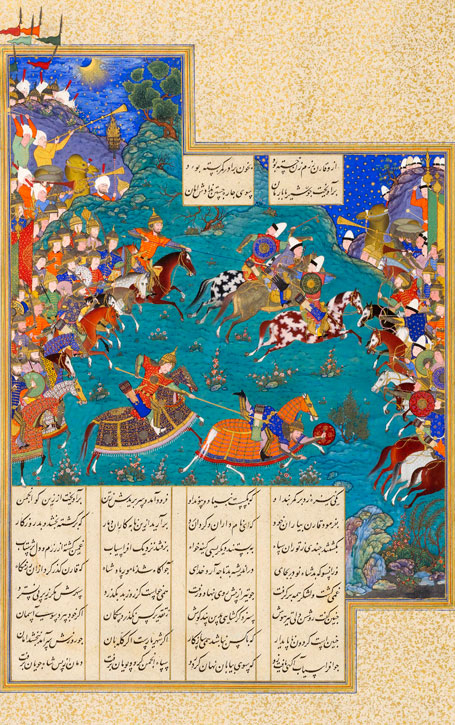 In 1931, the famous International Exhibition of Persian Art at the Royal Academy boasted George V and Iran's ruler Reza Shah Pahlavi as its patrons, drawing more than 250,000 visitors – including Winston Churchill and the Aga Khan.
'Persia in Piccadilly', as Time magazine called it, brought together 2,000 artefacts and works of art, insured for a reported $30 million, and was greeted with a special supplement in The Times. Cartoons in Punch showed cab drivers riding Persian carpets in what was called the 'West End Al-Ruschid Hour'.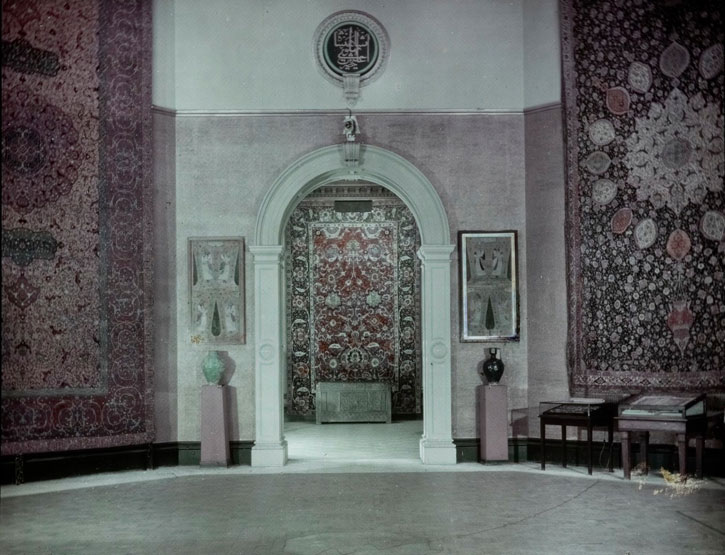 While vastly smaller than the 1931 show in number of objects, the V&A exhibition is far more coherently curated, and boasts loans from 30 collections and institutions, with a broad historical and cultural sweep.
The exhibits range from a gold armlet from the famous Oxus Treasure, dated 500–330 BC, to Turbulent, the work of Shirin Neshat, whose work in photography and film has made her an iconic Iranian artist of the twentieth and twenty-first centuries.

Britain in 1931 was deeply enmeshed in the affairs of Iran and its oil production, creating a legacy of distrust that remains to this day. Reza Shah Pahlavi's royal loans to the exhibition did not prevent Britain from ousting him as ruler in favour of his son Mohammed Reza Pahlavi in 1941. In 1953 Britain kept Mohammed Reza Pahlavi in power by helping engineer the 1953 coup against the country's democratically elected Prime Minister.
But the fascination with Iran goes back much further. In 1626 the East India Company commissioned this portrait of Naqd Ali Beg, who visited London as the envoy of Shah Abbas I, with the light playing on his lavish robes of silver and velvet cloth.
The slightly doleful expression might reflect that his embassy was a humiliating failure and tragically he died by suicide while on his way home.
Two oil paintings in the show from the Royal Collection show a 'surprising story about contact between Britain and Iran in the late seventeenth century,' says the show's co-curator Tim Stanley. After Isfahan became the country's capital, trade saw the foreign population of both Indians and Europeans increase.
At the same time, mostly Armenian painters began working in oils for the first time and seem to have supplied colourful portraits of Isfahan's beauties for the European market. These full-length Iranian portraits made their way to British country house collections, and in modern times have made their way back to Iran and the Gulf as collectors there have bought them up, Stanley said.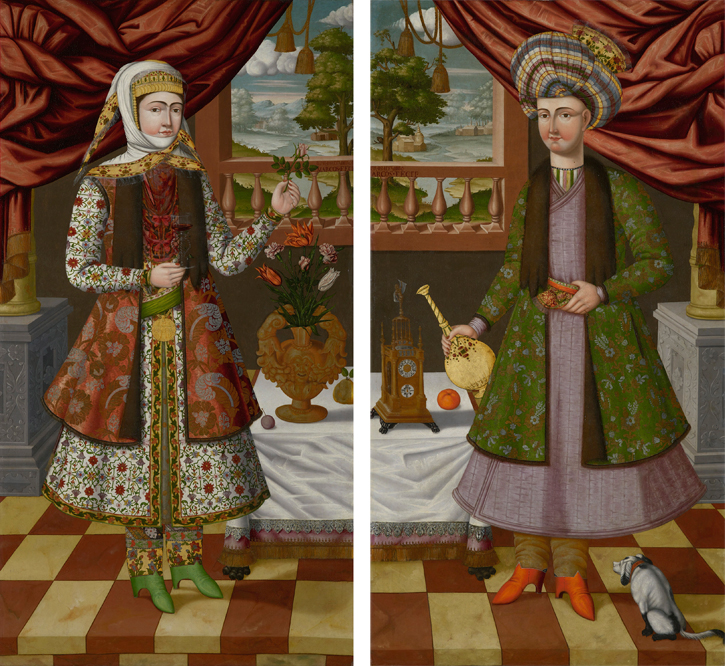 But the Armenian portraits that remained in the Royal Collection were both signed and with inscriptions describing their subjects, making them particularly valuable. The frames are similar to other chinoiserie paintings that were reframed under Queen Anne (1665–1714).
The V&A has one painting that shows the ruler of Iran in the eighteenth century, Nader Shah.
While it's another of the first paintings in oils from Iran, and is thus quite important, it is fairly unexciting, and required a lot of interpretation, Stanley said. It did not make the cut for the show.
Britain and Europe's fascination with Persia flourished anew in the nineteenth century. Iran's then ruler Naser al-Din Shah Qajar made three tours of European capitals. When he came to Britain in 1873 streets lined with cheering crowds, and even the patients at St Thomas' Hospital came out to take a look. The exhibition features a watercolour portrait of Naser al-Din Shah and a photograph.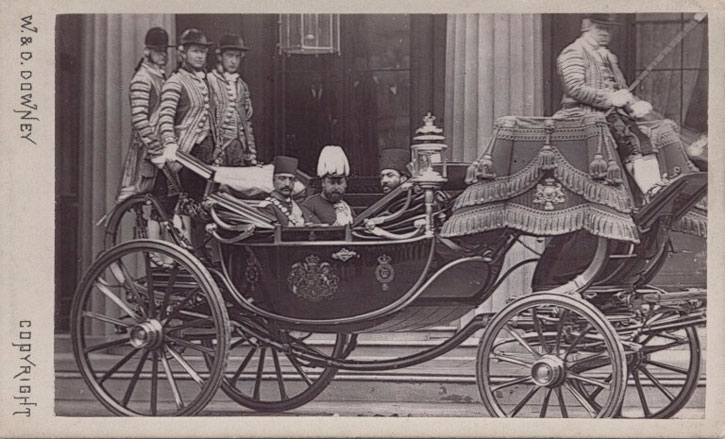 Naser al-Din had developed a keen interest in photography, especially after photographic equipment was gifted to the Iranian royal family from both Russia and Britain. In his long reign, from 1848–1896, he made large numbers of photographic images of his household.
This fact has led to new speculation about a V&A painting that is prominent in the show: Ladies around a Samovar. The large work by the Iranian artist Isma'il Jalayir is two metres wide and was painted between 1860–1875.
'The painting shows the members of a great man's harem gathered on a terrace that overlooks a park with huge trees,' notes the exhibition catalogue.
'The women are taking tea, smoking and listening to the music of a stringed instrument called the tar and a tambourine.' Stanley explains in an interview. The picture both shows the stability of Iranian society and its changes: tea drinking only became popular in the middle of the nineteenth century. The mysterious impassivity, the stillness of the female figures suggested to Stanley 'that the women have actually been photographed, and the photographs supplied to the painter,' he said.
Isma'il Jalayir had been a graduate of the Dar al-Funun, founded in 1851 along the lines of a Western polytechnic. He studied calligraphy, but photography and lithography were also taught. He later had a studio at the school and was a teacher himself.
According to Stanley 'Ismail was an aristocrat but he wouldn't have been able to paint someone else's harem, as a result of sitting there and making drawings from life. This sort of painting with lots of figures in it, all individuated, different women who seem to have characters of their own, they all look extremely still. I think that is probably that they had to sit still for a photograph.'
Which then begs the question: who could boast a harem and a garden of such impressive scale, and who was the photographer? The most likely source was Shah Naser al-Din himself.
From the 1870s onwards the V&A built up an enormous collection of artefacts from Iran, reflected by the fact that a search for the country on its website pulls up 6,000 objects. But the fashion at the time was predominantly for Islamic art, while the British Museum collected antiquity.
The museum has a whole selection of colourful Qajar dynasty, nineteenth-century paintings, however, that aren't featured in the show. Most were purchased in 1876, and dated to earlier in the century. They show women in various poses, dancing and playing instruments, carrying sweets or pouring wine, including two striking female tumblers or acrobats, whose heads look out from close to the floor.
They were added to the collection on the heels of Naser al-Din's visit, and it's no slight that they aren't included. 'I had to eliminate so many things I wanted,' Stanley said. The two tumblers are already on show in the V&A's Jameel Gallery.
The source of the works goes back to the reign of Fath-Ali Shah Qajar, who reigned from 1797 to 1834.
After he came to power he embarked on an enormous palace-building programme, with galleries which might typically have a picture of the Shah at the end and paintings on the side walls which reflected some aspects of his court. Some of the niches would show women dancing or playing instruments.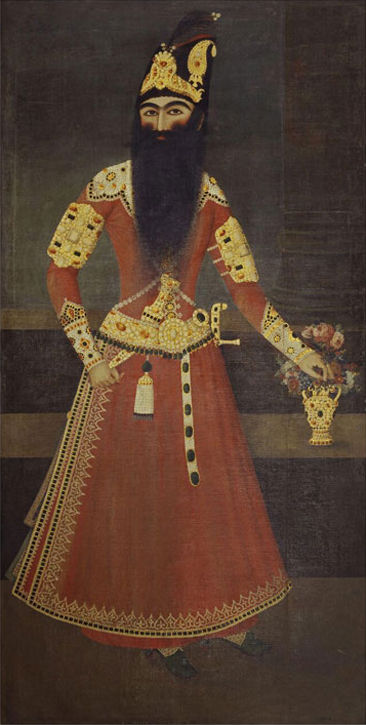 When he died and was succeeded by his grandson Mohammad Shah, tastes changed and some palaces were demolished. 'When they were knocked down they took out the paintings and put them on the second-hand market,' Stanley said.
'We don't really know where they came from. The original accession notices said they came from the Shah's palace, but they are quite varied, not all from the same palace I think.'
The richness and depth of Iranian culture have given contemporary Iranian artists a deep well to draw from – amply on display in 'Epic Iran'. It is only to be hoped that more Iranian works can be exhibited in British museums.
Tim Cornwell, freelance arts writer
'Epic Iran' at the V&A runs from 29th May to 12th September 2021