As generations of schoolchildren were taught, Elizabeth I of England famously said 'I know I have the body but of a weak and feeble woman, but I have the heart and stomach of a king, and of a king of England too.'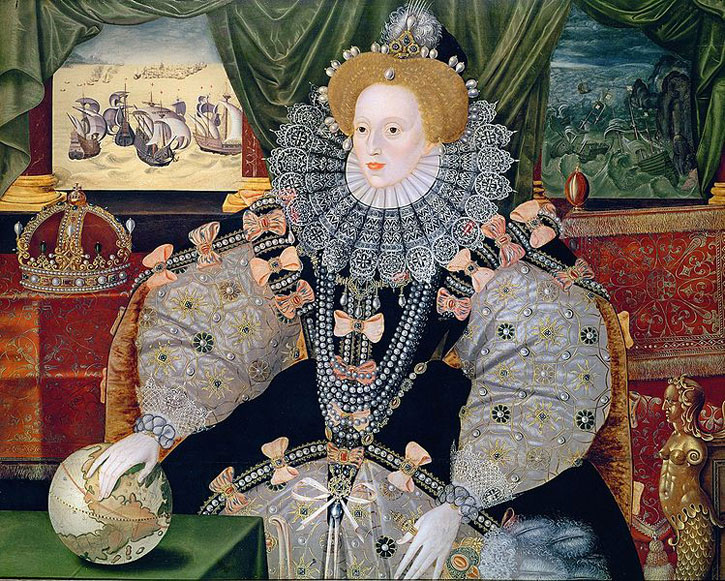 Although many great and sweeping statements have been attributed to influential figures in history over the years, leading experts on the last Tudor queen, including Professor Carole Levin, Professor Steven May, and Professor Janet M. Green, agree that it is very likely that she actually said these words. They are part of a longer version of a piece of rhetoric known as the Tilbury speech, delivered on 9th August 1588, which also marks the defeat of the Spanish Armada and propelled England to the top ranks of Europe's powerful navies.
On 8th February 1587, Mary Stuart, former queen of Scots, was executed for being involved in the 1586 Babington Plot. Philip II of Spain, allied with the Guises (Mary Stuart's French family), promised to avenge her. In reality, he saw this as an opportunity to justify an attack on England, since Philip and Elizabeth had been mortal enemies for some years by this point and Spain had long been preparing for an invasion.
As news of the invasion spread, England got ready for war. Ships were built and ports were armed. The Elizabethan navy was swiftly becoming the best in Europe, attacking Spanish and French cargo ships coming from the New World and stealing their goods and gold to be brought to Elizabeth. Perhaps inevitably, the war began – as the painting below depicts.
As the battle closed, a storm was ravaging the coast of England. English ships, smaller and more manoeuvrable, got through the tempest, while Spanish galleons, twice the size of English ships and far less manageable, were harried and capsized by the wind and the rain. English sailors and warriors saw this as an opportunity to intensify the attacks. This thorough defeat for the Spanish has been remembered for centuries, becoming the subject of a great deal of artistic expression during the period, particularly in England. The painting by Philip James de Loutherbourg (1740–1812) is a remarkable example of this.
England's victory was quickly portrayed as Elizabeth's victory. From her success over Spain and her mortal enemy Philip II, more and more Elizabeth was represented as a warrior queen, both artistically, in literature and in the political world of the time. In the painting below, she is portrayed rallying her troops atop a white horse, every inch the leader of Englishmen and warriors.
Elizabeth had done the impossible: defeating the 'invincible' Spanish Armada. One of the most famous portraits of her is the Armada Portrait (seen at the top of this article, in the collection of Woburn Abbey) which was then reproduced and copied by different artists, such as the one formerly thought to be by George Gower (in the National Portrait Gallery) and the one now in the Queen's House (Royal Museums Greenwich), acquired for the nation in 2016.
She is depicted sitting victoriously, with very strong – to not say enormous – arms to emphasise her virility and warlike image. From now on, Elizabeth was more than the Virgin Queen: she was Gloriana, and through this image of Gloriana she became a warrior queen, with a strong masculine stance.
After 1588, Elizabeth was portrayed as a dominant and powerful queen who controlled Europe. Another famous portrait of the queen, the Ditchley Portrait, shows her standing on the map of the world as a victorious monarch.
She represents glory, stability, and prosperity. The artist wished to indicate that after her confident and successful rule, only chaos could happen, hence the storm clouds gathering behind her.
In this portrait by Nicholas Hilliard, exhibited at Hardwick Hall, Elizabeth also has the same strong, masculine stance portrayed in the Ditchley Portrait.
Her arms are also enormous and her hand, poised on the armrest of the royal chair, points out to her initials: Elizabeth Regina, the symbol of her monarchical authority. Most historians, such as Professor John Guy, argue that there are two reigns of Elizabeth. In many ways, 1588 and the victory over the Spanish Armada mark the beginning of the second one. Elizabeth is no longer viewed in the royal houses of Europe as a potential bride for their princes. She is Gloriana, the famous warrior queen who defeated the most powerful country of Europe at that time: Spain.
After her death, artists and commentators clung to this warrior image, which was frequently reproduced and conveyed in portraits.
This portrait, for example, is an early seventeenth-century portrait of the queen exhibited at Charlecote Park in Warwickshire. Elizabeth's strong, masculine arms remind the viewer of the Armada Portrait. Despite the dark colours of this painting, Elizabeth is depicted as Gloriana.
Moving forward in time, Riehé was a mid-nineteenth-century artist who painted a series of English monarchs, including Victoria, Henry VIII, and Elizabeth, many of which presently hang in Hull Guildhall.
His depiction of the English queen is particularly masculine, looking more like a young man than a queen in her prime. All her feminine features have been masculinised. Her usual fairy wings or collar are replaced by an ornate bodice that looks more like a vest. It seems that the artist decided to paint a male version of Elizabeth to demonstrate her greatness as a ruler, which is perhaps unsurprising, given Victorian views of a woman's place in society.
The last major portrait showing Elizabeth as a warrior queen after her death is by Wilhelm Sonmans. A Dutch artist who lived at Charles II's court, Sonmans died in 1708, but during his career he painted important political figures of the seventeenth century.
In his portrait of Elizabeth, Sonmans decided to reproduce the strong and masculine arms earlier artists had gifted to the warrior queen. On the left top corner, her coat of arms with the lion and dragon stands out – reinforcing the image of the warrior queen, Gloriana. Her stance in this portrait reminds the viewer of the Ditchley and Armada portraits, which were likely influences.
Elizabeth I of England is one of the most famous English monarchs and the public has shown great interest in her reign. Her victory over the Spanish Armada is arguably what makes her so well known. To some extent, through this victory, Elizabeth was reborn, going from the virgin queen to a distinguished warrior queen, an image that was presented and remembered centuries after her death. One can easily claim that, true to her own words, she had 'the heart and stomach of a king.'
Estelle Paranque, historian and author
Further reading
John Guy, Elizabeth: The Forgotten Years, Penguin, 2016
Peter Lake and Michael Questier, All Hail to the Archpriest: Confessional Conflict, Toleration, and the Politics of Publicity in Post-Reformation England, OUP, 2019
Carole Levin, The Heart and Stomach of a King: Elizabeth I and the Politics of Sex and Power, University of Pennsylvania Press, second edition, 2013
Estelle Paranque (ed.), Remembering Queens and Kings of Early Modern England and France: Reputation, Reinterpretation, and Reincarnation, Palgrave Macmillan, 2019
Kevin Sharpe, Selling the Tudor Monarchy: Authority and Image in Sixteenth-century England, Yale University Press, 2009