My friend Elizabeth Finn, who died in April 2019, was the first artist I ever met. That is to say, she was the first real artist; one who had clearly undergone artistic training, and had genuine talent. Not only that but her work had an identifiable, sophisticated style that seemed an extension of her personality. In this she represented an important figure, certainly in my teenage years before I left home to go to art college myself, years in which I had a growing interest in art, one that became my life's passion.
My connection with Elizabeth began in Marple, the Cheshire town where I grew up, and where she and her son Christopher also then lived, above the premises of The Dolfinn Gallery, the business she set up in the late 1960s (she had, incidentally, been widowed quite early on). There she sold art materials, and showed pictures, including her own. She also framed pictures, including some of my early, untutored efforts.
Elizabeth was also one of the founders – in 1968 – of the Society of Marple Artists, of which she was Secretary in its early days. I joined the society when I was 18 in 1974. The members, mostly amateur painters, met on Thursday evenings at the Methodist Church, where they also mounted a show of their work each spring. L. S. Lowry visited these exhibitions on more than one occasion, and during his 1973 visit bought some of Elizabeth's work. The society continues to thrive in what is now its 51st year. Elizabeth was also a long-time member of the Manchester Academy of Fine Art, to which she was elected in 1974, and to which she sent work each year for inclusion in their annual shows.
Elizabeth studied at Chester School of Art, and went on to develop a highly accomplished technique in oils; also in gouache, the medium she especially made her own, and in which The Church on the Hill, Milnthorpe is a classic example. It combines a typical formal rigour with delicacy of mark and tone. The palette, appropriate in this depiction of Cumbrian landscape, is quite limited; a range of subtly modulated ochres, greens and greys. Whilst much of the paint is applied with a palette knife in short blunt marks, there is also a lot of fine linear drawing here, both in gouache and soft graphite. When comparing the painting with the sketchbook study on which it is based, one sees the degree of editing involved in establishing the final composition.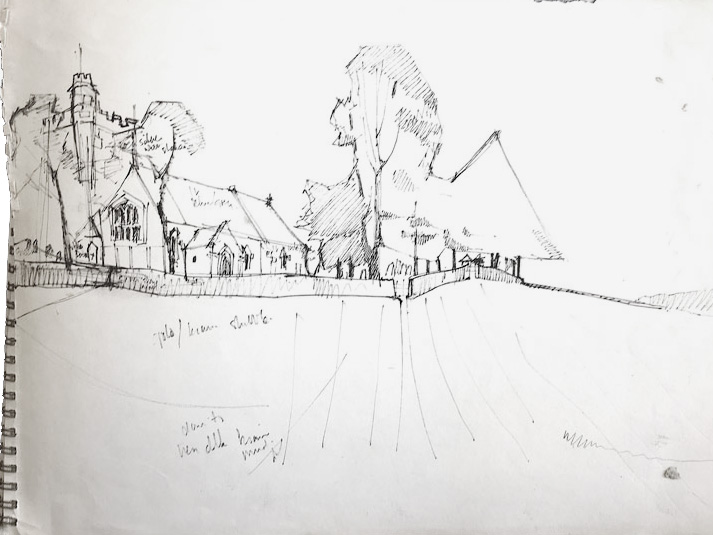 For example, the curves and angles of the wall that bisects the picture plane just beneath the horizon line now flex more sculpturally. Also, the expanse of ochre stubble that takes up half of the picture has been tipped forward, to create a vertiginous perspective.
Always productive, the subjects of Elizabeth's art changed as she lived and travelled in different places. In the 1960s and 1970s, whilst living in the northwest, much of her output was of landscapes of the local Peak District. Then, in the 1980s and 1990s, now living in London, she produced landscapes of the places in Normandy and Brittany she and her second husband Louis visited. There were also paintings of masked figures from the Venice carnival, and of New Orleans jazz festivals. After she and Louis moved to Lymington in 1994, they bought a flat in Deauville. There and in nearby Trouville she found many subjects in the local beaches and harbours.
I lost touch with Elizabeth for many years, but managed to track her down in 2008, visiting her in Lymington that November. Subsequently I saw her on several more occasions, and we kept in touch via email and the odd written note. She was always keen to have news about my work as a writer, always immensely encouraging. She remained the charismatic enthusiast she had always been.
Elizabeth exhibited extensively in the UK, America, and in France, and her work is in many private collections internationally. Along with the painting at Salford Art Gallery, her work is also represented in the collection of Stockport Art Gallery, which has two examples of her mixed media landscapes from the mid-1970s.
Ian Massey, art historian, writer and curator