'Earth Spells: Witches of the Anthropocene' is a major new contemporary art exhibition at the Royal Albert Memorial Museum and Art Gallery (RAMM) in Exeter, showing from 11th February to 7th May 2023.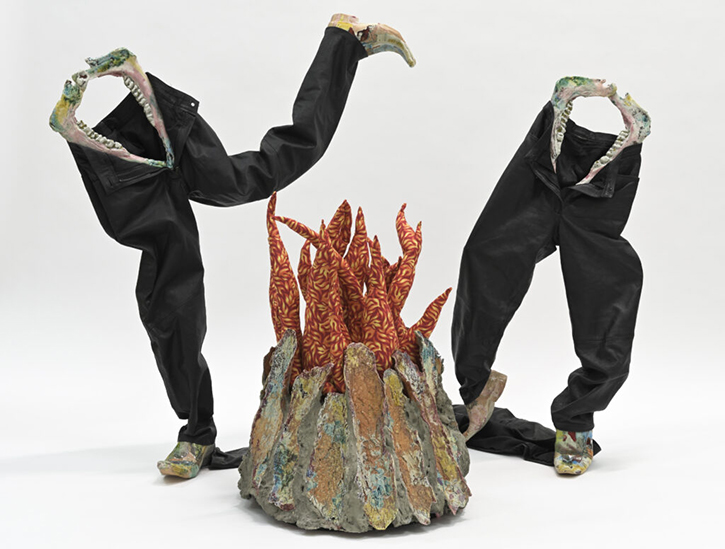 Through the work of eight contemporary artists, 'Earth Spells' explores emotional, spiritual and otherworldly connections to nature and our entanglement with it.
Central to the exhibition is a recently donated cauldron in RAMM's collection, once owned by the self-identified 'White Witch of Dartmoor', Elizabeth Webb. I first saw this in RAMM's stores when it was donated to the museum around the same time as I started in post as the Contemporary Art Curator.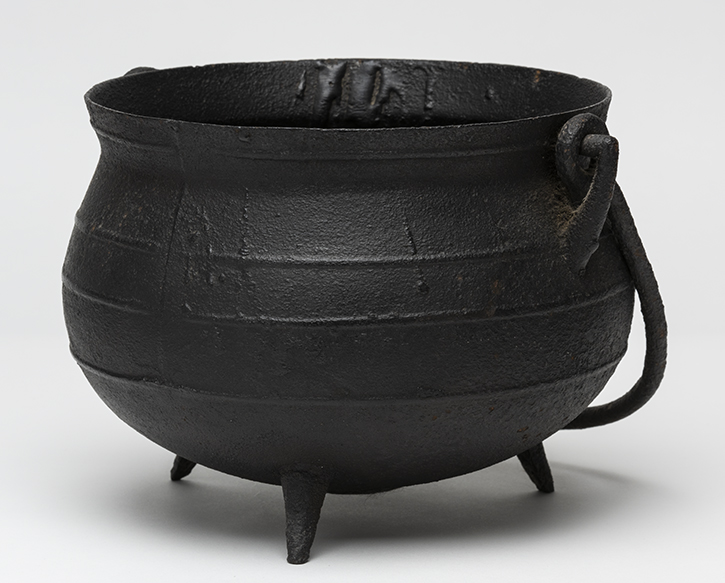 Webb would have used the pot for creating herbal, healing remedies. It is included in 'Earth Spells' to encourage visitors to reflect on how we can support a symbiotic relationship with plants. The artists Emma Hart, Florence Peake and Lucy Stein felt a strong connection to the object when they made visits to RAMM's stores.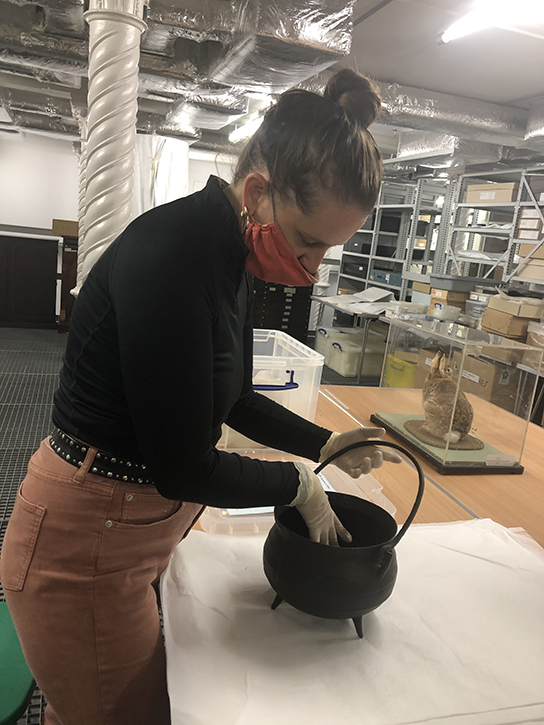 RAMM invited Gemma Lloyd, freelance curator, to co-curate Earth Spells with me. Reclaiming the term 'witch' for the twenty-first century, the curators reflected on 'how these contemporary artists are exploring their own relationship with the earth and an urgent need for a rebalancing and reciprocity with nature at this time'.
The show responds to the idea of the 'Anthropocene': which describes our current epoch of geologic time, when human activity has had – and is having – a significant impact on the planet's ecosystems, which climate scientists agree as beginning in the 1950s. We are living through dual ecological and climate crises caused by our own behaviour, identified by the presence of radioactive materials, pollutants, invasive species, fertilisers and plastics in the earth's strata.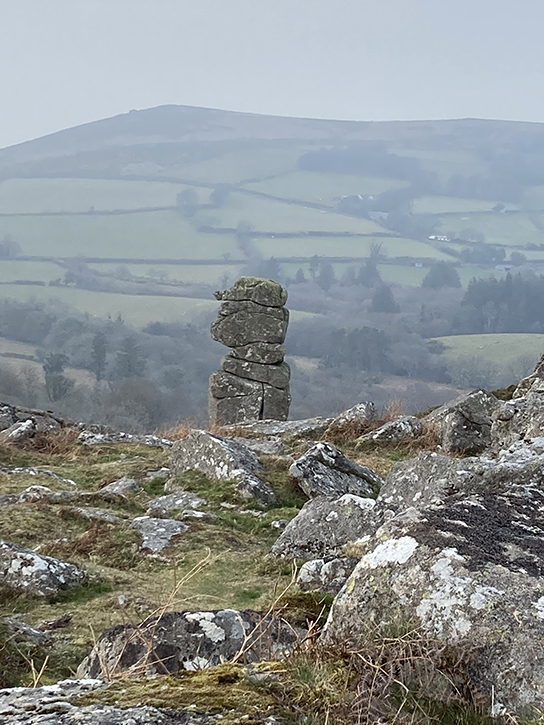 The works in 'Earth Spells' express a visceral, emotional response to the climate crisis, suggesting new spiritual relationships with the land, especially in Devon and Cornwall. Dartmoor is widely known as a place for self-healing and shamanistic practices with its Neolithic stone circles and burial mounds.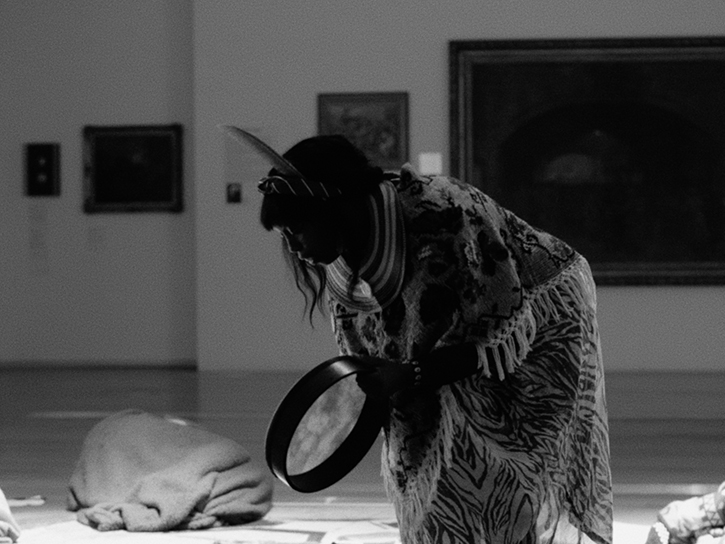 Through the artist's performances, installations and provocations, 'Earth Spells' invites the viewer to consider if the artists and the artworks could be perceived as suspicious and challenging, exuding what the curators describe as 'witchiness'.
Describing herself as a 'half-witch' or 'artist/witch', Lucy Stein's vibrant paintings conjure up a sense of wildness, challenging us to stop 'controlling' or 'civilising' the natural world. Mysticism, myth and Celtic identity are influences on Lucy Stein's work.
Based in West Penwith in Cornwall, she makes frequent visits to ancient sites and stone circles. For 'Earth Spells', Stein has created a vibrantly, colourful hand-painted Goddess pedestal/library steps – the idea for which came to her in a dream inspired by the site of the last witches to be tried in England at the castle behind RAMM. This new commission, funded by Arts Council England, also includes a group of oil paintings inspired by votive objects in the museum's collection. Together they form an installation with the actual objects, such as owls, snails and a burial urn.
A major theme running through all the show's artworks is a recognition of strangeness – or what many writers on culture refer to as the 'uncanny' – in the face of the unfolding climate drama.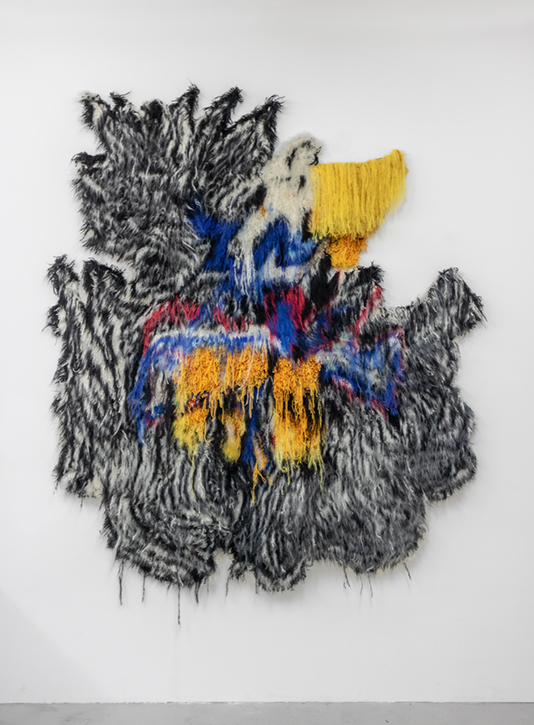 Amitav Ghosh proposes 'that non-human forces have the ability to intervene directly in human thought'. Here, the non-human or hybrid appears in the unsettling subjects of a work by Caroline Achaintre, whose hand-tufted rug Ghost Duck explores the boundary between a fantastical and conceivable creature. Known for her 'unheimlich' or uncanny aesthetic, she describes her textile work as being 'the connection to the unsettling within the familiarity of the materials'.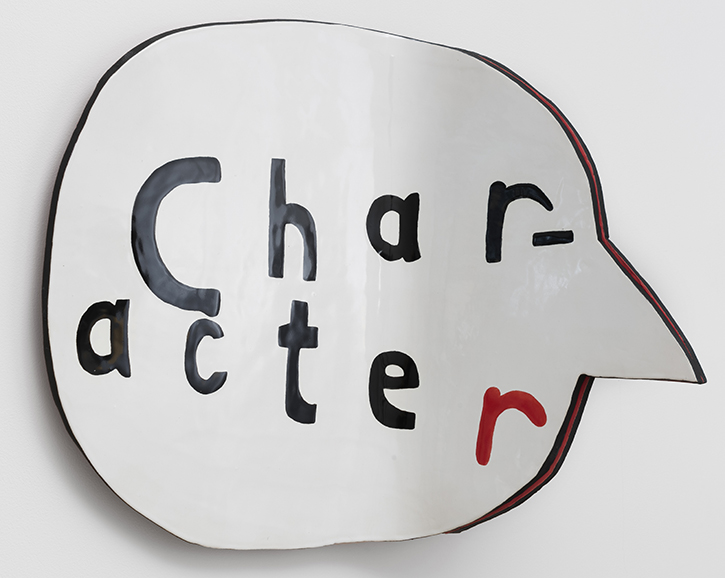 Emma Hart's new commission for RAMM, titled Good Vibrations (2023), draws a parallel between the concept of a spell as a series of words spoken to change things, and the speeches given by environmental activists to effect change in the face of the climate crisis – for example, looking to how Greta Thunberg's Skolstrejk för klimatet (School Strike for Climate) protest and subsequent speeches have become a catalyst for change. Hart explains, 'you can't make a promise or a bet without saying 'I promise' or 'I bet'. You need to say a spell to enact it.'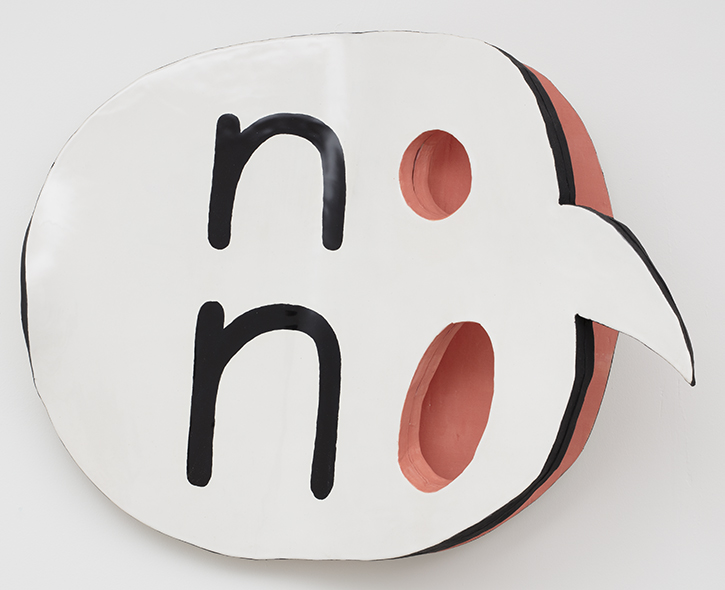 In Good Vibrations, thirteen ceramic round forms – the number of witches that make up a coven – suggest a group of talking heads, but they could also be read as 'targets' that Hart links to the persecution of women. Hart says, 'I'm into the hand-drawn circle as a productive loop that transfers energy and the ripple effect that speech can have on others.'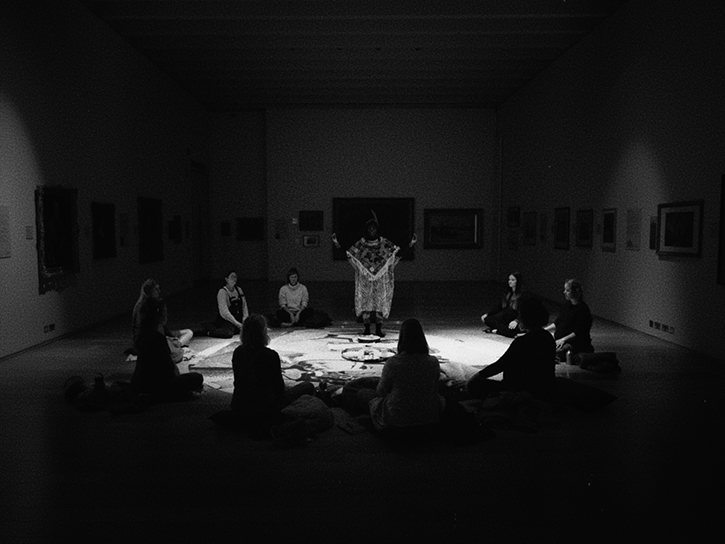 Many of the artistic practices in 'Earth Spells' are shaped and informed by a reconnection with nature and a respect for traditional ecological knowledge usually held by indigenous communities. Both Grace Ndiritu and Florence Peake explore alternative belief systems by working with and inhabiting shamanic practices.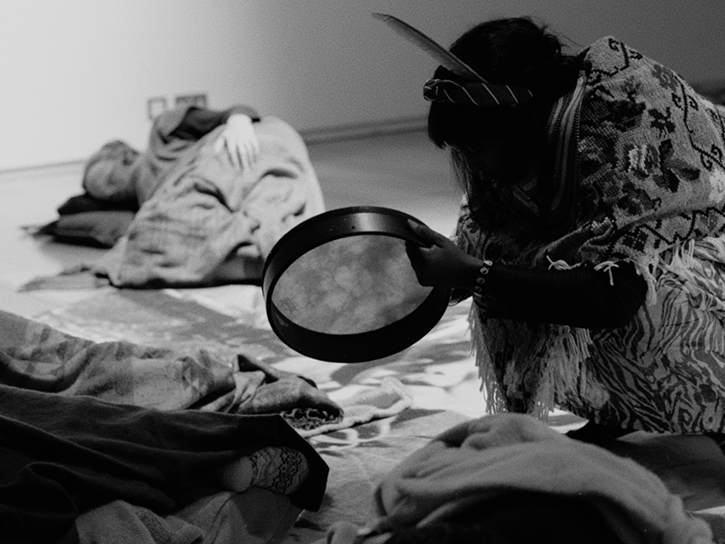 Grace Ndiritu's work draws on indigenous ideas that urge us to live and work for the benefit of all future generations and ecosystems. Ndiritu's circular protest carpet was 'activated' through an intimate, spiritual ceremony in the museum with pregnant participants – the film of this performance is displayed with the carpet. The artist prefers to identify with the term 'shaman' or 'priestess', which she connects to a radical reimagining of women's place in society.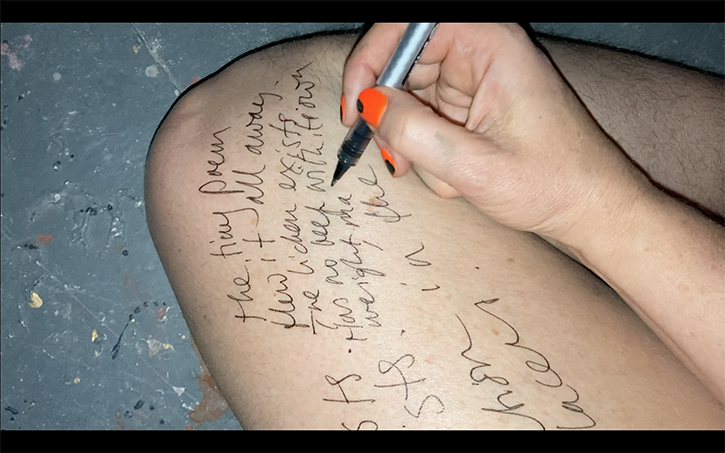 Florence Peake's commission for RAMM, The Lichen Exists, consists of text hand-painted onto fabric, short films of Dartmoor and a group of hand-moulded ceramics which came about after her visit to a shaman on Dartmoor, 'at a time of turmoil – here she took me to the soft moss on a granite tor. I laid face down amongst the rocks and sobbed the grief away.'
Using her fingers to remember the form and feel of the Dartmoor moss, Peake moulded and stretched clay to create a group of glazed ceramics in homage to an emotional time. This entanglement with nature brought about a sort of healing.
Peake refers to the text painted on the fabric as 'a banishing spell for shame and guilt' that came out of a time of personal crisis. The process of making began with her first visit to RAMM in the autumn of 2020 when she held Elizabeth Webb's cauldron. Describing her motivation for creating the work, she says:
'I wanted to think about Dartmoor and the cauldron and how witches are healers as a way of coming to terms with grief and finding some refuge for this time. I think of the 'witch' as perceiving objects, plant life, animals and the properties that life forms hold, whatever the density of their animacy, as collaborative rather than extractive'.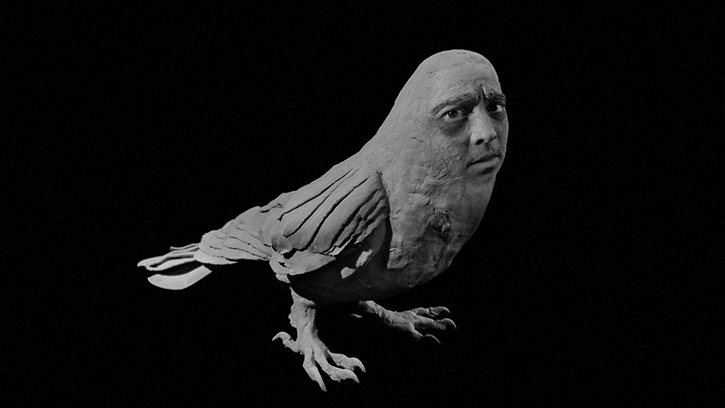 Other works being shown include a tapestry and prints by Kiki Smith, a hand-tufted rug by Caroline Achaintre, Mercedes Mühleisen's video installation Lament of Fruitless HEN and the sculpture Baubo Dance from Kris Lemsalu.
'Earth Spells: Witches of the Anthropocene' is showing at the Royal Albert Memorial Museum and Art Gallery in Exeter from 11th February until 7th May 2023, supported by Arts Council England. For more information visit the RAMM website.
Lara Goodband, Contemporary Art Curator & Programmer at RAMM, Exeter City Council
You can find out more about the 'Earth Spells' exhibition in this video: