Cathy Wilkes is a Glasgow-based Northern Irish artist who is representing Great Britain at the 58th Venice Biennale this year. Her famed sculptures and installations are not the most intellectually accessible – a deliberate effect the artist strives for in an attempt to preserve her work's authenticity on a viewer-by-viewer basis. Quoted on MoMa.org, Wilkes said there's 'no need for anyone to fully understand' her work.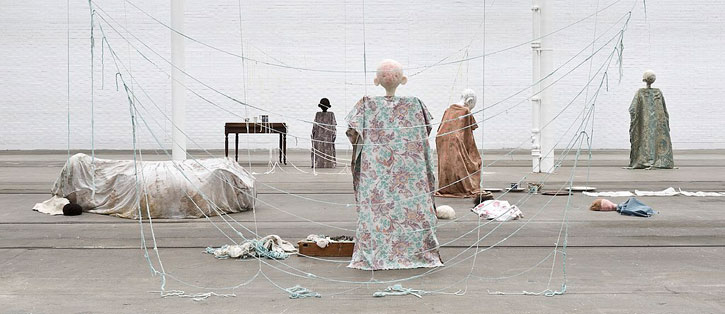 As much as they are abstract in concept, the pieces Wilkes uses to create her artworks are often found objects; readymades jostled into complex narratives that both confuse and enlighten. Wilkes' recurring themes include life, death, loss and love. Because Wilkes achieves in narrative what many short-cut to in style, her version of abstract is, thus, in the mind and not in the visual in which objects are manipulated to hint at meaning.
Wilkes' work (and insistence on lack of context) begs the question of whether sculpture has to be physically abstract to be considered complex, or is complexity more the oeuvre of the mind than the eye?
A lucky few thousand might mull over the subject as they view sculptural artworks at various events taking place in the UK and Europe this autumn. The Venice Biennale will provide ample opportunity, as will any other of the sculptural exhibitions taking place in the next few months like the Frieze sculpture park or the Royal Society of Sculptors' summer exhibition. Those of us unable to make all the shows have platforms like Art UK that enable us to view similar styles in the canon, providing the opportunity to contemplate topics raised by them from the convenience of our smartphones.
So, in practice, which of the pieces below are truly abstract – and where do they fall in the internal-external complexity debate? Well, here are just some of the abstract sculptures on Art UK so far. And, in honour of the Biennale representation from Great Britain being largely female, the following artists are all female too.
Barbara Hepworth
An alumna of the Royal College of Art in London, Barbara Hepworth honed her skills while living in Italy with her then-husband John Skeaping and took lessons in how to carve marble from master-carver Giovanni Ardini.
Hepworth eventually went on to show her work at the British Pavilion of the 25th Venice Biennale, in 1950 (as well as showing in São Paolo and Tokyo).
Hepworth's Trewyn Studio later became the Barbara Hepworth Museum (1976) and is now run by the Tate, along with Tate St Ives.
Elizabeth Frink
Influenced by the renowned sculptor Alberto Giacometti, Elizabeth Frink was known for the unusual manipulation of angles in the forms she often sculpted.
Recurring themes of the Royal Academician were works in bronze in the likeness of birds, man and deity in human form – dealing with loss, pain and death through subtle deformity.
Sara Barker
Known to breach the boundary between sculpture and paint, Sara Barker's compositions incorporate multimedia forms such as metal, glass, wood and paint.
She treats her subjects like three-dimensional drawings and uses sculpture to represent the 'spaces between' that exist in every facet of living.
Camilla Løw
A graduate of the Glasgow School of Art, Norwegian artist Camilla Løw's works live in aesthetically pleasing simplicity.
In her own words, Løw uses sculpture to 'investigate what might be seen as traditional sculptural or architectonic concerns with form, space, rhythm, tension, balance and the properties of materials.'
She places emphasis on the anthropomorphic ways we tend to view objects.
Shirazeh Houshiary
Turner Prize-nominated (1994) artist Shirazeh Houshiary has had her work featured at the Venice Biennale (1982/2017), the Biennale São Paolo (1996), as well as other Biennales in Sydney (2010) and Kiev (2012).
Her extensive body of work is a testament to her prolific skill and she has become known for her striking sculptures in a range of mediums from cast iron to steel and glass.
Patricia Yaker Ekall, journalist