L. S. Lowry (1887–1976) is without doubt one of the most important artists of the twentieth century. His painting depicting spectators going to a rugby match recently sold for £2.9 million at Sotheby's.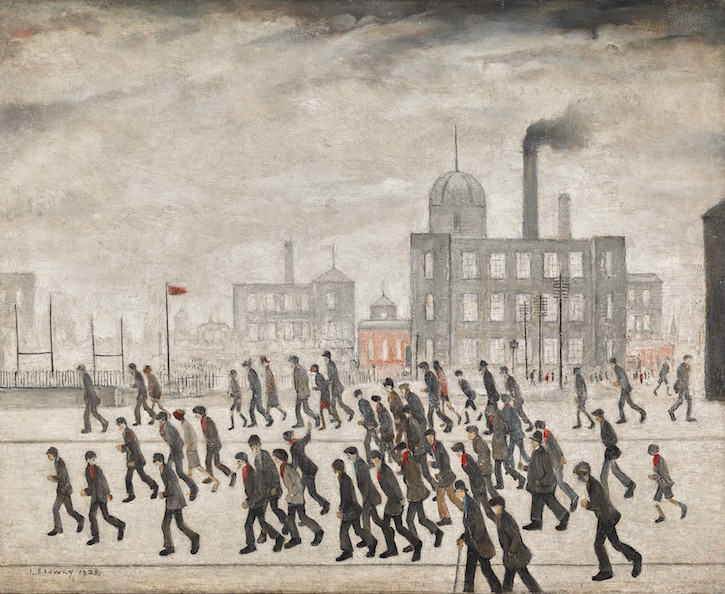 The work is a typical example of Lowry's unique visual language, into which the artist had matured after many years of tuition under his French art tutor: Adolphe Valette (1876–1942), who pioneered Impressionism in Manchester.
Lowry did not always paint in what has become his iconic style, but rather in a way that what was close his teacher's pictorial approach.
It is actually little known that, for at least 15 years, Lowry was taught by the charismatic artist Adolphe Valette, who introduced Impressionism into the Manchester art sphere. Valette had an important influence on Lowry's style and subject matter.
In 1905, L. S. Lowry started attending evening classes at the Manchester Municipal School of Art and it was there that he first met Adolphe Valette: Lowry was 17 and Valette was 28 years old. Valette's talent as a draughtsman and artist was quickly spotted and he was offered a full-time teaching post at the school.
Valette was a late Impressionist (he was born when Impressionism was beginning). He was not a creator or an inventor of Impressionism but a passionate follower and admirer of the movement. He applied Impressionist techniques in his own works and pioneered a new pictorial approach in Manchester.
Lowry declared: 'I can't overestimate the effect on me at that time of the coming into this drab city of Adolphe Valette, full of French Impressionists, aware of everything that was going on in Paris. He had a freshness and a breadth of experience that exhilarated his students'.
Valette was extremely inspirational and so different than the other teachers at the art school. He taught by demonstration. He would go round his students and make little annotations or alterations on their work to show them how it should be done.
Valette urged his students to follow the principles of the French Impressionists: to paint en plein air (outdoors, not in a studio), to analyse the variations of the light, to render the fleetingness of the moment, and also to depict the 'Modern Life' of the cities, which includes the observation and the representation of industry as a theme worthy of interest.
Lowry is best known for his depiction of the industrial landscape in and around Manchester and the northwest of England. However, Lowry did not always paint in the style he is known for. His first paintings were in line with the Impressionist paintings of his master Valette. He said: 'I was going through my Impressionist period'. Several works by L. S. Lowry are testament to this.
Clifton Junction, Morning and Clifton Junction, Evening by Lowry, painted in 1910, were painted en plein air. Clifton Junction was not far from Lowry's house in Pendlebury, to which the artist moved in 1909, so he could walk to his subject matter with his easel and brushes. With these two paintings, Lowry was in the tradition of the Impressionist painters in so far as he chose the same subject and studied the variations of the light and the landscape at different hours of the day. Lowry experiments with the impasto and the colouring, he works on the sky with rather thick dabs, and the painting bathes in a closed-tone repertoire of colours. There are defined planes in the painting: the sky, with its thickly painted and heavily worked clouds, a row of houses and a church spire, and a richly coloured foreground.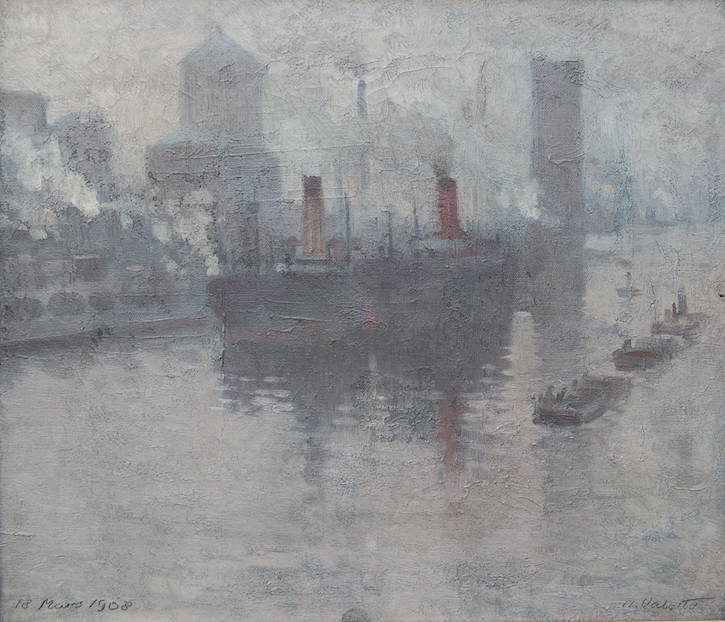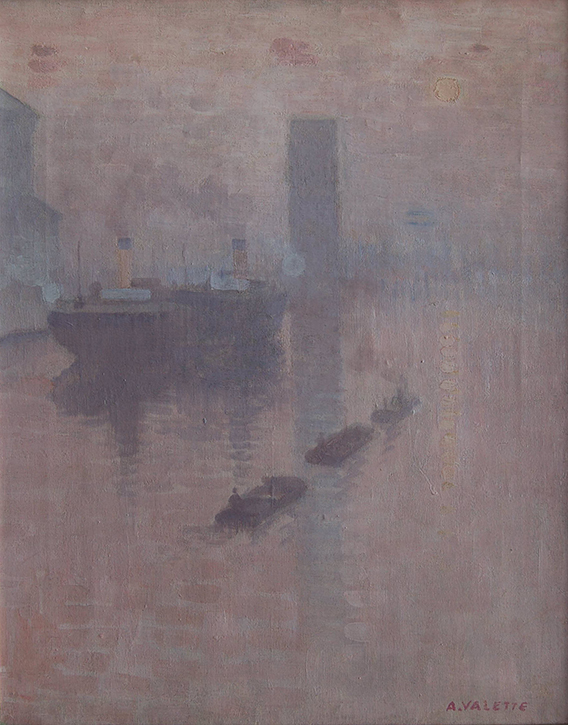 A couple of years earlier, Lowry's tutor Valette also studied the fleeting and changing effects of the light at different times of the day, and applied this here, for example, to a Manchester industrial landmark, the Manchester Ship Canal. In this subject matter, Valette was close to the painter Monet (who he admired so much) and who often painted the River Thames.
In some other early works by Lowry, the kinship with Valette and the Impressionists is apparent. The colours are vivid, the brushstrokes are thick and visible, the movement unashamed. The small painting Country Lane by Lowry is a notable work and can be very much compared with the pochades by his tutor Valette – for example Central Station – small, quickly executed sketches and studies that Valette did in Manchester or in the countryside where he took his students to painting classes.
In some interviews, Lowry has also credited Valette for his influence of 'his seascapes of the Fylde coast'. Valette did not make a large number of seascapes, so the reference by Lowry is probably to be widely understood as to the way that the Impressionists, including Valette, relished depicting these relaxed scenes of water and boats, as well as landscapes and holiday places. This is corroborated by Mervyn Levy who noted, when he visited Lowry's home in 1961, that he saw there 'drawings of boats, and quay-sides, and a few shimmering pastels of landscapes, reminiscent of the Impressionists'.
After a certain number of years, Lowry stopped painting like his master. In 1970, to his friend Hugh Maitland, who interviewed him, Lowry recalls his feelings towards the Impressionists when first introduced to them: he said that they were wonderful pioneers, and that he admired them for bringing a new thing into the art world, but that his own outlook was to paint the industrial scene – watching people working, going to a factory, coming back from a factory, 'all living'.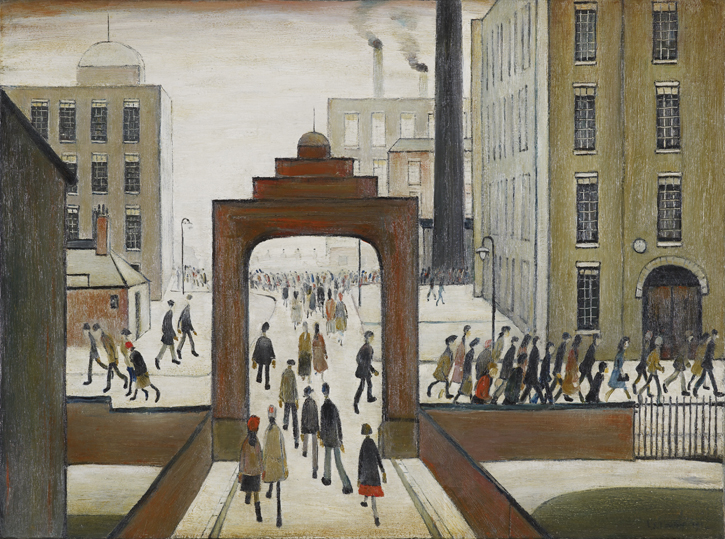 Regarding the depiction of modern life and the industrial landscape, it is Valette who – chronologically – first started to record the industrial landscape in and around Manchester. Valette did this with his Impressionist palette. Lowry started to absorb some technical elements used by Valette on his canvasses: the anonymity, the facelessness of the crowds, the placing of structural elements (like factories or buildings) on both sides to delimit the painting, the importance of an architectural focus point.
After Lowry moved to Pendlebury in 1909, a rather industrialised part of Manchester, and was working as a rent collector, he was confronted on a daily basis with the reality of the harsh environment. It is then that he started painting what he saw around him. He thought it was a subject matter worth investigating, however he had not yet found his own style to depict it. He made some tentative endeavours between 1915 and 1920 which were dismissed by his teachers at the Manchester School of Art, including Valette.
However, it is later that Lowry, invigorated by the guidance of Bernard Taylor, the art critic of the Manchester Guardian, started to acquire his idiosyncratic approach to the subject. By 1920 he was giving the various industries – the mills, the factories – the artistic recognition that they deserved as an integral part of the life of the north-west region.
At the art school, Valette gave Lowry the artistic knowledge regarding line and composition which he would later use to great effect in his own drawings and paintings of the northern industrial landscape. Lowry acknowledged many times the debt he owed to this talented tutor. He said that 'long years of drawing the figure is the only thing that matters', and that his own stylised figures, gradually emerging as a characteristic of his work, could not have developed as they did without his training with Valette. Lowry's creation of black-dressed, stylised figures stems from Valette.
Valette is the typical archetype of a great master who, although with self-effacement, had a pivotal role in the development of his pupil. Valette had the charismatic aura of the inspiring teacher, yet insisted that Lowry, and the other students, learned all the academic principles of the 'art', and, while he didn't see 'eye to eye' on Lowry's paintings, he had enough pedagogical understanding to let him go his own way. A great teacher will prepare his disciple for his departure. The pillars of knowledge were there. It is actually when Valette left Manchester in 1928 and returned to France that Lowry started to really stand on his own feet and that his career took off.
Cecilia Lyon, writer
Read more about Valette and Lowry in Cecilia Lyon's book Adolphe Valette & L. S. Lowry, published by Prose Book Publishing
Discover a selection of Lowry prints and gifts on the Art UK Shop
Browse a selection of prints by Adolphe Valette and a range of gifts based on his works on the Art UK Shop