Recognisable for his trademark trilby hat, large-scale colourful paintings of dancers, and for being a long-term resident of New York's infamous Chelsea Hotel, the Hull native David Remfry has been making art professionally since the 1970s. Today he is a Royal Academician and is the chief coordinator of 2023's RA Summer Exhibition, for which he is currently selecting the finalists.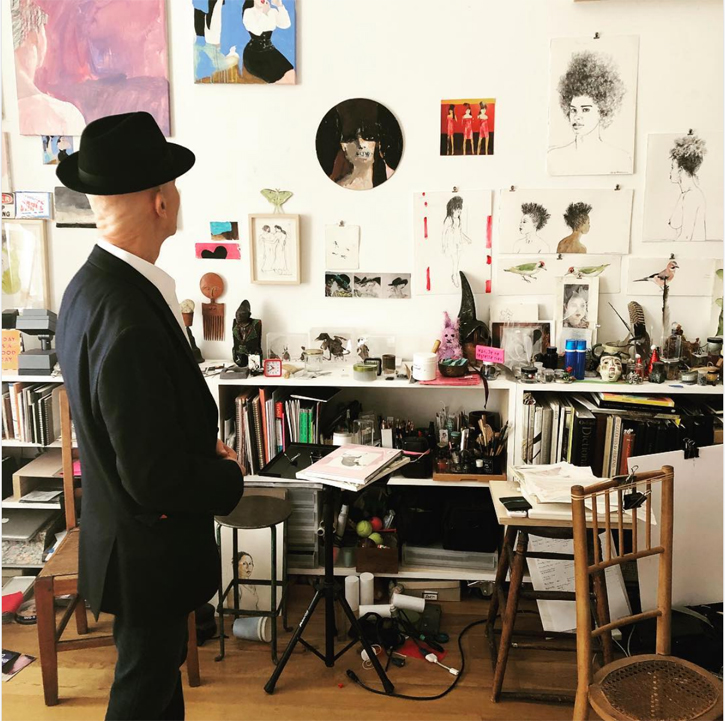 Sitting with the artist in his high-ceilinged Kensington studio, the room is lined with colourful works of individuals and couples dancing – a theme that has inspired him and sustained his love for painting.
Softly spoken and humble about the successes that have defined his long-spanning career, Remfry confesses: 'I doubted whether I had any real talent until my twenties.'
But by observing his studio – filled with examples of his watercolours and sketches – what is palpably clear is his ability to evoke the psychological characteristics of his sitters as well as a sense of place and atmosphere.
'I would never describe myself a portraitist,' Remfry says. 'But I'm endlessly fascinated by people.'
Remfry studied at Hull College of Art from 1959 to 1964, before moving to London in the late 1960s, a time of flourishing cultural activity.
'I came to London because I wanted to paint. I wanted to establish myself as an artist... but I didn't have any money.' He initially supported himself by taking on odd jobs: cleaning in hotels and delivering typewriters around London by lorry. 'I'd work all night and then would get in eight hours of painting the next day. I didn't do much partying, I was very focused.'
Stylistically, Remfry's work doesn't neatly align with one movement or school, though he came to prominence as a watercolourist when many leading artists were moving towards conceptual and installation art. Nevertheless, his work has always maintained an allegiance to figuration. It's not hard to discern his longstanding admiration for fellow British figurative painter David Hockney, especially when comparing his works to Hockney's studies and drawings from the 1970s.
Sketch-like, swirling in colour and form, and often meditating on the fleeting facial expressions or bodily gestures of his subjects, Remfry embraces realism, albeit with an indifference for meticulous precision. Works such as Dancers II (2004) or Quiet Rooms (2019) convey a rough and unfinished quality that adds to the charm of the work. They become alive through their formal imperfection.
Dance has always been an influence on his work, in particular, Latin and tango dancing – the forms of dance that can seep out into the interiors of dance halls or the heady dive bars and nightclubs of New York, where he moved to in 1995. Although initially intrigued by ballet, in an interview with Studio International Remfry confessed: 'there was something about the perfection [of ballet] that in the end really didn't interest me.'
Growing up in the northern industrial port town of Hull in the 1950s, Remfry had been a regular at the local nightclubs, in particular the Locarno Ballroom, the dodgy 'main attraction of Hull's nightclub scene'. Now tragically replaced by a Hilton Doubletree Hotel, the original venue attracted the locals and members of the city's disenfranchised youth, the seamen coming home from work and, of course, the Teddy boys.
'As an art student I really stuck out like a sore thumb,' Remfry adds. Visits to the Locarno would serve as a formative experience: the atmosphere of youthful abandon would shape the character of his work. The young artist observed from the corners, surreptitiously sketching those around him.
'I've always been drawn to the physicality of dancing,' Remfry tells me. And for some reason, whether in Hull's nocturnal subculture, or the gritty bars and clubs of downtown New York, Remfry has always gravitated towards venues of escapism against backdrops of social unease.
He recalls one unsettling night at The Locarno. 'I was there one night when someone got stabbed on the dance floor. I remember seeing blood on the floor, the music stopping briefly as people dragged the attacker out. Moments later the music went back on, and we all continued dancing. As if nothing had happened.' His paintings of dancers often capture the intensity and thrill of human bodies coming together – fleeting moments of intimacy and disinhibition that feel divorced from ordinary life.
Remfry's enduring concern for human connection has also inspired his curatorial approach for this year's Summer Exhibition at the Royal Academy, for which he is the principal coordinator. And for the same reason, 'Only Connect' – a quote from and reference to E. M. Forster's literary masterpiece Howard's End (1910) – has been selected as the central theme.
An Edwardian novel that scrutinises social conventions, Remfry's nod towards the classic text draws attention to the fracturing of social attitudes in today's world. 'We're not living in a particularly connected era. There's a lot of anger and confrontation. I think it's time we tried to reconnect with one another.'
The artist's most recent show, 'We Think the World of You: People and Dogs Drawn Together', is on display at the Rugby Art Gallery & Museum (until 3rd June 2023) and is dedicated to the unique relationship between owner and canine companion.
A series that began over 15 years ago, when a resident at the Chelsea Hotel in New York, Remfry wanted to pay homage to the close bonds between his illustrious neighbours and their pets, including the likes of actors Alan Cumming, Susan Sarandon and Ethan Hawke. Speaking to the Independent, he said: 'I observe the chemistry. It happens very clearly with people and their animal friends. It changes both the owner and the dog.'
NEW EXHIBITION COMING SOON!

We Think the World of You: People and Dogs Drawn Together by David Remfry RA, starting on 11th February.

Keep an eye on our website for updates on activities around the exhibition, including some that even your dog can enjoy!https://t.co/qie9yK3Wac pic.twitter.com/23nIL8tMXY

— Rugby Gallery/Museum (@RugbyGallery) January 26, 2023
Although most people consider the golden era of the Chelsea Hotel to be in the 1970s (Leonard Cohen's song Chelsea Hotel was written in 1974), Remfry insists that it was still thriving as a bohemian centre in the 1990s. 'For a while, my neighbour was Dee Dee Ramone of the Ramones.'
The artist recalls the moment they first checked into the hotel, with the original intention of only staying for one year. 'You'll leave feet first like they all do,' the front desk worker had said to them, alluding to the number of creatives who died in the famous residence. In a twist of events, involving a change of ownership to New York property developers, Remfry and his wife Caroline felt compelled to leave in 2016, prompting their return to the UK. 'I didn't want to come back to the UK, but now I'm glad I did,' he says.
Back in the Kensington studio, amid the eclectic array of clutter, Remfry gestures to a small ceramic giraffe sitting upon a shelf: 'Stella gave me that giraffe.' He's referring to the fashion designer Stella McCartney, an admirer of his work who gave the artist the colossal task of designing her first advertising campaign for her eponymous fashion house in 2002. The collaboration included Remfry's drawings of models decked in the designer's colourful garments in his signature sketch-like style.
The following year, the collaboration between artist and designer led to the V&A exhibition 'Fashion Into Art: David Remfry Drawings for Stella McCartney', and his illustrations are still permanently housed in the V&A collection. The resulting illustrations, which didn't shy away from being provocative, adopted a retro style which is characteristic of Remfry's work, and also of Stella McCartney's designs, which are largely inspired by 1960s and '70s fashions.
'Stella put me up in Elizabeth Taylor's old Suite at The Dorchester for over a week,' Remfry reminisces. 'I spent the entire time designing, coming up with the ideas for the campaign. It was tough. And for the first few days I wouldn't let her see what I was working on, which made her rather agitated,' he recalls.
Working with McCartney is just one amongst numerous accolades that Remfry has accumulated since starting as a painter in the 1960s. He's also known for painting the interior of Fortnum & Mason's famous Diamond Jubilee Tea Salon. His work has been exhibited internationally, and in 2001 he was made an MBE and elected a member of the Royal Academy in 2006. He was also Professor of Drawing at the Royal Academy Schools from 2016 to 2018.
When looking back at his career – and considering what advice he would give to young people today – Remfry recalls a moment when he was invited to give a speech to recent graduates. 'I won't give you advice, because I know you won't want to hear it,' he told them simply.
But if he had to offer something constructive? He says, 'whatever your thing is – drawing, painting, writing – just make sure you do it every single day.'
Lydia Figes, freelance writer
'We Think the World of You: People and Dogs Drawn Together' is on display at the Rugby Art Gallery & Museum until 3rd June 2023