Highly regarded artist David Mach has opened a new exhibition at the sculpture gallery Pangolin London, King's Cross, on display until Saturday 25th March 2023. Known for his ambitious public commissions and use of everyday materials, the exhibition explores maquettes for important early projects, now cast in bronze in partnership with Pangolin, as well as exciting ideas for the future.
David tells Art UK more about 'Heavy Metal' and the upcoming projects the exhibition showcases.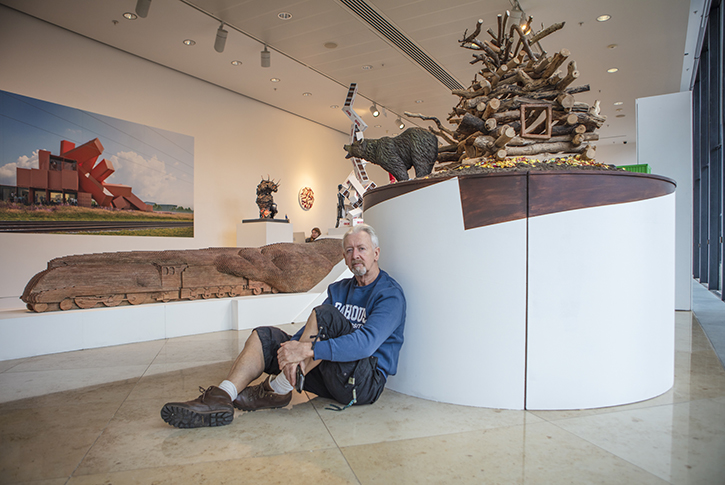 'Heavy Metal' covers a multitude of sins – a lot of territory. There are some 15 to 20 models of sculpture and architecture in the show, kicking off with sculptures I worked on in the late 1980s and continuing on to projects I am working on now. You'll see sculpture I've worked on and completed, sculpture and architecture I'm working on now, and projects that are taking me into the future.
In 1997, I completed one of my largest public commissions, Train, sited on the outskirts of Darlington, England. Created from over 185,000 Accrington Nori bricks using a huge team of skilled bricklayers, the sculpture is 29 metres long and 7 metres high. The project was one of the first to be awarded major sponsorship from the National Lottery Fund and celebrated Darlington's railway heritage.
I took inspiration for the shape of Train from the steam locomotive Mallard, which set a UK rail speed record of 126 miles per hour in 1938, and also from Magritte's Time Transfixed. I wanted some kind of depiction of speed – a train, a locomotive exiting a tunnel with steam billowing out behind it.
It was a very exciting project, not least because it wasn't just a sculpture but the size of a building too, and I learned a lot working on that project with so many different teams of architects, surveyors, engineers, the bricklayers themselves and even bat specialists (some special 'bat bricks' are built into the work). There was a considerable amount of detail to go into, not just in the sculpture's building but in the politics involved, local and nationwide, and in the effort required to keep the project rolling along.
I learned then (although I should have been plenty aware of it before) just how much an artist needs to drive such projects. Never take your eye off the ball, or you'll end up making something different to your original design, something you don't like – or end up making nothing at all.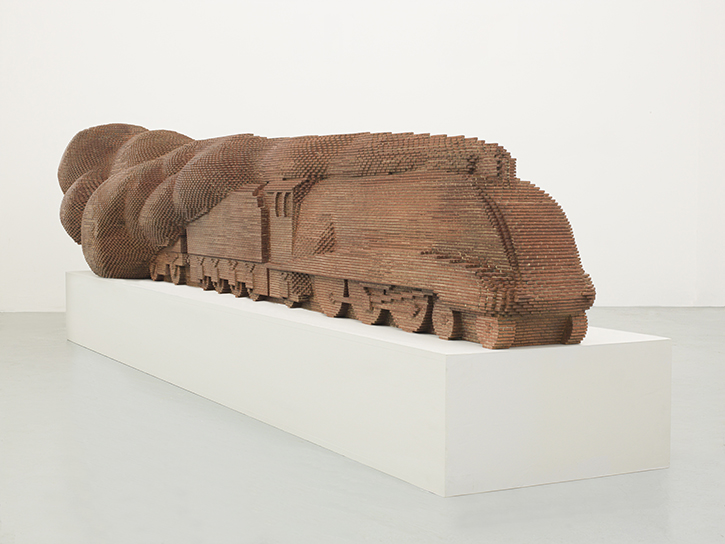 The maquette we made for this commission was an artwork in itself and a crucial tool for making sure Train was under my control – something that would make sure its building would be executed correctly. That can be a pain but a necessary evil. Originally, the maquette was made from thousands of tiny MDF bricks, individually cut, placed and glued. For the Pangolin show, that original model was cast in bronze at the foundry in Gloucestershire. Pangolin Editions made a fantastic job of it and it's the first work you see as you walk into the show.
It's a model but it's still a four-metre-long lead in to the show and introduces you to nearly 14 metres of connected platforms, boxes and plinths, all joined in a long line. I hated the idea of a room full of separate plinths – there are one or two but the room is dominated by that long central construction. It's almost an installation in itself but sitting on top of that, you are invited to come across – to view, to take in – the wide variety of ideas for sculpture and architecture that are currently roaming around inside my head. It's like a conveyor belt of ideas, more like a trade fair than an exhibition of art and as I write this I realise the next show is going to have the movement of a conveyor belt added to it.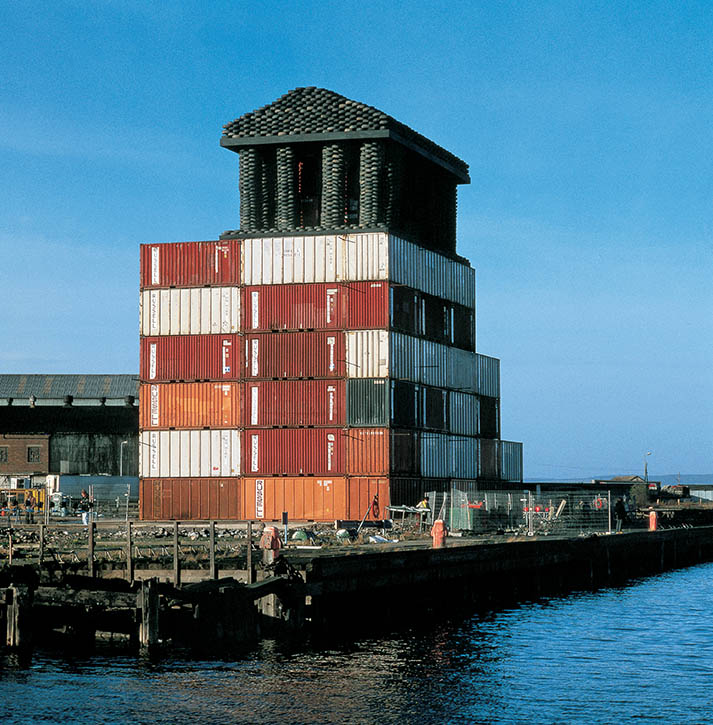 As you move along that central construction you'll come across another bronze made by Pangolin Editions. A casting, this time, of Temple at Tyre, and next to that, new editions of ideas for a public work of art constructed with telephone boxes. I have long wanted to make new sculptures with that material, stretching the ambitions of Out of Order in Kingston. The UK needs those red boxes back.
It's typical of me to take an object like a red telephone box and use that repeatedly, working out forms and rhythms and construction techniques. Objects like this mean something to people; they're a big part of their world – they connect everyone, root them. That's important to me and it's why, for example, I'll find sea containers, why I'll analyse what they actually are, how they behave in the world and how they too connect us all together.
Travelling beyond the telephone boxes, you'll come to one of the largest models, Mach1, designed as a venue for Edinburgh's Fringe Festival and planned for building this coming year. Originally intended as a marketing suite, it has morphed into a possible art gallery or comedy club, big enough to hold considerable audiences. Great fun for me and it's part of the nature of the sea containers I'm using to attract people around them and to hold people inside their construction.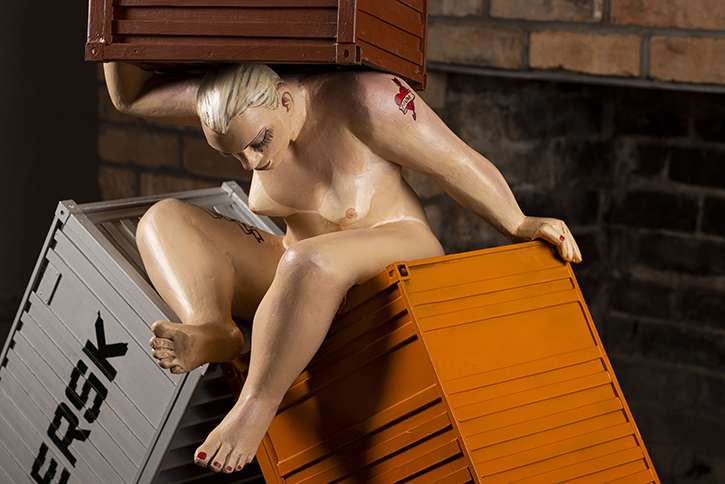 They are wildly important objects and as you wander through the show you'll see I've used them several times in work as diverse as Easy Caryatid, a giant Amazon astride and balancing two containers together while holding up a third; two sumo wrestlers holding up one sea container as if locked in a struggle to keep it up; and a giant proposal for Chiswick roundabout – seven feet high as a model, predicting a height of over 300 feet when we build it on-site.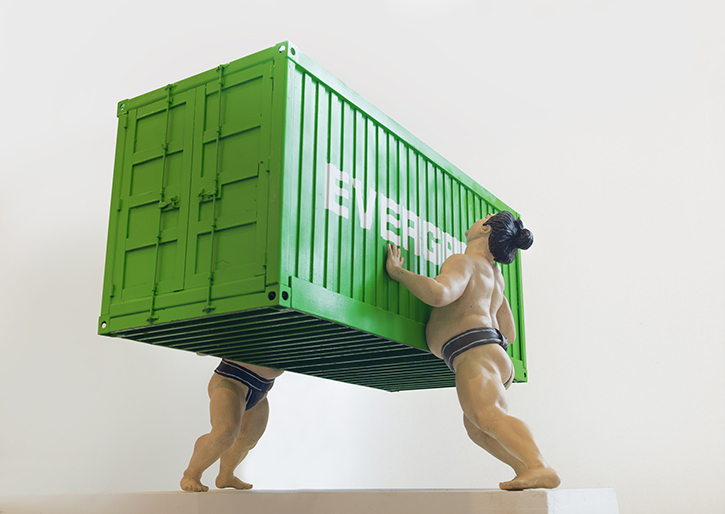 I'm not finished with sea containers by a long chalk. Anybody visiting this show should expect to see many more plans and ideas for new sculpture and buildings using what I consider one of the most important and significant objects on our planet. They are indeed an ideal building block for me and are allowing me entry into the world of architecture that I wasn't necessarily seeking but am wildly excited to be anywhere near. You need to look out for new buildings, folks!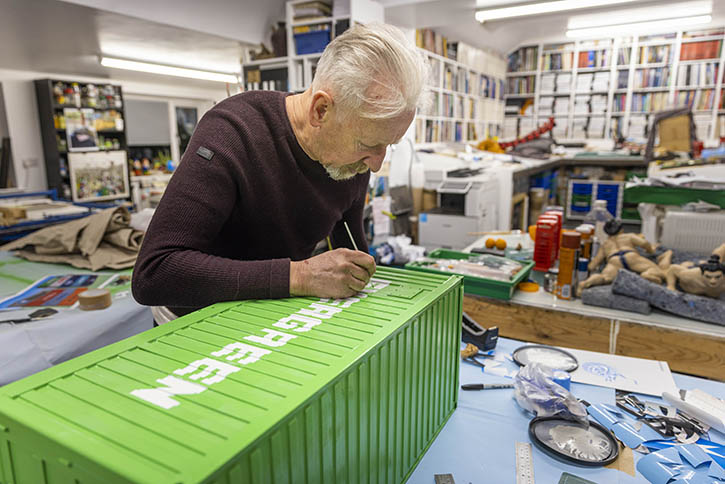 Carry on through the show and you will find the plinths that I normally dread in art gallery exhibitions but hopefully, in this case, we've made them more interesting for you. You'll come across the most recent models made for the show, If You Go Down to the Woods Today and The Oligarch's Nightmare. Both are very different to the rest of the show, both are almost fairy tales, cautionary tales, and dark.
If I look through the show as a spectator and as part of the audience, I expect a lot from these models. I expect to see ideas that might raise questions, such as 'Can this really be built?', 'Wouldn't that be impossible or just too difficult?'. I expect suspicion to be raised: 'Why the hell would you make a tower out of white vans, a homage to white van drivers?', 'Is this the same guy that made that sculpture in Kingston? I like his ideas better.'
I'd like to be faced with a range of ideas, materials, emotions, structures and proposals and to be thoroughly entertained, delighted, annoyed and irritated. I'd be happy with that. I hope you will be.
David Mach, artist
'Heavy Metal' is on at Pangolin London, Kings Place, until Saturday 25th March 2023