Compton Verney's current exhibition 'Created in Conflict: British Soldier Art from the Crimean War to Today' (17 March–10 June) shines a light on a rich variety of unusual and poignant objects made by soldiers. Expanding the boundaries of what is traditionally termed 'trench art', the exhibition includes objects that have been creatively repurposed by soldiers in a variety of situations: from a ration biscuit that has been delicately painted by a prisoner of war to a backgammon board fashioned from the lid of an explosives crate by soldiers serving in Afghanistan. Throughout the exhibition, making becomes a byword for facing adversity, and is also shown as integral to the process of recovery. These three paintings (all listed on Art UK) highlight some of the exhibition's key themes.
Luard served in the army but left in 1854 to pursue a career as a painter. Here he concentrates on the sensory pleasures of the arrival of gifts from home, which much like the 'morale boxes' still sent to troops today helped to make service more bearable. The officers have just unpacked a large crate and the floor is crowded with jars, parcels of foodstuffs and wrapping paper. One man grasps a striped woollen mitten while another gazes intently at a small image. Tobacco smoke fills the cosy interior of the hut, the walls of which have been papered with black and white images from the Illustrated London News, and a cat snoozes by the fire.
Wood's painting of the 'industrious Crimean invalid' Thomas Walker was exhibited at the Royal Academy in 1856. Walker is shown propped up in his hospital bed in Kent, recovering from the fractured skull that he had sustained at the Battle of Inkermann. Walker was taught how to patchwork in hospital by a fellow soldier's wife, and is sewing together red, black and gold snippets of Crimean uniforms. During his recovery Walker was visited by Queen Victoria, who bought one of his patchworks for £10. Wood's portrait is the earliest example of patchwork, which runs like a thread throughout the exhibition. Similar narratives of recovery and useful production are associated with another exhibit, a contemporary wall hanging made by three former soldier inmates of Wandsworth prison, which was auctioned to raise money for the Help for Heroes charity.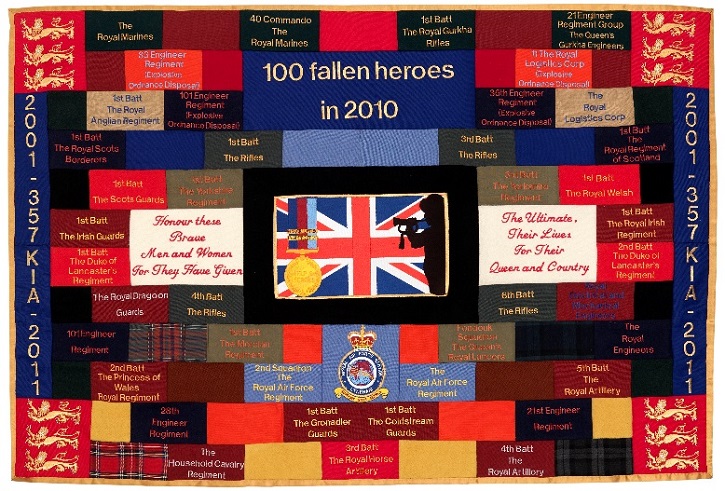 Occupational therapy was well established in military hospitals by the First World War, and toymaking was the most popular workshop at Sidcup hospital. In Lobley's painting the mood is sombre and the faces of the men, who are all recovering from extreme facial injuries, share an uneasy stiffness with the toy monkey. The exhibition includes a rare example of an 'occupational therapy bear' – like many of the pieces on display, this stuffed toy provides a rare insight into a little-known aspect of military life.
Amy Orrock, Curator at Compton Verney, and Professor Holly Furneaux