In preparation for the exhibition 'A Taste for Impressionism', the National Galleries of Scotland carried out an x-ray of their painting The Head of a Peasant Woman by Vincent van Gogh. What was supposed to be a routine investigation revealed something extraordinary – a second painting hidden on the back of the canvas.
Displayed in a specially crafted lightbox, visitors to the exhibition in Edinburgh can see the second ghostly x-ray image of a bearded sitter in a brimmed hat with a loosely-tied neckerchief. Although the right side of his face is in shadow, there is no doubt that the man fixing the viewer with an intense stare is Van Gogh himself.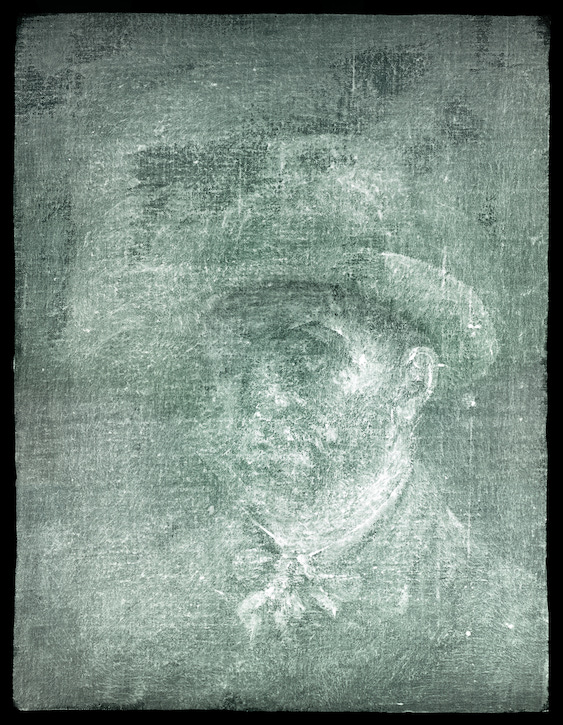 Frances Fowle, Senior Curator of French Art at the National Galleries of Scotland (NGS), said that it had been an 'incredibly rare moment'. Professor Fowle added: 'We have discovered an unknown work by Vincent van Gogh, one of the most important and popular artists in the world. What an incredible gift for Scotland, and one that will forever be in the care of the National Galleries.'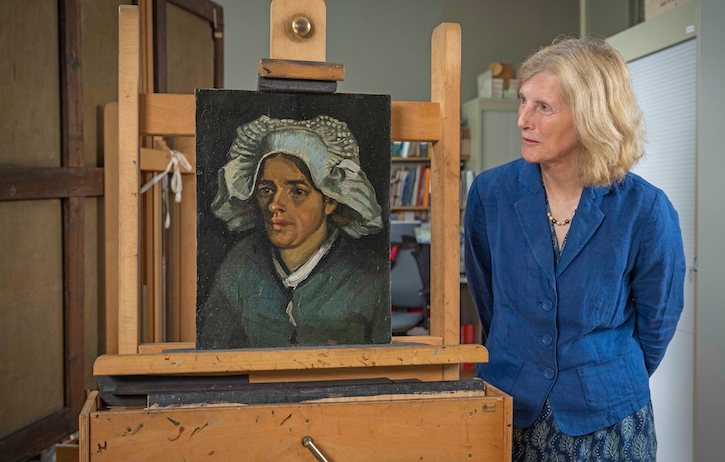 The self-portrait is expected to help to shed new light on Van Gogh. It was executed at a later date than The Head of a Peasant Woman, which was painted during Van Gogh's stay at Nuenen in the Netherlands between 1883 and 1885. The Head of a Peasant Woman is possibly a study of the likeness of Gordina de Groot, who sat as a model for Van Gogh's 1885 painting The Potato Eaters.
View this post on Instagram
The distinct painting approach used by the artist for each side of the canvas also suggests that the two artworks were executed in different moments of Van Gogh's career. In The Head of a Peasant Woman, the treatment of the canvas echoes that of French realists such as Jean-François Millet. This early phase in Van Gogh's pictorial style used earthy colours, broad brushstrokes, and focused on rural life, often portraying peasants dressed in simple clothes.
NGS staff believe that the self-portrait may have been created when Van Gogh moved to Paris in 1886. In this period, exposed to the work of the Impressionists, Van Gogh's palette lightened, he began to experiment with broken brushwork, and he developed an interest in painting portraits.
Conservators believe that it is among one of the earliest portrait attempts by the artist. Therefore, according to Professor Fowle, even though the conditions of the underlying self-portrait are unknown, we should expect this painting to show a more vibrant palette aligned with Van Gogh's Parisian works.
Around 1887, as his brother Theo was away and unable to assist him financially, Van Gogh reused canvases to save money. Sometimes he would paint over earlier works, and sometimes, as in The Head of a Peasant Woman, he would also work on the reverse of a painted canvas. The new discovery becomes part of a group of several self-portraits by the artist and other works painted on the back of earlier canvases from the Nuenen period.
In recent years, discoveries like this have led art historians to reconsider the vastness of Van Gogh's already prolific production of self-portraits. Professor Fowle believes the new discovery shows that Van Gogh may have painted even more self-portraits than originally thought.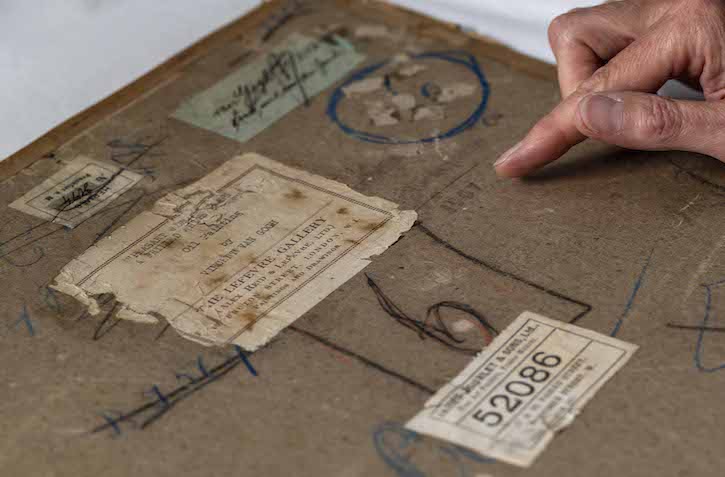 NGS staff believe that the layers of glue and cardboard that have hidden the self-portrait for over a century were applied in the early twentieth century. Lesley Stevenson – the NGS conservator who discovered the self-portrait – suggests that around 1905, The Head of a Peasant Woman would have been stuck onto cardboard before framing for an exhibition at the Stedelijk Museum in Amsterdam. This suggests that, at the time, The Head of a Peasant Woman would have been considered more important than the self-portrait.
This perhaps reflects an institutional reluctance to embrace modern developments of art including Impressionism – 'impressionist' was initially used as a pejorative term by critic Louis Leroy to describe how these artists lacked attention to detail. In Britain, it wasn't until the 1920s that a market for Impressionism developed, as most collectors at the end of the nineteenth century objected to the broken brushwork, urban modernism and vivid palette.
Displaying a variety of artists, 'A Taste for Impressionism' tracks the stylistic development of Impressionism and Post-Impressionism through the history of its art market in Scotland, as well as its collectors and acquisitions by the National Galleries of Scotland.
The exhibition focuses on the Scottish pioneering collectors who, through their gifts and bequests, led some significant Impressionist works to become part of the NGS collection. It also explores how, at the same time that a market for Impressionism began to thrive, a parallel one for fakes took hold, ending in two major scandals in the 1930s around forgeries of Millet's and Van Gogh's work. Visitors to the exhibition are also asked to spot a counterfeit artwork that has been included by curators.
The origins of Impressionism are illustrated in a room dedicated to the Barbizon School – named after the colony in the Forest of Fontainebleau where most of the artists of this group worked.
Exemplified by artworks such as Pas mèche (Nothing Doing) by Jules Bastien-Lepage, the Barbizon artists became increasingly popular in the 1900s, pioneering plein air painting and focusing on rural landscapes. They also adopted realistic and earthy palettes to portray humble subjects, heavily influenced by seventeenth-century Dutch painting.
The first significant acquisition for NGS came through Hugh A. Laird's bequest of 35 works of French and Dutch paintings connected to the Barbizon School. This was followed by bequests from the wine merchant John Kirkhope, as well as from James Staats Forbes and his daughter Mary, who donated a great selection of works by Millet, Courbet and Bastien-Lepage.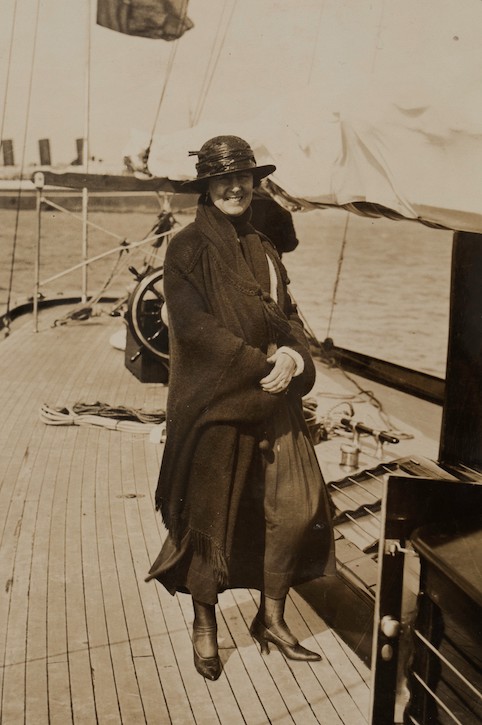 Mary Staats Forbes is among the many women collectors who played a key role in the creation of the Impressionist collections at NGS. Other women spotlighted in the exhibition include the champion sailor Elizabeth Workman, who owned Diego Martelli by Edgar Degas, and Anne Kessler, who gifted Paul Cézanne's The Big Trees.
At the heart of the establishment of NGS's collection of modern French painting were the gifts and bequests of Alexander and Rosalind Maitland. Born into a family of jute merchants and trained as a lawyer in 1903, Sir Alexander Maitland became a trustee of the National Galleries of Scotland in 1947, a position that increased his awareness of the organisation's funding restrictions for purchases.
This understanding led the Maitlands to add to their own collection, which they then planned to leave to the nation. Their collection included 26 of some of the best-known Impressionist paintings at NGS, as well as eight sculptures.
They owned several works by Degas, including Study of a Girl's Head and Grande Arabesque, Third Time (First Arabesque Penchée), Monet's Haystacks and Matisse's The Painting Lesson. These works are all on view in 'A Taste for Impressionism'.
The Maitlands also purchased Paul Gauguin's Three Tahitians and multiple works by Van Gogh, including his Orchard in Blossom (Apricot Trees) and The Head of A Peasant Woman.
In 1959, Rosalind Maitland died, and the following year her husband presented much of their collection to NGS in her memory. The gift – which was followed by others by Sir Alexander – coincided with the creation of the new Scottish National Gallery of Modern Art, and was fundamental to its foundation. It created the core of the French collections at the National Galleries of Scotland, and encouraged further donations and acquisitions.
Some of the subsequent acquisitions by NGS focused on those artists defined as Fauvists and Nabis (Hebrew for prophet). Followers of Gauguin and Van Gogh, Matisse and André Derain were among the first to move beyond Impressionism towards a more subjective and symbolist interpretation of reality, and a more decorative style of art.
Among the works exhibited in 'A Taste for Impressionism', Édouard Vuillard's Nature morte au bougeoir (The Candlestick) exemplifies the artist's key interest in patterns, while André Derain's Collioure's palette of oranges and blues demonstrates a move towards abstract landscapes.
National Galleries of Scotland has continued to acquire Impressionist artworks, such as Seated Nude by Georges Seurat (1883) and Jazz (1947) by Henri Matisse.
This set of prints is displayed in full for the first time in 'A Taste for Impressionism'.
Sofia Cotrona, freelance writer
'A Taste for Impressionism: Modern French Art From Millet to Matisse' is at the Scottish National Gallery (Royal Scottish Academy) until 13th November 2022