With the Art Fund's campaign to save Derek Jarman's Prospect Cottage in Dungeness being successfully funded at the end of March 2020, recognising the impact of gardening on art and artists has never been more prevalent. The relationship between art and gardening was also the subject of an exhibition, in partnership with Liss Llewellyn, at the Garden Museum. 'Sanctuary: Artist-Gardeners 1919–1939' focused on a group of British artists whose passion for floriculture shaped their artworks as much as their friendships during the interwar years. Just as Jarman had found solace in tending to his pink foxgloves and California poppies, so too did artists like Charles Mahoney.
Born Cyril Mahoney in Lambeth, London in 1903, he was later renamed Charlie (to much relief) by his close friend Barnett Freedman while they were studying at the Royal College of Art. Following art school in Beckenham, Mahoney had won a place at the RCA in 1922, where he would also count Edward Bawden, Gerald Ososki and Percy Horton as friends. Students were encouraged by Sir William Rothenstein, College Principal and Professor of Painting, to find commissions for their work and engage socially with influential art world figures. It was also during this period that Mahoney would discover a love of mural painting and theatre design.
After college, he spent a miserable year working at Thanet Schools of Art before returning to the RCA as Visiting Painting Tutor in 1928. It was not long before he was commissioned to paint a thirty-foot-long mural for the stage at Morley College for Working Men and Women, entitled The Pleasures of Life (1928–1930). Geoffrey Rhoades helped Mahoney complete the mural, while Edward Bawden and Eric Ravilious decorated the refectory.
In 1932, Mahoney was invited to decorate Brockley County School for Boys (now Prendergast School for Girls) in South London, after an appeal from Rothenstein for students to experiment further with mural painting. Mahoney chose three of his senior students to assist in the project: Evelyn Dunbar, Mildred Eldridge and Violet Martin. The subjects of these five arched-top panels were taken from Aesop's Fables and executed over a number of years, until being unveiled by Oliver Stanley, Minister of Education in 1936.
Another result to emerge from the Brockley mural project is Mahoney's intimate relationship with Evelyn Dunbar. Their shared enthusiasm for plants and horticulture, as well as painting and drawing, were established in illustrated letters between the two. She once warned him in a letter: 'Don't ever have too big a garden, or with your avidity for making the names in the catalogue come true, you'll never touch a brush or a pencil.' This delight was also shared with John Nash, Geoffrey Rhoades and Edward Bawden, with whom they frequently traded plant cuttings through the post. In 1935, Dunbar was approached by the publishers Routledge and Sons to produce 25 vignettes, the frontispiece and dust jacket for a miscellany entitled The Scots Week-End and Caledonian Vade-Mecum for Host, Guest and Wayfarer.
A year later, Routledge and Sons would be in touch again, suggesting 'something really new on gardening'. Mahoney and Dunbar collaborated on Gardeners' Choice, published in 1937, which showcases the plants they most enjoyed to grow and capture on paper. Preferring to overlook tradition, they liked to plant periwinkles, flowering onions and auriculas. In their introduction to the illustrated book, they wrote: 'In addition to our natural pleasure in beautiful plants and our experience in raising and cultivating them, we have gained a close intimacy through drawing and painting them.' As neither Mahoney nor Dunbar signed their drawings or text, their work in Gardeners' Choice is virtually indistinguishable.
After Mahoney and Dunbar parted ways, Mahoney purchased the inexpensive sixteenth-century Oak Cottage at Wrotham in Kent, for him and his mother Bessie. This was to be the location of Mahoney's first and only garden, where he would spend the rest of his life cultivating hogweed and Japanese knotweed beside giant sunflowers (of which he was particularly fond of). Dorothy Bishop, whom Mahoney married in 1941, described him as having 'showed uncompromising vigour in recording the structure, detail and above all the total feeling of the plant... the richness, strength, grandeur, colour, form and textural qualities of plant life'.
Having lost an eye as a child and weakened by chronic chest problems, Mahoney was unable to join the armed forces. In 1940, he assisted in the evacuation of the RCA to Ambleside in the Lake District. This was where he met his wife Dorothy Bishop, a calligraphy tutor at the design school, but also where he would hear that his mural at Morley College was destroyed by bombing. While still in Ambleside, he was commissioned to create murals for Sir Edwin Lutyens' Lady Chapel at Campion Hall, Oxford.
His designs for three large panels were to depict the Nativity and the Adoration of the Shepherds, the Coronation of the Virgin and Our Lady of Mercy. It took over ten years for Mahoney to work on the murals as a result of painting in situ during daylight hours, directly onto canvas fixed to the walls and only on Easter and summer breaks from teaching. It also started to take a toll on his health, which meant that a small panel was left unfinished.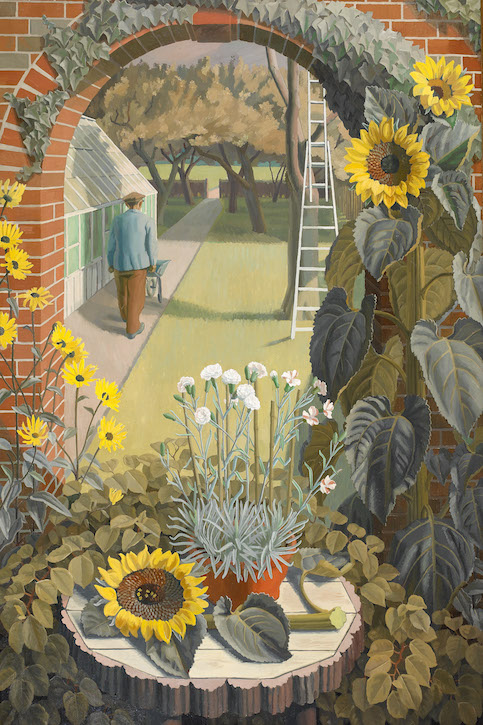 Mahoney painted for the exhibition 'Sixty Paintings for '51' at the Festival of Britain in 1951. His contribution – a large mural entitled The Garden – is featured in 'Sanctuary: Artist-Gardeners 1919–1939', and shows the view of a garden and greenhouse through a red-brick arch. Giant sunflowers climb up the right-hand side of the painting, while a man with his back to us pushes a wheelbarrow. It is a sunny day, with long shadows being cast and bright yellows and greens dominating the scene. From this example, we can see that Mahoney's ardour for botanicals also extended to painting objects like wheelbarrows, greenhouses and, in other works, watering cans and spades.
After leaving the RCA, he held part-time posts at Bromley School of Art, Byam Shaw School of Painting and Drawing, and eventually the Royal Academy Schools – where he was elected Royal Academician in 1968. It was during this time that Mahoney would begin his final mural scheme. Although it only exists as a cartoon, it shows how his panels became longer and narrower, with a story inspired by the Muses unfolding across them. He died in 1968 after many years of illness, leaving behind a wealth of paintings and drawings, but also a lasting legacy on those that he taught. Upon learning of his death, the artist Jane Greenham said: 'I am very glad he taught me – one feels he is a permanently fruitful influence.'
Exhibitions of Mahoney's work have since been shown in places such as the Ashmolean Museum, Oxford in 1975 and at the Harris Museum & Art Gallery, Preston in 2000, but what the display at the Garden Museum highlights is how modest and overlooked his oeuvre is when compared to that of his contemporaries. Perhaps it is better late than never to lose ourselves in one of his studies and find pleasure in amongst the flowers.
Victoria Rodrigues O'Donnell, freelance writer