Celebrating Crawley New Town's 75th anniversary, 'Enliven: You're Welcome' is a four-month programme of free events and workshops this summer. A highlight of the season will be a five-metre-tall puppet, a larger-than-life visitor who will travel to different destinations across the city.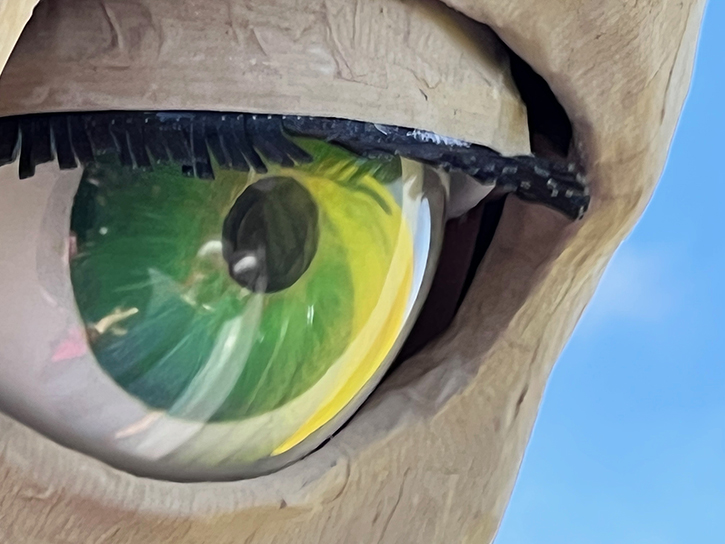 Brought to life by Animated Objects Theatre Company, the puppet is inspired by Homer's Odyssey. Aura's Odyssey will start at Gatwick Airport on Thursday 11th August, before she travels on an open-top bus around Crawley's neighbourhoods. The packed weekend of events that follows will include Aura being greeted by live music, singing, dancing, poetry and DJing, and presented with artworks.
Louise Blackwell, Creative Director of Creative Crawley says: 'Aura's Odyssey is a project made by Yorkshire-based theatre company Animated Objects and brought to Crawley by a local partnership between the arts charity I run (Creative Crawley) and the Crawley Town Centre Business Improvement District (BID).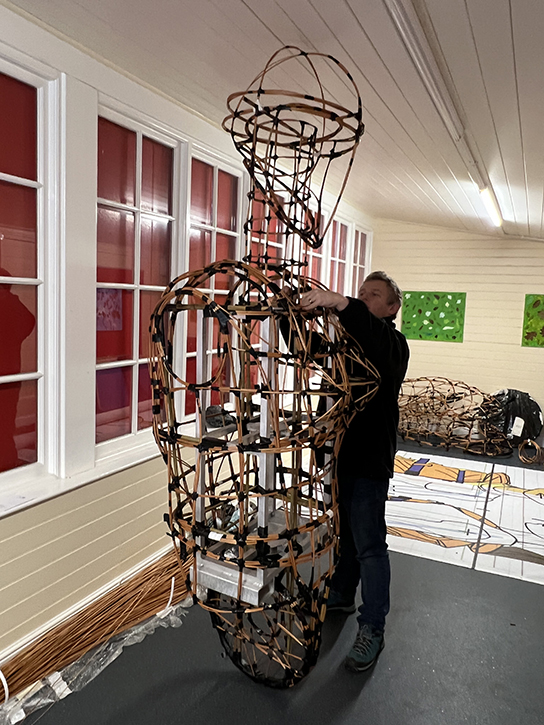 Our aim is to enliven Crawley town centre with arts and culture and, as a result, raise the profile of Crawley as a creative place to live, work, study and play. Bringing a five-metre-high puppet to Crawley and engaging local people celebrates the town's 75th anniversary and its welcoming and diverse nature.
We are working with more than 15 local community groups and businesses, from Chagossian lunch groups and pubs to a Hindu Temple and a local bank. Over 200 people are contributing to creating a giant blanket and comic book to present to Aura on her arrival and more than 10 local artists and arts groups are contributing to the four-day festival programme when Aura arrives.
This commitment to working with local people alongside bringing nationally and internationally renowned artists to the town is part of our regular creative offer for people to engage in arts and culture for fun, enjoyment and pleasure. Our aim is to contribute to a better quality of life for the people of the town in the long run. For now, we hope feeling like a child again when standing near Aura will bring a spark of joy to the residents of Crawley and beyond.'
Aura's Odyssey will start at Gatwick Airport on Thursday 11th August where she bears witness to those leaving and those arriving, before travelling on an open-top bus around neighbourhoods seeking welcome on Friday 12th.
Aura's journey around the town centre on Saturday 13th August will begin with a live band outside the Brewery Shades, then she'll walk up the High Street and be greeted by some local dancers and will be presented with the first artwork by The Comic Shop: a giant comic book by which depicts future heroes of Crawley drawn in one of Creative Crawley's 'Give it a Go' workshops with artist Daniel Locke.
Samba band Bloco Do Sol will lead Aura on a procession down The Broadway and when she arrives in Queens Square she will be greeted by local DJs Tons of Sound, specially commissioned poetry by local 17-year-old Iffat Rahman, and dances curated by Dance Hub UK from local dance schools.
She'll make her way to Memorial Gardens for lunch where local bands presented by Crawley Festival will play to her from the bandstand. People are invited to bring a picnic to celebrate international food that they love. There will be a range of activities in the gardens including 'belonging' workshops by Crawley Museum that explore objects that represent Crawley, and stories for children with Crawley Library, which are a chance to explore the science and tech side of Aura the puppet.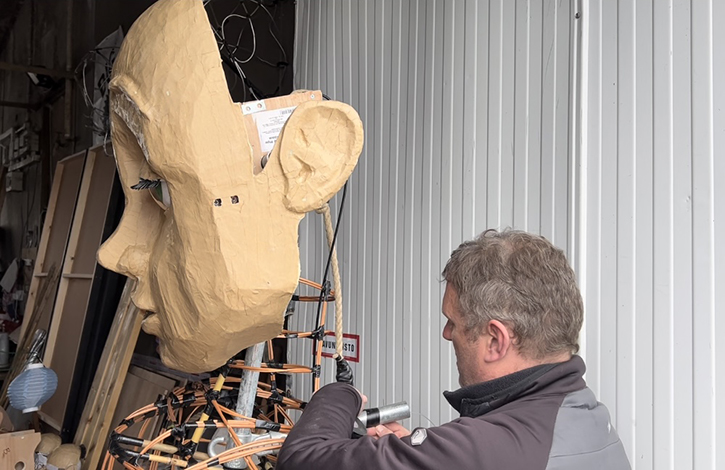 After lunch Aura will wander back into Queens Square, travelling up the Martlets into County Mall to get ready for bed, getting into her hammock where she will be sung 'Wish – The Lullaby for Crawley' written by local mothers and theatre company Murmuration Arts. She will be presented with a giant blanket, made up of squares with designs inspired by the town. Community groups contributing include DiverseCrawley, Outreach3Way, WordFest Crawley and local schools.
On Sunday 14th August, Aura will join people in Tilgate Park for live music. On stage, Audio Active presents Kustom Vibes: live performances by local emerging artists in partnership with Crawley Community Youth Service. She will be gifted with postcards, letters and photos taken from virtual worlds that speak of home and journeys, created using video game engines by Crawley participants in collaboration with BRiGHTBLACK.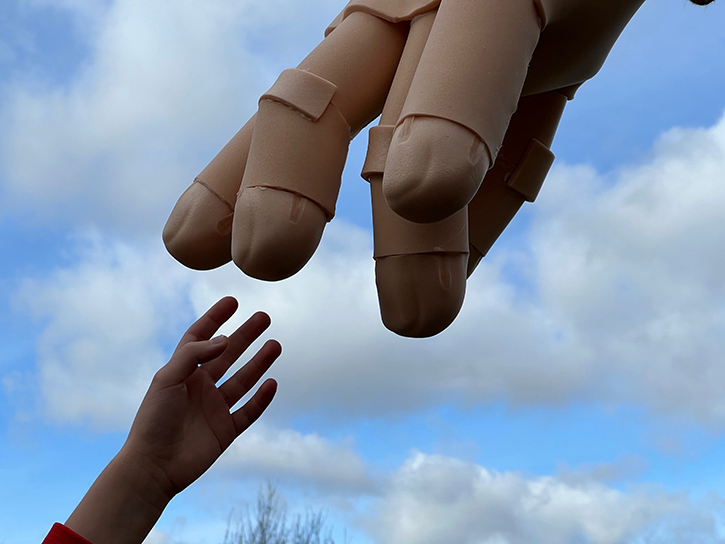 Lee Threadgold, artistic director of Animated Objects, has worked with puppets alongside the public for over twenty years in different settings:
'There's something really magical that happens when you bring a large-scale puppet to life directly in front of people. The boundaries of age and experience that sometimes exist between generations melt away – perhaps because of the size of the character before an audience – you see adults feel the joy of being a child again. People watching are often surprised to find that a large puppet doing something as simple as walking along their street can be quite moving.'
Lousie Blackwell, Creative Director of Creative Crawley
For more information, visit creativecrawley.com