Cedric Morris (1889–1982) was a painter of the natural world and one of the most original British artists of the twentieth century.
Cedric Lockwood Morris was born on 11th December 1889 at Machen Lodge in Sketty, south Wales, to parents George Lockwood Morris (later Sir George Lockwood Morris, 8th Baronet) and Wilhelmina (née Cory). The Morris family rose to prominence in Swansea in the mid-eighteenth century through their success in the copper smelting business.
Following his schooling, Morris went to join the army but failed the examinations, and in 1909, aged 19, he travelled to Port Nelson in Canada where he worked on a farm. By mid-1910, Morris was back in Wales, and after a brief period studying singing at the Royal Academy of Music in London, he decided to pursue his passion for art and enrolled at the Académie Delécluse in Montparnasse, Paris, in January 1914.
For a young artist like Morris, Montparnasse was an eye-opener. It was an area favoured by young, like-minded creatives and notable past residents included Amedeo Modigliani (1884–1920) and Pablo Picasso (1881–1973). The outbreak of the First World War, however, cut this experience short, and in August Morris returned to London. Morris first joined the Artists Rifles and then worked in the Remount Service training horses for the front line. When the Remounts were taken over by the army in 1917, he was discharged.
At an Armistice Day party in 1918 Morris met Arthur Lett-Haines (1894–1978), known as 'Lett', and they immediately fell in love. Lett also had ambitions to be a painter and in 1919 they moved to Newlyn in Cornwall where Morris first experimented with oil paint – a medium in which he would work almost exclusively throughout his life.
His technique of applying paint onto canvas quickly in a seemingly uncontrolled manner caused great excitement among his artist friends in Newlyn. Not least Mary Jewels, who later recalled how she once asked Morris for advice, only to be given a canvas, brush and four tubes of paint, and told to complete a painting by the end of the day. Unconcerned by established artistic principles, Morris would depict his subject exactly as he saw it, blending planes of perspective and favouring overall compositional design over faithful depiction of form. Morris and Lett remained in Newlyn until late 1920 when they moved to Paris.
Paris at this date was a melting pot of artistic creativity. Morris and Lett would spend their evenings socialising in the cafes and bars in Montparnasse and counted amongst their friends avant-garde pioneers such as Marcel Duchamp (1887–1968), Peggy Guggenheim (1898–1979), Man Ray (1890–1976). Although Paris provided Morris with ample subject matter, he did not generally enjoy living in crowded cities and never missed an opportunity to escape.
During these years, Morris, along with Lett and other friends, travelled extensively around Europe and North Africa and visited, among other countries, Italy, Algeria, Tunisia, Spain and Portugal.
By 1926 Morris and Lett were beginning to tire of Paris and in early 1927 they set up a permanent base in London. Morris and Lett's new life in London was a balance between work and play – although the lines often blurred. As was also the case in Paris and Newlyn, their studio and home at Great Ormond Street became synonymous with social gatherings and parties. The studio was a spectacle itself and was always filled with plants and animals which Morris would incorporate into his compositions.
In 1928 (and again in 1932), Morris was represented in the British Pavilion at the Venice Biennale and in May that year, he had a major one-man show at Arthur Tooth and Sons, in which all of the exhibited works were sold, plus many more from his studio. The show was described by one critic writing in The Studio as 'sensationally successful' and it solidified Morris's position as one of the leading British painters of his day.
By 1930, however, Morris was getting increasingly frustrated with the London art trade and the commission charged by dealers. He also disliked the way his artistic output was edited 'to eliminate the more unusual and technically interesting paintings which go to make a genuine reputation as opposed to that of a "best seller"'.
These frustrations, combined with a yearning for the countryside, prompted Morris and Lett to move away from London, and in summer 1930 they took a lease on Pound Farm (or 'The Pound') near Higham in Suffolk. Although Morris continued to contribute works to group shows throughout the 1930s and more sporadically throughout the 1940s and 1950s, his absence from London and subsequent resignation from prominent art societies pushed him onto the peripheries of the international art scene.
In spite of this, during the years immediately following his move to the countryside, Morris painted some of his most accomplished still-life works. Morris would grow his colourful subject matter in the garden at Pound Farm where he also had a studio, and one of his ex-students, Joan Warburton (1920–1996), later reminisced how 'to go in there quietly when Cedric was painting the favourite of all his flowers, Irises, was a revelation.' It was Morris's incredibly close contact with his subject and deep understanding of their design that enabled him to paint flowers as if they were people – with a mood and personality.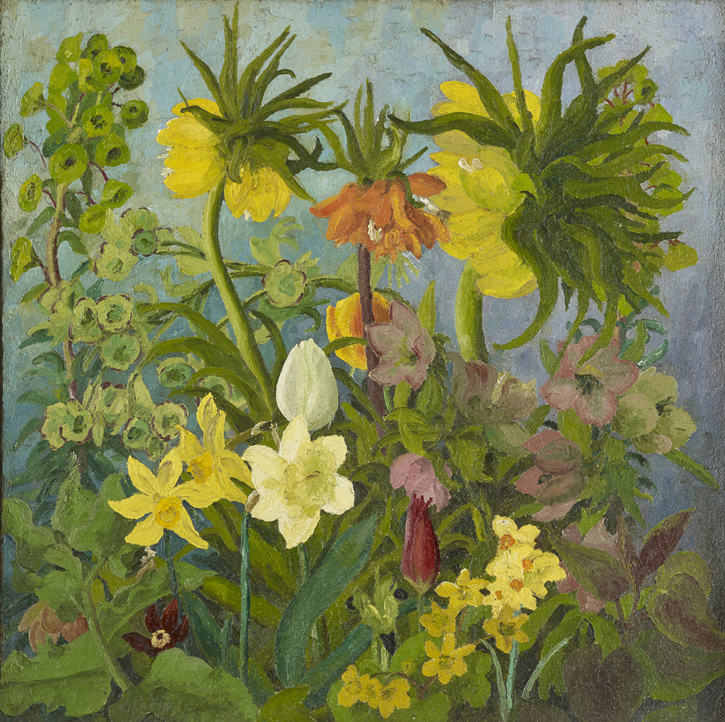 Later in 1937 Morris and Lett established the East Anglian School of Painting and Drawing (EASPD) in a building in the centre of Dedham in Essex. The school was unique in its approach to teaching, aiming to reassure rather than criticise the students, and over the years many great artists including Lucian Freud (1922–2011) and Maggi Hambling (b.1945) passed through its doors.
During the summer months when the school was open, work commitments meant Morris was unable to travel abroad as he had done previously, so instead he would explore the surrounding countryside with occasional trips to Wales, looking for interesting subjects to fill his canvasses. Although Morris's style of painting was looser and more confident than in his earlier years, his general approach to the depiction of form and use of bold colour had changed very little.
On 26th July 1939, the school building in Dedham was destroyed by a fire, supposedly started accidentally by Freud, who was smoking inside. By mid-1940, Morris and Lett had relocated the school to Benton End, a large house on the outskirts of Hadleigh, Suffolk, which also functioned as their home. Over the years Benton End would become known as more than just an art school; it was a hub of artistic and horticultural creativity, where people from all walks of life could meet, paint, eat and socialise. The general affairs of the school were managed by Lett, whose mischievous personality brought great entertainment to the guests, especially during mealtimes when wine was always free-flowing.
Since before the War Morris had been gaining prominence within the gardening world as a breeder of irises and collector of exotic plants, and from the late-1940s onwards, during the winter months when the school was closed, Morris would disappear abroad hunting for new plant specimens. As well as rare plants, Morris would also return with souvenirs such as plant pots and ancient pottery, as well as more practical mementos such as vegetable seeds which later in the year provided Lett with the exotic ingredients for his famously delicious dinners.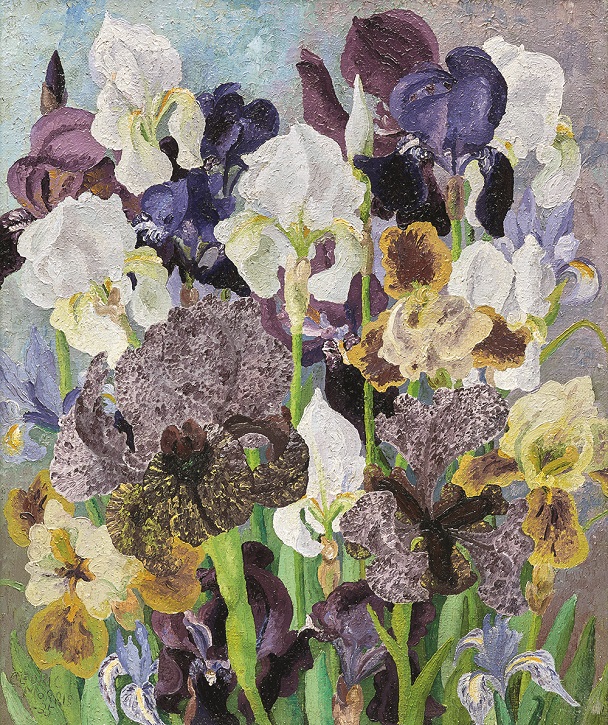 One of Morris's favourite hunting grounds in the latter half of his life was Portugal and he returned there several times between 1950 and his death in 1982. Morris also travelled extensively around Spain, painting landscapes and studying plants and in 1962 published his findings in an article in The Iris Year Book on 'Iris species in Portugal and Spain'.
By the 1960s, Benton End was quieter. Although students continued to pass through its doors each year, Morris and Lett had more time to themselves. In the winter months, Lett would remain at home while Morris continued his winter travels with the same vigour as in his younger years, visiting places as far-flung as St Helena (1964), Libya (1968) Tunisia (1970) and Cyprus (1973), painting all the time.
During his time at home, Morris continued to develop his still-life painting. In these later works, Morris would often include a wide variety of different objects gathered from around the house and paint them within an interior setting.
Morris travelled abroad, probably for the last time, in December 1973. He visited Portalegre and stayed in the town of Relva near the Serra de São Mamede mountain range. In a letter home to Lett, Morris describes how the low clouds and heavy rain made the quality of the landscape hard to judge, although his determination to paint the area is reflected in the fact he paid an additional £7 (much to his chagrin) to cover the weight of the paints in his luggage.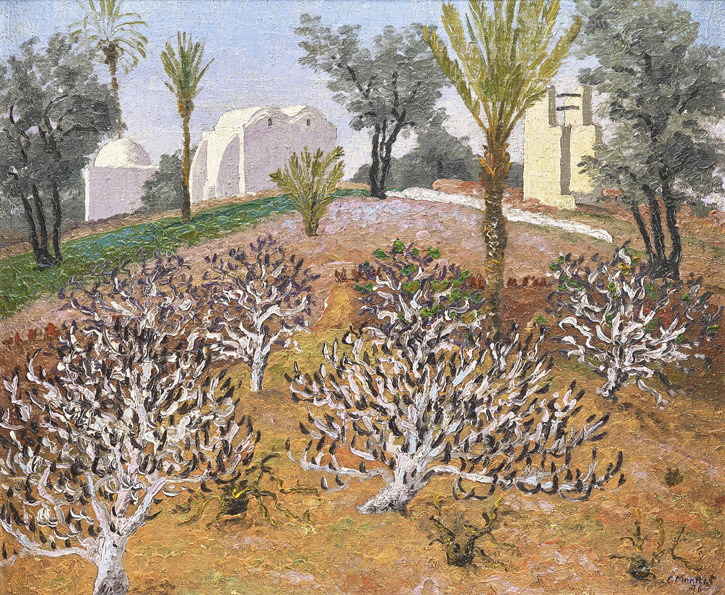 It was in the early 1970s that Morris's eyesight began to fail and in 1975 he gave up painting. On 25th February 1978 Lett died and over the next four years Millie Hayes (1916–2001), who moved to the house in 1966, undertook the management of Benton End. On 8th February 1982, plantsman, painter and traveller Cedric Morris died at the age of 92.
Lawrence Hendra, art historian, Director at Philip Mould & Company, and specialist on BBC Antiques Roadshow
Philip Mould & Company hosted the exhibition 'Cedric Morris: Beyond the Garden Wall', at their Pall Mall gallery from 18th April to 22nd July 2018.