From May to July 2019, Yorkshire Sculpture International teamed up with Art UK to take five sculptures from our collections into schools in Leeds and Wakefield. Reaching over 1,200 students, teachers, and people from the wider school community, we have worked with artists to explore these sculptures resident for one day.
Yorkshire Sculpture International is the UK's largest festival of sculpture, taking place in four galleries – Henry Moore Institute, Leeds Art Gallery, The Hepworth Wakefield, and Yorkshire Sculpture Park – as well as art across the city centres of Leeds and Wakefield. Running over 100 days this summer, our work with schools in the year before we opened was at the heart of our work.
In May, we started off our series of sculpture loans with John Jamieson School, a SEND school in Leeds. Children from class HS3 worked closely with artist Bethan Hughes investigating what sensory sculpture could be, over a number of months leading to and following on from the sculpture being in the school.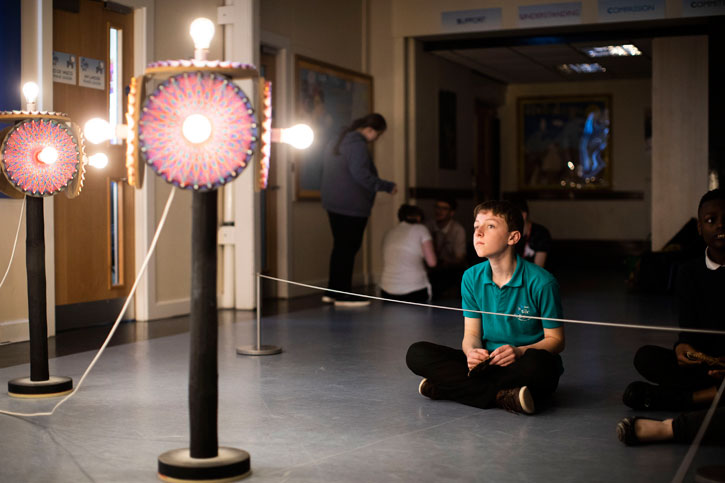 As part of this, Yorkshire Sculpture International's neighbours, Arts Council Collection, invited the students to pick a sculpture from their collection. They choose Mark Titchner's Something Plastic to Flight the Invisible (English Language Golem Perimeter), 2001.
This then landed in their school for one day where 80 children and adults enjoyed welcoming the object. They particularly enjoyed the exciting moment where the sculpture got its lightbulbs turned on – something that captured the students who selected the sculpture.
In June, we had two more loans into schools. The first was Leeds Art Gallery, which took The Cricketer, 1989, by Barry Flanagan from their sculpture collection into Blackgates Primary School in Leeds.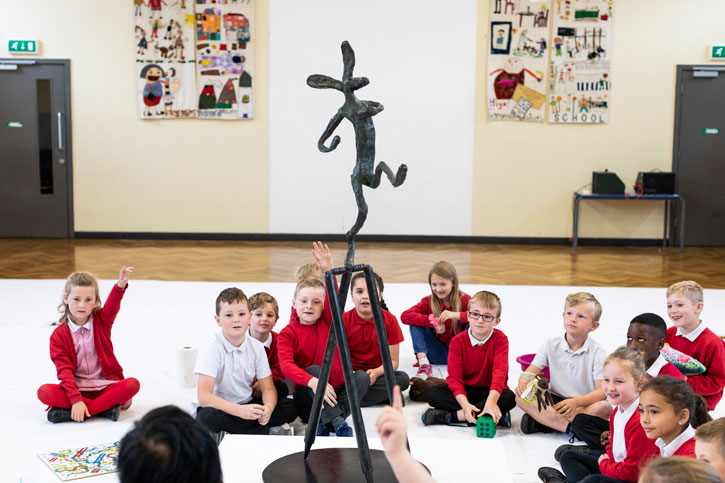 Year 4 students had been working with artist Emily Binks, looking at shelters and exploring a wide range of materials such as foam, wood, and textiles.
Over 350 children, from nursery to Year 6, met curators and staff from Leeds Art Gallery, undertaking a series of creative experiments with everyday objects. The young people immersed themselves in an experience of sculpture, recording ideas in photography and drawing, then painted and printed with household items. They turned their 2D work back into 3D, making abstract sculptures from materials found around us.
The second loaning collection was The Hepworth Wakefield, who lent Kenneth Armitage's Girl Without a Face, 1982, to Crofton Academy in Wakefield.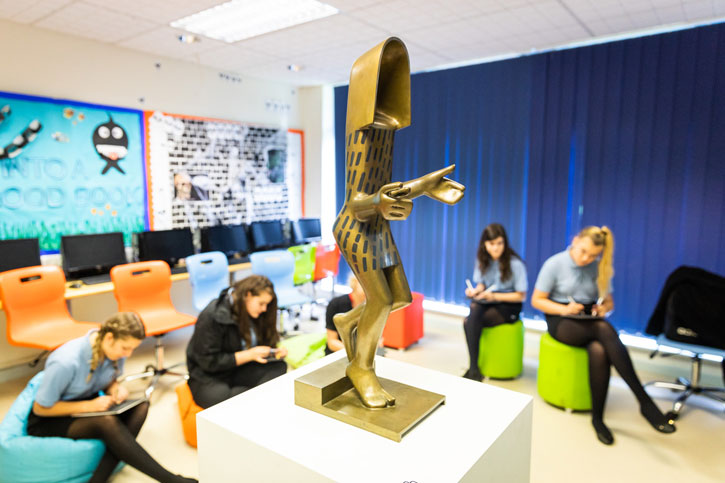 Throughout the day, artists Rufus Newall and Zoe Spowage led ten sculptural drawing workshops which encouraged the students to use both hands at once in their mark-marking. This mirrored how they would use their hands in sculpture-making and allowed children to experiment freely with how they made art. Around 170 students from Years 9, 10 and 11, and 27 teachers, engaged in sessions throughout the day.
In July, as part of a wider project with artist Zara Worth and Henry Moore Institute, AG5, 1958, by Eduardo Paolozzi took residence in Abbey Grange Academy in Leeds.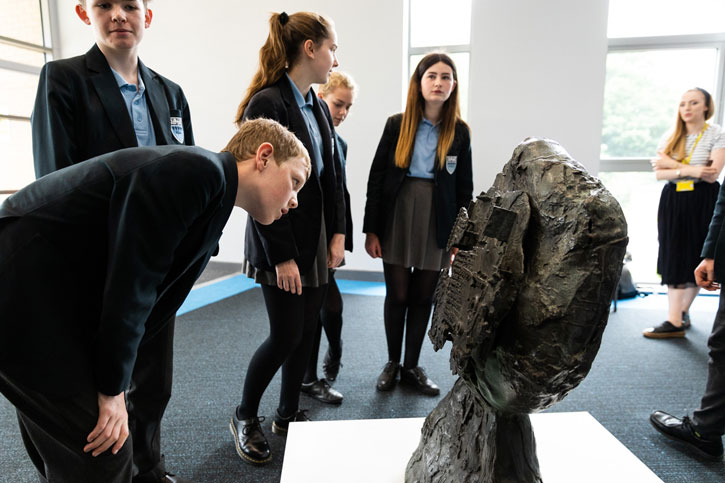 This sculpture was selected by the whole school community through an online voting system and students from across the school responded to its presence by creating sculptures exploring the body and technology. Alongside Paolozzi's sculpture, Worth presented with Year 9 students a collaborative sculpture they had made together.
Our final loan was with Yorkshire Sculpture Park and Minsthorpe Community College in Wakefield. The Awakening is a sculpture by American artist Abbott Pattison.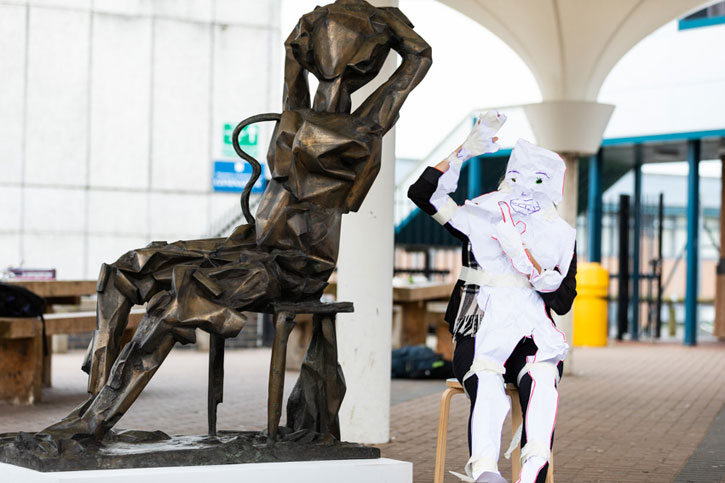 Around 150 students from Year 7 to Year 12 took part in discussions and workshops led by Leeds-based artist Alice Withers. The students made themselves into sculptures, using aluminium foil and large bits of paper to create costumes in response to the new figure installed in their courtyard. Withers also gave the sculpture she had created in earlier workshops back to the students. Created with wax bricks made by the students and merged together by Withers, students were asked to carve back the wax, revealing messages their peers had written beneath, highlighting their ideas and thoughts about the world around them and inspired by their visit to the YSI partner galleries.
Each of these sculpture loans were distinct and unique, made possible by a collaboration between the Yorkshire Sculpture International galleries, artists, schools and the students. Working with Art UK enabled us to bring five sculptures from our world-class collections to local young people, creating a moment in their school experience that can't be replicated. Moments such as this remind us of the importance of art in the curriculum and the specific nature of learning from and with sculpture.
This partnership with Yorkshire Sculpture International was made possible through Art UK's Masterpieces in Schools programme. Linked to our national sculpture project, the initiative supports public collections across the UK to loan a work of art to their local school for the day. Participating schools enjoy a memorable day of cross-curricular learning, where students and staff are encouraged to develop skills, knowledge and confidence as their classrooms become a gallery for a day.
Meghan Goodeve, Engagement Curator for Yorkshire Sculpture International