'Breaking the Mould: Sculpture by Women Since 1945' is a major new Arts Council Collection touring exhibition which will open at Longside Gallery, Yorkshire Sculpture Park before touring nationally until 2023 to Djanogly Gallery, Lakeside Arts, University of Nottingham, The Levinsky Gallery at the University of Plymouth, Ferens Art Gallery in Hull and The New Art Gallery Walsall.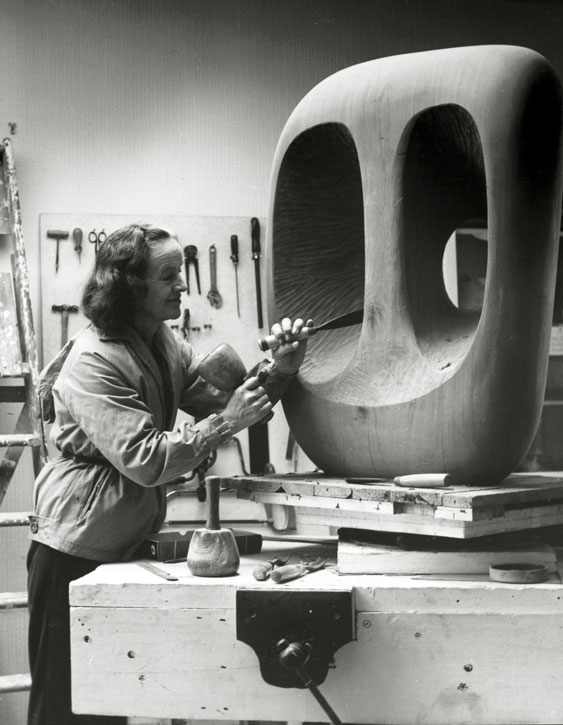 Surveying 75 years and exploring the work of over forty sculptors, the exhibition features a number of sculptures on public display for the first time since they were purchased for the nation. The intention is that it provides a radical recalibration by addressing the many accounts of post-war British sculpture that have marginalised women or airbrushed their work from art history altogether.
The works have been loosely grouped thematically into sections Figured, Formed and Found, and together they evidence a vast range of materials, processes and ideas played out across a breadth of scale. Many of the represented artists have challenged widespread notions of sculpture as a 'male occupation' by embracing new materials, subjects and approaches. Others have avoided institutional bias by producing work for alternative spaces or public sites.
The highlighted artists below demonstrate the strength and diversity of the wide range of practices included in the exhibition.
Barbara Hepworth
Barbara Hepworth (1903–1975) was very much a pioneer in the field of British sculpture. A prolific artist, Hepworth's work spans fifty years from 1925 to her death, and she made more than 600 sculptural works.
Icon (1957) was made at a pivotal moment in her career, and followed her largest and most resonant series of wood carvings. The work was bought by the Arts Council of Great Britain from the first exhibition it was shown in, held at Gimpel Fils Gallery in London in 1958.
It was inspired by Hepworth's time in Greece in 1954, where she was struck by the solitude of the landscape. She made a series of drawings, which she described as her experience of the place, and later developed these into sculptural forms.
Icon is carved from solid mahogany, a hardwood preferred by Hepworth for the resistance it offered. Smoothed to a radiant trademark shine, it conveys Hepworth's astute sensitivity to organic materials alongside her progressive sculptural language of abstract forms. Hepworth named the work Icon, the Greek word for image, further emphasising the influence that Greece had upon the artist.
Sokari Douglas Camp
Iriabo and Child (part of Audience) and Eriabo (part of Audience) (both 1986) are components of a larger installation by Sokari Douglas Camp (b.1958) called Alali Aru, in which the artist references her Nigerian heritage by recreating the showboat and audience members from the 1984 Kalabari masquerade festival.
Douglas Camp's work is often influenced by the sounds, colours and movement of Kalabari festivals, which celebrate ancient water spirits, mythological figures and village ancestors.
The artist uses sheet steel to make her sculptures: welding, cutting, and bending the material to create her desired compositions. She creates movement in her sculptures by welding smaller pieces of steel together in a pattern, as seen in the flowing skirt and waving arms of Eriabo (part of Audience). There is a contrast between the delicacy of the sculpture's components, particularly in the hands and heads of the figures, and the robust properties of the steel used to make them.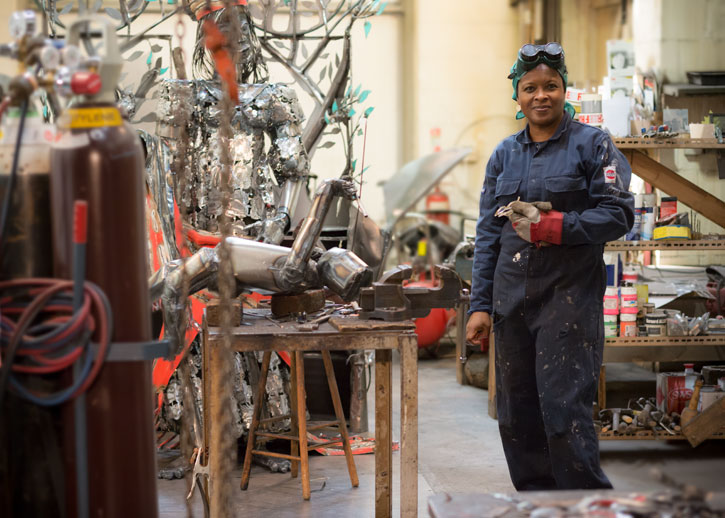 Commenting on her use of materials within the context of gender the artist said: 'I don't actually show the fact that I am a woman in my work. People say "You work in steel and that's not feminine." Why do I work in steel? Because it's fantastic material.'
Phyllida Barlow
Phyllida Barlow (b.1944) uses common construction materials including plaster, plywood, foam, polystyrene and wire mesh to form large-scale sculptures that disrupt and subvert the spaces they inhabit.
Despite their considerable size, Barlow sees her work as anti-monumental. Untitled: Dunce (2015) was purchased by the Arts Council Collection in 2016, and was made for the artist's 2015 solo exhibition 'Phyllida Barlow: set' at The Fruitmarket Gallery, Edinburgh, which saw Barlow 'turn the gallery...upside down' in order to create what she has described as an 'inside-out, back-to-front experience' for her audience.
The work is a great example of Barlow's interest in creating uneasy forms that question the limits of volume, mass and height and often stand precariously, inviting the viewer to engage with them from all angles within the gallery space.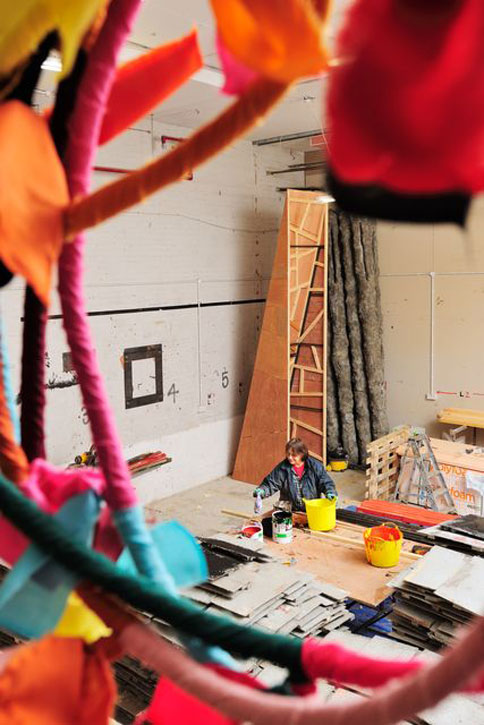 Speaking on the process of making, the artist said: 'the work has been manufactured, produced, and laboured over in the studio, requiring several individuals to produce any one section. So it's a huge collaboration. In the studio, I often have no idea how these works are going to come together in the setting. It's nerve-wracking. It's like I've written the play and got the actors, but I haven't told them what to do.'
Kim Lim
Kim Lim (1936–1997) moved to London at the age of 16 to study at St Martin's School of Art, where her interest in wood carving began. Her artistic practice is known for its respectful approach to natural materials and the rhythms of hands-on processes. She worked in collaboration with the material, and spoke of carving being her 'favourite method of working'.
Samurai (1961) was made soon after Lim graduated from the Slade School of Fine Art, and was purchased by the Arts Council Collection a year later. The work consists of four pieces of wood balanced together in a configuration that is deceptively simple; each element of the work is positioned to form a balanced whole, evoking feelings of tranquillity and harmony.
Speaking about her own work, the artist once said: 'I think sculpture should be silent and succinct; should confront you with the whole experience without having to be explored or analysed.'
Rana Begum
The practice of Rana Begum (b.1977) blurs the boundaries between sculpture, painting and architecture.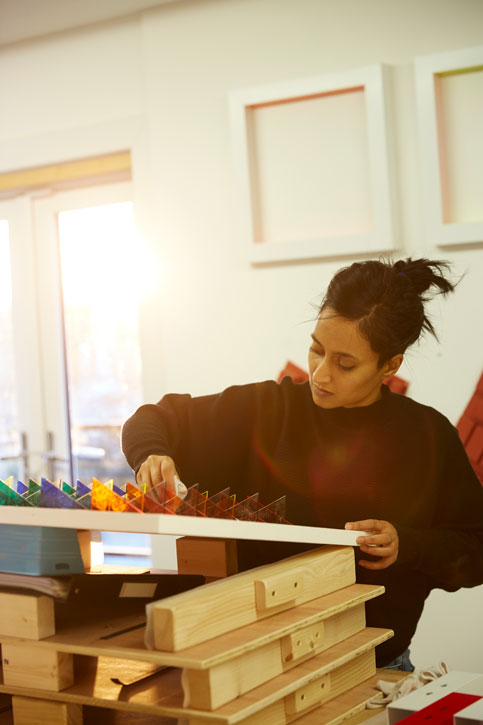 For her ongoing series Fold, the artist works with industrial materials, including powder-coated aluminium and steel, to create wall-mounted sculptures of an origami-like construction. She was inspired during her research by folding paper maquettes, creating forms that caught the light and created layered shadows, colour slowly taking form as she folded the paper.
In No. 429 SFold (2013), purchased by the Arts Council Collection in 2016, the underside of the sculpture has been painted a fluorescent yellow, and casts a warm, hazy glow against the wall on which it is hung. It invites the viewer to move around the work and observe it from varying angles, playing with our sense of space, and creating an experience that is both temporal and sensory.
Wendy Taylor
Wendy Taylor (b.1945) is perhaps best known for her ambitious site-specific public sculptures, including Timepiece (1973) at Tower Bridge and Octo (1979–1980) in Central Milton Keynes, both Grade II listed.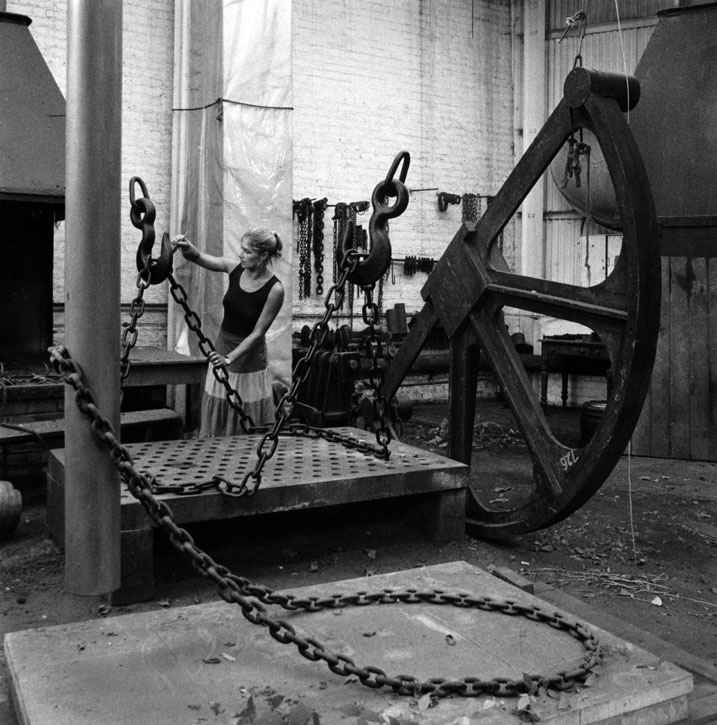 An important voice within the field of sculpture, she was one of the first artists of her generation to 'take art out of galleries and onto the streets.'
Inversion was purchased by the Arts Council Collection in 1970, the year it was made, and is constructed from steel chains and a large, horizontal aluminium column, which appears to hover precariously.
As with many of her sculptures, Taylor challenges our expectations: the chains simultaneously support the aluminium and tether it to the ground to prevent it from floating away. This work illustrates themes of materiality, equilibrium, mass and fabrication: all central to the artist's practice.
Zoë Carlon, writer and Collection and Programmes Assistant at the Arts Council Collection
'Breaking the Mould: Sculpture by Women Since 1945' will open in its first iteration at Longside Gallery, Yorkshire Sculpture Park on 29th May 2021.
For up-to-date information on the exhibition tour and to view the range of accompanying resources, visit the Arts Council Collection website.