In 1985, the US-based feminist collective known as the Guerrilla Girls formed to tackle the underrepresentation of women artists in the art world. Anonymous artist-activists who sport gorilla masks when in public, the members also conceal their identities by adopting art historical aliases: Käthe Kollwitz, Frida Kahlo, Claude Cahun, Diane Arbus and Gertrude Stein.
In the group's own words: 'If you're in a situation where you're a little afraid to speak up, put a mask on. You won't believe what comes out of your mouth.'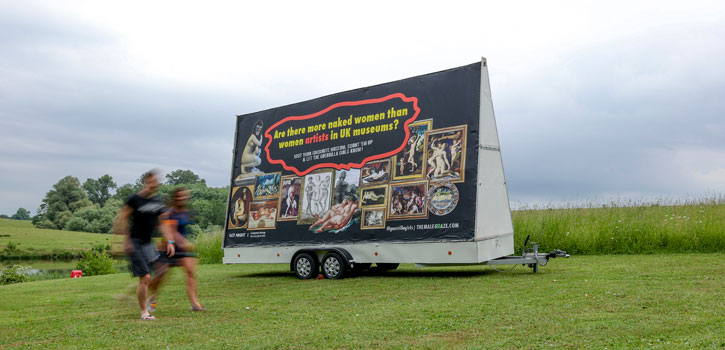 Since the collective's inception over three decades ago, they have consistently challenged forms of institutional hypocrisy and discrimination, including examples of racism, sexism and injustice within and beyond the museum walls. In the spirit of art-punk protest, the Guerrilla Girls are concerned with tearing down and rebalancing systems of power, elitism and inequality. They show no signs of slowing down.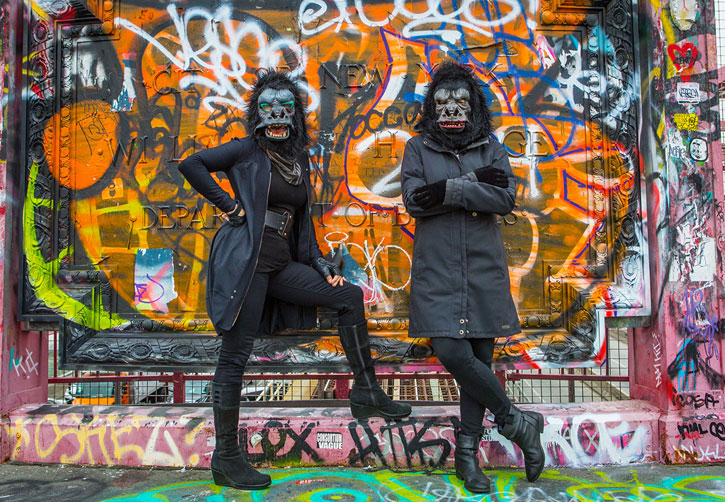 In a new initiative, 'The Male Graze' (until 18th July 2021), organised as part of Art Night 2021, the collective has erected eye-catching billboards displaying messages of anti-discrimination all across the UK, in places such as Eastbourne, Leeds, Glasgow, Cardiff, Dundee, Warwick, Birmingham, Swansea and London.
The outdoor project collaborates with museum collections across the UK, such as Compton Verney, Dundee Contemporary Arts, Glynn Vivian Art Gallery and Towner Eastbourne, and seeks to reveal and ridicule bad male behaviour through the lens of art history. The project examines behaviour focussing on – but not limited to – British artists and collections.
Speaking about the project, the group explained: 'what art historians call the 'Male Gaze', the masculine, heterosexual perspective in European and American art mostly by white men that depicts women as sexual objects for the pleasure of the male viewer, the Guerrilla Girls call the 'Male Graze'.'
Confronting and subverting the male gaze has been a long-standing strategy of the group, notably with one of their most memorable works: Do Women Have to Be Naked to Get Into the Met Museum?
Originally conceived in 1989 as a billboard commissioned by the Public Art Fund, New York, the work was rejected for 'not being clear enough'. In protest, the group exhibited the poster on rented advertising spaces across New York, including on the sides of buses, which ultimately led to further censorship. They recalled that 'the bus company cancelled our lease, saying that the image was too suggestive and that the figure appeared to have more than a fan in her hand.'
Poster by Guerrilla Girls (1985- ), US women artists/activists devoted to fighting sexism and racism within the art world #womensart pic.twitter.com/VCOXFsGODu

— #WOMENSART (@womensart1) August 2, 2017
The reactions to the work revealed a contradiction: female nudes painted by male artists are revered when hung in museums, but when women artists appropriate the nude for feminist or political purposes it becomes controversial and is swiftly censored. The aim of the poster was merely to highlight statistics of inequality: in 1989 less than 5% of the artists in the modern art section of the Metropolitan Museum of Art were women, whereas 85% of the female nudes were (unsurprisingly) painted by male artists.
Unfortunately, such astounding figures continue to be found in museums and collections across the world, with collections such as London's National Gallery openly addressing the fact that only 21 artworks in their collection of 2,300 paintings were created by women. In 2019, a study conducted by the Public Library of Science in the US concluded that 85% of artists in American museum collections are white, and 87% are male.
Such statistics are also reflected by Art UK's database – a reflection of over 3,000 UK collections – which reveals the disproportionate ratio of male to female artists due to many centuries of gender inequality and the barring of women from becoming professional artists. While we have identified over 31,000 male artists in our database, there are just over 9,500 artists identified as women.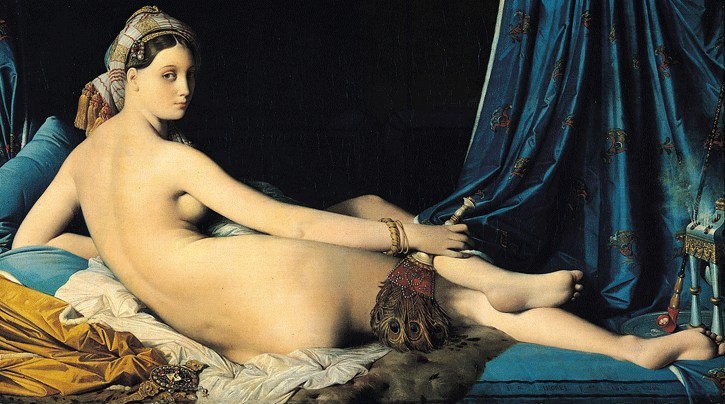 Despite the clear institutional critique of the Guerrilla Girls, for decades they have galvanised museums and galleries into action. Today they are embraced by collections worldwide, such as Tate, which has countless posters and screenprints by the collective in its collection.
Humour, irony and satire are key components of the Guerrilla Girls' artistic and political strategy, explaining the tongue-in-cheek wordplay behind the title 'Male Graze'. The wording insinuates that the female figure has been devoured throughout art history; consumed to appease the appetite of the male gaze. It recalls the writings of feminist theorist Laura Mulvey, who proposed that the active male gaze in cinema and visual culture renders the female passive. Mulvey argued the 'male gaze projects its phantasy on to the female figure […] women are simultaneously looked at and displayed, with their appearance coded for strong visual and erotic impact so that they can be said to connote to-be-looked-at-ness.'
The billboards created as part of Art Night 2021 feature famous nudes in UK collections, many of which perfectly encapsulate the voyeuristic male gaze. For example, Agnolo Bronzino's An Allegory with Venus and Cupid, Jean-Antoine Watteau's A Lady at her Toilet, and Velázquez's The Rokeby Venus – a work that was famously slashed with a meat chopper in 1914 by the suffragette Mary Richardson. In line with the thinking of the Guerrilla Girls, Richardson had confessed to the press over a century ago: 'I didn't like the way men visitors to the gallery gaped at it all day.'
Speaking about the UK billboard series, the group explained: 'Lots of women are naked in post-colonial western art. Some are idle: sleeping, splayed out on beds and couches, lounging around with their friends, bathing and maybe even dancing. When active, there is usually a sexual element present: voyeurism, seduction, harassment, assault, rape and sometimes murder. When we looked into how some revered male artists used and abused women in their real lives, we saw a lot of grazing, not just gazing. So we want to ask: does art imitate life or life imitate art?'
The billboards installed as part of the 'Male Graze' are accompanied by a website featuring sections titled 'Bad Male Behaviour', 'Helping Museums Write Wall Labels', and 'Art School/ Art World Confidential'. One section of the website asks individuals to report on the number of female nudes they see exhibited in their local museums, in comparison to the number of women artists exhibited.
Another, 'Flesh Through the Ages', categorises the types of female nudes found across UK collections, under crude and tongue-in-cheek headings such as 'Naked and Tortured', 'Naked in War', 'Sexy and Dead' and 'Just Lying Around', which highlights works such as Paul Gauguin's Nevermore.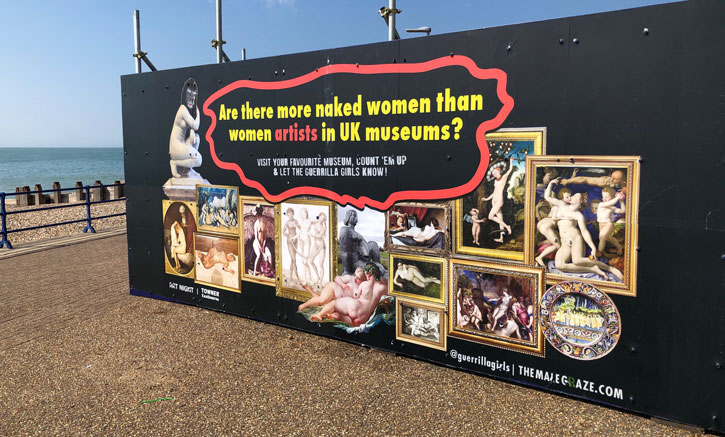 To accompany the billboards and website, an online gig took place on 26th June, in which the collective shared their trade secrets and discussed their activist work since the mid-1980s. Their advice to other activists: 'Do one thing. If it works, do another. If it doesn't, do another anyway. Keep chipping away. Creative complaining works!'
To find a billboard close to you, below is a list of the locations across the UK:
345 Old Street, London, EC1V 9LT
London Bridge / Borough High Street, London, SE1 9OG
The Anchor Inn, Digbeth – Rea Street, Birmingham, B5 6ET
2 Forfar Road, Dundee, DD4 7AR
Cardiff, x Motorpoint Arena A – Bute Terrace, Cardiff, CF10 2FE
231 Gallowgate, Barrowlands, Glasgow, G4 OTP (from 23 June)
1 Warehouse, New Orchard Street, Swansea, SA1 6YL
A209, Lewes (opposite Elephant and Castle pub, adjacent to New Road) and hoardings adjacent to Eastbourne Redoubt, Royal Parade, Eastbourne BN22 7AQ
1364 Neath Road, Swansea, SA1 2HL (14 June – 27 June)
57 Neath Road c/o Lyndu Street, Morriston, SA6 7BH (28 June – 11 July)
Compton Verney, Warwick, CV35 9HJ
Headingley Ln., Headingley, Leeds LS6 2AS
Lydia Figes, Content Editor at Art UK
The Male Graze as part of Art Night 2021 runs until 18th July 2021. The billboards were created in collaboration with Jack Arts and the project was developed with support from Somerset House and the Adonveya Foundation.