For Art UK's 'Being...' series, we take a look at a day in the life of a professional working in the arts, heritage or museum sector, or more broadly within visual culture.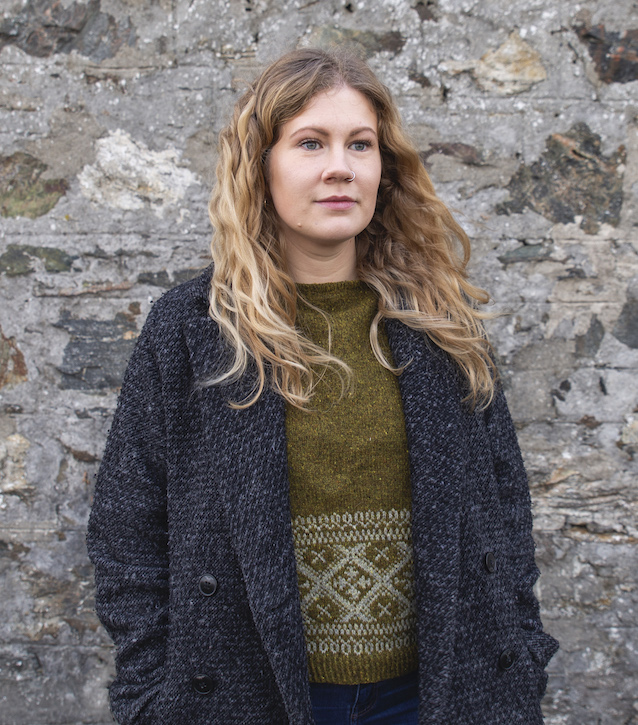 What's your role?
I am Programme Coordinator at artist-led organisation Gaada – Shetland's only visual art workshop. I facilitate weekly artist workshops, run artist development sessions, programme events and talks, produce our projects, and support the overall running of the organisation. I am interested in developing and programming accessible projects that are relevant and inclusively engaging for my home community of islanders and artists.
We are a small, tight-knit team, and our daily practice in the workshop is to pass work and ideas around fluidly. Collaboration is key both in the methodologies we use and the projects we deliver. As a team, we share a common vision of a positive and progressive visual art scene, and we funnel our energy into shaping Gaada as a safe space to welcome others into. This is what working for an artist-led organisation is to me: it's to be open, responsive and supportive.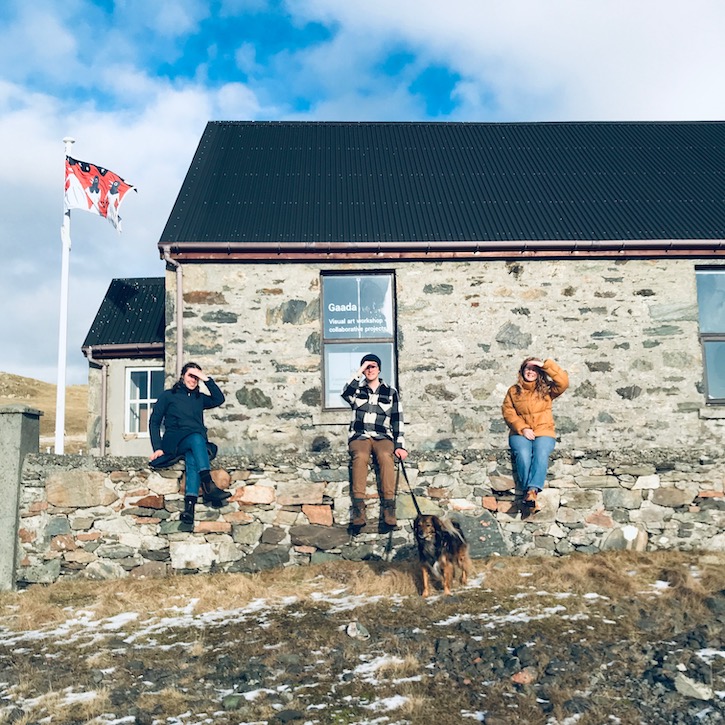 I gained my BA (Hons) from Gray's School of Art in Aberdeen (2013) and Masters in Fine Art Practice with Distinction from Glasgow School of Art (2020). I have worked in roles such as intern, invigilator, programme assistant, producer, archivist and lecturer, across the arts scene in Scotland and beyond.
In tandem to my art practice, I have been a social care worker for over 10 years, working with adults with disabilities and life-long conditions. This experience plays a vital role in my interest in ensuring art is accessible to all.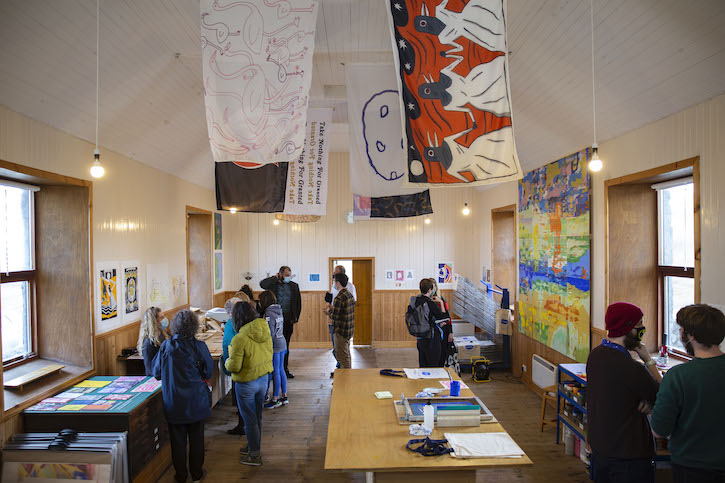 What's your morning routine?
I'm an early bird – my mind can think most clearly first thing. My morning starts with a walk around Lerwick with my partner and our Boxer dog – a calming experience in the endless light of Shetland summer and a battle through wind, rain, and darkness in the winter.
I squeeze in any writing I need to do for my personal practice before work, whether that's day-to-day admin, an application, or continuing research on the thing I can't shake out of my head.
What's your journey to work like?
My 20-minute drive from Lerwick to Burra every morning is one I thoroughly enjoy. I love exiting the boundary of Lerwick, past Tesco and the streams of school drop-off cars, as I head southwest.
I enjoy that I do the opposite to most folk and move away from our capital to work. Advocating for the visibility of artists and art organisations working outwith urban 'centres' has always been a concern of mine, and my strive for de-centralisation doesn't stop when considering Shetland.
As I drive down Burra Isle, I look to the horizon to check if the island of Foula's silhouette is visible, and inevitably I allow my mind to wander further south toward my home island, Fair Isle. On a clear day, you can see its tiny silhouette floating in the distance.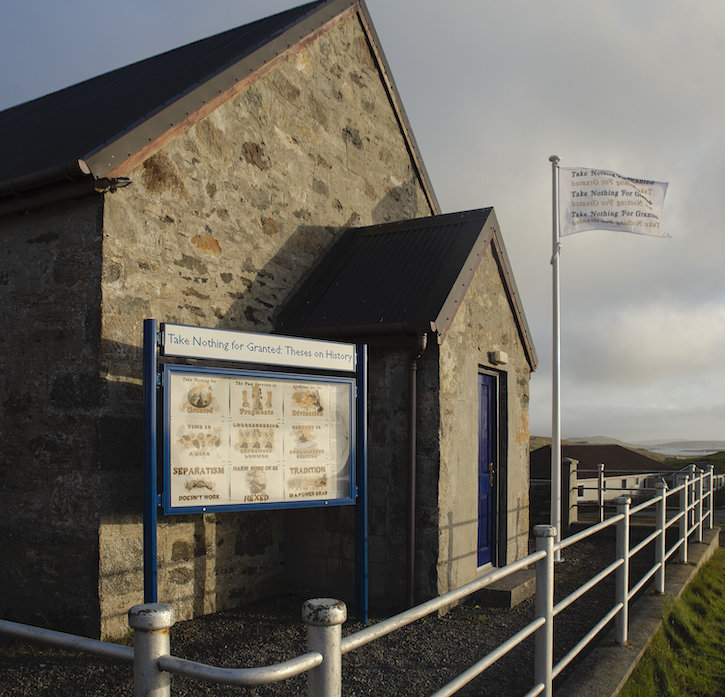 What's a typical morning at work for you?
Before I provide a glimpse into an exciting day in our busy workshop, I must give a word of realism: art = admin. To be an art worker – freelance or for an organisation – is to spend many hours on the computer. It takes a lot of emails, organising and logistics to programme meaningful art activities.
The day usually starts off with checking and replying to messages, ensuring our social media posts are scheduled (working from Shetland, we rely heavily on social media to share our work), and sifting through the multiple lists and bits of paper lined up on my desk.
The team will check in on each other to see where we need to give or receive some support and, depending on the day, I'll either head into internet-land or start a workshop with one of our artists. For interest's sake, we'll head into workshop-land!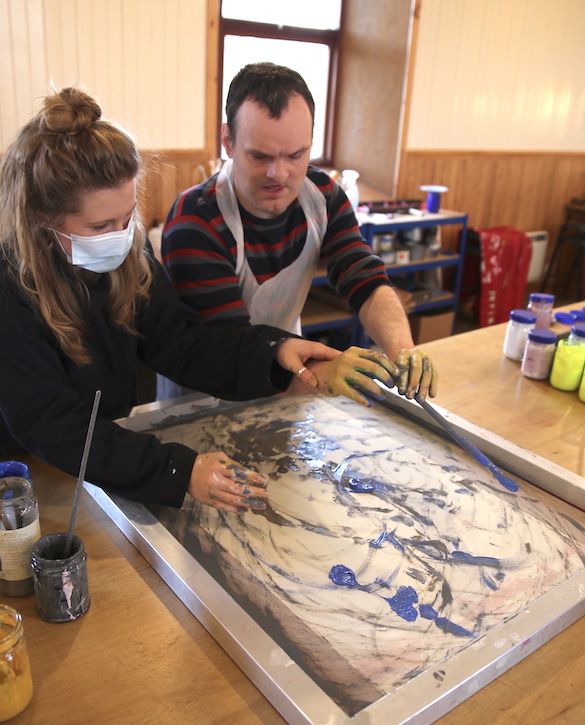 Workshops at Gaada are directed by the artist – we are there to support them to realise their ideas and develop their artistic vocabulary and practice. This means variety – sometimes we will be painting, drawing or making screenprints, on other days foraging for sounds, creating sculptural forms, or discussing the details of how to make a spreadsheet of receipts in preparation for a tax return.
We often get accidentally pulled into each other's workshops, to lend a hand with printing or to be nosey at all the incredible work being made. On workshop days, Gaada is a hive of activity and ideas. To gain a fuller understanding of our day-to-day running, I encourage you to browse our Instagram.
What's for lunch?
To feed my physical self, I always come prepared to work with a salad box – in the summer with leaves, cucumber, strawberries, etc. from the garden and in the winter roasted root veg or home-made soup. We don't have shops nearby Gaada, which has taught me to be on the ball with lunch prep.
If the weather allows, I try to leave the workshop briefly to feed my artist-self too – I stretch my legs and allow them to carry me toward the sea. I can take a moment to think of my own art practice and daydream projects out in the landscape or I can just sit and let me eyes settle in the negative space between crashing water and jagged rock.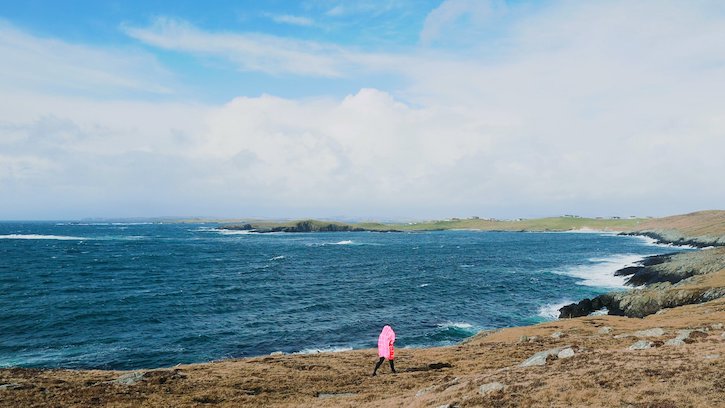 What's a typical afternoon like?
Afternoons are often for planning future events such as artist talks, discussion groups, workshares and crits. Some of this work revolves around demystifying the attainability of an art practice and encouraging the pursuit of creativity, and some of it is to support folk who are already comfortable wearing the label of 'artist'.
Other development work centres durational plans. A major project Gaada is currently working on is Future Site. We are collaborating with Turner Prize-winning design and architecture collective Assemble to create a new space for making and experiencing visual art in Shetland.
I listen out for the small plane travelling to Fair Isle, punctuating both the morning and afternoon when the weather allows. These rhythms of island life root our work at Gaada in place. I love to channel my energy, time, and intrigue into this organisation each day, and by doing so, develop the support structures necessary for Shetland artists to thrive – myself included!
What do you do after work?
Depending on upcoming deadlines, I will spend the evening in my home studio making artwork. In my art practice, I use physical and digital space to make performances, paintings and textiles that are rooted in island life.
I am interested in engaging audiences in a durational and experiential way, and critically play with access to – and dissemination of – contemporary art practice.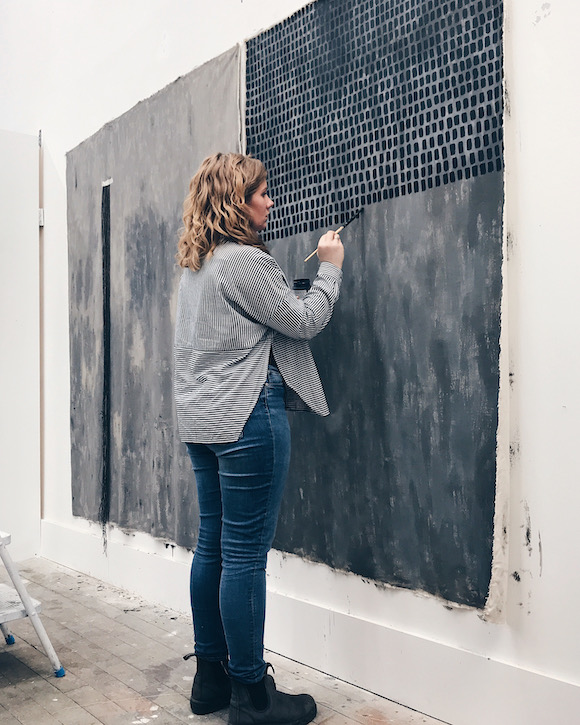 My head space, however, comes in the form of knitting and sewing, and I constantly have projects on the go. I love to follow the instructions of a pattern, indulging in someone else's design, unearthing how they have constructed an idea and problem-solved a shape or pattern.
I have somewhat of an obsessive personality, so when I like something I will spend full days diving deep into it, and find it difficult to pull my focus and head away to other things. Not good for sleep but great for the fact that I always have something homemade to wear or give as presents!
Carrying out the role of maker is where I feel most comfortable.
Vivian Ross-Smith, artist and programme coordinator
Do you work in the arts, heritage or museum sector? Would you be kind enough to share an example of your working day for our 'Being...' series? Please get in touch with Art UK at pitches@artuk.org as we'd love to hear from you.