For Art UK's 'Being...' series, we take a look at a day in the life of professionals working in the arts, heritage or museum sector.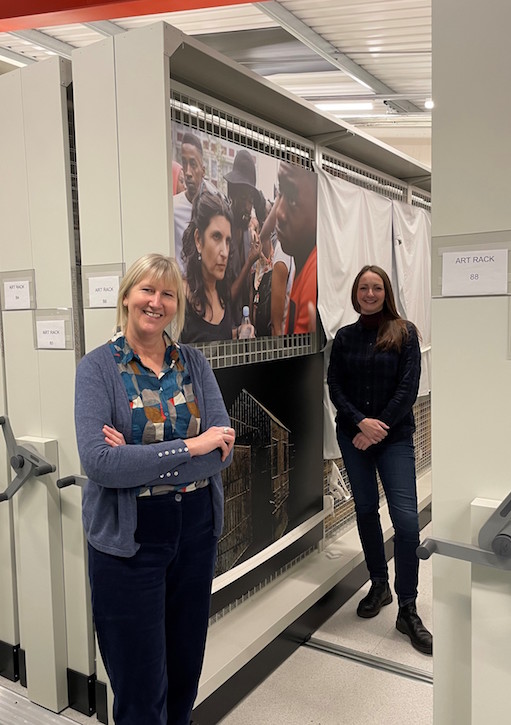 What's your role?
Louise: Abi and I are responsible for the collections care and access of the fine and decorative art collections for Nottingham City Museums – hundreds of wonderful paintings, thousands of drawings, prints and pots. It's a hugely interesting and absorbing job.
Abi: Together we look after around 10,000 objects, spanning from the fourteenth century to the present day. We research their histories, develop interpretation, send them out to exhibitions around the world and curate exhibitions at Nottingham museums. There is always something new to discover in this rich and eclectic collection.
What's your morning routine?
Louise: Sometimes I get up early and walk our dog, Rosie, before I go into work. I just have myself to get sorted – my son is in his final year of sixth form so is quite self-sufficient.
Abi: My 5-year-old is an early riser so when he gets up that tends to kick-start the day. After breakfast, it's a mad rush of dressing, tooth-brushing and throwing things into bags before myself and my partner take one child each to their respective pre- and primary schools.
What's your journey to work like?
Louise: I live in Derbyshire so I drive to our collections centre in Nottingham or I work from home. It's about a 45-minute drive cross country.
Abi: When I'm not working from home I generally cycle to work. If I fancy the scenic route I go through Wollaton Park, which takes in some beautiful views of the Elizabethan Hall (one of the city's museums), the lake and usually a few deer. Even my quickest route goes through University Park, the main campus for the University of Nottingham, which is packed with greenery and impressive buildings. We are pretty spoilt with the amount of green space we have in Nottingham.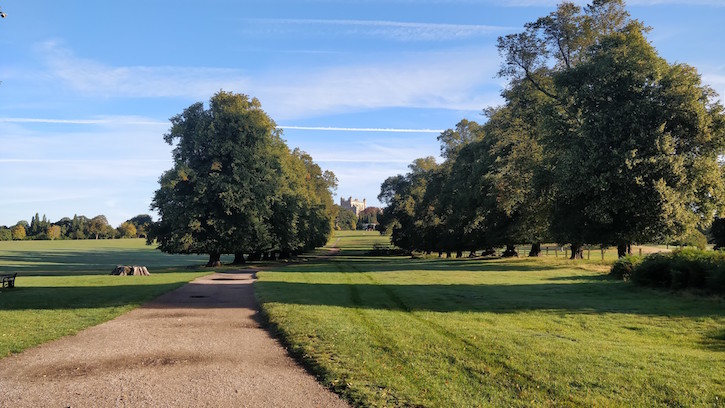 What's a typical morning at work for you?
Louise: If I'm at the collections centre I'm often in the stores, working with the collection, which I love doing. More recently I've been condition checking all the paintings that are going back into the new permanent displays at Nottingham Castle, which has been undergoing a two-year redevelopment project. This involves checking the frames and canvases for any damage. I'm so excited that visitors to the Castle will be able to enjoy these paintings again soon. Some of the frames and canvases have been cleaned and conserved by conservators Dian Hall and Will Young and it's fascinating to see a dull frame come to life again after a bit of cleaning!
Abi: There's usually a good mix of practical and desk-based activity at the stores. I was recently overseeing and assisting with the mounting and framing of some photographic prints by Zanele Muholi, a very exciting new acquisition that will have pride of place in the Castle galleries when they reopen next year. Prior to that, I was helping our in-house conservator with the handling of some Camm Brothers stained glass panels into a massive frame custom-made by a local joinery firm – one of those delicate tasks where you hold your breath until each piece is safely back in its box.
What's for lunch?
Louise: There are not many cafes for lunches around the collections centre so I bring my own; at the moment it's homemade soup which I can heat up in the kitchen on site. When I was based at Nottingham Castle I used to enjoy taking my lunch out into the grounds and watching the squirrels.
Abi: Usually some leftovers or a sandwich if I'm organised. If not, then a dash out to the sandwich van that appears midmorning or occasionally a walk up to the transport café for a bacon and egg cob (this is the correct term for a bread roll/bap/barm cake if you're in Nottingham!). Our location is not a glamorous part of town but we have space and great facilities for our collections.
What's a typical afternoon like?
Louise: I could be answering enquiries about our collection or liaising with other museums and galleries to loan out a painting for a temporary exhibition. We get a lot of requests to loan our works and Abi and I share out the workload. I like answering enquiries because it means I often have to research further into the object or painting, so I am constantly learning and adding to my knowledge of the collection. This information goes into the history file on that painting or object for future reference and for sharing with our audiences via a temporary exhibition, a talk, or on social media, for example. Abi and I try to overlap on a Thursday so we can discuss what we are working on, and share ideas and information. If not, we catch up on Microsoft Teams or WhatsApp.
Abi: In the afternoon I will try to focus on a task that needs my concentrated input. I have been working with our Principal Curator on writing interpretation for objects in Nottingham Castle's new displays. Ensuring the information we give in labels and panels is enlightening, inclusive and appropriate for the range of audiences who will visit takes patience and time (and lots of different drafts!). Prior to taking on this role a year ago, I had worked with museums quite a lot, borrowing artworks for exhibitions but now I am on the other side of the institution, I have developed a greater appreciation of the symbolism and power behind museum collections and feel even more motivated to open them up and share their wealth with as many people as possible.
Louise and I are members of several networks which have been useful in connecting us with knowledge and resources that aid us in our work. We take it in turns to attend conferences and have signed up for different specialist networks according to our interests. We pool our knowledge and feedback to each other about what we have learned. The great thing about job shares is that you get the perspective and experience of two people in one role.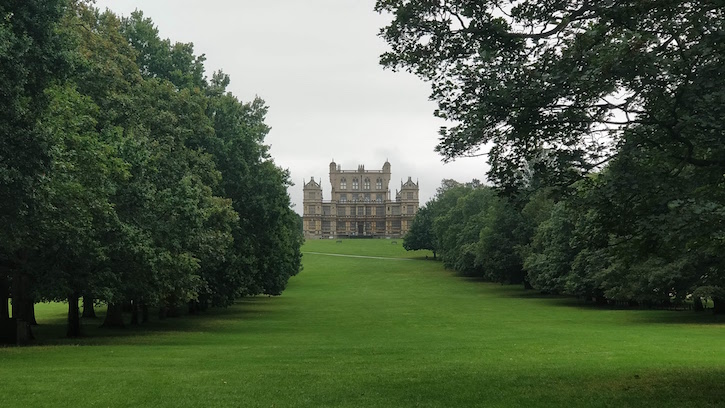 What do you do after work?
Louise: In the summer I walk my dog across the fields or go mountain biking with my husband and son in the hills around where I live. I've been part of a pottery collective, Claywirks, for the past five years so sometimes I go there and do some throwing on the wheel, which is very therapeutic! I've also got used to weekly Pilates sessions and monthly book group gatherings on Zoom; we've just read the classic novel The Leopard by Tomasi di Lampedusa.
Abi: I pick my daughter up from pre-school, then as a family we all catch up around the dinner table while we eat. There's the nightly routine of helping with homework, bathing the children and reading to them before my partner and I can relax by ourselves. At the moment I am enjoying watching the brilliant Steve McQueen directed Small Axe series. In the warmer months, I might head out into the garden and do some weeding or planting in the veg patch until it gets dark. Winter sees me reading a lot more, I love everything by Chimamanda Ngozi Adichie and I just finished a brilliantly peculiar and compelling book called The Milkman by Anna Burns.
Louise Dunning, and Abi Spinks, Curators of Fine and Decorative Art (job share), Nottingham City Museums
Do you work in the arts, heritage or museum sector? Would you be kind enough to share an example of your working day for our 'Being...' series? Please get in touch with Art UK at pitches@artuk.org as we'd love to hear from you.