For Art UK's 'Being...' series, we take a look at a day in the life of a professional working in the arts, heritage or museum sector, or more broadly within visual culture.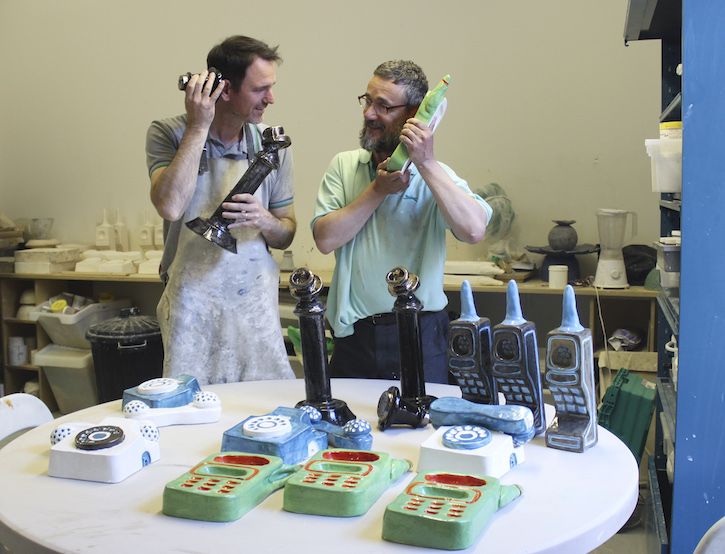 What's your role?
I'm Jim Ewen, the technician for Project Ability, a Glasgow-based visual arts organisation established in 1984 with an international reputation for excellence. We create opportunities for people with disabilities and people with lived experience of mental ill-health, aged five to 80-plus, to express themselves and achieve their artistic potential.
My role is varied, to say the least. I can be preparing exhibitions for our gallery programme, supporting the workshop programme, doing studio management or carrying out building maintenance.
I graduated from Duncan of Jordanstone College of Art & Design in 2000, and became a part-time technician in 2001. I also became a self-employed sessional artist and filmmaker. In 2007, I became the full-time technician. 2021 marks my 20th year working for Project Ability.
What's your morning routine?
I wake up and feed the cat (and dispose of any dead animals she's brought me), have a couple of shots of espresso and am out the door.
What's your journey to work like?
It depends on what I'm doing that day or after work as to whether I need to take the car. I'm always moving boxes of tools, or picking up framing glass or some cabinet.
If I'm not doing any of that, then I take the bike and it's just ten minutes to get from the Southside of Glasgow to the Merchant City. I must confess to getting a roll and sausage and more coffee from the bakery next door to the studio.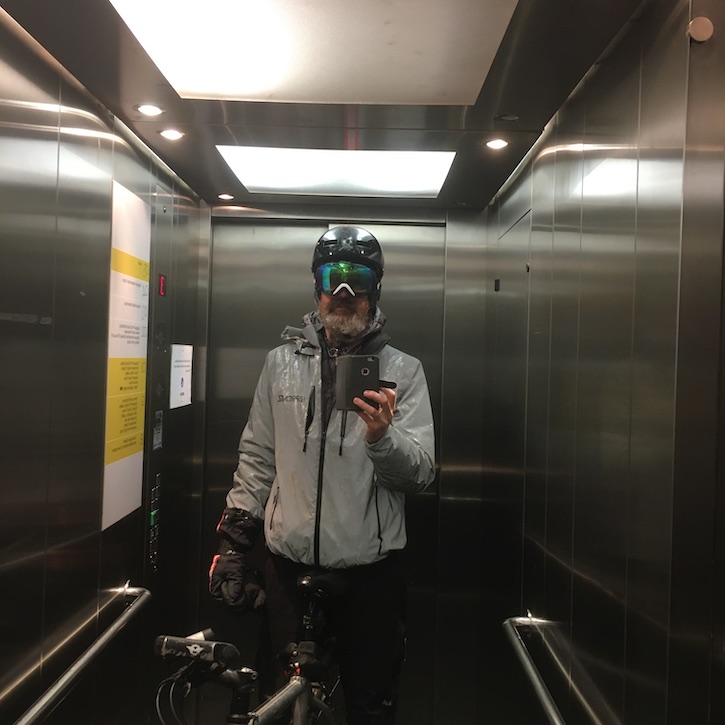 What's a typical morning at work for you?
A pre-COVID morning could look like this: I have an hour before the workshops start at 10am, so I can do the emails or start to recycle some clay. Then people start arriving.
There can be 20 artists arriving for the Reconnect workshop (an open studio for people with lived experience of mental ill-health) and then another 14 artists arriving for the Aspire workshop (our visual arts workshop programme for adults with learning disabilities), and then maybe another workshop with eight artists from a special needs school.
So, very quickly the place fills with people talking and squawking, getting jackets off, getting materials out and starting to paint. It's a lively start and a very colourful one too. Artists love the large canvases and using bright paint.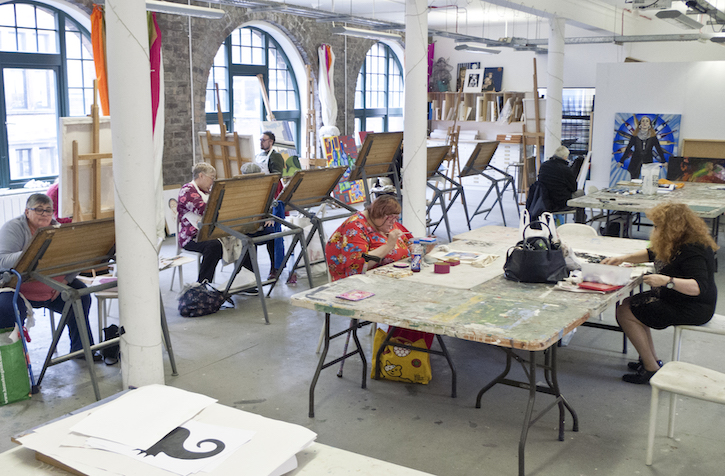 Each workshop usually has two professional artist tutors to facilitate the work, which can be anything from ceramics, painting, printmaking, filmmaking, model-making or textiles.
When the workshops start, there can be various requests for things (I'm the guy who knows where everything is), tools, materials I need to order, more canvas stretchers. When that calms down, I can get on and do some picture framing for an exhibition, start the big materials order or build more canvas stretchers in the woodshop. The workshops stop for lunch and things get a little quieter.
What's for lunch?
Lately, lunch is a packed lunch with homemade bread and prosciutto, but I forget sometimes, so then it's a sandwich or sushi. I still miss the Italian restaurant where we used to get pasta takeaway that closed 10 years ago.
What's a typical afternoon like?
Our facilities are really quite large – the gallery and office are on the first floor, and the workshops and studios take up all of the third floor of Trongate 103. This can mean a lot of flitting between floors. I seem to be constantly moving things around the building. It can be challenging. How do you get a ton of clay upstairs when the lift doesn't work?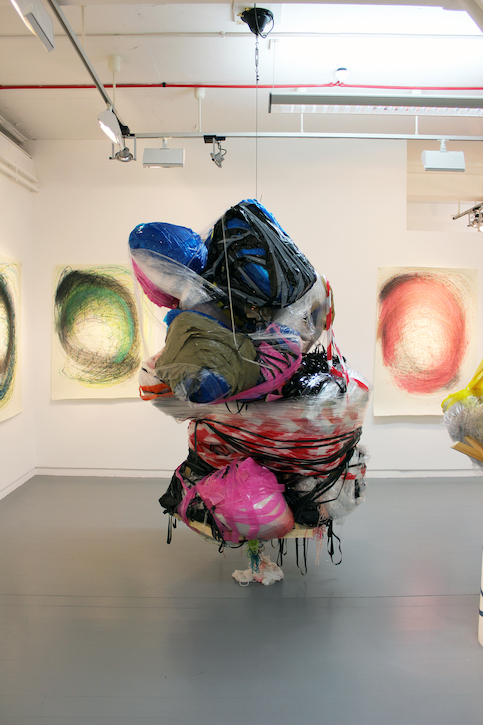 Workshops continue in the afternoon and finish at 4pm, so again, if the artists or tutors need anything I help them out. If we are installing an exhibition then I'm on the first floor hanging paintings, installing video pieces, and painting walls and floors.
Ceramics are very popular, and we normally need to fire the kiln at least twice a week, sometimes three times. We run out of space quickly under the volume of ceramics our artists produce. I particularly like the slip-casting process. It's very time-demanding but always a treat to release the cast out of a mould.
Other afternoons I can be designing a catalogue, getting a tea towel made or simply tidying the place up after 300 people have been through the door in a week.
What do you do after work?
After everyone's gone home, I find the woodshop is a great place to practise the bagpipes, so sometimes I do that for an hour. Other nights I need to go off and finish some other extra work – plastering a client's flat or building a kitchen cabinet.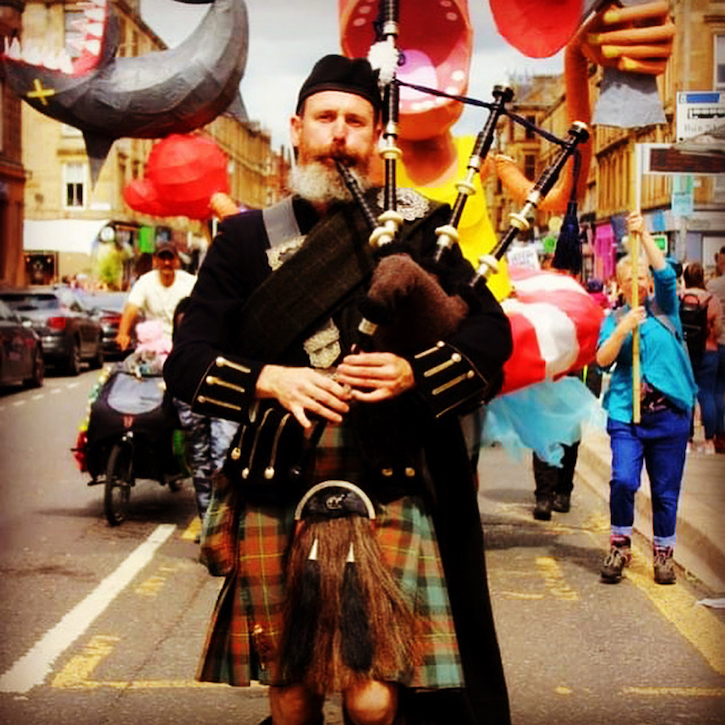 In 2005 my wife and I started our own artist studios, Southside Studios in Govanhill, and so there is always more maintenance to do there, or some emergency. Some nights we get to sit on our own tenement steps and enjoy the sun.
Jim Ewen, technician, Project Ability
Do you work in the arts, heritage or museum sector? Would you be kind enough to share an example of your working day for our 'Being...' series? Please get in touch with Art UK at pitches@artuk.org as we'd love to hear from you.