For Art UK's 'Being...' series, we take a look at a day in the life of a professional working in the arts, heritage or museum sector.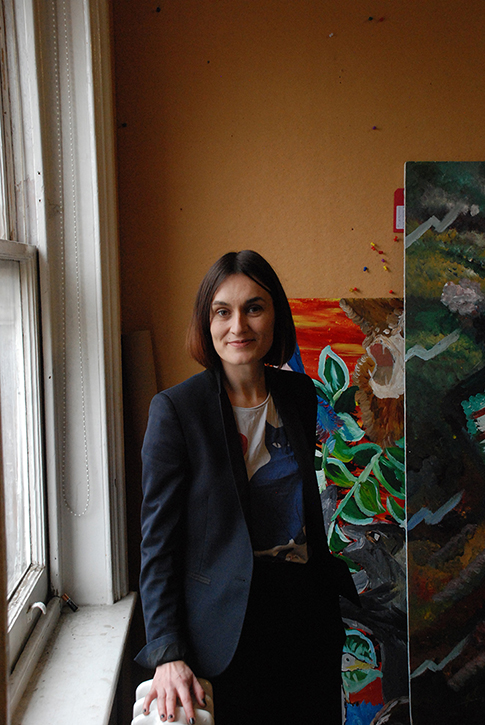 What's your role?
Koestler Arts is a prison arts charity that's been going since 1962. I've led the artistic programme for over ten years. We encourage some of the most marginalised people in society, those in prisons, secure hospitals, in probation hostels, and immigration detention centres, to participate in the arts. We do this through the awards programme, sales, feedback, mentoring, exhibitions, events and publications.
The benefits of people in the criminal justice system taking part in the arts are wide-ranging, and as varied as the artwork we receive. Writing a poem might be someone's first step in improving their literacy skills. A handmade jewellery box could be a gift that reconnects a prisoner with their family. Writing a song might help a participant to express their emotions, and improve their wellbeing, or it might improve the environment for fellow prisoners and prison staff. Several Koestler participants have gone on to further study, have published books, and developed careers as performers. On the other side, we aim to make these voices accessible to the outside world. We are one of the only ways that our participants' often unique stories can be heard by the public.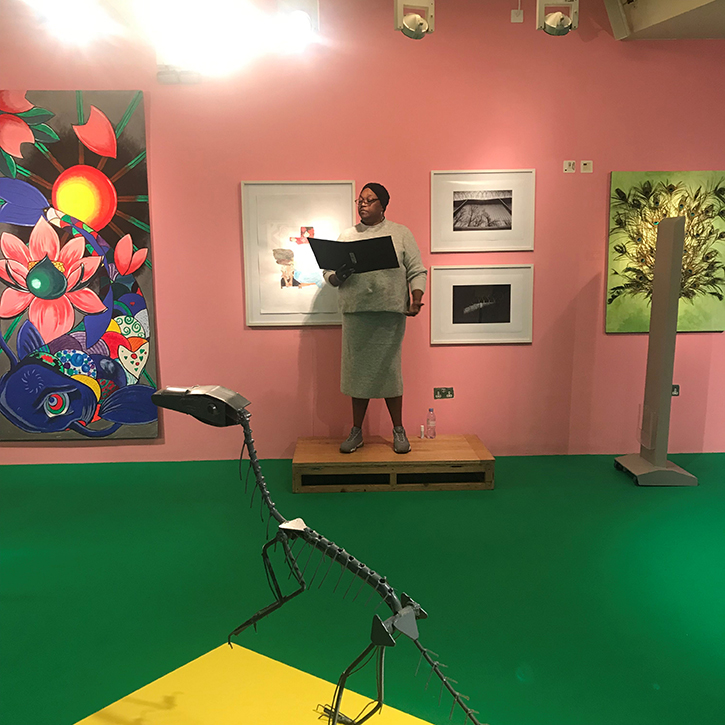 I run the awards programme and the public-facing programme. Everything we do runs off of the annual Koestler Awards – a very friendly competition with 52 categories. All entrants get written feedback and a certificate, many also get top awards with small cash prizes. The small team of people I manage coordinate the Koestler Awards – we market them, process them after the April deadline, organise the judging, feedback-writing (for which we are grateful to lots of volunteers!) and certification. We book in amazing judges for each category. This year they included Emma Bridgewater, Hot Chip, Lady Unchained, and Raphael Rowe. We then work hard to sell visual artwork online or at our exhibitions, before returning it all, just in time to start again the next year!
For the public programme, I plan ways to experience our entries, and draw out the stories behind them. These might be displays, exhibitions, events and publications – I try to keep experimenting. This year we produced a beautiful anthology of prisoners' poems, two regional exhibitions, a small exhibition of work by past entrants, lots of small displays, a (first ever!) Jazz festival event inside HM Prison Wormwood Scrubs, performances of award-winning stage plays at the Royal Court Theatre, and music, spoken word and poetry readings at Southbank Centre.
What's your morning routine?
I get up around 6am. Between my partner and I, we get our daughter ready for nursery and on days where I drop her off, I leave the house about 7.30am, if things are going well. I have to pull her along on her scooter, which is quite exhausting, and we make very slow progress! I travel from East London to West London, and do the drop off at nursery, so it takes a while, but I get to work for 9am.
I can't bear to leave the house without breakfast, so I always eat that, but drink my coffee from my thermos on the tube. I'm also one of those people who do their makeup on the tube – I just don't have the time in the house, but loads of it underground. I quite enjoy my long tube journey, and get through a lot of podcasts – recently I've loved the Dolly Parton's America podcast, The Crypto Queen podcast, and I love Fortunately and Desert Island Discs. If I have something to proofread, such as an exhibition leaflet, or awards guidance document, I often do it on the tube.
What's a typical morning at work for you?
I try to do more creative things in the morning, when I seem to work better at them. I'm based at my desk a lot, but I try and make just a little time to be around our entries being stored upstairs every day.
At the moment I'm planning who will curate our 2020 exhibition at Southbank Centre, which is really exciting and rewarding. One of the most fascinating aspects of our exhibitions is experimenting with who gets the power to curate. I've invited past entrants, prisoners' families and people on probation to curate, but also Antony Gormley curated our 2017 Southbank show, Jazz musician Soweto Kinch curated our 2019 one, and this week, I've been agreeing things so that Camille Walala can be our first designer to curate. She'll select all the work for the 2020 exhibition at Southbank, from all the entries to the 2020 Awards.
Today I finished a simple information sheet for potential entrants, so they can find out more about her work. I've also been doing all the paperwork and timescale planning for the project. I get loads of emails, of course, in a day, and often letters from our entrants – I love that our entrants are often so bursting with creativity that even the envelopes are fabulous!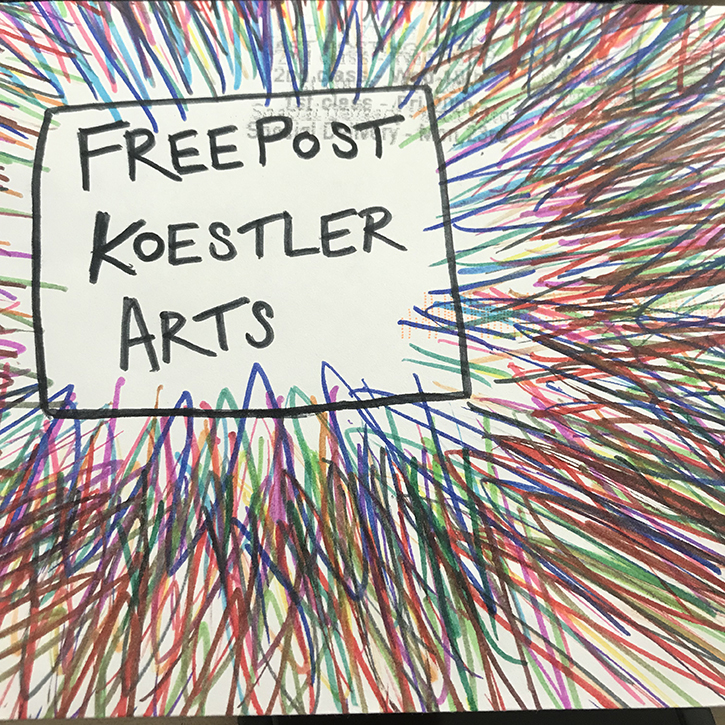 What's a typical afternoon like?
I often have meetings with people in my team, or from external organisations, or give presentations about what we do. I am spoilt for choice for images for PowerPoints, and amazing music to play out to audiences. I love showing people what we do, and the range of work we have here at Koestler. Only a small percentage is seen in our big shows. At some points in the year, our building is crammed with thousands of entries, and it's a real treasure trove. It all looks so different when presented publicly. At the moment, we are deep into returning the artwork, so my team are packaging hundreds of items every month to return to the prisons.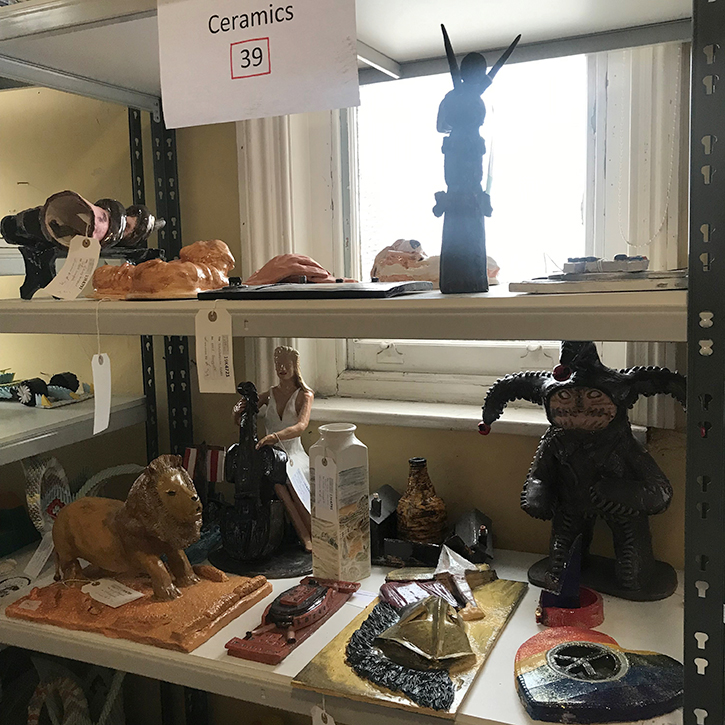 What do you do after work?
When I leave work I'm on a pretty tight schedule to do a nursery pick-up. Then it's home to do dinner with my daughter and partner, and a whole bedtime routine by 7.30pm. So, that three-hour period from the end of work to 7.30pm is pretty intense. After that, I will generally just relax, watch a box set, or read, before a pretty early night. If I make it past 10pm, I've done well!
If I have an event I'd like to go to, often other charities' events working in the sector, or a private view, as a lot of my friends are artists, then I'll go straight from work, and have a night off from the bedtime routine. Over the years I've bought quite a bit of Koestler artwork, so I have my own personal display at home. It's such inspiring work, and I know I'm very privileged to get to be around it every day.
Fiona Curran, Director of Arts, Koestler Arts
Do you work in the arts, heritage or museum sector? Would you be kind enough to share an example of your working day for our 'Being...' series? Please get in touch with Art UK at editorial@artuk.org as we'd love to hear from you.