For Art UK's 'Being...' series, we take a look at a day in the life of a professional working in the arts, heritage or museum sector.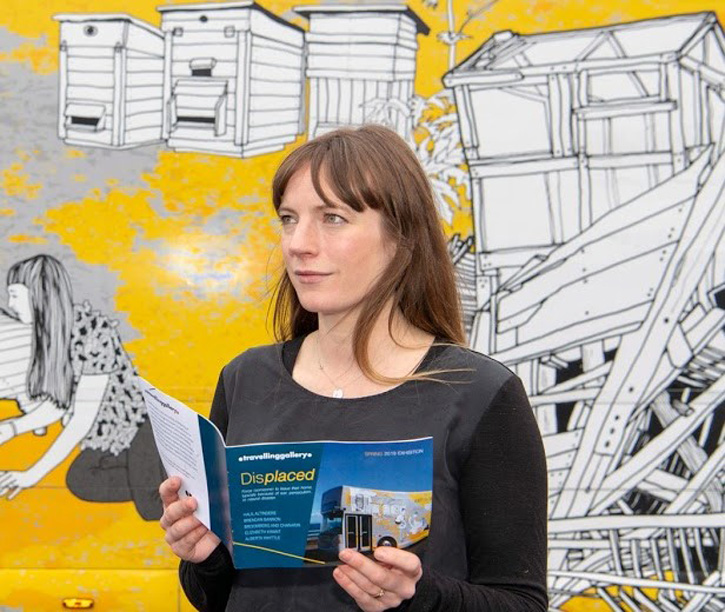 What's your role? (What led you to your current role?)
I'm a curator at Travelling Gallery. For those who don't know, Travelling Gallery is a contemporary art gallery in a bus and is unique to Scotland. Our function and core mission is to take our exciting and experimental programme to every part of Scotland, allowing access and learning for all. It truly is a unique and remarkable organisation which makes my role very special and definitely keeps it interesting. As well as curating the exhibition programme, I travel with the gallery and engage with audiences across Scotland. This can vary from presenting on an exhibition at a High School in Aberdeen to welcoming and chatting to visitors on the Isle of Lewis.
I've always loved art but early on at art school I realised I was much more interested in discussing other people's artwork and learning through their practice than producing my own work. During a paid internship at Stills Gallery in Edinburgh I learnt about curating and never looked back, going on to complete a Masters in Curating at Goldsmiths, University of London. I avidly believe that artists provide so many valuable resources for us to learn from, contemplate and experience – this is something I hope Travelling Gallery advocates.
What's your morning routine?
Let's imagine it's pre- or post-lockdown and I'm working in the Travelling Gallery office, which is based at the City Art Centre, Edinburgh. I'll get up about 7am and allow myself a leisurely morning to shower, have breakfast, walk the dog – the usual.
However, we can also imagine I'm on tour with Travelling Gallery and I wake up in a B&B somewhere in Scotland. I'll need a few moments to gather my bearings, remember where I am, check how much time I have to get ready and how to work the shower. I'll then meet my colleague, Travelling Gallery's driver, downstairs for breakfast – he's always there first chatting to the B&B owner and will always have vegan porridge – I'll browse what's on offer but usually get the eggs and some strong coffee. We like to think we're low maintenance!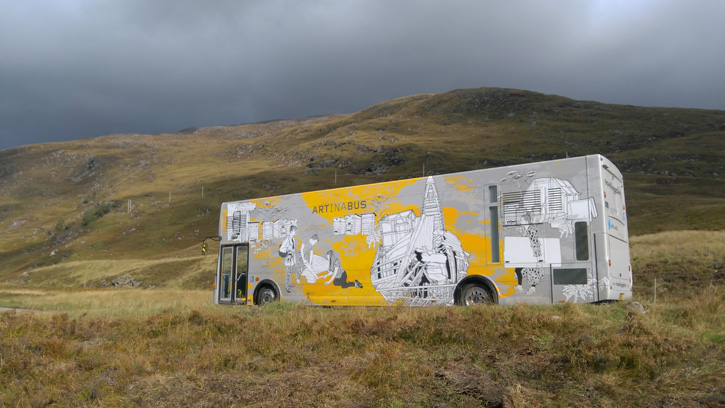 What's your journey to work like?
Again, if we're imagining an office day pre-coronavirus: I'm lucky to have a beautiful walk to work which takes about 35 minutes and takes in some of Edinburgh's best tourist spots including the Castle, St Giles Cathedral and dozens of tartan/Harry Potter shops.
If I'm touring, I'll have a hire car and promptly after breakfast TG's driver and I will go pick up the Travelling Gallery and head to the day's venue – maybe a school, library, community centre, or town square. Travelling Gallery is kept in a secure parking space overnight so there's always an added logistic at the start of each day.
What's a typical morning at work for you?
I always try to get the most out of my office days but they can be just as unpredictable as being out touring with the bus. Although my job title is curator, my curatorial research can often take a back seat to all the reporting and administration work. However, I try to make a concise 'to do' list and work my way through emails, staff expenses, bus maintenance, and tour logistics. This leaves the afternoon free for curatorial research and development.
To continue the contrast with a pre-lockdown morning on the road: if we were at a school, the TG driver and I could have presented to eight different classes by now, asking and answering lots of questions about the current exhibition (and the bus, e.g., do you sleep here?) and trying to provoke interesting discussions and ideas. We are very ready for lunch!
What's for lunch?
Throughout my working life, I have given far too much of my salary to Pret a Manger. I'm now a packed-lunch devotee and usually make a salad or bring in leftovers. This isn't to say I'm not partial to a cake from the City Art Centre café.
If I'm with Travelling Gallery we'll usually try out the local café and hopefully get some delicious homemade soup to warm me up if it's a cold day. Or baked potatoes – they always remind me of life on the road with TG.

What's a typical afternoon like?
All going to plan, this is when I can get absorbed in the exhibitions programme and development. Travelling Gallery is such a unique space, not just in its architecture and mobility, but in its audience engagement and capacity to make visitors feel comfortable enough to discuss the artwork with the TG team. All of this is considered when I'm researching and discussing future projects with artists. I'll never underestimate our audience and want to include artists whose work provokes social and political ideas as well as display interesting techniques and mediums.
When I'm out with the Travelling Gallery I get to see the accumulation of all that research, development, and exhibition-making; I get to engage and discuss the artwork with our audience and continue to learn and evolve my thinking through them. The audience engagement is a part of my job that has really changed and grounded my curatorial thinking. It has pushed to the forefront my continual need to ask myself: who is contemporary art for, and why? How do we make it more inclusive from the outset?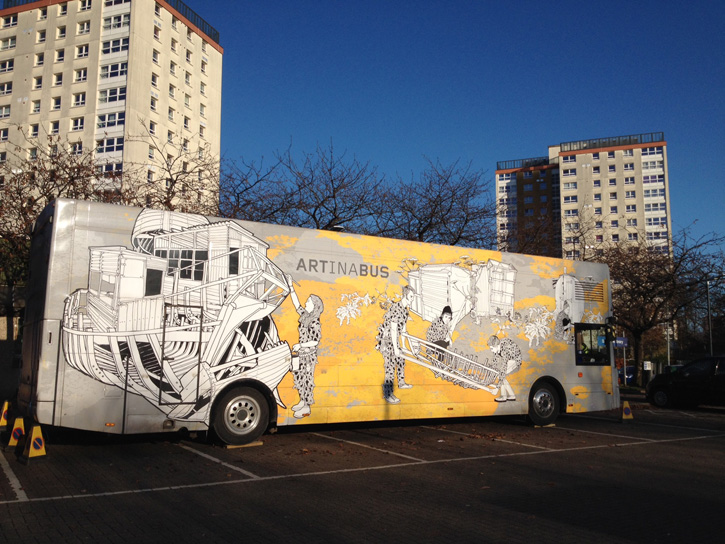 What do you do after work?
If I'm with the Travelling Gallery we'll pack up and take the bus either to its secure overnight parking or back to its home in Edinburgh. Then there's still some logistics of dropping the TG driver back home and passing the hire car onto whichever colleague is on the next shift. After all that driving I'm beat and happy to be back in my own bed.
Of course, after a day in the office pre-lockdown I used to be busy with social engagements – this might be an exhibition opening or drinks and dinner with friends. I love going to the cinema and can't wait for them to reopen properly. It's just not the same watching a newly released film on my laptop, I want the immersive experience with booming opening credits and no distractions!
Claire Craig, Curator at Travelling Gallery
Do you work in the arts, heritage or museum sector? Would you be kind enough to share an example of your working day for our 'Being...' series? Please get in touch with Art UK at pitches@artuk.org as we'd love to hear from you.