The 'Being Brent' exhibition – at the Brent Museum and Archives in The Library at Willesden Green – celebrates the rich diversity of the London Borough of Brent by showcasing artist-led community workshops with adults and children alongside three commissioned artist projects. Three themes run through the show – 'Being Green' explores green spaces, 'Being Alive' reflects on faith and religion, and 'Being Brave' considers conceptions of identity and home, all within the borough.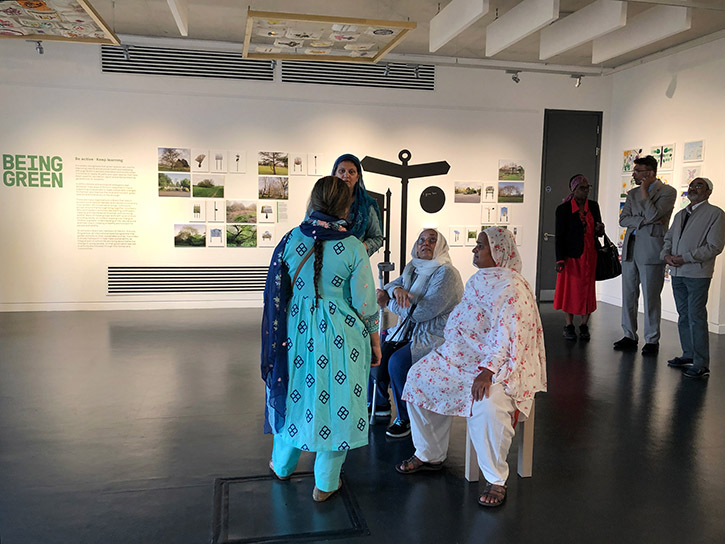 'Being Green'
Stop. Look. Listen. is a collaborative art project by us: artists Smriti Mehra and Matt Lee. When we were approached by the museum, our brief was to photograph a selection of six of Brent's green spaces. From a long list, we chose Barham Park, Fryent Country Park, Gladstone Park, King Edward VII Park, Roundwood Park and Welsh Harp – each offering a different kind of space or serving a different part of the borough.
As artists that are still relatively new to the community, the project was a catalyst for us to explore Brent, which has been home to us for just over four years. This posed the challenge of presenting spaces that we were not familiar with. While everyone has access to the parks, they also serve as sites of deeply personal significance. To tackle our concern, the project invites the audience to share personal perspectives to make visible the varied nature of how these green spaces serve us, as well as denoting a commonality of our lived experience.
As visitors navigate their way through these green spaces that enrich our neighbourhoods, they are confronted with a variety of sign boards. These include signs that elucidate the history of the space, give directions, have maps or simply tell you what is or isn't allowed in the space. While restrictions in these spaces might seem prohibitive (and at times odd), they are fundamental to the collective responsibility required to protect and conserve these natural habitats. Stop. Look. Listen. emphasises this importance. Signs obscure views and it is through these signs that we reflect on the details and nuances of what they serve to do.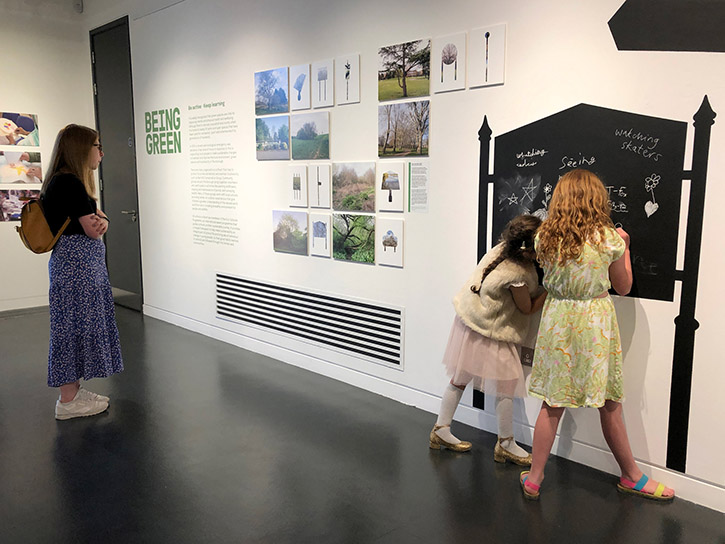 We ruminated on how people might respond on the painted black signs on the wall and while we invited the audience to share personal anecdotes, the possibility of not meeting that particular expectation is not a concern we are troubled by. Within the responses so far, we have received anecdotes, memories, observations, drawings, doodles and scribbles. Some people write their names in their own language. These responses are not unlike mark-making that is familiar to see in parks – whether etched on the barks of trees, or on signposts or benches. This project keeps participation ongoing in the exhibition.
Adjacent to this exhibit is the delightful display 'Bugs, Butterflies and Birds' – a collection of mixed media artwork by local children, children at College Green Nursery School and the 4th Brondesbury Brownies and Guides. Facilitated by Caroline D'Souza of LEAP London and artist Susanna Jacobs, these public workshops explore common flora and insects using natural materials.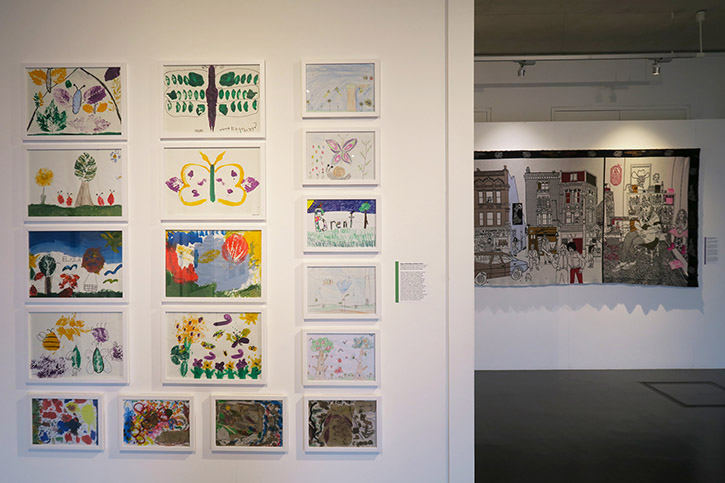 'Being Alive'
Outcomes from a set of workshops with Glenda Brady, Director of Stitch Amazingly, come together as textile tiles and canopy in the show Community is Unity. 'Participants used hand-stitching, machine sewing and fabric paint to create their own fabric tile inspired by their faith. The groups used faith symbols as prompts for their designs and for discussion around how their faith connects them to the community.'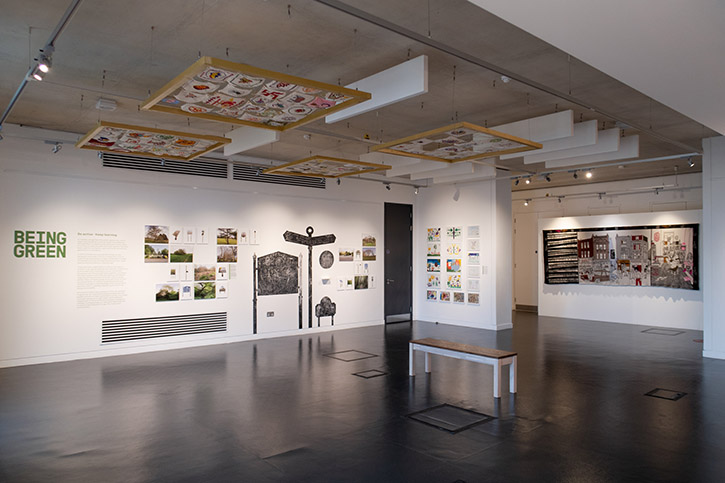 Glenda's workshops with volunteers from the three faith groups also culminate in an audio piece, Come Together, by sound artists Susanna Grant and Jo Morris of For Now Production. The work honours voices and soundscapes from the Central Mosque of Brent, the Roman Catholic Church of St Mary Magdalen, and the BAPS Shri Swaminarayan Mandir. Calls to prayer, singing and snippets of conversations from the workshops are woven together with the sound of water and Glenda's voice.
'Being Brave'
Public workshops with members of the local community, led by artist Kinga Markus, bring together charcoal and colour pastel portraiture, still life and drawings from personal photographs to explore home and identity. For Being Brave: A Community Perspective, 'participants responded to items from the museum and archive collections, taking inspiration from the cultural heritage and communities that make up Brent's identity to relay their own personal experiences and identities.'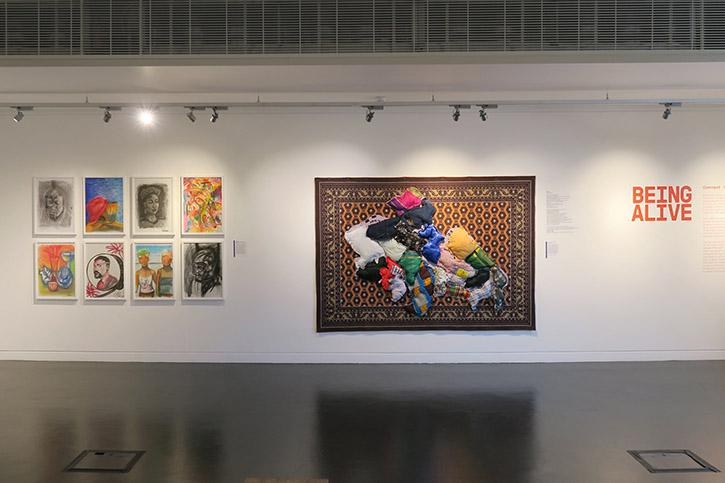 Yasmin Nicholas's interactive textile piece, Home is How you Feel, features her poem Home Is. 'The piece is a reflection on immigration in Brent, the impact on the borough, and the bravery of those who made the journey to create a home here. The map of Brent is split into pieces made of different materials, a reference to the diverse cultures that make up Brent.'
Celebrated designers Helen Delany and Brenda Aherne of the label Electronic Sheep present a triptych depicting the lives of the past and present Irish community of Brent in The Kilburn Tapestries.
Panel 1 includes excerpts from the Irish playwright Enda Walsh that serve as 'a sombre reminder of the hard times many Irish people experienced in the past when they first moved to London.
Panel 2 is dedicated to the legendary Irish music promoter Vince Power and the huge influence he has had on the music scene in Brent, London and beyond.
Panel 3 is a portrait of Helen and her daughter Trilby Fox in their current home in Kilburn. They are surrounded by collectables, heirlooms and significant objects that are relevant to the Brent/Irish story. Brenda (who lives in Dublin) is peeping out from the laptop.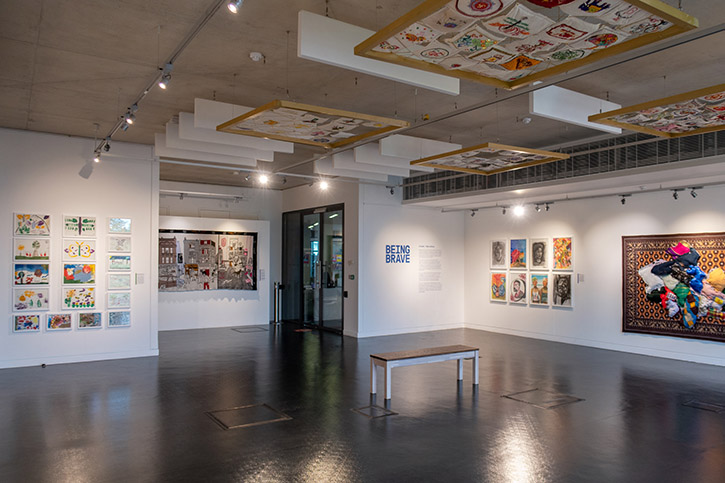 This show champions inclusivity and diversity and is successful in providing access to the community it serves. Situated in a public space of knowledge-sharing, it presents perspectives from the lived experiences of the community. It does not privilege artists and is non-hierarchical in design. Participation is the dominant virtue of the show. 'Being Brent' is an exhibition truly by, of and for the community.
Smriti Mehra and Matt Lee, artists
'Being Brent' is commissioned by Brent Museum and Archives and funded by the Arts Council England. The free exhibition runs until 20th January 2023 at The Exhibition Space, Second Floor, The Library at Willesden Green
Acknowledgements
Camilla Churchill, Heritage Collections Manager at Brent Council
Rebecca Thomson, Heritage Service Officer at Brent Museum and Archives
James Ward, Exhibition Designer