The act of painting creates a record of the event of paint applied to a support (canvas or other). This holds true whatever the reason for the painting. Paintings exist through instinct, volition, skill and design. If figurative, they represent the interpretation of a scenario set before the artist.
Organ challenged himself to paint children, a notoriously difficult task. On his unusual square-shaped canvas, the four heads act like the counters in a game of draughts, a doubles match of visual ping-pong.
If they survive the vagaries of time (many don't) then they may survive for years. Time is arrested in a painting, or at least seems to be. However, John Berger (in his 2005 book and our faces, my heart, brief as photos) had this to say about time and painting:
'Paintings are static. The uniqueness of the experience of looking at a painting repeatedly – over a period of days or years – is that, in the midst of flux, the image remains changeless. Of course the significance of the image may change, as a result of either historical or personal events, but what is depicted is unchanging: the same milk flowing from the same jug, the waves on the sea with exactly the same formations unbroken, the smile and the face which have not altered.
'One might be tempted to say that paintings preserve a moment. Yet on reflection this is obviously untrue. For the moment of a painting, unlike a moment photographed, never existed as such. And so a painting cannot be said to preserve it.'
I would visit the Brighton Museum & Art Gallery when on Foundation at the art college there in 1972, and I revisited recently, in June 2019. I remembered the Dalí Lips sofa and wanted to reconnect with this and look at the painting collection. Here I chanced upon a pair of heads glowing in front of me with their ghostly alter egos hovering above... I was in a travelling time capsule.
Before me were the children from my art class of 37 years ago. The painting testifies to my last year teaching at Uffculme Comprehensive School. Bob Organ was artist-in-residence and I had declared a self-portrait fest-cum-regime for all the students.
The painting is now a record of time, place and people. These eleven-year-old pupil sitters, if they are still alive, will now be approaching their 50s, having lived the most defining periods of their lives.
Organ's composition is as sparse and strict as their standardised uniform. The 'live' figures are in the front row, while their self-portraits echo their alternate presence above. Organ has reiterated their artworks and we can see how well they have recreated themselves through recognisable characteristics of face shape and colouration. Their self-portraits appear as ghostly selves. Looking back at them, I recognize individuals but not names. Obviously, even then I was passionate about the idea of the auto-portrait and found it fascinating. Still now this intrigues me – how do we envisage the self? How can we find a way to visualize our individuality, that ego that is of paramount importance?
The way that Organ lays paint onto the canvas is a kind of self-portrait performance and record.
The green skin tones belie his love of Bonnard and the Intimistes.
There is a hint of Jawlensky in this work.
Organ challenged himself to paint children, a notoriously difficult task. On his unusual square-shaped canvas, the four heads act like the counters in a game of draughts, a doubles match of visual ping-pong. The blue-and-grey tie stripes echo this gaming analogy while those pertaining to the left-hand figure connect with his face paint and there is something comical, Native American, military or nautical about them. They set up a rhythm and syncopation around the square of the canvas, connecting to the circular halo around the girl ghost.
This is a very clever painting that operates on many levels, as all good art should, and yet is a record of an ordinary schoolgirl and boy. Seeing this has reawakened memories of those days for me, almost 40 years ago!
Making me consider how my life has revolved around art education, my trajectory from Brighton, to Exeter and Uffculme, eventually to the Slade School of Fine Art at UCL in London where I now work. I have been looking at the drawing Bob gave me at the time, and remembering other things. The art testifies to life.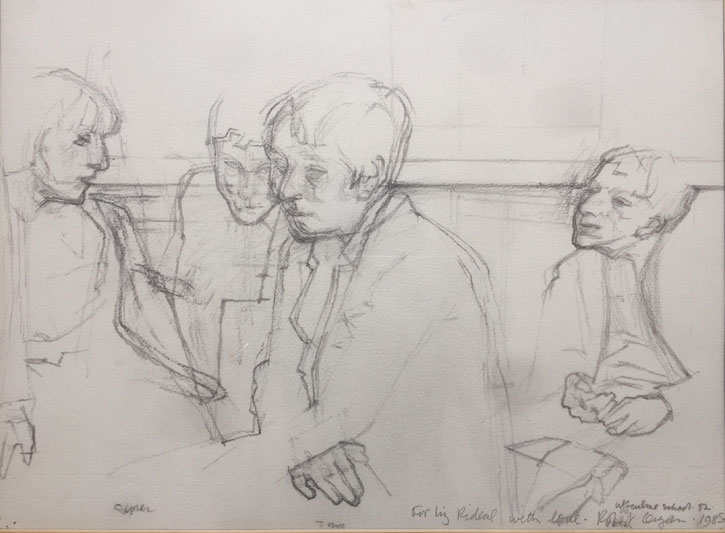 The drawing is reproduced here in order to broaden the scope of understanding this painting and its history. To reiterate the way some artists gather drawings of their subjects together before they start the painting that might include them. That I still have the drawing speaks of the value I put on such works, and the special nature of the gifted work from one artist to another. Many artists collect artworks both from living and dead artists, including such great names as Rubens and Van Dyck, who amassed famous art collections.
The painting reminds us of the great painters of children, from Van Dyck's Daughters of Charles I (itself a study for The Five Eldest Children of Charles I in the Royal Collection), through to Velázquez's Las Meninas, Sargent's The Daughters of Edward Darley Boit and William Nicholson's Boy with the Caroline Mug.
Finally, and closer to home, the lovely visual essay in triangular composition also in the Brighton Museum & Art Gallery by Glyn Philpot.
Within art history, Christianity claims the Madonna and Child, while Hindus celebrate the young blue-skinned Krishna. These religious works reiterate recognisable painted icons of childhood. Organ's pair seem familiar in their uniforms and exist as individuals, even though they remain nameless.
Liz Rideal, artist and writer