Founded in 2018 by leading art consultancy ARTIQ, 'Queer Frontiers' is an annual charity exhibition featuring work by international LGBTQ+ artists and allies. Previous years saw ARTIQ partnering with London Pride and Hiscox and raise more than £30,000 for non-profit organisations such as Albert Kennedy Trust and Switchboard.
Past editions of Queer Frontiers involved pop-up spaces in iconic locations across Soho in London to exhibit outstanding work by emerging and established international artists.
This year ARTIQ is taking Queer Frontiers online, in collaboration with Sassy Digital and Hiscox to showcase another incredible selection of works. The goal is to raise funds for East London-based charity Renaissance Foundation who help young people in hospitals, students at risk and young carers.
Renaissance Foundation helps young people raise aspirations, increase resilience and develop vocational soft skills. Their programme is based around building a strong peer support group through personal development and career workshops, inspirational visits and skill-based workshops, teaching practical skills like critical thinking, public speaking, and computer literacy.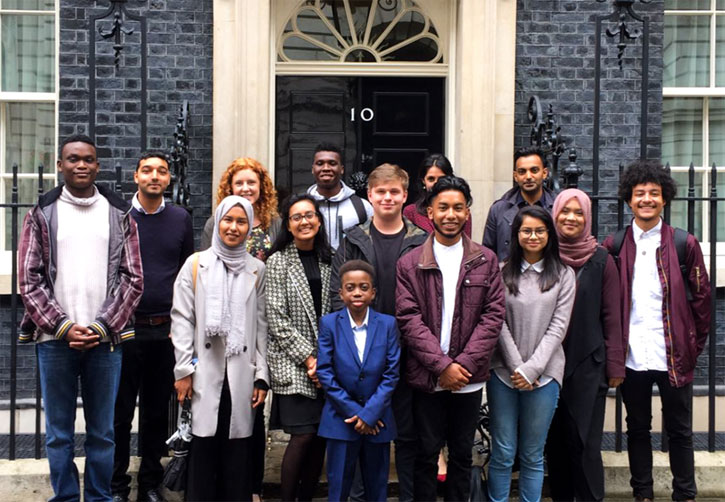 This year's selection of artists celebrates and explores unique narratives featuring a variety of styles, media and techniques. From resin and Perspex 3D pieces, pigment transfers and paintings, photography and documented performances to digital collage.
We will be taking you through some of our top picks from the showcase – you can see the full exhibition on the Queer Frontiers shop.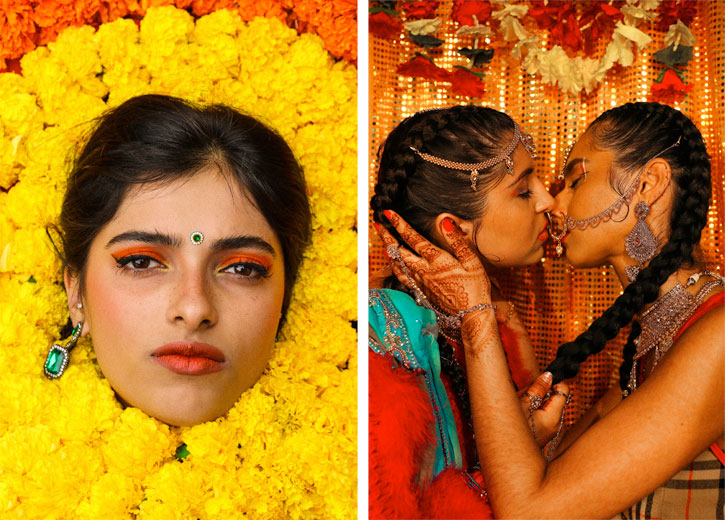 We begin our top picks with the vibrant photographic works of Alia Romagnoli. With Indian and Italian heritage, Alia's practice focuses on female strength, nature and spirituality. These elements all become part of her subjects, often inspired by Indian culture and rituals: 'I never saw art and images that showed the beauty and acceptance of queer people in any shape or form, especially due to the censorship in the media growing up in India. Many of my inspirations come from old Bollywood films and stills from the 1970s and 1980s, as well as maharani portraiture in Indian folk paintings.'
It's fascinating to observe how artworks created in different mediums and techniques can be combined in the same art collection, and how their curation can expand meaning and references. In the collages by emerging artist Will Ballantyne-Reed, for example, we also find a warm and playful colour palette, while the subject and inspiration of his work are taken from queer archival materials and explore themes around memory, mythology, and queer survival.
Queer Frontiers has historically featured artists from all over the world, bringing together artworks inspired by a variety of cultures, experiences and backgrounds. The watercolours by French artist Delphine Lebourgeois revolve around ideas such as the power of crowds and feminism reinterpreted through the lens of fairy tales, myths and revisited historical paintings. Through these imaginary scenarios, also reminiscent of her childhood games, the artist tells stories about vulnerability and disillusion, rebellion and empowerment.
Often, contemporary paintings take inspiration from an eclectic variety of references, historical periods and genres. If attentively observed, the candy-like, artificial colours and contemporary look of Chris Hawkes' paintings reveal the artist's inspiration taken from Baroque imagery with its characters' demure mannerisms, sensuality and soft colour palettes. Nodding to the seventeenth-century artistic tradition, Chris' works also incorporate ultra-contemporary elements such as emojis, humour and even references to the experience of human relations during social distancing.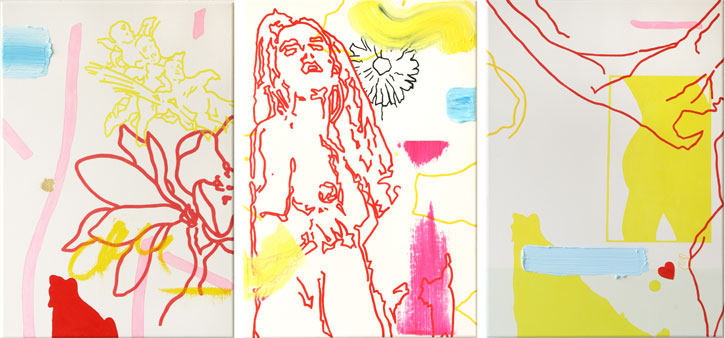 Conversely Maser's recent series of works Taxonomy is inspired by the artist's interest in botanical drawings. His passion for botany and plants initially evolved as a way to alleviate anxiety and regulate sleep patterns. Their influences soon became visible in his paintings, in which they are fused together with Maser's energetic and graphic brushstrokes referencing his notorious activity as a street artist. Irish born and internationally renowned, Maser is most famous for his colourful large-scale murals and immersive public art installations. He's as well known for the support he has provided to several social causes throughout his career, most notably the 2016 'Repeal the Eighth' campaign in Ireland.
Printmaking as a medium has always been present throughout each Queer Frontiers exhibition. This technique allows for image manipulation and superposition while facilitating the expression of layered narratives. One of the artists who intensively researches and experiments with printmaking as his primary form of expression is Radek Husak. Radek's body of work features pigment transfers with carbon-drawn elements and often utilises the alternative photographic technique of the cyanotype. His pieces are influenced by the timeless tradition of the nude combined with surrealism and pop culture from the 1950s and 1960s.
Other popular art forms among our Queer Frontiers artists are performance and photography, two practices strongly linked to one another. Allowing the artist to build unique worlds and new meanings, these forms of expression often see the artist as the main character or protagonist, offering a platform to reinterpret personal experiences and perceptions through a broader spectrum of references. Konstantin Zhukov's series In the Bathhouse portrays the artist and other characters within contemporary settings and is inspired by the literary work by classical Arabic poet Abu Nuwas (AD 756–814), describing the joyous atmosphere of the bathhouse. Originally from Latvia, Konstantin is a London-based artist and designer.
Queer culture typically questions gender stereotypes and celebrates human diversity in the way we love and express ourselves. It often refuses assimilation and strives to reflect a person's true self on the outside; visual arts such as fashion and dance provide the tools to achieve this freedom and contribute to create a culture which is joyful and inclusive. In his digital collages, Paris-based German artist Enrico Nagel deconstructs the stereotypical symbols of masculinity by fusing them with references to elements that are often categorised as feminine, such as ballet dancing, flowers and camp fashion.
Brazilian artist Juli Manara also creates collaged artworks but rather than using pre-existing imagery to design new compositions, she builds entire settings from scratch. Juli sews intricate costumes for models impersonating the microscopic characters that inhabit her works and she builds entire theatrical backdrops in her studio. These artificial elements are often combined with imagery of existing landscapes or flora to create surreal environments and fictional stories. The heart-shaped rainbow in Rainbow Cloud (Pride 2020) reminds us that love has no gender.
Another photographic piece among this year's exhibited artworks is Jamie Luke Scoular's triptych Together. Jamie is a London-based artist whose work is primarily influenced by personal experiences with addiction, mental health and wellbeing. Shot in Los Angeles, this piece portrays friends and professional dancers David and Jamal. The artist asked them to perform a series of movements that told the story of their support for one another and the strength of their relationship.
From the purity of form and balanced composition of Jamie's works, we move through to Hisham Echafaki's incredibly detailed mixed media paintings and 3D works. Once again we see how artworks in different media can dialogue and complement each other. In this case Hisham's works also show an interest in capturing the body in movement and a sense of balance and lightness. Alongside the strong surrealist influence, additional elements appear in his pieces, in particular a fascination for animals, insects and nature in general. The artist says: 'Even though my subjects are generally aesthetically pleasing in their colour and patterns, I like to include messages to highlight causes that are important to me. An artist's heritage, background or life experiences are all facets of our identity that are reflected in the artwork whether intentional or not.'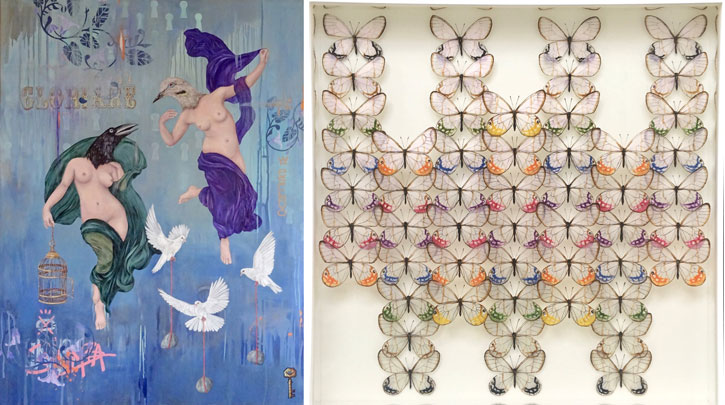 While queer culture strives to be inclusive and open, acceptance can easily fall into the mainstream and being granted to only a limited number of members within a community. Identifying as LGBTQ+ often intersects with other experiences connected to immigration, race and gender non-conformity, which are also explored in this year's exhibition. KV Duong is a London-based painter and action artist. His work draws from personal experiences growing up in Saigon, Toronto and London to explore the integration and conflict of eastern and western cultures and values.
The photographic work by Z'ev Faith is also based on live action and features masochistic performative self-portraiture illustrating the struggles, vulnerability, joy and resilience of the transgender body. Z'ev is a Camden-born-and-raised queer transgender artist and activist who defines his art as Manic-Expressionism. 'The purpose of my art is to reveal to the world my raw emotions and fears through a cathartic healing process while critiquing social injustice as a form of political resistance and grassroots activism. My art is a mix of emotional exhibitionism, gender performativity and masochistic performance, and intends to make the viewer feel a sense of discomfort while evoking empathy.'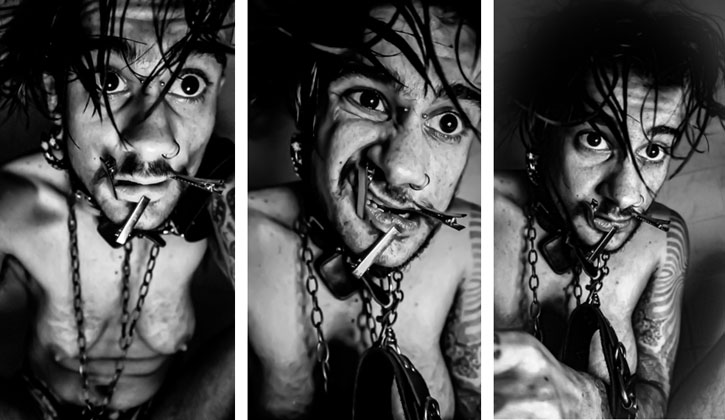 Class is another element that influences the experience of being queer and the way in which this is expressed in relation to the world around us. Michael Prescott is a London-based artist exploring transgressive themes through the medium of pen and ink. The main body of his work focuses around underground gay subcultures and it explores being gay and working-class in a post-Brexit Britain. His most recent series also incorporates spiritual and religious iconography with references to queer sexuality.
In contrast to the rawness, simplicity and monochrome palette of Michael's drawings, the photographic work of Phillip Prokopiou showcases colourful, manipulated images of international wig artists and drag personalities. London-based Phillip Prokopiou was born to Greek immigrants in South Africa. The self-taught photographer co-founded a practice with his partner in life and art, Panos Poimenidis. Their work is an exploration of self-invention and identity, informed by art history, pop culture and classical mythology incorporating the artifice of camp.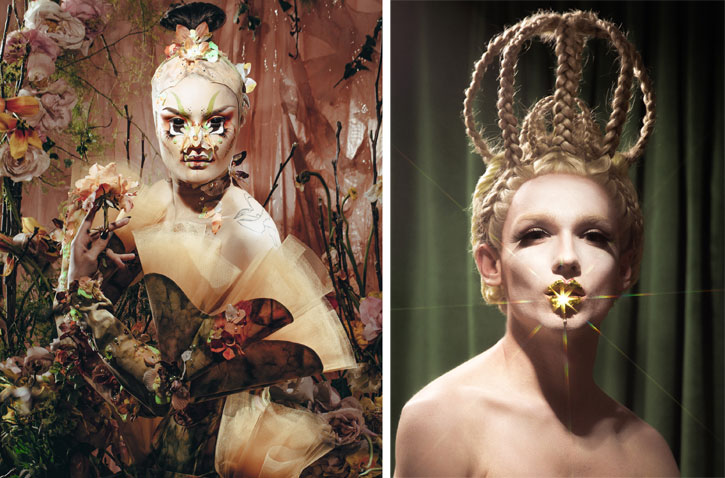 Alongside printmaking, collage, photography and performance, this year's edition of Queer Frontiers also features figurative and abstract paintings inspired by a variety of subjects and experiences. Josie Clouting's series of nudes expresses a sense of freedom and joy with its nod to Fauvism translated through a contemporary lens. With an impressive body of work that primarily features lush natural scenes and landscapes, it is interesting to see how Josie's experimental approach reflects her passion for vibrant colours and graphic forms also when painting the human figure.
Finally by Katie Wells is also a departure from the artist's primary medium and subject and it combines chance marks from gestural paint-pouring with measured, intentional brush strokes: 'This painting is my most personal work yet – after a long period of denying my own sexuality, it's a reflection on (and celebration of) being 'out' – a sort of 'coming out' in painting terms if you like. A lot of my previous paintings in a similar style featured embroidered lines surrounding some of the shapes, I always thought of these lines as barriers trying to contain what was inside them. This piece is the first to have no embroidered boundaries'.
Gavin Dobson's oil paintings explore ideas of masculinity, sexuality and gender stereotypes. The piece The Heath, in particular, is part of a series of works examining gay culture and history. It shows a cruising scene in London's Hampstead Heath translated in a surreal style and evocative setting.
We conclude our selection with two drawings by British artist Henry Hussey. His works, often textile pieces and sculptures, are deeply personal and emotionally raw. Whether through a vocabulary of mythological symbols, or in embroidered lines of text extracted from performative situations, Henry creates expressions of perceived truths in response to relationships and events from his life.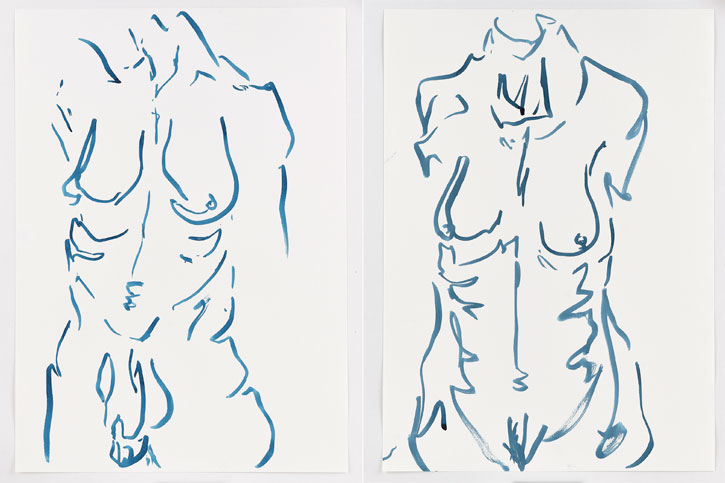 The subject of this series references the symbolism of hermaphrodites which, as an archetypical being, represents perfect union, balance and the embodiment of both feminine and masculine in one unified form.
Sara Tenti, Artist Liaison at ARTIQ
You can see the whole exhibition and buy these works at Queer Frontiers