Arthur Melville painted Audrey and her Goats in 1883, but then had another go at it in 1889.
The subject is from Shakespeare's comedy, As You Like It, and the setting is the Forest of Arden. Touchstone, a pompous and puffed-up individual full of superficial and pedantic learning, tries to woo the simple goatherd, Audrey.
Condescendingly he describes himself with her and her goats as like the exiled poet Ovid among the barbaric Scythians. Audrey however fails to appreciate his condescension or to respond to what he thinks is his poetic courtship. Exasperated by her indifference, he exclaims:
Truly, I would the gods had made thee poetical!
To which Audrey replies very simply:
I do not know what 'poetical' is. Is it honest in deed and word? Is it a true thing?
Melville's picture was recently restored at Tate Britain. X-rays taken then show that when he changed the picture he moved the figures closer together. It makes their confrontation more emphatic.
His niece and biographer, Agnes MacKay, called the finished painting 'a striking decoration in crimson, green and gold.' At a time when rather grey, 'realist' paintings of peasants or fishermen and women were all the fashion, it is a dramatic move towards the flat, high-coloured, decorative painting that marked the art of the later nineteenth century. Melville was a pioneer and it was indeed already 'modern' art.
Brought up in East Linton, a little town east of Edinburgh, Melville was initially encouraged by the academician John Pettie who also came from East Linton. He then studied at the Trustees Academy in Edinburgh and went on to Paris where he learnt from the example of the Impressionists, especially from Manet, but did not really copy them. Instead, he developed a way of painting with pure, brilliant colour that was quite his own.
Melville was handsome and charismatic. He was also a great raconteur and he did have stories to tell. In 1880 he travelled to Egypt where he painted exotic scenes like An Arab Interior.
He then went on to Baghdad and travelled overland from there to Constantinople, outrunning bandits and being entertained by sheikhs on the way. Back in Scotland his work, his personality and indeed his stories attracted the young Glasgow painters later known as the Glasgow Boys. Though Melville has often been called a Glasgow Boy that is incorrect. He was simply an East Coast painter whom they greatly admired. His initial inspiration was the adventurous work of artists like William McTaggart who may actually have taught him and McTaggart's great friend G. P. Chalmers. Later still, Melville moved to London.
In 1883, James Guthrie and several of the other young Glasgow painters went to work near Melville at Cockburnspath in Berwickshire where he was busy with Audrey and her Goats. In his picture, with Audrey boldly at the centre, her honesty and simple directness seem to stand for Melville's richly coloured and autonomous way of painting in contrast to the sophisticated condescension of contemporary artists painting picturesque peasants – the 'Touchstone painters' you might say. Unlike him, they also mostly painted in shades of grey.
Indeed his picture was a direct challenge to the French artist Bastien-Lepage, leader of this international movement. Bastien-Lepage's painting Pas mèche, for instance, is a painting of a peasant boy, but he is distinctly cute and so, as the painter patronises him, we are made complicit. (Pas mèche essentially means 'Not Bad'. He has been fishing.)
Inspired by Melville's picture, James Guthrie painted one of his best-loved paintings at Cockburnspath, A Hind's Daughter. (A hind in Scots is a male farm labourer.)
The painting is his version of Audrey and the condescending Touchstone. It makes Melville's point clearer too. In it, the little girl, standing up from her task cutting cabbages, defiantly confronts the artist who has intruded on her. Instead of a remote peasant lost in toil, or a cute child-like Pas Mêche, this tough little girl holds her large knife, gleaming as it catches the light, in a distinctly threatening way. She is a person, not just a picturesque subject.
The point of Shakespeare's comic mismatch of Audrey and Touchstone is the distance between the would-be sophisticate and the simple girl. It is a gap, as Audrey makes clear, that no amount of condescension can bridge. Bastien-Lepage ignores it, but Guthrie makes it explicit as the farm labourer's daughter glares at the painter. Unlike the grey tones of Bastien-Lepage and other fashionable painters of rural subjects, learning from Melville, Guthrie's picture is full of muted purple, blue and green. (Melville himself had earlier set the theme of colourful cabbages with his painting of A Cabbage Garden.)
Others among the Glasgow painters were braver than Guthrie with their colour, however. The red and gold and flat design of The Druids: Bringing in the Mistletoe by George Henry and E. A. Hornel was clearly inspired by Melville's example.
When this picture along with work by Melville and other Scottish painters was shown in Munich, it was a revelation to the German artists.
Melville travelled in Spain and North Africa bringing home paintings of dazzling sunlight and vivid colour. Mostly these pictures are in watercolour, a medium he was determined should hold its own with oil painting. But he continued to produce masterpieces in oil as well.
Going to the Bullfight from 1891, for instance, captures the shimmering heat and the southern light as no one other painter could. Here, too, he has adapted for oil paint the technique he developed in watercolour which the critics christened 'blottesque'. He dropped blobs of paint onto his paper and left them dry unbrushed so the purity and intensity of the colour was preserved. You can clearly see the blobs in this painting. It is not a very large picture, but Melville did also paint on a bigger scale – The White Piano, for instance, is a striking, life-size portrait of a young woman, perhaps Mary Jane Margerison, seated at a piano.
The flat decorative design and bold wallpaper behind her anticipate Matisse.
Indeed, Melville's modernity is often startling. For instance, The Chalk Cutting, acquired for the National Galleries Scotland in 2013, is essentially an abstract painting.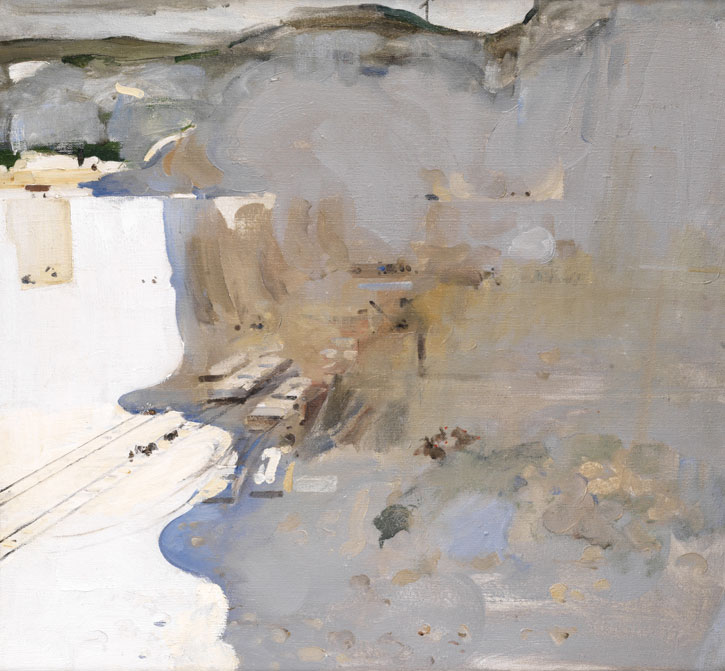 It is not surprising that as well as the Glasgow Boys, Melville was a primary inspiration for the Scottish Colourists too, especially the three Edinburgh painters J. D. Fergusson, S. J. Peploe and F. C. B. Cadell.
Sadly, however, he died in 1904 aged just 49.
Duncan Macmillan, art critic and art historian