Content warning: this story contains reference to sexual assault.
'You will find the spirit of Caesar in this soul of a woman' – Artemisia Gentileschi
A seventeenth-century prodigy, painter Artemisia Gentileschi (1593–1654) fell into virtual obscurity in the centuries following her death.
A resurgence of interest in her life and work has meant that she is now considered one of the most eminent painters of the Italian Baroque, with her recently discovered Self Portrait as Saint Catherine of Alexandria (1615–1617) acquired and restored last year by The National Gallery.
The painting is about to embark on a grand tour across the UK, beginning at Glasgow's Women's Library on 6th March 2019 in time for International Women's Day.
Artemisia Gentileschi was an exceptional individual whose powerful artistic vision was informed by unexpected adversity and violence. Here is an exploration of her life and work.
Early life
Gentileschi was born in Rome on 8th July 1593, to a lower-class family. The eldest child and only daughter of Prudentia Montone and the artist Orazio Gentileschi (1563–1639), she was taught to paint by her father.
In 1610, at the age of 17, Gentileschi painted Susanna and the Elders, her earliest known signed painting.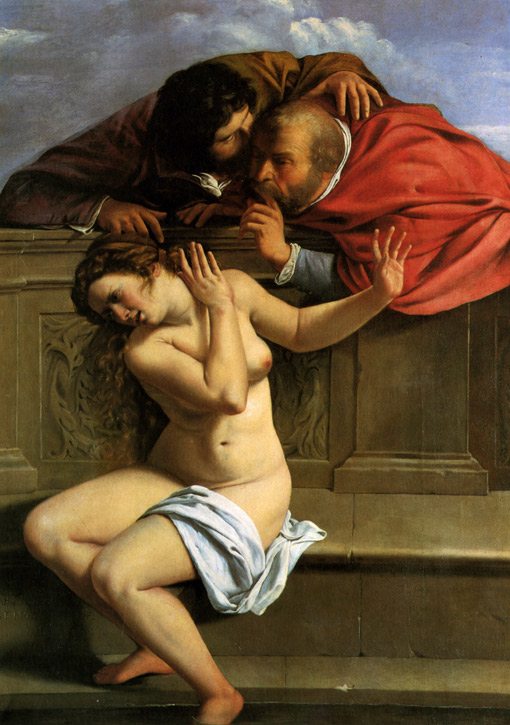 Based on the well-known Biblical narrative, the painting depicts a virtuous Susanna fending off the advances of lustful male voyeurs. This painting foreshadows later events in Gentileschi's life, as a woman at the mercy of male desire.
Gentileschi appears to have returned to the subject decades later. The version seen below is housed in the collection of Nottingham Castle, possibly a copy of one attributed to Gentileschi in Burley House.
Compared to this version of the narrative created by her near contemporary Guido Reni, Gentileschi's male characters appear to be far more aggressive in their advances.
The Italian states during the sixteenth and seventeenth centuries were extremely patriarchal. Unless of noble birth, women were largely uneducated. Their primary purpose was to marry and bear children. Alternatively, they were expected to enter a convent as a nun to lead a life of devout worship.
It is highly likely that Gentileschi was illiterate, at least, up until early adulthood.
Female artists of the Baroque
Nevertheless, there were some remarkable female painters in sixteenth- and seventeenth-century Italy.
Sofonisba Anguissola, Lavinia Fontana, Fede Galizia and Elisabetta Sirani were all celebrated female painters. Unlike Gentileschi, they came from wealthy backgrounds and did not paint to earn their living.
Although Gentileschi was not from nobility, she had a fortunate artistic position. Not only was her father keen to teach her the trade, but he was also a close friend of Michelangelo Merisi, better known as Caravaggio. He was the most influential and controversial artist of the day, and Gentileschi seems to have assimilated his use of chiaroscuro into her own practice.
In 1603, Orazio and Caravaggio had appeared in court together, after a rival artist accused them of libel. Caravaggio left Rome in 1606, the same year he committed murder (a good artist, but perhaps not such a nice chap).
The rape of Gentileschi
In May 1611, at the age of 18, Gentileschi was raped by an unsavoury character called Agostino Tassi, an artist who had been collaborating with her father on a papal commission at the Palazzo Quirinale.
Orazio – perhaps not so astute when it came to choosing friends – had hired Tassi to give his daughter private painting lessons. Little did Orazio know that Tassi was an infamous sexual assaulter, roaming from town to town to escape prosecution.
According to certain accounts, Gentileschi continued to have relations with Tassi. Customarily, in Italy, a rapist was sometimes expected to marry his victim, and equally, the girl would be pressured into the union to save her honour. However, Tassi went back on his word, refusing to marry Gentileschi (not to mention, as it would later be revealed, that he was already married).
Orazio decided to press charges in February 1612, which led to an infamous trial which was meticulously recorded. Tassi denied all accusations. This meant that during the trial, Gentileschi was forced to undergo sibille – torture by thumb screwing with ropes – as a means to test her honesty.
The trial lasted for seven months, during which time Gentileschi became a celebrity in Rome. We know that she had to describe the assault in graphic detail, detailing how Tassi had stifled her screams with a handkerchief and how she managed to scratch his face and pull his hair. She nearly managed to kill him with a dagger.
Despite enduring torture, Gentileschi stuck to her story. Transcripts show that she yelled defiantly into the courtroom – 'It is true, it is true, it is true.' An all-female play of the same title was performed last year.
Eventually, Tassi was sentenced to prison for two years, though he never served time – possibly because he was favoured by Pope Innocent X.
It later came to light that Tassi had plotted to murder his wife. It is unclear whether she was murdered by him or not. Either way, it is all beginning to sound like a particularly violent Italian soap opera.
The aftermath and move to Florence
Despite the successful trial, Gentileschi was publicly shamed for losing her virginity while unmarried. To redeem the situation and to avoid further public scrutiny, Orazio allegedly tried to persuade his daughter to become a nun. It seems most likely that the passionate and headstrong Artemisia simply refused to go to a convent.
In the end, she was married off to the Florentine nobleman and painter Pierantonio di Vincenzo Stiattesi.
Gentileschi moved to Florence in 1612, where she remained with her husband until 1620. The couple eventually had five children together.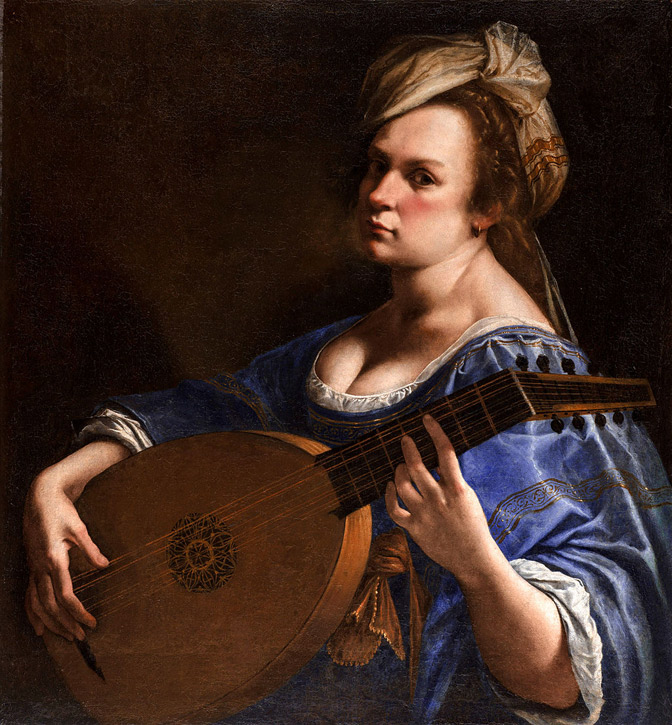 Away from her father, Gentileschi managed to establish herself as an artist in Florence, receiving the patronage of the Grand Duke Cosimo II of the Medici family.
In 1615 she began her Self Portrait as Saint Catherine of Alexandria, a fourth-century Christian martyr who was sentenced to death by the Roman emperor Maxentius, which can be seen in this video from The National Gallery.
According to legend, Catherine was tortured and bound to a revolving wheel studded with spikes before she was saved by divine intervention (alas, she was subsequently beheaded).
By painting herself as Catherine, Gentileschi merged her own image with that of a Christian heroine – depicting herself as a martyr who survived torture.
Praised for her work, she became the first female to become a member of the prestigious Florentine Academy of the Arts of Drawing in 1616.
Judith and Holofernes
Between 1614 to 1620, Gentileschi painted Judith Beheading Holofernes, one of the most intense and frightening depictions of the Biblical story, in which the act of female vengeance seems to be carried out with startling precision.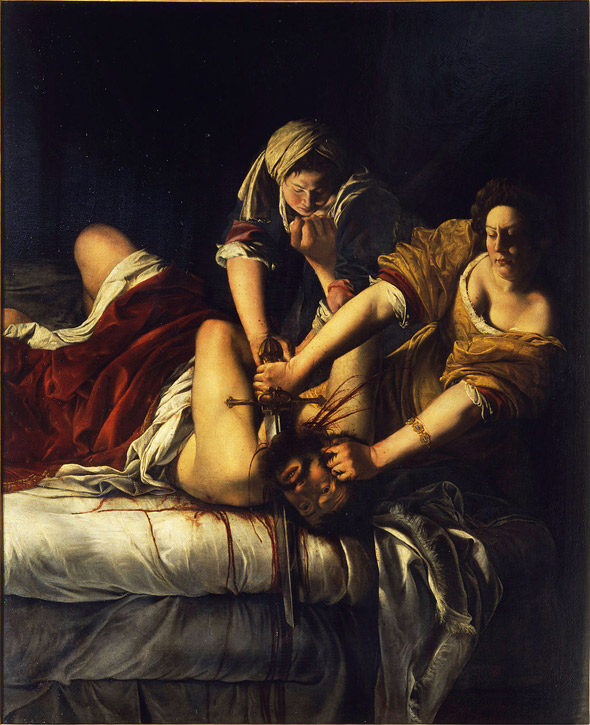 It has been suggested that Gentileschi was directly influenced by Caravaggio's version, although some claim it was unlikely she saw his versions before she began painting in 1612. Fede Galizia (1578–1630) had also painted the subject in 1596.
In the popular imagination, Gentileschi's Holofernes represents Tassi, while Judith symbolises the artist herself. With knowledge of Gentileschi's history, it is hard not to see it in this light.
Artistic success and travels
In 1620, Gentileschi returned to Rome, apparently due to running up debts, but also because around this time rumours were circulating about her love affair with a Florentine nobleman Francesco Maria Maringhi.
In December 1625, the French artist Pierre Dumonstier – who compared Gentileschi to the goddess Aurora – drew her poised hand holding a brush. The 'portrait' is an unusual one – rather than depicting her face, Dumonstier focused on the attribute that won her recognition and respect.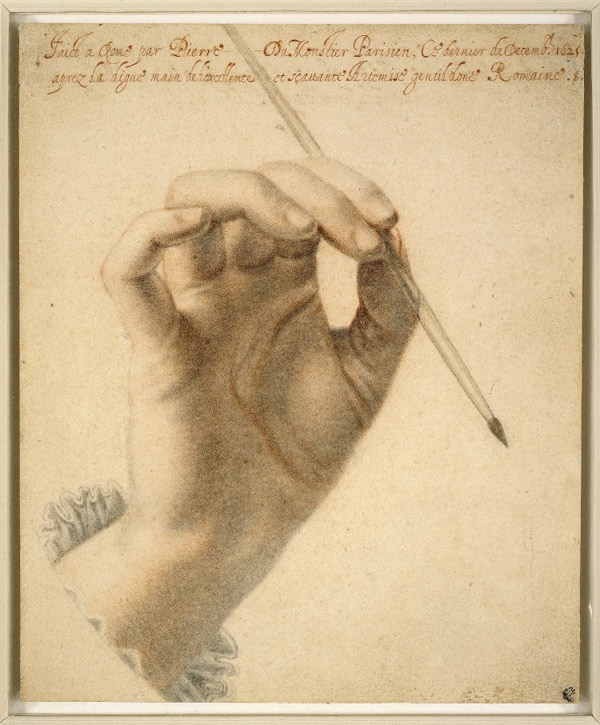 After being made a member of the Academy in 1616, she no longer needed the authority of a man to buy her paints, to travel, or sign contracts. Such freedom was possibly what led her to leave her husband, who allegedly knew about her affair with Maringhi but compromised because he helped the couple get out of debt.
Gentileschi remained in Rome for the next decade, until travelling to Venice in 1628 and then Naples in 1630. In 1639, she joined her father in London where she had been invited by Charles I of England, an avid collector and patron of the arts.
While in London, Gentileschi painted her famous Self Portrait as the Allegory of Painting, a bold depiction suggesting the artist was the embodiment of painting herself.
In London, she assisted the now elderly Orazio to paint the ceiling of the house of Queen Henrietta Maria in Greenwich, titled An Allegory of Peace and the Arts, which can now be viewed at Marlborough House, London. In increasingly bad health, Orazio died in London in 1639.
The last years of Artemisia Gentileschi's life were spent in Naples, where she had set up a successful studio. She became ill around 1651 and is believed to have died sometime after 1653. It is perhaps no surprise that as a woman artist at the time – even one who was recognised in her lifetime – her death date is not comprehensively recorded.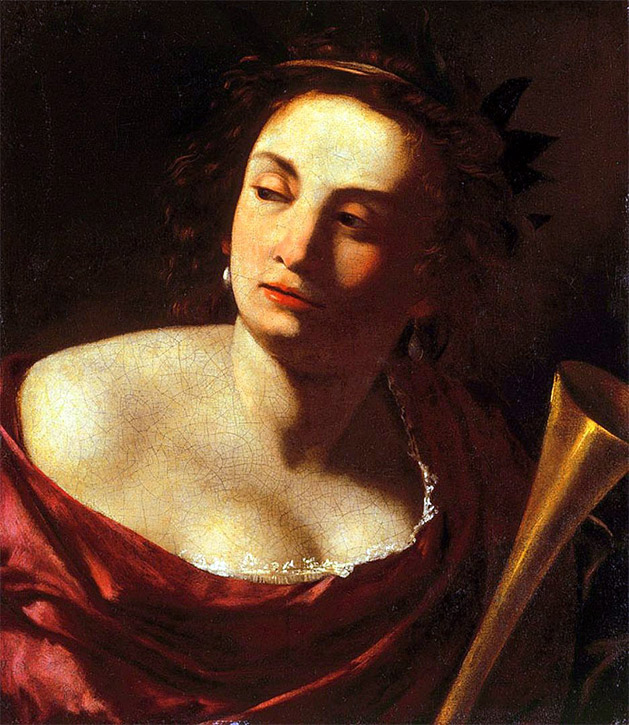 Gentileschi was exceptional because she became an independent, self-made female artist who received the patronage of several European rulers.
Arguably, she was not only the most talented female painter of the Italian Baroque, but she was also one of the best artists of all time. If she had been born male, she would likely have been labelled a 'genius' a long time ago. Equally, her work would have been collected by major museums in previous centuries.
Many have argued that the focus on Gentileschi's rape has overshadowed her talent. However, the violence she experienced was quite clearly inextricably connected to her work, which often seemed to illustrate psychological revenge against her assaulter. To win a rape trial was virtually unprecedented in Italy during the seventeenth century – this is perhaps worth reflecting on today in the wake of the #MeToo movement.
For the first time in the UK, a huge monographic exhibition including up to 35 works by Gentileschi will open at The National Gallery in 2020. But if you can't wait until next year to see Gentileschi's work in the flesh, you can view her Self Portrait as Saint Catherine at Glasgow's Women's Library from 6th March 2019, in time for International Women's Day.
Lydia Figes, Content Creator at Art UK
.