The art curator, writer and broadcaster Kathleen Soriano has been elected as the new Chair of the Board of Trustees at the charity Art UK – the digital home for the UK's national collection of art. She will be supported by new Vice-Chair, George Entwistle, former Director-General of the BBC.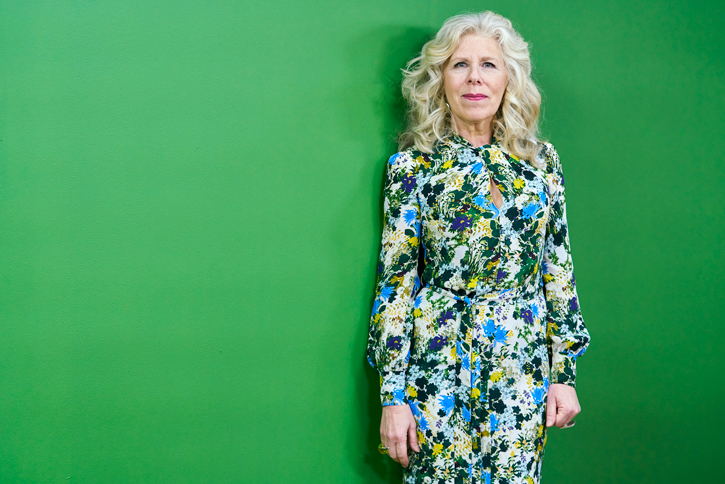 It has been an important year for the charity, which moved into a new office in Stoke on Trent in January and completed a major sculpture digitisation project in June. The charity's mission is to make the art in public collections available to anyone for learning, research and enjoyment, and it has digitised over 300,000 artworks. Soriano and Entwistle, who take up their posts on 16th December, will provide crucial assistance to the Art UK team, as it supports the 3,400 collection venues whose collections feature on the site.
Kathleen Soriano, Chair of the Art UK Board of Trustees, says: 'As a curator, I rely heavily on the digital access to the nation's collections that Art UK provides, which means I am incredibly proud to be its newly appointed Chair. This is a critical time for the sector, which is facing increasing pressures from all sides. Art UK plays an essential role uniting and championing museums through its creative and entrepreneurial use of digital. It connects them to a global audience and its shared infrastructure delivers economic, educational and creative opportunities.
'Art UK has proved itself to be necessary, flexible and inventive. We put communities – be they artists, museum professionals, schoolchildren or broader audiences – at the heart of all that we do. I look forward not only to championing that mission but to driving it forward with the Board and team.'
Andrew Ellis, Director of Art UK, says: 'The whole Art UK team could not be more delighted that Kathleen is becoming our next Chair, supported by George as Vice-Chair. Both have already had a huge impact on the organisation as Trustees, providing brilliant thinking, wise guidance and critical support to the senior management team. We look forward to working with them in their new roles to deliver Art UK's exciting plans for the future, supporting the UK's museums and other collections at this difficult time.'
Kathleen Soriano takes over from Charles Gregson, who has been Chair of Art UK, previously known as the Public Catalogue Foundation, since 2011.
Ellis says: 'On behalf of everyone at Art UK I would like to thank Charles for his immense contribution. He has shown true dedication to our vision and helped millions of people get closer to the art they own. From the earliest days of the Public Catalogue Foundation his wisdom and support has underpinned our success.'
George Entwistle, Vice-Chair of the Art UK Board of Trustees, says: 'Having been a Trustee since Art UK was launched, I too would like to thank Charles Gregson for his hard work and inspiring leadership. I am delighted to be taking up the role of Vice-Chair under our fabulous new leader Kathleen Soriano. In its short life, Art UK has become a vital part of the nation's digital infrastructure, making available online – free of charge – high quality images of every oil and acrylic painting in public ownership, the best of the nation's sculpture, and many more artworks besides. It is a privilege to support the Art UK team whose expert work ensures the national collection is made accessible to the public who own it.'
Kathleen Soriano is an independent curator, art historian and broadcaster. With over 35 years' experience in the art world she has been responsible for collections, contemporary and historical exhibitions at the National Portrait Gallery, London, and the Royal Academy of Arts, where she was Artistic Director (2009–2014), as well as at Compton Verney Art Gallery, where she was Director (2005–2009). In 2004 she became one of the first cohort of Clore Leadership Fellows.
As well as curating many successful exhibitions she has lectured and written extensively and her book Madam and Eve, on women artists, was published in April 2018. Her broadcast activities include the nine series of Portrait and Landscape Artist of the Year for Sky Arts.
She is Chair of the Liverpool Biennial, specialist advisor to the National Trust and on the Advisory Board of 2 Temple Place, and the visual arts committee of St Paul's Cathedral.
George Entwistle is a long-standing trustee at Art UK and has served on boards for other charities including the Georgian Group and the Society of Architectural Historians of Great Britain. During twenty three years at the BBC, he edited Newsnight, launched The Culture Show, and was Head of TV Current Affairs.
In 2011, he was the Controller of Factual who first brought Art UK's image collection online as the BBC's Your Paintings, and he went on to become Director of Television and Director-General. Since then he has worked as a TV executive producer, consultant, board adviser for Palma Pictures, and has just finished writing a doctorate at Oxford University in architectural history.
For more information, images and interview requests please contact: Gemma Briggs, Head of Marketing and Communications, Art UK, on gemma.briggs@artuk.org