Art UK is delighted to have chosen a new home for its only English office and has received a warm welcome from cultural partners in Stoke-on-Trent.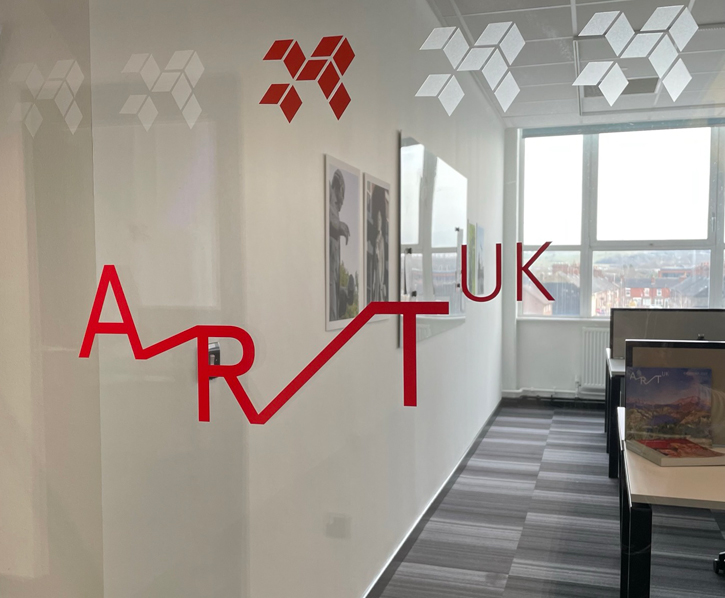 At the start of 2022, Art UK relocated its only English office to Stoke-on-Trent. Located within the Innovation Enterprise Zone at Staffordshire University, this new setting will provide a base for our staff, trustees and volunteers to meet and provide opportunities for new partnerships and projects.
Like many organisations across the UK, the team members based at our London office started working from home at the start of the COVID pandemic in 2020, but it was soon realised that we did not need this office to efficiently continue our operations. We have always had a distributed workforce, with most of the Art UK team already working from home before the pandemic hit, from Aberdeen to Kent. Around a third of our team are based in Scotland and we also have a small office in Glasgow.
There are several reasons for opening a new office in Stoke-on-Trent.
We still need a location for our staff, trustees and volunteers to come together a few times a year. Although we work well as a distributed workforce and have embraced digital communication tools such as Zoom, we recognise the wellbeing benefits of meeting each other in person to discuss plans, spark new ideas and to socialise. Stoke is well located within the country, with excellent rail and road links. Indeed, given the spread of our team across England and Scotland, Stoke's central position made it particularly attractive.
Celebrated potter Josiah Wedgwood, whose statue we recorded as part of our sculpture digitisation project, greets visitors on arrival from the train station.
Two members of Art UK's senior management team are based in easy reach of Stoke-on-Trent, with our Deputy Director, Katey Goodwin, having lived and worked locally for thirty years. Katey is familiar with the art and culture of the city, and has worked in Stoke as a local history and ceramics curator, a field archaeologist and an archaeology lecturer.
Stoke-on-Trent has a unique history as the pottery-making centre of the UK and has a thriving arts and culture scene. Art UK is keen to develop its contribution to the cultural life of Stoke and the surrounding area. We already work with four Art UK Partner collections in the region – The Potteries Museum & Art Gallery, The Brampton Museum, Keele University and the V&A Wedgwood Collection. We will continue to collaborate with and support these organisations, as well as other institutions in the region who show their artworks on Art UK, including Staffordshire University where our office is based.
We are currently exploring ways to design and deliver new activities in the local area and form new mutually beneficial partnerships. We have established links with Stoke Creates and the Cultural Education Partnership for Stoke-on-Trent and North Staffordshire, and look forward to developing these relationships further.
Professor David Amigoni, co-chair of Stoke Creates, says 'It's really positive that Art UK has chosen to relocate here; we think it has confirmed Stoke as a regenerating, exciting and vibrant cultural destination. As an organisation, Stoke Creates is all about inclusion and access, so we strongly support Art UK's mission. The more we collaborate, the bigger the opportunities that can come to the City. We are always looking to form new partnerships and are very excited that Art UK has moved into the area.'
We are looking at ways to provide opportunities for local schools and community groups to get closer to art, which could include creating learning resources for teachers based around artworks of the Potteries or, if funding allows, offering opportunities for future Masterpieces in Schools activities, connecting Stoke-on-Trent schools with local collections and artists. We are also looking into ways we might create volunteering opportunities in Stoke and starting to think about how we might launch digital engagement activities in the area before rolling out nationally.
One way that our partnerships with local collections might be developed is through adding more ceramics to Art UK. Several ceramic artworks already appear on Art UK, mainly added to our website through our sculpture recording project, but there is scope to add more, funding permitting, as part of a focused project.
Director of Art UK Andrew Ellis said of our move to Stoke: 'We are currently recruiting a trustee based in the region to contribute to Art UK's mission to open up access to the nation's art collection in imaginative and compelling ways, and to contribute to the sustainability of public art collections in the Stoke region and across the UK. We are also looking for a new member of our Philanthropy Board to help raise funds in the area. When we are recruiting future staff to Art UK, we will focus our recruitment in Stoke-on-Trent and the surrounding area. We will also develop opportunities for placements for Staffordshire University students.'
We are delighted by the welcome we have received in Stoke-on-Trent since we moved into the new office and we look forward to maintaining and developing partnerships across the region.
Katey Goodwin, Deputy Director and Head of Digitisation, Learning and Engagement at Art UK