This week's activity uses images of sculpture on Art UK as a source of inspiration. We will be using stop-motion animation to transform an image of a sculpture.
This activity is suitable for children of all ages – however, younger children might need support using scissors and with technology.
Stop-motion animation
Stop motion was the first form of animation and has been used in many films. It was a technique used in early cinema particularly in horror films. One of the most famous stop motion monsters was the giant ape in the 1933 film of King Kong.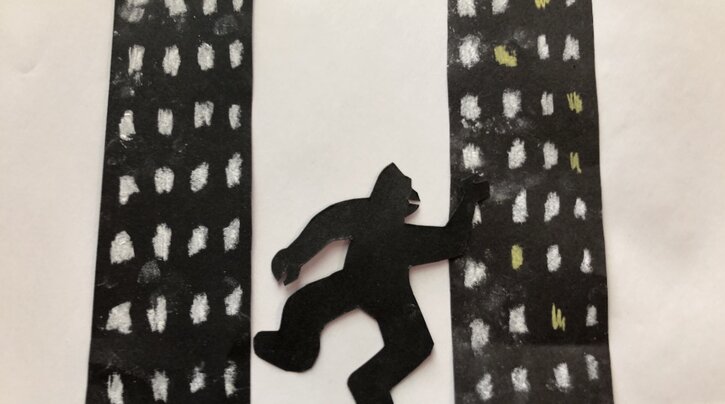 Another pioneer of stop-motion film was Ray Harryhausen, who used it to great effect in films such as 1958's The 7th Voyage of Sinbad, 1963's Jason and the Argonauts and 1981's Clash of the Titans.
Some of my favourite stop-motion characters are created by Aardman Animations, who use claymation techniques to make their films. Their movies include the Wallace and Gromit series, Chicken Run and Flushed Away.
Have you ever wondered how those films were made?
How it works
Stop motion is a filmmaking technique where objects move a small distance at a time. Each individual movement is captured by a camera and then each individual photograph is put together to make a moving image or film.
Types of stop-motion animation
The great thing about stop-motion animation is you can use any medium you like: clay, paper or paint. However, for our Home School activity, we will be mainly focusing on using cut-out motion. We will be using paper and 2D materials to create our short films.
Materials
A tablet or smartphone
Stop-motion Studio App available on iPad, iOS, Android and Windows devices
Drawing materials, pens and paper
If you have a printer, you can print images from the Art UK website
You can use a selfie stick, tablet or phone-holder to keep your camera steady
Creating your animation
You will need to set up your workstation: a flat surface such as a desk or floor would be ideal as you will be working in 2D.
The sculpture we would like you to animate is Three Forms Beech by Robert Adams (1917–1984) and your challenge will be to bring this sculpture to life using stop-motion techniques.
Go to the artwork page for Three Forms Beech by Robert Adams and print out a picture of it.
Lastly, download the Stop Motion Studio app which is free to use without add ons – here it is on Google Play and on the Apple App Store, plus info for Windows users.
Before you start animating, we would like you to examine the image of your sculpture. Think about its environment, what it is made from, is it a solid shape or does it have a sense of movement? What personality might it have? Will your animation have a narrative?
Top tip: you might like to sketch ideas or create a storyboard first.
In my short animated films, I experimented with different materials and you can too! Perhaps your sculpture could eat a real orange or get buried in leaves found in your garden.
Top tip: the Stop Motion Studio app has a help page with tips to guide you. Don't forget to take plenty of pictures and move your paper a small distance at a time.
My animations
Here is an example of one of my stop-motion films:
You can watch the other films I made of this sculpture on my Vimeo page.
If you aren't able to print pictures, try making a two-dimensional replica from card or paper. In my animation Puzzling Paper, inspired by Three Forms Beech, I cut the outline of the sculpture out and experimented with positive and negative shapes.
You can create this effect by using two different colours of card, like black and white. During the making of my animation, I weaved my card together and used a mirror feature on the Stop Motion Studio app to create a puzzling effect.
Here is an example of work by Paul Huxley (b.1938) that uses positive and negative shapes.
In your stop-motion animation film, you might like to draw onto the image of your sculpture. I turned Robert Adams' wooden sculpture into a robot!
Top tip: Remember, the same rules apply to drawing as they do to moving objects. This time you make a mark on the paper, photograph it and repeat!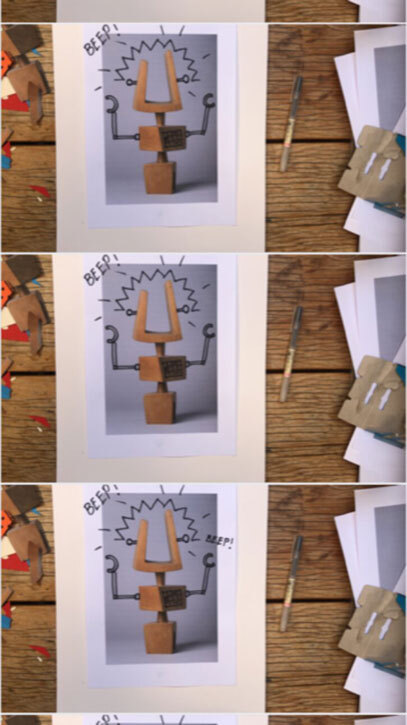 In my short films, my sculpture turned into lots of different things. Where will your imagination take you and what animations will you make?
Further inspiration
I was inspired by Culture Street's project 'A sculpture near you'. A group of school children directed a series of films about public sculpture that they discovered in their towns or cities. Can you think of any near you?
Using the Stop Motion Studio app you can turn your animation into a GIF too – check out Art UK's GIF page for silly ideas!
What can you create at home? Show us your masterpiece by sharing them on Twitter or Instagram and tagging @artukdotorg with the hashtag #ArtUKHomeSchool.
Katie Roberts, Learning and Engagement Officer (London and the South of England) at Art UK