This week's Home School activiy explores alternative drawing techniques used by some professional sculptors. These quickfire drawing activities are also often used by artists and educators with students to warm up on our Masterpieces in Schools loan days. They are primarily aimed at children over 7, but if a child can hold a drawing implement, they can try them out too!
To begin, here's an example of continuous line drawing by Duncan Grant.
Experimental drawing
Before moving to working in 3D, sculptors often draw on paper to loosen up and look closely at the subject they are addressing. By following various fast methods of drawing, outside of traditional sketching techniques, artists can free themselves up from labouring over detail, instead picking out essential shapes, line and emotions.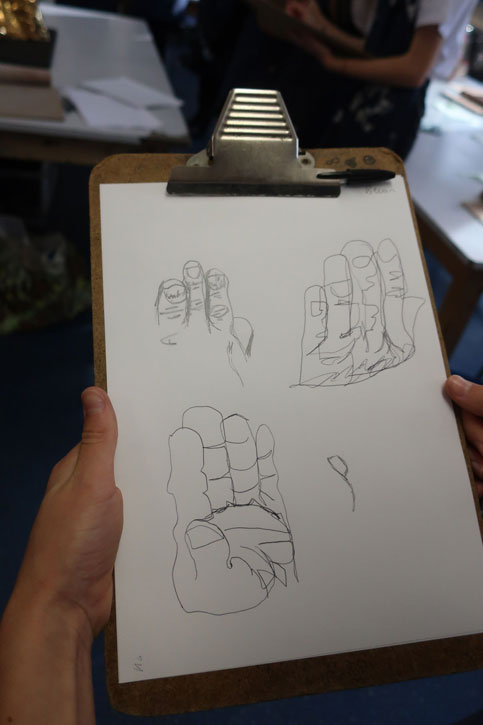 From drawing with your less dominant hand to not taking your hand off the page and drawing with both hands at the same time, these activities can take you out of your comfort zone, often producing inspiring and unexpected results.
In these activities we are not aiming for 'perfect' finished drawings, but alternative representations of an object or person. Looking at your subject in detail for short periods and not at your page can be hard. It can take time to get your head into a space where you're creating what you might think of as 'non-perfect' drawing, but afterwards you'll be able to appreciate the value of trying these quick drawings out.
As one Year 9 student said, 'It was challenging but in a way that was enjoyable.'
Materials
You will need:
a good supply of paper (a sketchbook, printer paper or sugar paper, or a combination of these, is fine)
a black biro
pencils (softer 2B and 4B are best, but HB is OK)
coloured crayons
a sharpener
a stopwatch (mobile phones usually have one)
a board or large book to press on a table
Drawing as part of Masterpieces in Schools
In 2019 Hepworth Wakefield Gallery loaned sculptures to schools in Wakefield and Leeds. At one academy students explored Kenneth Armitage's bronze surrealist female figure Girl Without a Face, Version B through a range of experimental drawing techniques devised and led by artists Rufus Newell and Zoe Spowage.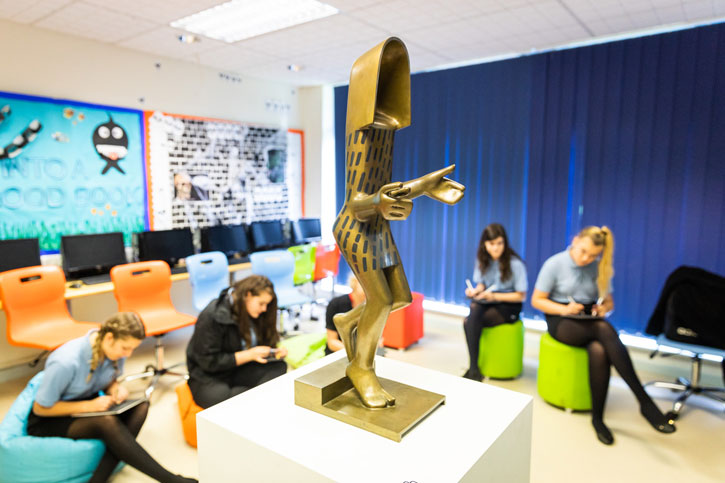 The most challenging of these proved to be drawing with both hands simultaneously!
In 2020 Belton House, Grantham loaned a plaster bust of one-time inhabitant Emmeline 'Nina' Cust (1867–1955) to a secondary school in Leicester.
Using a 'visible thinking routine' students looked closely at the delicate self-portrait. The aim was to encourage and develop observational skills, creating a stronger, emotional connection to the sculpture. Students worked on easels, drawing the artwork from different angles with quick line drawings in charcoal, pencil, ink and chalk.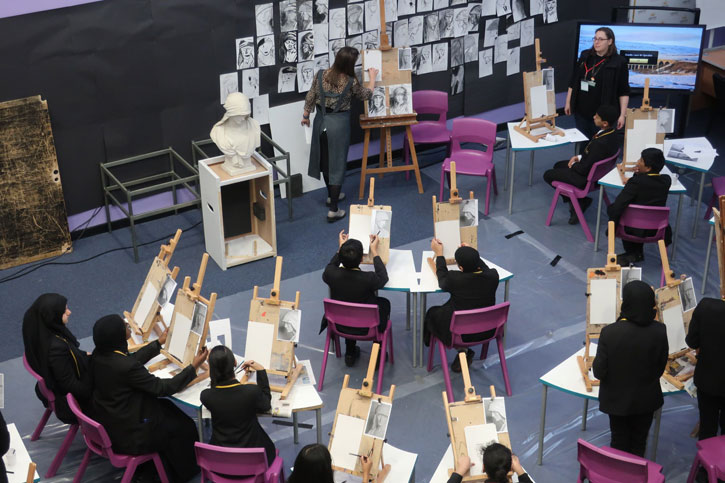 In 2019 Southampton City Art Gallery loaned two sculptures – Gold Hand by Francis Hewlett and An Oriental, he Dreams by Kate Robinson – to two local secondaries. Local artist Jo Bressloff took students completely out of their comfort zones by encouraging them to try out experimental drawing techniques such as 'blind drawing' and 'taking your line for a walk' (inspired by the artist Paul Klee's famous phrase: 'a drawing is just a line going for a walk').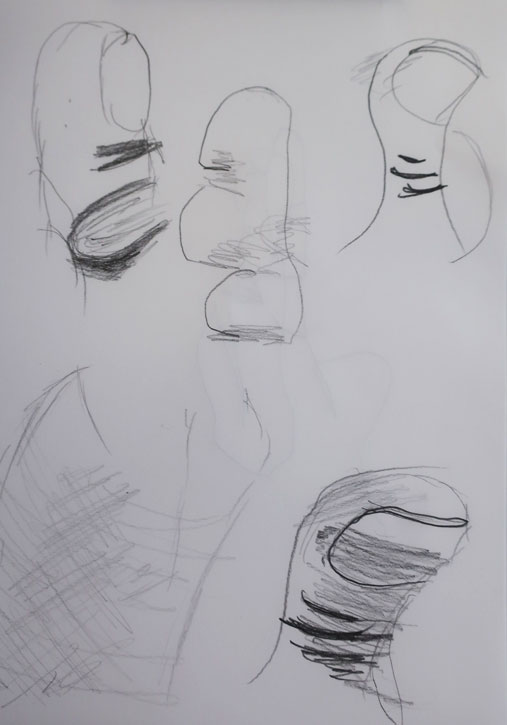 The Ingram Collection, Woking visited a local secondary school with an Eduardo Paolozzi's bronze bust Hermes and artist Stuart Simler. Students joined hour-long alternative drawing workshops, trying out a range of quick drawing techniques as well more sustained portraiture drawing using pencil and charcoal.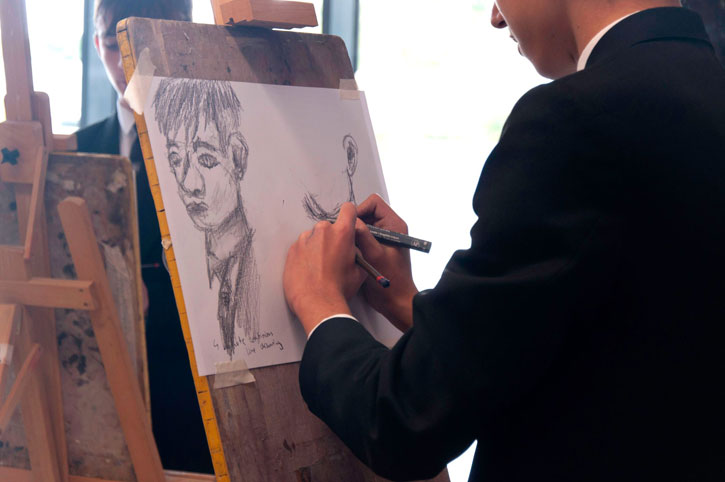 When Harlow Art Trust loaned Cat by Jane Ackroyd to three local primary schools young children made quick drawings of the characterful sculpture reducing it down to simple shapes.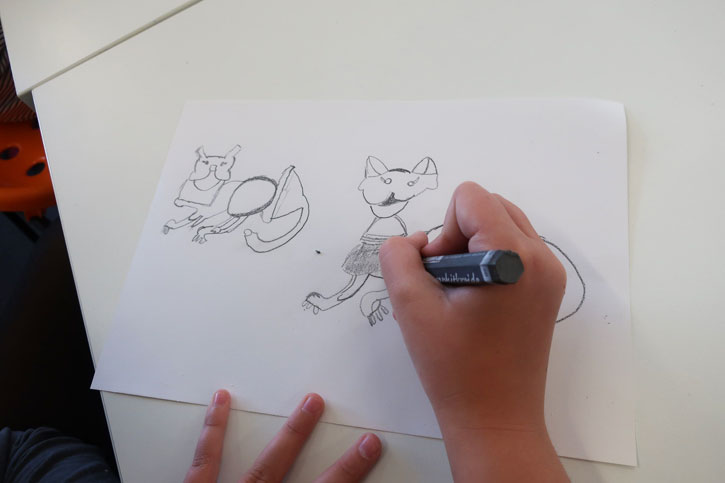 Now it's over to you!
It's time to try out these fun drawing techniques for yourself. Choose your subject matter: a member of the family, a sleeping pet or a 3D object in your house. Or you could choose a sculpture from the Art UK website to draw and click through different angles, for example, the cat sculpture that students in Harlow used.
Gather your paper, drawing implements and a timer. You could ask an adult or older sibling to time you. Repeat these as many times you like and see how your drawings improve.
To get started, grab your pencil and try 'taking your line for a walk'. You have four minutes to draw your chosen subject without taking your hand off the page. You'll find your drawing has some interesting qualities – don't cheat!
Next, try drawing with a biro in your less dominant hand. This can be a challenge at first but be brave and give it a go. Time yourself again for four minutes. Your drawing might be quite strange, but you might learn to love it!
Next choose two coloured pencils and draw your subject with both hands at the same time. This can be quite a strange experience to start with (as most people haven't done this type of drawing since early childhood), but go with it and you will enjoy the outcome.
Finally, try simplifying your subject into the different shapes you can see. Give yourself four minutes and a pencil, or pen, and paper and make an abstract sketch.
What can you draw at home? Show us your alternative masterpieces by sharing them on Twitter or Instagram and tagging @artukdotorg with the hashtag #ArtUKHomeSchool.
Selina Levinson Drake, Learning and Engagement Manager at Art UK.