In our first Home School post, we looked at creating simple paper sculptures such as weavings and lanterns. This week, we're raising the bar by encouraging you to create your own pop-up scene using a mixture of collage and paper folding, all inspired by a special book sculpture held by the National Library of Scotland.
Made from a copy of Ian Rankin's seventeenth novel, Exit Music, this work was the second sculpture to be anonymously gifted across Edinburgh when it appeared in the National Library of Scotland (NLS) in June 2011. Crafted from the pages of the novel, the sculpture depicts a gramophone and a coffin and was originally accompanied by a note which read, 'A gift in support of libraries, books, ideas... (& against their exit)'. It is one of several of the now famous Scottish book sculptures anonymously created between 2011 and 2016.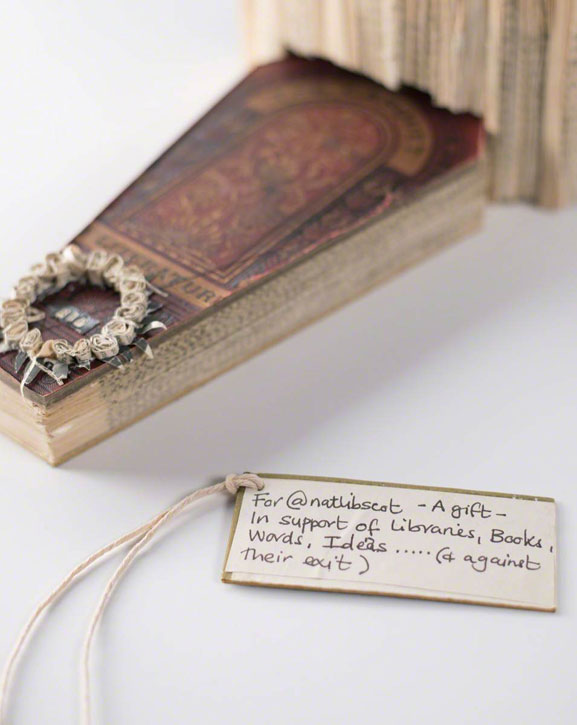 In October 2019, Art UK supported the NLS to loan the Exit Music book sculpture to Firrhill High School in Edinburgh. Alongside the sculpture's visit, Advanced Higher Art and English students (Y13 equivalent) were treated to creative workshops run by illustrator and book sculptor Lucy Roscoe and writer Mary Paulson-Ellis, author of bestselling detective novel The Other Mrs Walker.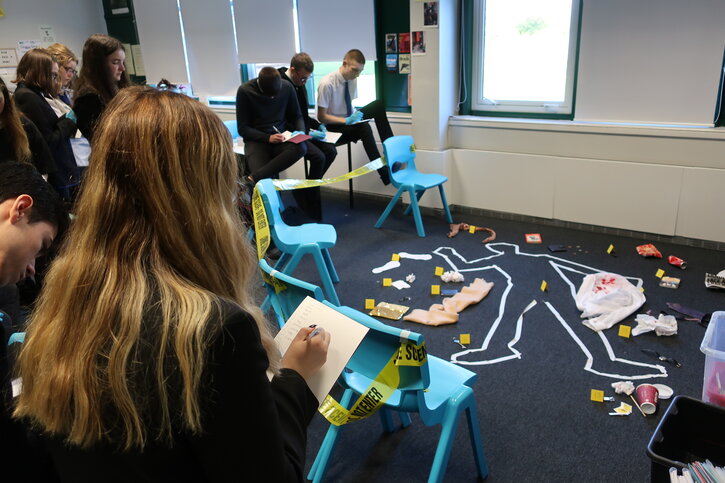 Taking inspiration from the sculpture, students wrote their own haikus and crime stories with Mary, all inspired by a mock crime scene in their English classroom.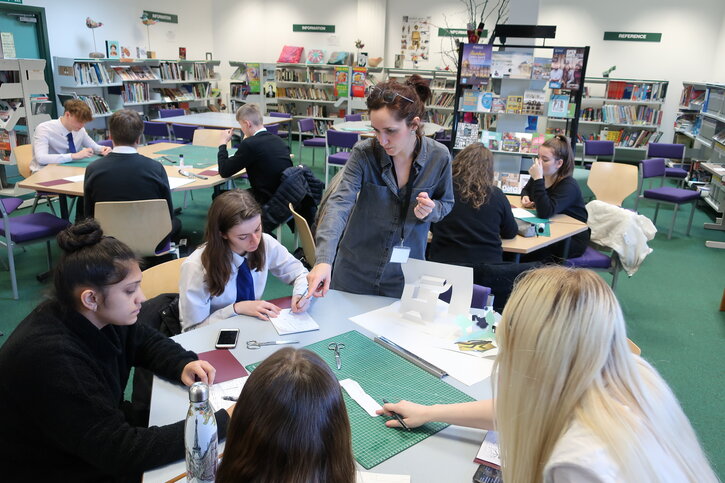 With Lucy, they created pop-up paper sculptures of locations and crimes scenes from Exit Music in the school library. This involved recycling ex-stock school library books that were due to be pulped by transforming them into works of art through cutting, folding and collage!
To have a go at creating your own pop-up scene at home you'll need:
some books, magazines and/or catalogues you no longer need that you don't mind cutting up – it's great to have a mix of text and coloured images to work with
thick paper or card. You can also recycle material for this such as cardboard boxes or old birthday and Christmas cards
a glue stick or similar adhesive
a ruler
scissors
Before you get started, have a think about a scene from one of your favourite books that you'd like to recreate. The pupils at Firrhill created noir-ish lamp-lit streets, well-stocked bars and the detective's apartment all found in Rankin's Exit Music, but yours can be something completely different. Your choice of scene may be dictated by what images you have available to cut up so have a flick through your options, but don't worry if they're not an exact match – part of the fun of collage is bringing together an unexpected combination of images!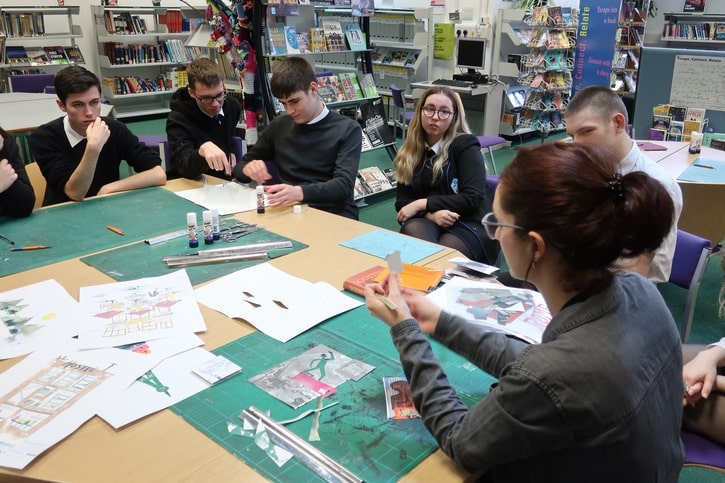 Once you have a selection of images you're happy with – whether that be figures, buildings, objects or patterns – cut them out from their original pages. The students at Firrhill used cutting knives and mats, but scissors will work well if you take your time cutting. Once you've got a good selection, pop them to the side for now.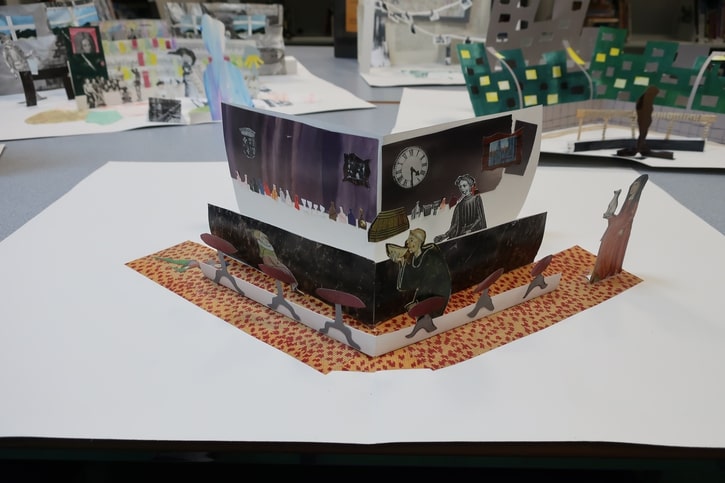 To create your pop-up structure, fold a piece of thick paper or card in half, open it back out and lay it flat on a surface as your base. Then have a think about the various pop-up layers you need for your scene. For instance, if you are creating a room, do you need a larger layer at the back to act as a wall? And then maybe a medium-sized layer for a table or shelves in front of this? And a smaller one for a person sitting or standing in front of this like in the example above? You can create as many layers as you like, but try and think about putting your largest layers at the back, getting smaller as you move forward.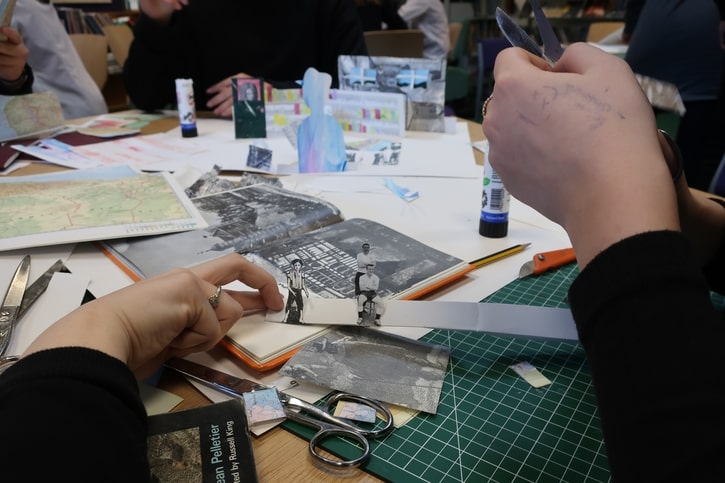 To create each layer, fold 1–2 centimetres at the bottom to create a flap you can glue to your base. Then fold it lengthways: in the middle if you're creating a perfectly even backdrop, or at a point that works for your particular scene, such as one-third along if we're peering into a standard rectangular living room, for instance.
Glue your various patterns, figures and/or objects to each layer to reflect the scene you're recreating.
Once you're happy with each layer, glue its 1–2cm flap onto the base sheet of card, but ensure you keep a 90-degree angle between the lengthways folds before sticking it down, like it's an arrow pointing from you – this will also ensure the flaps are hidden away 'behind the scenes'. Also be careful to line up your lengthways folds with the main fold in the base so that your overall structure will be able to close in on itself and pop-up again without any issues.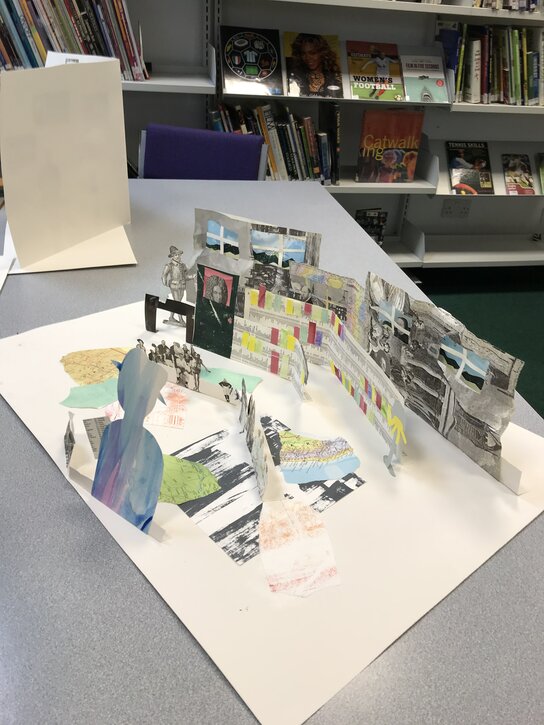 You could start off with a simple scene with two or three layers, then try your hand at making something more elaborate. Incorporating passages of text somewhere in your pop-up is a great way to give your piece a more book-like feel, and the use of coloured images against the black-and-white of a printed page makes for a great contrast!
You don't have to create a pop-up structure – you could also try creating a static scene with elements added to one large layer like the one below. This means you can instead focus on adding more details and features to create a more lifelike scene.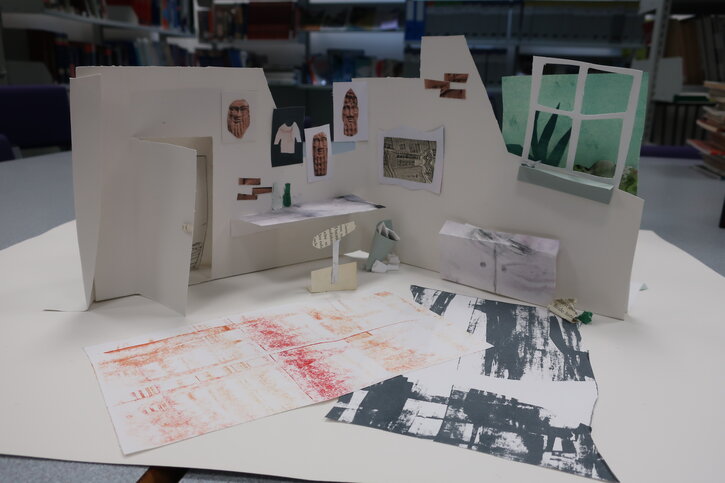 What can you create at home? Have a go at the ideas above or experiment with your own cutting, folding and collage methods to create something totally unique! Show us your masterpiece by sharing them on Twitter or Instagram and tagging @artukdotorg with the hashtag #ArtUKHomeSchool.
The loan of the book sculpture of Exit Music to Firrhill High School in Edinburgh was one of over 75 Masterpieces in Schools loans taking place between 2018 and 2020 thanks to the generous support of the National Lottery Heritage Fund, the Stavros Niarchos Foundation, R. K. Harrison and Hiscox. There's still time for schools to register for the initiative by emailing learning@artuk.org
Shane Strachan, Learning and Engagement Officer (Scotland and Northern England) at Art UK