Following our first Home School post looking at paper sculptures, this time we're feeling a little more reflective...
Sculptor and environmental artist Rob Mulholland MRSS primarily works with stainless steel. While some of his sculptures play with the material's structural potential, others exploit its reflective properties to mirror the environments they are placed within and the people who encounter them.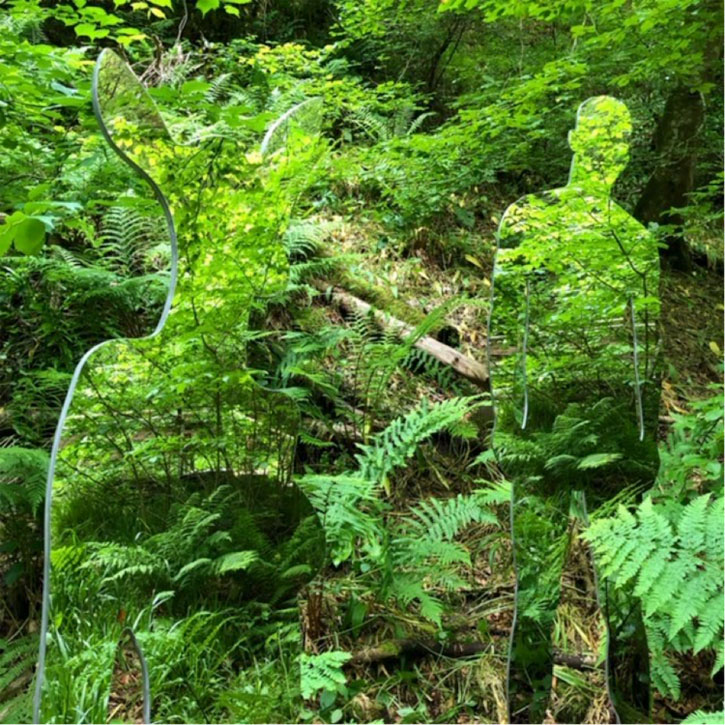 Through Art UK's partnership with the Royal Society of Sculptors, Rob visited Douglas Academy in Milngavie as part of our Masterpieces in Schools programme in early March 2020. Two mirrored figures form Passage which was installed in the school quad.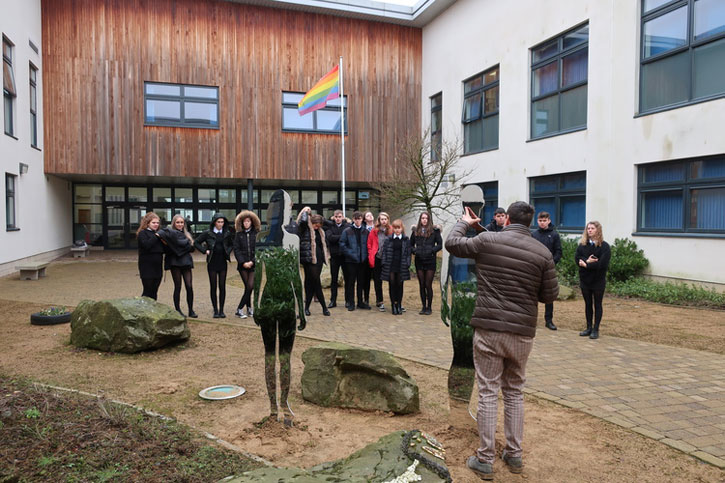 Throughout the day, groups of S5 and S6 pupils (Y12 and Y13 equivalent) explored the sculptures in situ and discussed the story the figures might be telling and their relation to one another.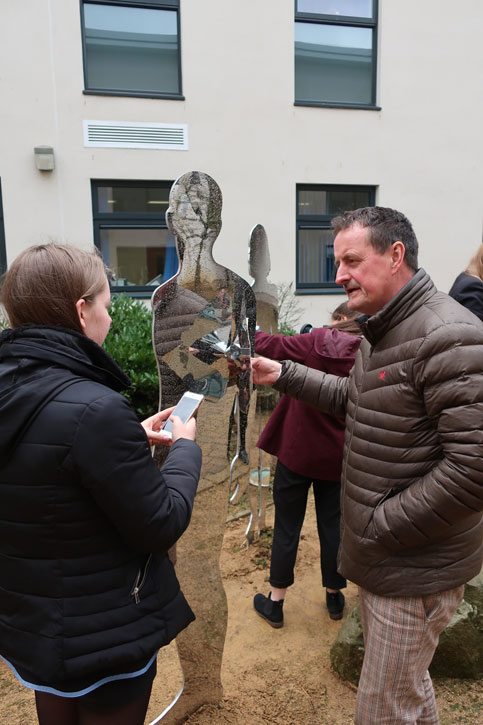 Each pupil then had the opportunity to create their own mirrored sculpture using a combination of card and a special reflective film. Some pupils opted to create outlines and silhouettes of recognisable forms, while other creations were more abstract and textural.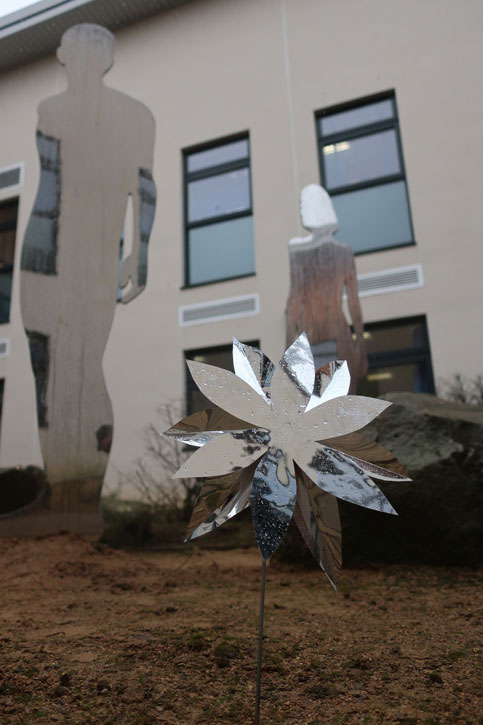 Some played with the structural potential of the card and film, really exploring the possibilities of working with these materials in three dimensions.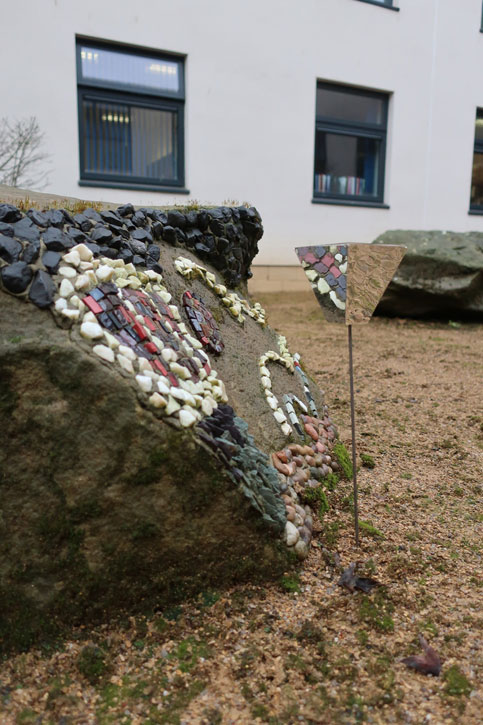 The pupils then had the opportunity to install their own mini mirrored sculpture outside. They were amazed at just how much the sculpture disappeared out of sight when placed in amongst greenery and how beautiful contrasts between earth, architecture and sky could be created at just the right angle (intermittent bursts of rain, snow and wind did make this a bit of a challenge!).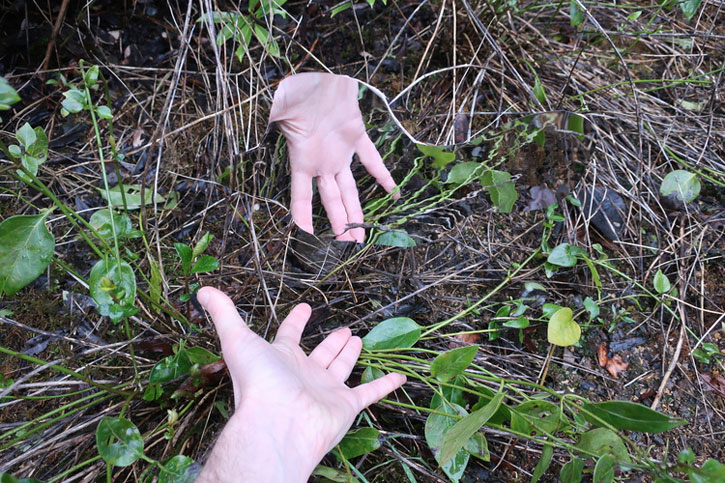 Have a go at your own mirrored masterpiece at home – all you need is a pen or paper, scissors, thick card or cardboard (recycle where possible!), and kitchen foil or something else reflective and easy to manipulate such as shiny gift wrap. If using wrapping paper, you may also need glue or double-sided tape to stick it to the card, whereas the tinfoil most likely won't require this.
First, draw the outline of the shape or structure you wish to create on your card. You may want to think ahead to where you are planning on displaying your sculpture – in a garden or pot plant? On your windowsill? How might your choice of shape or structure reflect its intended surroundings? Once you're happy with it, cut it out.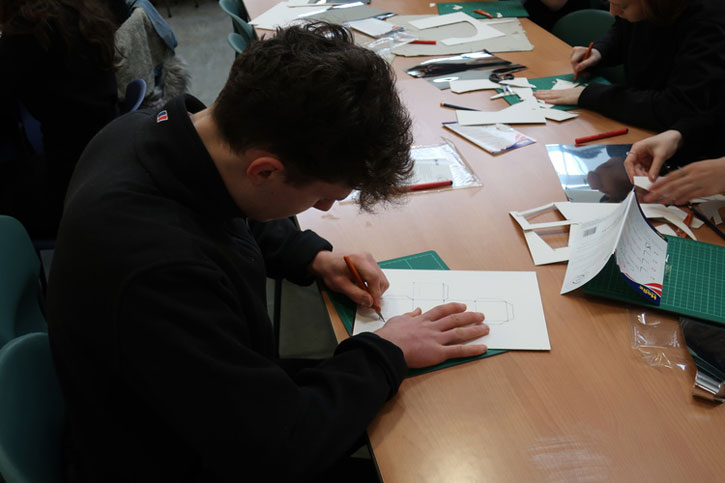 If you're using kitchen foil, simply wrap the foil around the card cut-out, but try and keep the foil as flat as possible so it's as reflective as possible. One side is usually more reflective than the other, so make sure this is the visible side. If you're using wrapping paper, place the card cut-out on the non-shiny side and trace the outline of your shape; cut the paper shape out, glue it and then align with your card before sticking in place.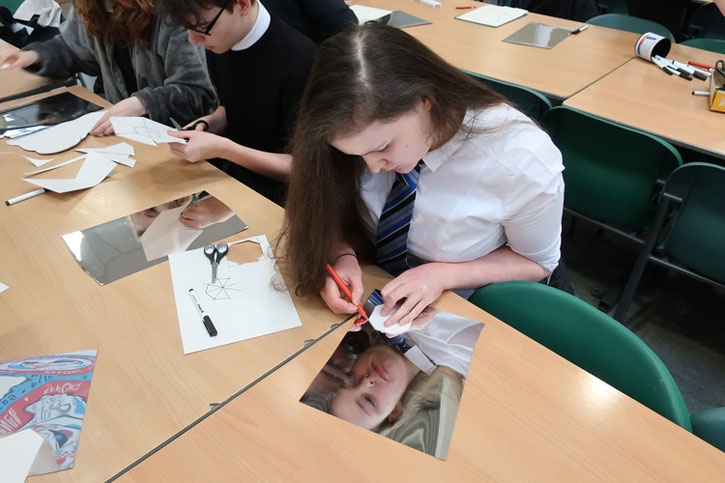 If you want to work more in three dimensions, you could create multiple cut-outs that you slot together, or you may want to explore wrapping objects in your home in the foil or paper to see how this changes their presence – do you become more aware of their shape and features, or do they camouflage themselves and disappear into their surroundings?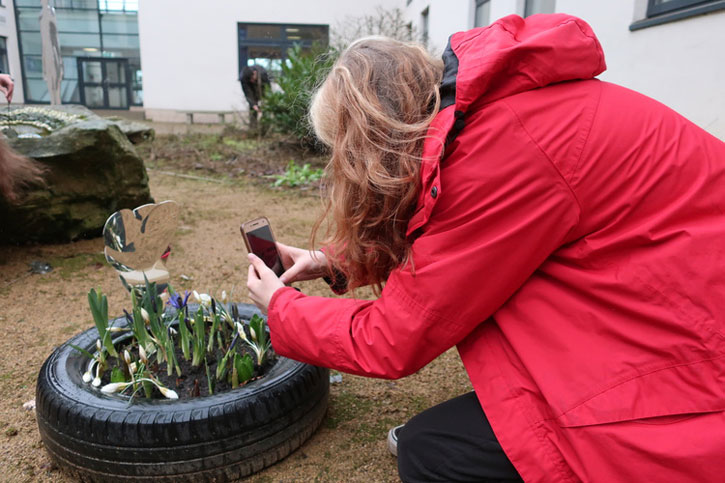 Once you're happy with your sculpture, if it doesn't stand up of its own accord, you could lean it against a wall or an object that has a special meaning to you. Alternatively, you could tape a rod or stick to the back of it and place it in a garden space or pot plant. The pupils at Douglas Academy were particularly keen on placing theirs in relation to plants, creating a miniature garden scene.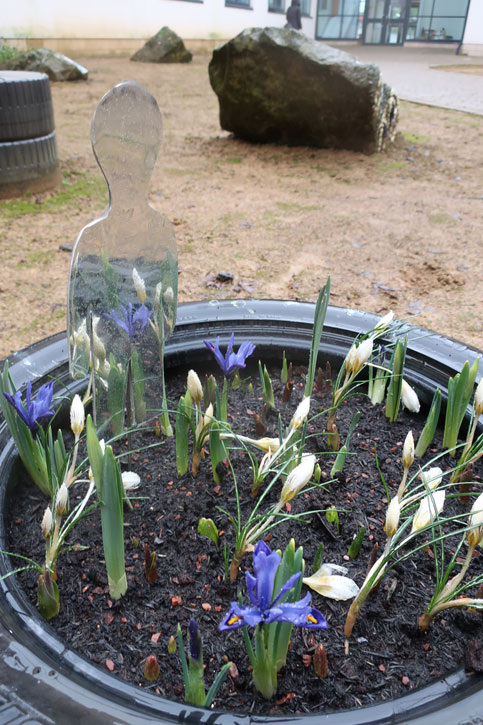 What can you create at home? Have a go at the ideas above, or experiment and explore with the materials to create something totally unique! Share your mirrored masterpiece with us on Twitter or Instagram by tagging @artukdotorg with the hashtag #ArtUKHomeSchool
The loan of Rob Mulholland's Passage to Douglas Academy in Milngavie, Glasgow was one of over 75 Masterpieces in Schools loans taking place between 2018 and 2020 thanks to the generous support of the National Lottery Heritage Fund, the Stavros Niarchos Foundation, R. K. Harrison and Hiscox. There's still time for schools to register for the initiative by emailing learning@artuk.org
Shane Strachan, Learning and Engagement Officer (Scotland and Northern England) at Art UK