Whatever age you are, if you're looking for some creative escapism in these tough times, Art UK will be sharing inspiration from our Masterpieces in Schools programme to help you create your own sculptural masterpiece at home over the coming weeks. We'd love for you to share them online with us using the hashtag #ArtUKHomeSchool.
Each home school post will focus on a different Masterpieces in Schools event that has taken place since 2018, exploring inspiring sculptures on the Art UK site, insight into the original event day and top tips for creating your own artwork.
First up is Julia Gardiner's Studio Grid which was loaned from Robert Gordon University's Art & Heritage Collections in Aberdeen to Strathburn Primary School in Inverurie, Aberdeenshire in December 2019.
A graduate of Gray's School of Art, Gardiner hand-makes her own paper from recycled newspaper pulp which she then layers to create intricate shapes and forms. Some of these become individual 'studio experiments', while others are framed together in boxed constructions.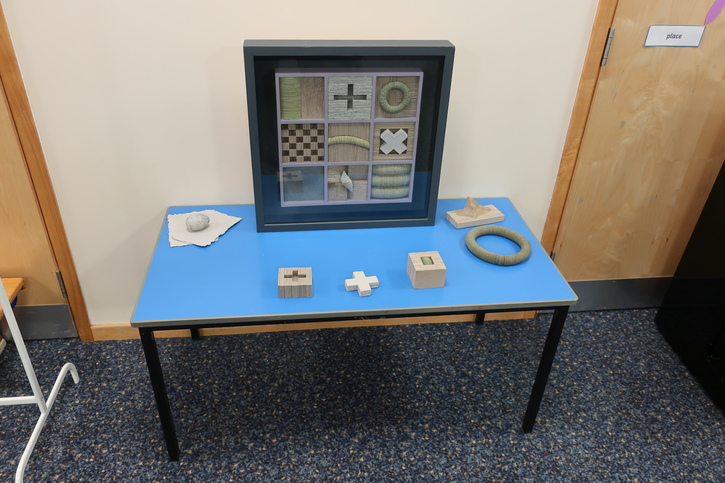 At the start of each session, Strathburn Primary pupils were asked what they thought the shapes represented in the work. Answers ranged from waves and seashells to fields of wheat and a game of noughts and crosses. What do you see?
To help explore the potential of paper further, we were joined by visual artist and expert paper-cutter, Anna Shirron. Also a graduate of Gray's, Anna creates beautiful large-scale paper cut-outs which are often site-specific.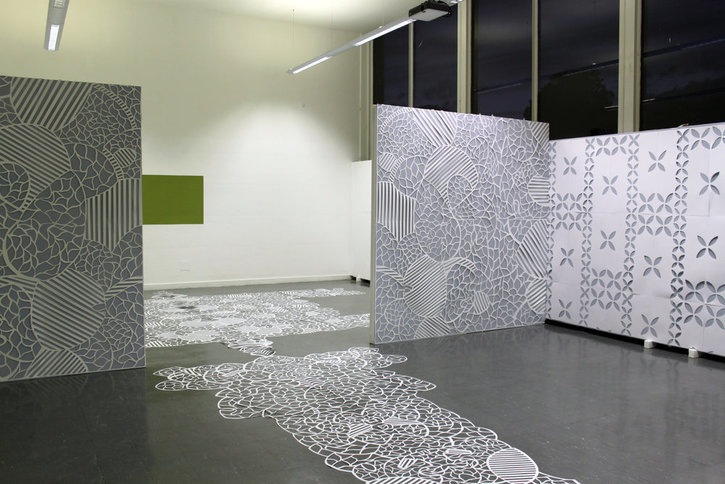 After lots of excited discussion about both Gardiner's sculpture and Anna's paper cut-outs, pupils were tasked with having a go at experimenting with paper for themselves. Anna showed them several different ways of manipulating paper to create different effects.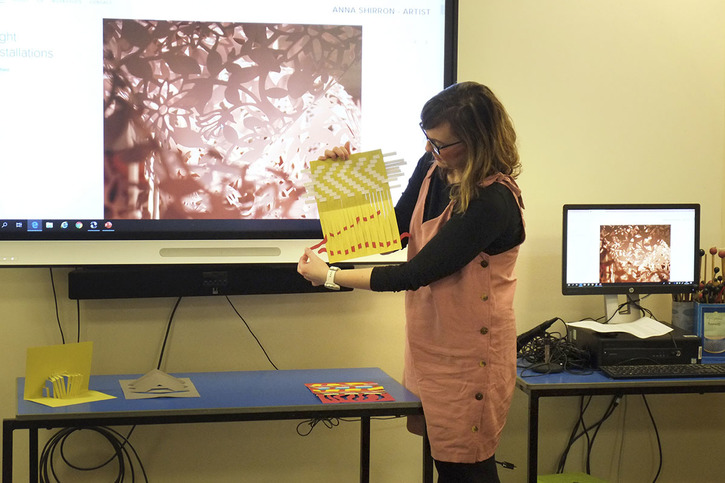 You can have a go at any of the following creations at home using a pen or pencil, scissors, a ruler and paper or card (recycle where possible!). Don't worry if there's something printed or drawn on the paper already – the layering of different patterns and textures of paper often adds to the effect!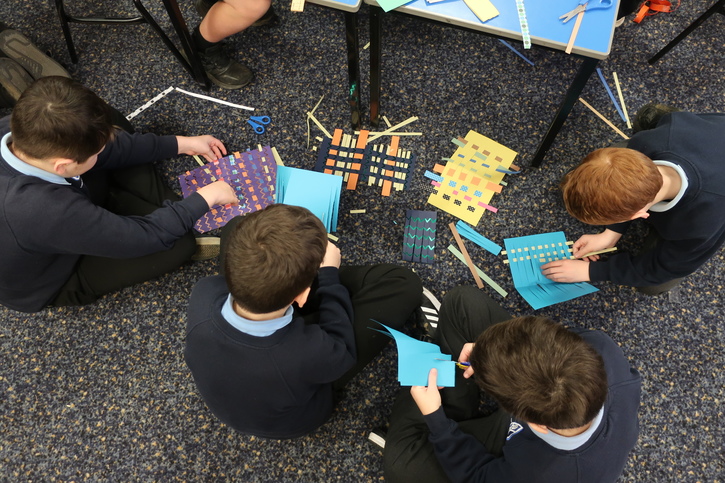 First up is paper weaving:
fold a piece of paper or card in half
with a ruler, mark out even spaces across the folded edge of the page and draw lines at each one. Leave a space of about 1.5cm at the other edge
while the paper is still folded, cut along each line up to the 1.5cm space
unfold the paper: you now have a paper loom!
cut strips of paper the width of an A4 piece of paper. Don't worry about them being perfectly straight – try squiggles and zigzags too!
have a go at weaving the strips through your paper loom to create your own colourful tartans and unusual collages. This is particularly effective if you're using paper with images or patterns printed on it.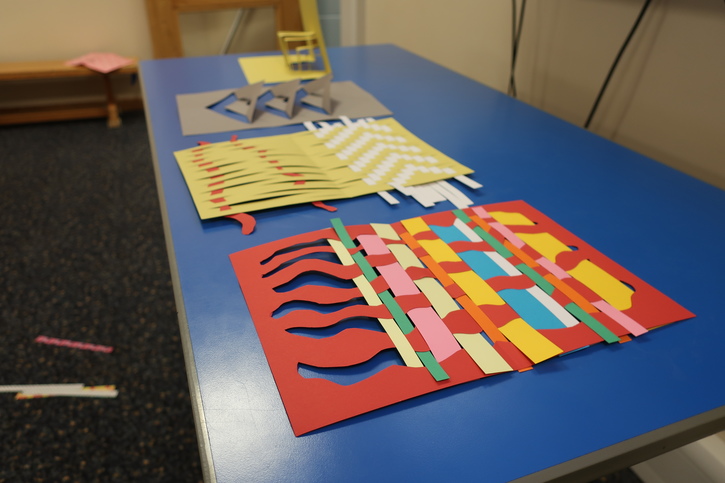 Next, Anna challenged pupils to have a go at working on something more three-dimensional. Thicker paper or card is more effective for this so the structures have more support.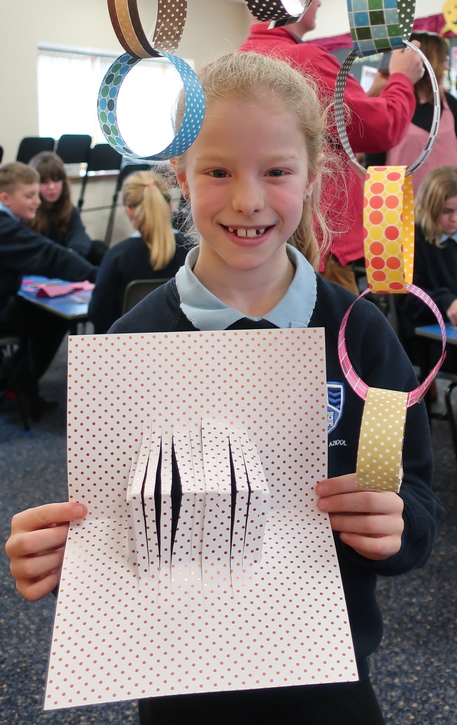 To have a go:
fold the paper or card in half like before, but this time mark out smaller gaps between your lines, only mark out the middle 50% of the page and only cut about halfway along from the folded edge
unfold the paper or card and individually push each strip out from the fold to help it pop out in the opposite direction
experiment with different line lengths to get different effects.
You can also fold the paper in half and cut thicker strips on the diagonal so that when you unfold and push the sections through, you have triangle shapes jutting out. Pupils at Strathburn were particularly keen on this style, and some took their own initiative to join up three of these to create lantern-like structures.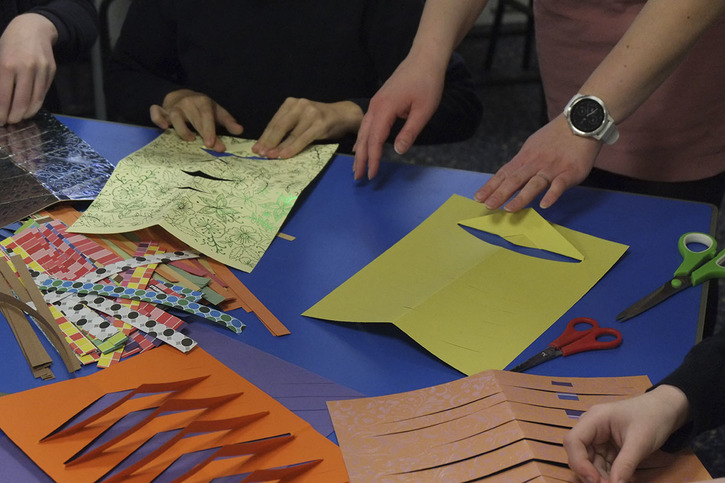 In the remaining time, some pupils continued to experiment with their own ideas, combining paper chains, snowflakes and intricately cut paper leaves and petals into unique sculptural works!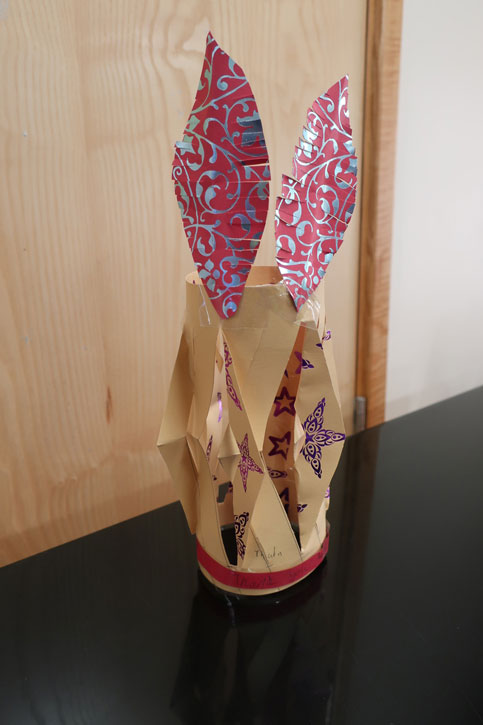 What can you create at home? Have a go at the ideas above, or if you're feeling up for a challenge, try experimenting with layering paper (with glue) like in Gardiner's sculptures to create your own unique shapes and forms. Show us your masterpiece by sharing them on Twitter or Instagram and tagging @artukdotorg with the hashtag #ArtUKHomeSchool.
The loan of Julia Gardiner's Studio Grid to Strathburn Primary in Inverurie, Aberdeenshire was one of over 75 Masterpieces in Schools loans taking place between 2018 and 2020 thanks to the generous support of the National Lottery Heritage Fund, the Stavros Niarchos Foundation, R. K. Harrison and Hiscox. There's still time for schools to register for the initiative by emailing learning@artuk.org
Shane Strachan, Learning and Engagement Officer (Scotland and Northern England) at Art UK