In this Masterpieces at Home interview, sculptor Robert Erskine introduces us to his giant steel sculpture White Rhythm.
Robert also discusses what inspires and fascinates him and demonstrates a making activity for viewers to try at home.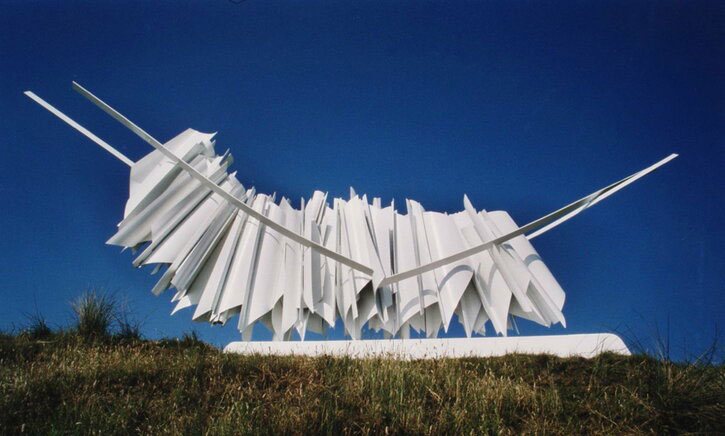 White Rhythm might look to some like a great beast guarding the coast of the Netherlands but it is, in fact, a depiction of a crowd of people. Robert's work is influenced by his curiosity for the world around him. He approaches all aspects of life open-mindedly from the music he listens to the books he reads and is constantly absorbing everything around him. Robert is particularly fascinated by people moving together in cities and he enjoys observing the way each individual figure becomes unrecognisable, forming one huge 'humming and buzzing' mass.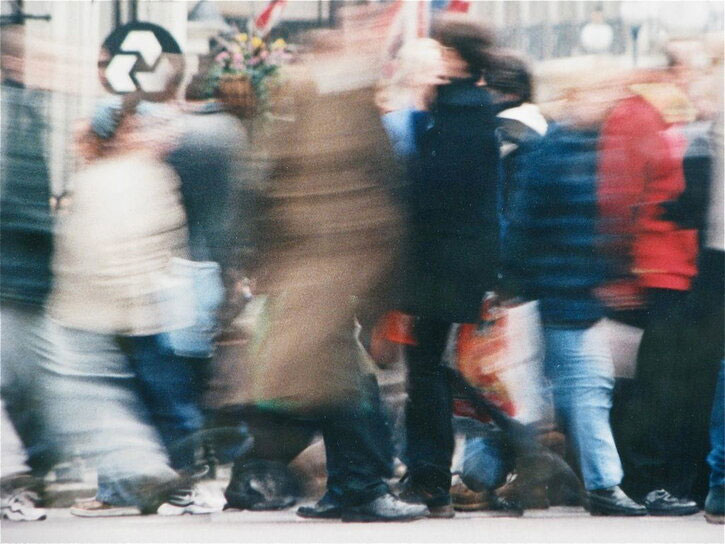 Robert sketched his observations of crowds shopping on the busy streets in the West End of London and made small 3D studies – maquettes. Each study became more abstract by removing detail that we can immediately recognise such as heads, arms, clothes and shopping bags. Robert describes White Rhythm as the one piece in his study that he felt was the best representation of what he was seeing and feeling.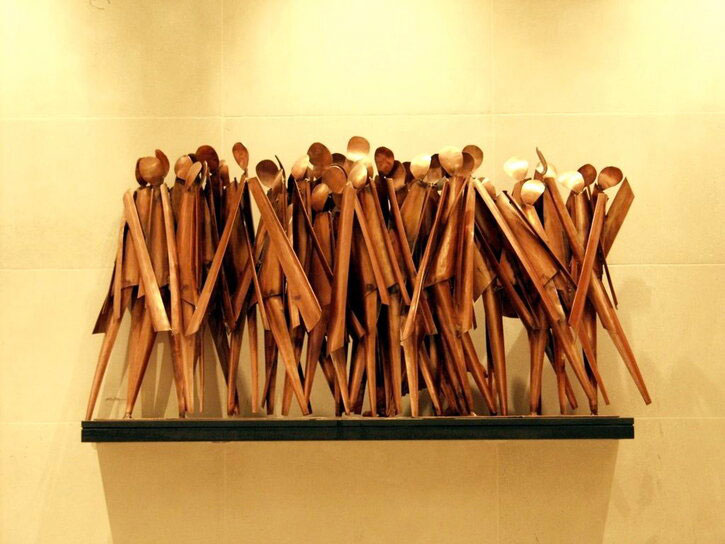 In 1999, Robert was commissioned to represent Great Britain at the international culture symposium 'Sea and Steel' and presented one of his maquettes for White Rhythm. Robert wanted to bring the crowds of people he had observed on London's Oxford and Regent Street to the seashore in the Netherlands. Robert's idea was successfully realised in 2000 as a large-scale steel sculpture measuring 8 x 12 metres. It was erected on the edge of a huge industrial site on the Dutch coastline, overlooking the sea.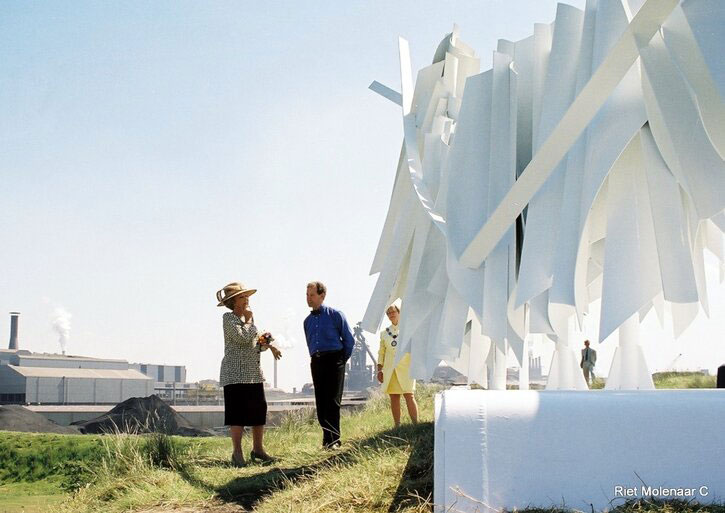 To make your own version of White Rhythm at home, you'll need:
pen or a pencil
scissors
paper
glue stick
template (can be made from cardboard, e.g. cereal box)
Begin by printing out the templates provided. (If you are unable to print you can create the shapes using a ruler or straight edge.)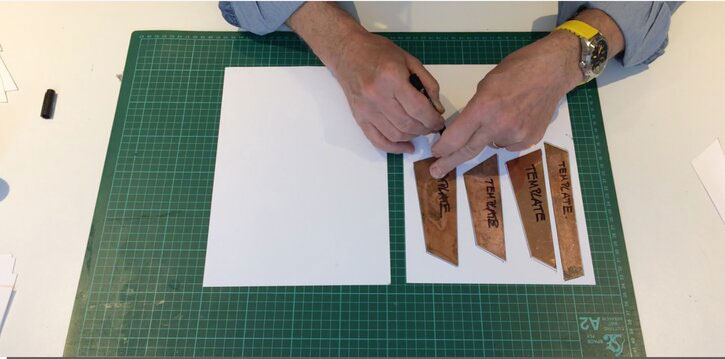 Cut out the templates and make sure they are placed 'edge on' to a piece of A4/A3 paper. This will maximise the whole use of the page. Draw around the templates using a variety of the sizes across the paper and then cut the shapes out.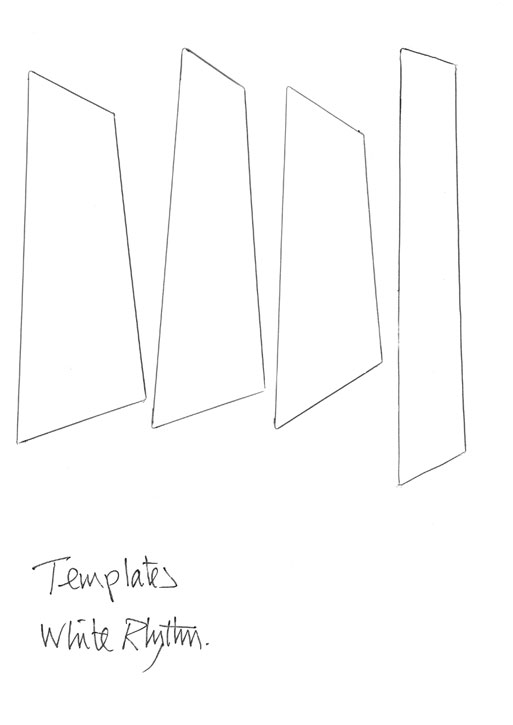 Once you've cut out your shapes, begin folding them gently into slightly curved flutes.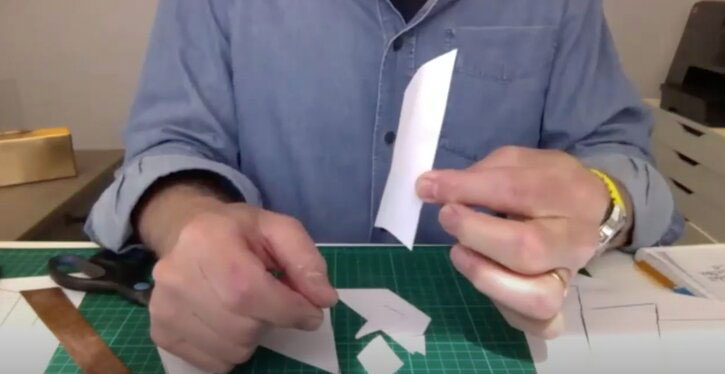 Lay the tall and short flutes together and glue edge-on-edge. Repeat this with around 30 to 40 cut-out shapes to build up a substantial paper sculpture.
Now the main body is completed, you will need to make feet for it to stand upright.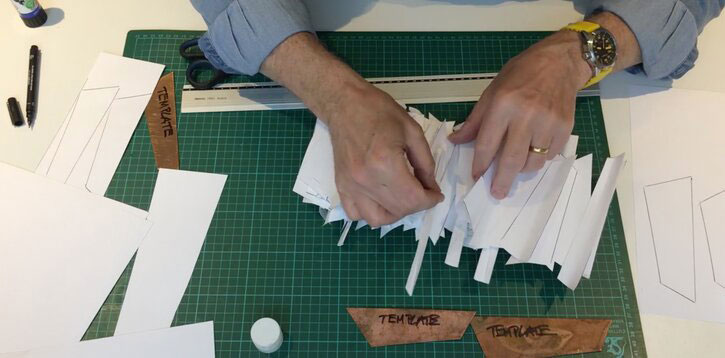 Cut out a piece of paper the same length of your sculpture, fold it, glue it and slot it in somewhere suitable. Repeat until the sculpture stands up on its own.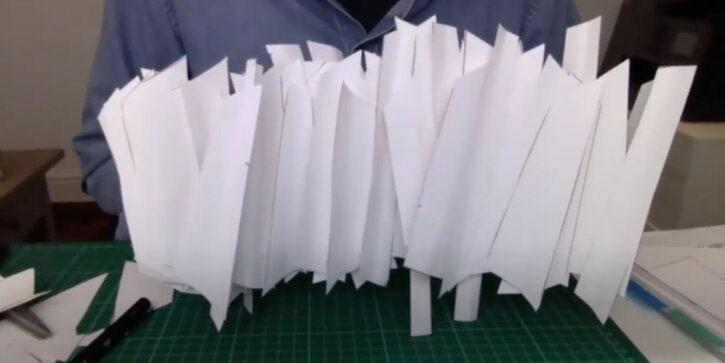 Place your paper White Rhythm somewhere significant to you, photograph it and share with us on Twitter or Instagram by tagging @artukdotorg with the hashtag #ArtUKHomeSchool
Robert's solo exhibition 'Mechanica' is on display at the Sculpt Gallery, Essex. The gallery reopens to visitors on Saturday 11th July, where his drawings and sculpture will be on display. His work Soft Trent will also be part of an exhibition at the new Museum of Making in Derby in September 2020. His automotive broadcasting continues on the BBC, as well as Autolab Broadcast USA, especially with notable developments in design for electric vehicles.
Robert is known for his monumental public works and is now currently exploring ideas that have been bubbling on the surface, he says he is especially looking forward to more experimentation, 'more playing in my sculpture' including public art or 'sculptures placed outside' linked to 'Mechanica' forms. In the future, a crowd sculpture, using bronze in 'a new and exciting way' is in the pipeline.
Katie Roberts, Learning and Engagement Officer (London and the South of England) at Art UK