In this Masterpieces at Home interview, sculptor Lisa Traxler discusses her vitreous enamelled steel sculpture Beauty Chorus G.
Lisa then demonstrates how you can create your own sculpture at home using easy-to-source materials, inspired by the 'dazzle' camouflage of the First World War.
The instructions are below. This activity focuses on drawing, colour and form.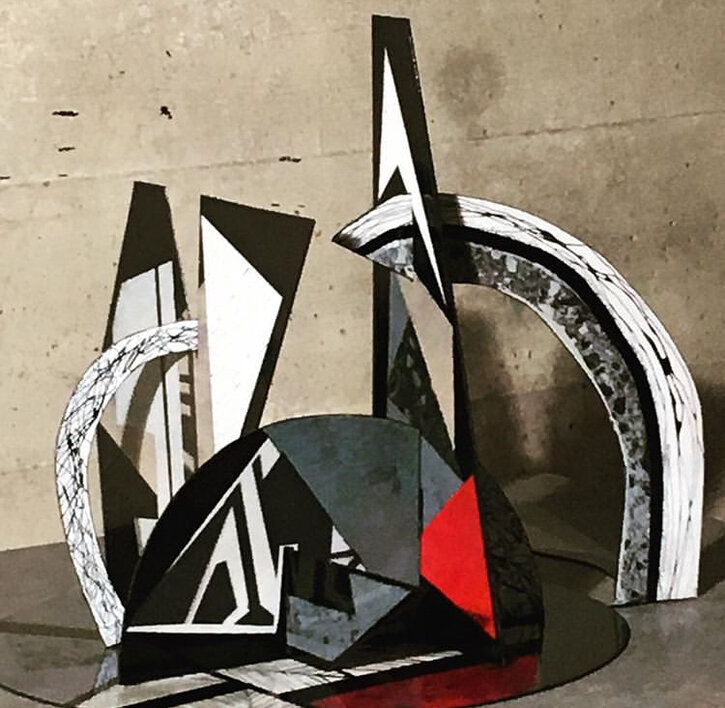 Lisa Traxler's work is very much inspired by her immediate surroundings. Her home on the south side of the Isle of Wight is built around a Second World War radar bunker and her studio is in a converted Nissen hut (a prefabricated steel structure for military use, made from corrugated steel).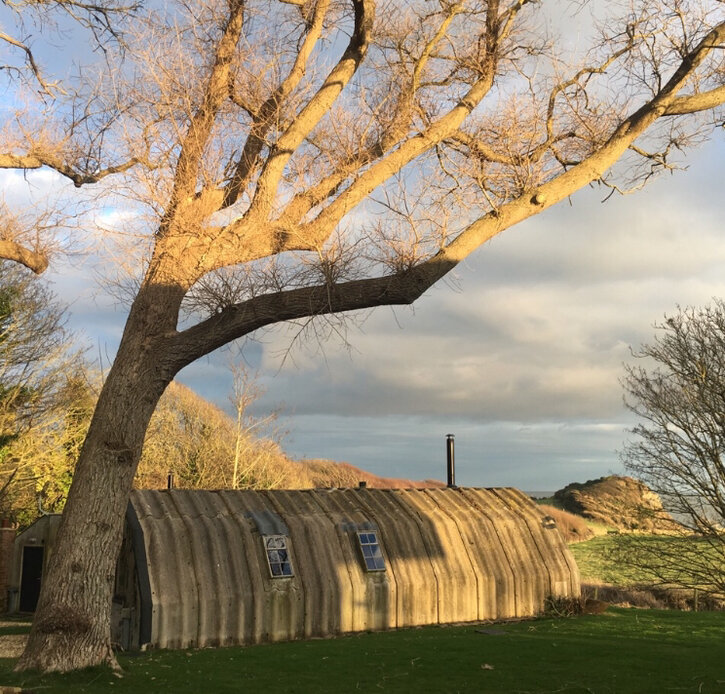 Lisa's recent sculpture is inspired by the defence architecture of the Second World War and her subsequent research into the dazzle camouflage of the First World War.
Materials
For this activity, Lisa suggests using everyday materials that are easily accessible at home:
thin card (or cereal boxes, cardboard packing), two A4-sized sheets
scissors
glue stick
paintbrush (optional)
coloured paper/old magazines/coloured envelopes
pencils, crayons, felt tip pens
plain paper for texture rubbing
Drawing your room
Take the first A4 sheet of thin card (or cereal box, etc.) and look at the room you are sitting in for architectural inspiration. Start to draw areas of your room: the doorway, a dark shape or shadow, the frame around the doorway with lines, a cupboard, door handles, piles of books, pattern on the carpet or floor, shafts of sunlight, pencils on your desk, your teacup...
Quickly and simply draw theses shapes across your page overlapping and creating the individual components in different sizes using a pencil. Do this over both sheets of A4 paper. You will now have two drawings of your room.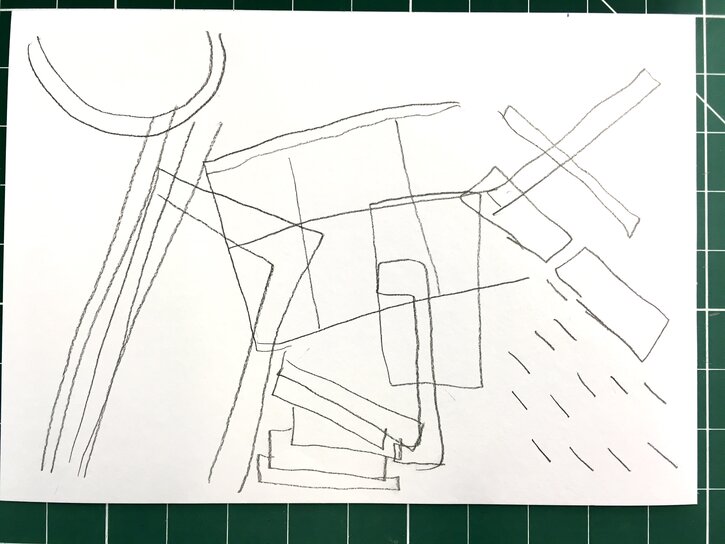 Now it's time to add texture. Using the plain paper create a textured rubbing by placing the paper over a wooden floor or textured surface. Rub gently with pencil or crayon over the plain paper. Your textured sheets are now ready to cut.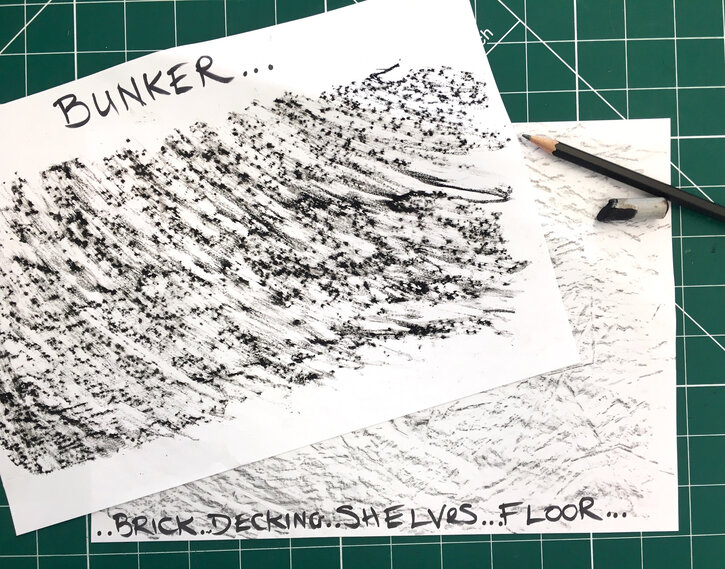 Next, add some colour. Take your A4 drawings of your room and add geometric coloured paper shapes cut from the old magazines or coloured paper that you have. Add the cut shapes from your textured paper that you have created. Glue all the shapes onto your drawings of your room.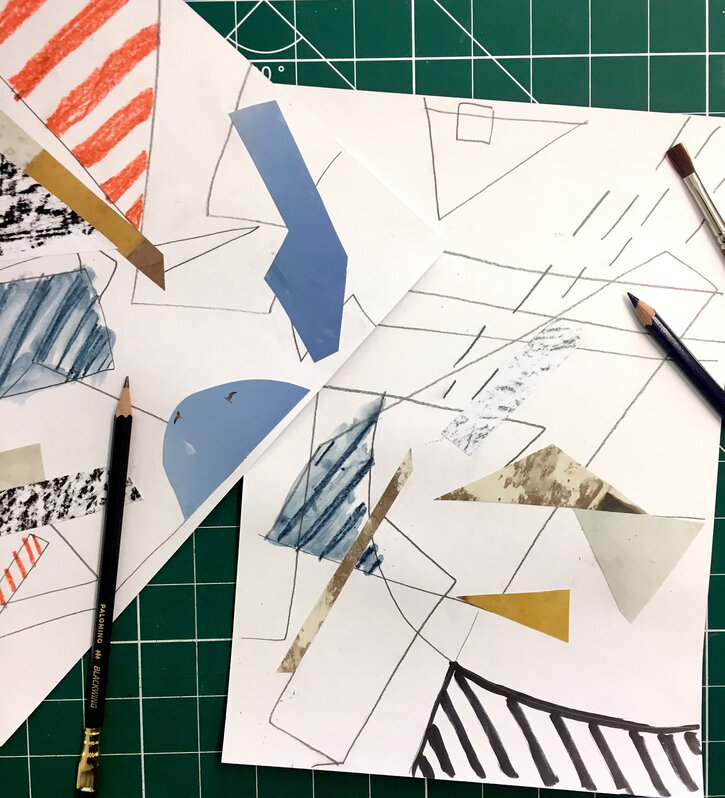 Cutting your sculpture
Take your first drawn and coloured A4 sheet and place a small plate on top. Draw around the plate and cut the circular shape.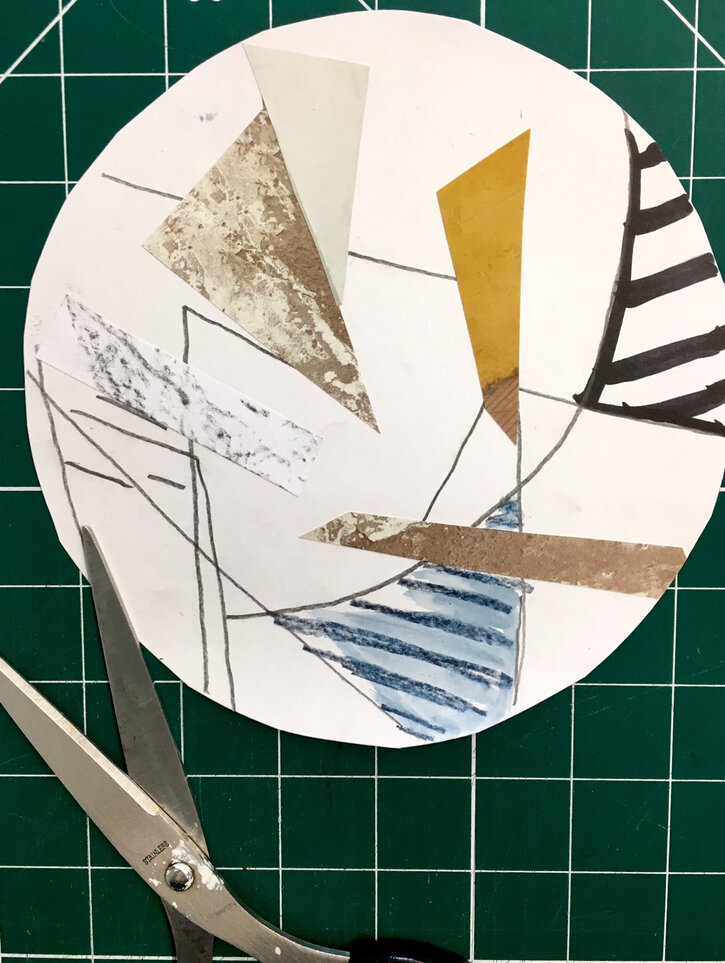 Fold your circle and glue closed to form a semicircle. Add a slot to the top and bottom of your semicircle.
Take your second drawn and coloured A4 sheet. Fold one corner over to create a triangle (this shape also makes a square when it is unfolded).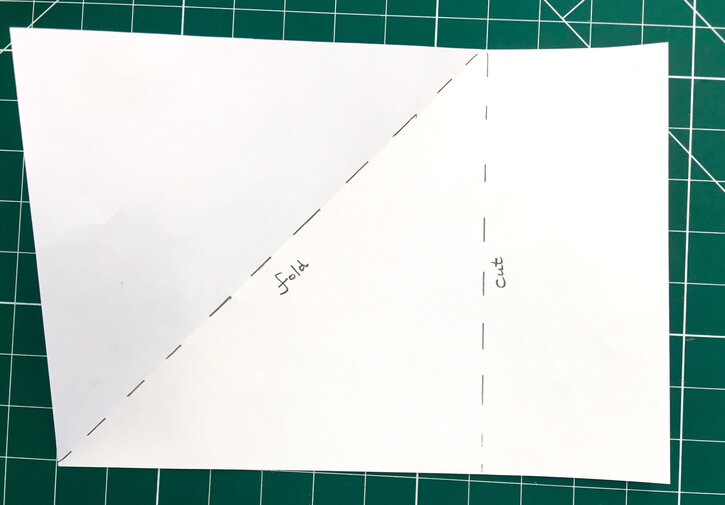 Cut and glue it closed. Make sure to keep the left-over panel and cut it in half on a diagonal.
Cut slots into each of your shapes.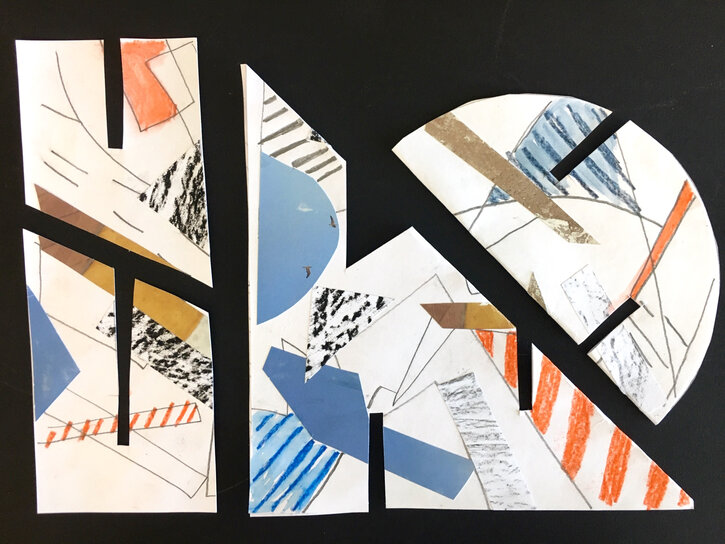 Now it's time to assemble the four parts of your 'dazzle sculpture'. Slot the pieces of your sculpture to create an artwork that stands up.
Now your 'dazzle sculpture' is complete and ready to display in your home!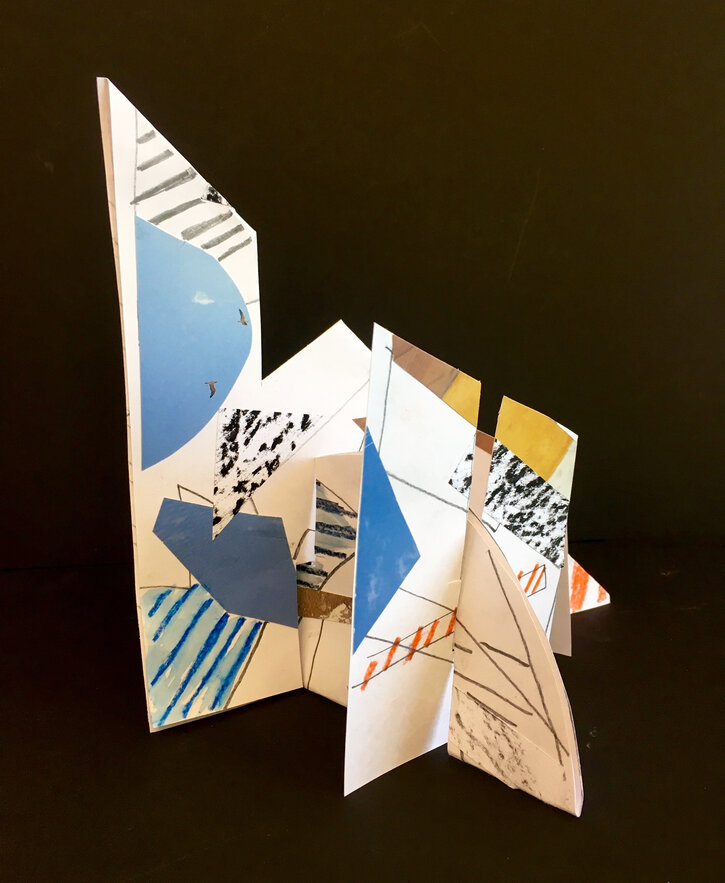 Art UK intends to facilitate a loan of Lisa Traxler's sculpture Beauty Chorus G to a primary school on the Isle of Wight later in 2020, which will be one of over 75 Masterpieces in Schools events taking place between 2018 and 2020 thanks to the generous support of the National Lottery Heritage Fund, the Stavros Niarchos Foundation, R. K. Harrison and Hiscox.
Share your dazzle sculptures with us on Twitter or Instagram by tagging @artukdotorg with the hashtag #ArtUKHomeSchool
Selina Levinson Drake, Learning and Engagement Manager at Art UK