Bob and Roberta Smith, a.k.a. Patrick Brill, is a British contemporary artist, activist, writer, broadcaster, musician, art education advocate and keynote speaker. He is also a trustee of Art UK.
Smith's new book You Are An Artist is aimed at anyone who has ever considered making art, but may not have yet been quite brave enough to take the plunge. This lively new book combines a thought-provoking meditation on art practice with a series of over forty practical exercises and creative provocations that encourage readers to fulfil their potential as an artist.
The book encourages the reader to work out what kind of artist they really are, and what they can achieve. Drawing on the author's experience as an art teacher, it playfully adapts methods of art education, mixing these with a sideways approach to creativity popularised by the author's activist campaigns.
Smith continually asks: How about this...? and provides an array of ideas, tips and practical examples. Try out activities as diverse as making loop drawings to setting up an easel in front of the TV – or painting a cloud and transforming an object by finding a new function for it.
We asked artist Bob and Roberta Smith to share one of his favourite activities from his book with Art UK readers and their families.
Draw five inspirational objects
1. I love coffee. It's a great stimulant and generally harmless. Stay off the hard stuff.
2. Pasta shapes have come about via the ecology of a food culture that perfectly evolved to complement the different sources of the Italian kitchen. Pasta is Italian folk art.
3. Attempting to work with new art materials forces us to see the world in new ways. Try asking your family to give you art materials as presents.
4. I'm enthralled by railway engineering and the life-changing opportunities that trains create – the exciting idea of networks connecting us – the glamorous liveries of the twentieth century, the sheer romance.
5. This is a painting by my father, Frederick Brill. At Ribblehead Viaduct, during the industrial age, railway engineers created Britain's greatest land artwork.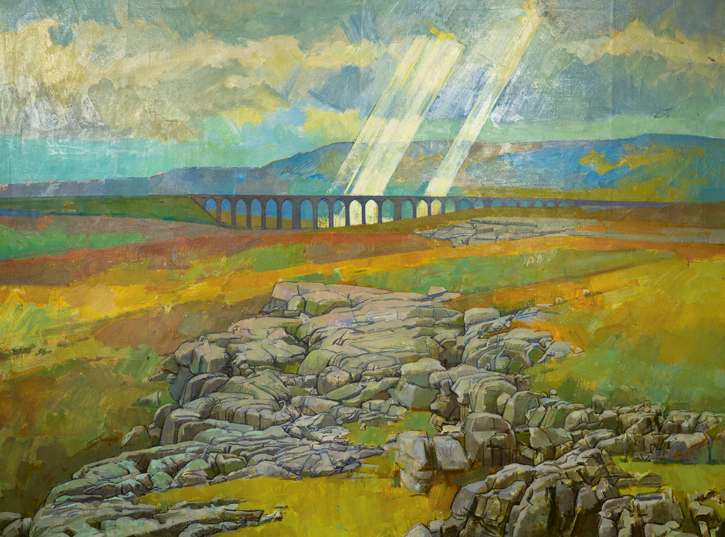 Bob and Roberta chose five inspirational objects to draw that meant something to him. Now it's your turn! What do you find exciting or inspiring? Have fun and engage with objects or experiences in purely a visual way.
Get a pencil and a sketchbook, have a look around your house and note down your very own five inspirational objects. Next, have a go at drawing them...
For example, my five inspirational objects might be:
1. A thought-provoking book of short stories that I currently just can't put down!
2. An unsigned painting of a lady with a small dog I inherited from my grandparents hung on my sitting room wall. Who was this mysterious lady?
3. A photo of my young son on my office pinboard. I wonder what great things he will go onto do in his life – will he be an ecologist, a web designer or a scientist? Only time will tell...
4. My new baby pink hob kettle I use for making weekend tea.
5. My comfy bed, as rest energises and inspires me, I often have ideas when falling asleep. It's just a shame I don't always remember them when I wake up.
Your drawings can be anything from simple continuous line drawings to abstract or representational sketches – or even a mix of these! Enjoy selecting and creating them...
Feeling inspired and would like to tap into more of Bob and Roberta's activities? You can buy his new book You Are An Artist from the Art UK Shop.
The Art UK Learning team would love to see drawings of your five inspirational objects. Share them with us on Twitter or Instagram by tagging @artukdotorg with the hashtag #ArtUKHomeSchool.
Selina Levinson Drake, Learning and Engagement Manger at Art UK