This week we have some egg-themed fun at home for primary-school-age children, inspired by a previous Masterpieces in Schools event in Liverpool.
In June 2019, the Williamson Art Gallery & Museum in Birkenhead loaned Christine Kowal Post's Eggs sculpture to Blackmoor Park Infant School and Kindergarten in Liverpool for a day.
Eggs is an eight-foot-high work in limewood which was carved and painted by Kowal Post in 1989. Inspired by the iconography of totem poles, it depicts three woman clutching eggs and, like much of Kowal Post's work, it explores myths related to the role biology plays in women's destinies.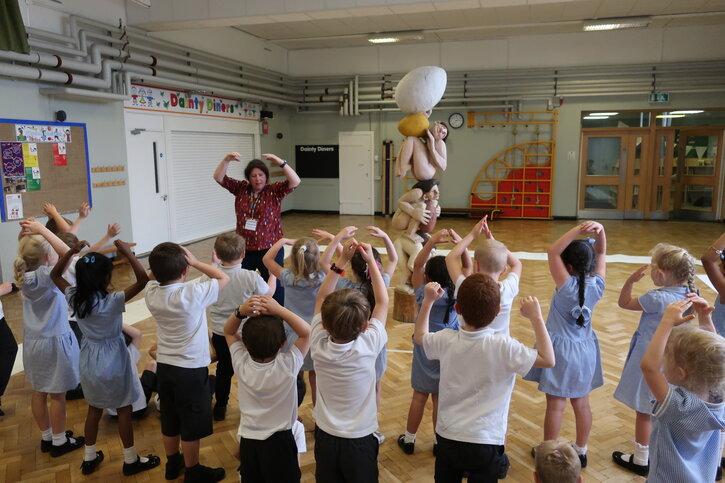 Throughout the day, it was displayed in the school hall with groups of pupils from the age of three to eight years old visiting the sculpture to discuss and draw what might grow from the eggs.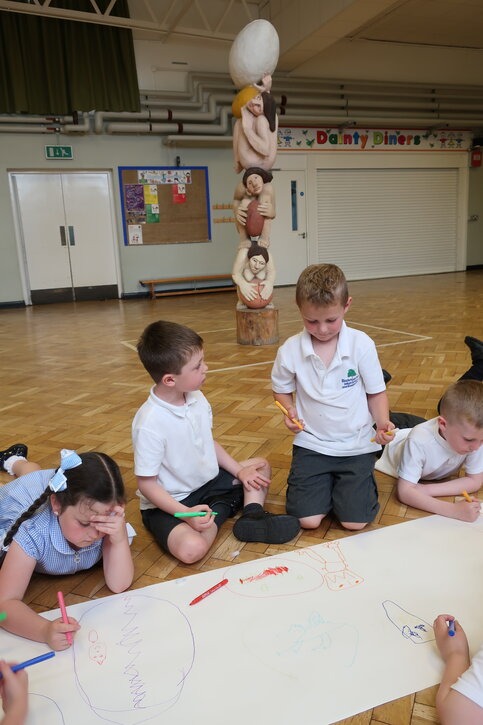 Taking inspiration from Kowal Post's sculpture, local artist Nicola McGovern ran creative workshops with Year 1 pupils who created their own egg sculptures and painted unique colourful works using wooden eggs.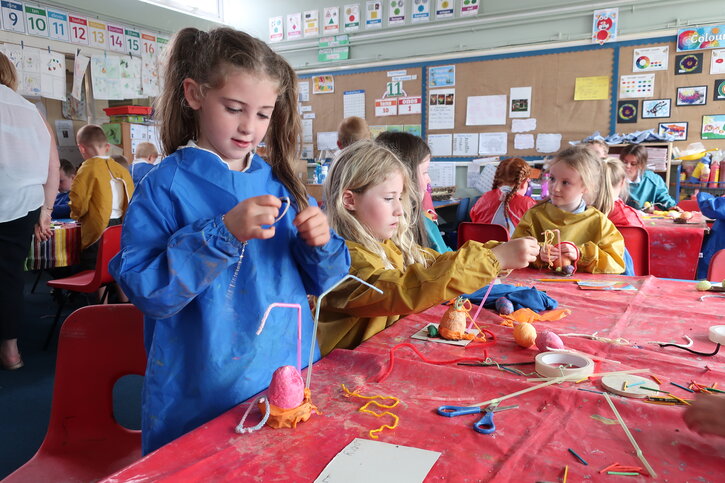 To create your own egg painting you'll need either hard-boiled eggs or something round or elliptical that you don't mind getting messy – this could be plastic balls, foil-wrapped chocolate eggs, small round stones or anything else that is able to roll around easily. You'll also need paper and a cardboard box – the bigger the better – paint or ink, and some tape (masking tape is best).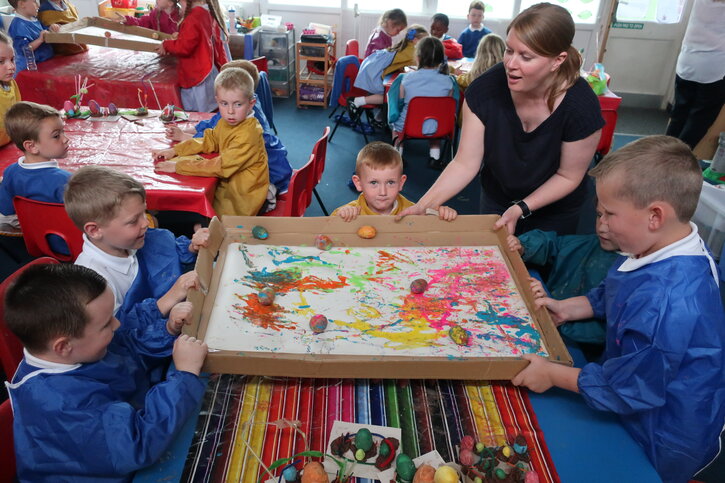 The first thing to do is to create a cardboard box that is open on one of the largest sides. For example, you could remove the top flaps from a delivery box, or cut the front side off a cereal box. You may need to tape the sides of the box to strengthen it. Once you've done this, tape a piece of paper onto the inside of the box. Now it's time to get messy!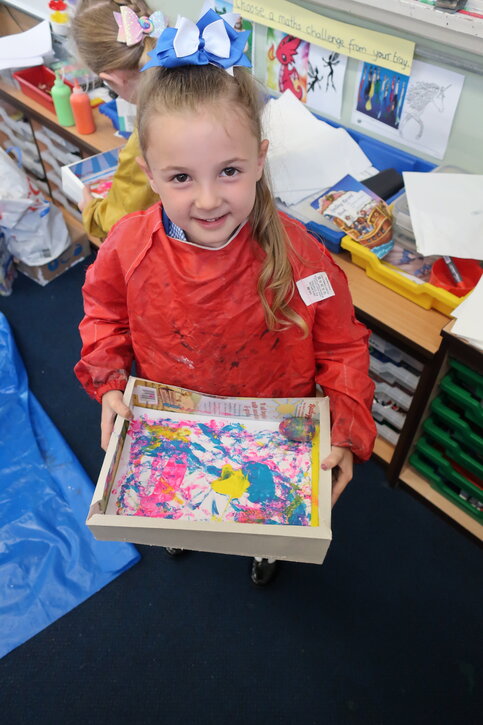 Make sure you cover over your clothes (or wear ones you don't mind getting messy) and work in a garden or an indoor space with plenty of room that's easy to clean in case you get a little over-excited creating your painting... Once you're prepared, drop a little paint onto the paper and then drop in two or three of your eggs (or alternative round objects) and have fun rolling them around in the box to create different multi-coloured tie-dye effects.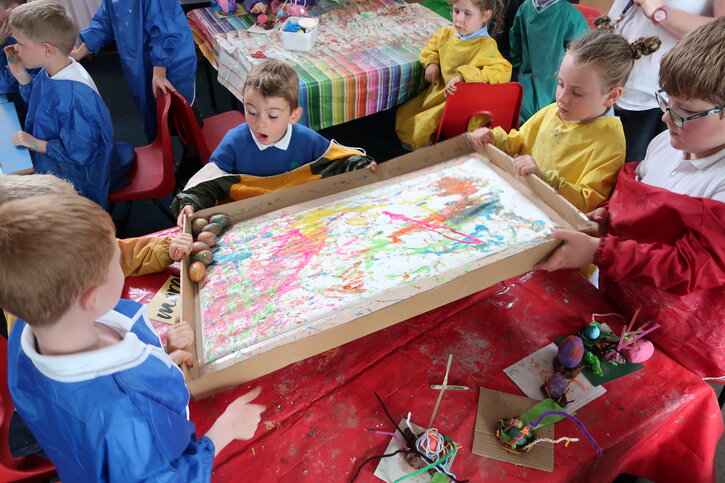 Once you're happy with your painting, take off the tape, take it out of the box and leave it somewhere to dry. Repeat the process as many times as you like and try to create something a little different each time.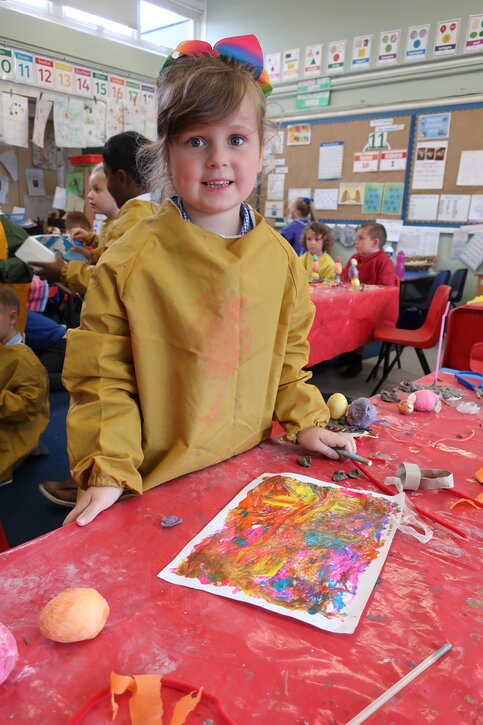 If you're looking for more egg-themed activity, why not create your own egg sculpture using recycled materials like the children at Blackmoor Park Infant School.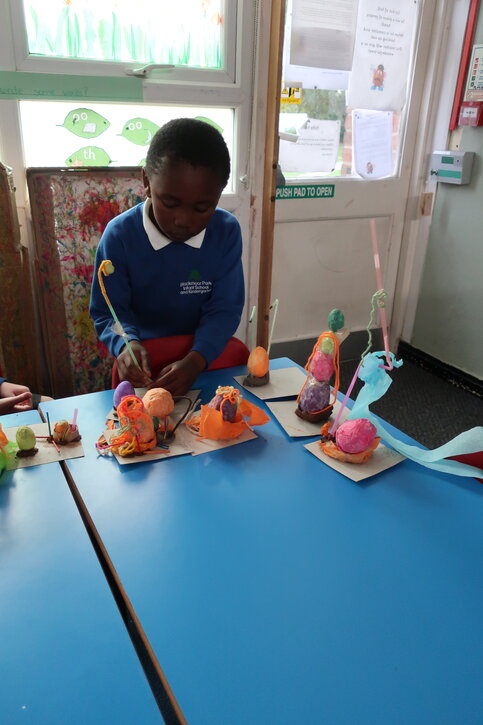 Share your egg-cellent artwork with us on Twitter or Instagram by tagging @artukdotorg with the hashtag #ArtUKHomeSchool.
The loan of Christine Kowal Post's Eggs to Blackmoor Park Infant School and Kindergarten in Liverpool was one of over 75 Masterpieces in Schools loans taking place between 2018 and 2020 thanks to the generous support of the National Lottery Heritage Fund, the Stavros Niarchos Foundation, R. K. Harrison and Hiscox. There's still time for schools to register for the initiative by emailing learning@artuk.org
Shane Strachan, Learning and Engagement Officer (Scotland and Northern England) at Art UK