This activity is suitable for learners aged 9 to 14 (Key Stage 2/3, Years 5 to 9) who are confident with using tools safely. Adult guidance is recommended when learners are selecting materials and appropriate tools.
In this Home School activity, you will be making a sculpture using discarded materials that may be to hand.
Using found and recycled materials is ever more pertinent at this time of appreciating and getting back to nature. Making use, noticing and collecting debris and scrap can be a great way to combat and comment on waste.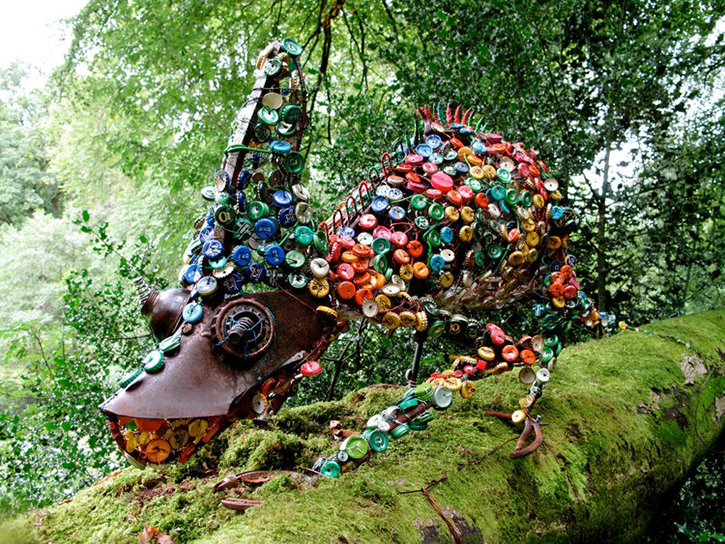 The inspiration for this activity is the sculpture Chameleon (250 x 70 x 65 cm). Chameleon began as a community project, in which participants helped to decorate a scrap steel structure with recycled bottle tops and buttons. The sculpture featured at Stourhead, National Trust, sited on a fallen tree overlooking the lake.
Many artists have used found objects in their work, such as Pablo Picasso, Kurt Schwitters, Peter Blake and Robert Rauschenberg.
Found objects, also known as assemblage, can be seen in Picasso's work in the 1920s. He experimented with making three-dimensional works from wire, metal, scrap material and found objects. Later, in the 1950s and 1960s, Robert Rauschenberg used found objects to make what he described as anti-aesthetic sculptures. In current times, artists are continuing to use found materials as a source of inspiration, as you can see in Fiona Campbell's work.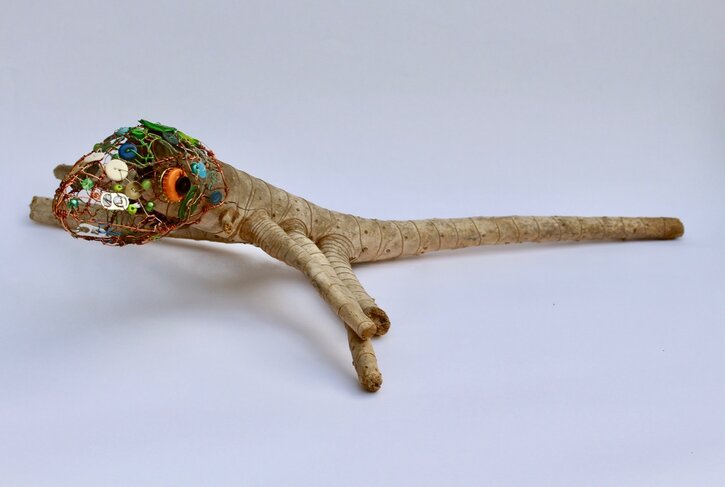 To make your hybrid creature, you will need as much of the following as you can find:
Pencils or colouring pencils
Paper or sketchbook
Long-nosed pliers or cutters (optional, but these help with cutting and twisting wire)
Hammer and nail or drawing pin
Blu Tack (recycled if possible)
Unwanted, recycled materials, such as:

Wire, thick and thin (such as copper and aluminium stripped from old cables)
Chicken wire
Scrap components (small springs, colourful bottle tops, beads, buttons, washers, small keys, toys and other interesting objects with small holes)
Recycled paper (newspaper, tissue paper, shredded copy paper)
Twine, string, or coloured wool
Small branches, sticks, dried roots
Making your hybrid creature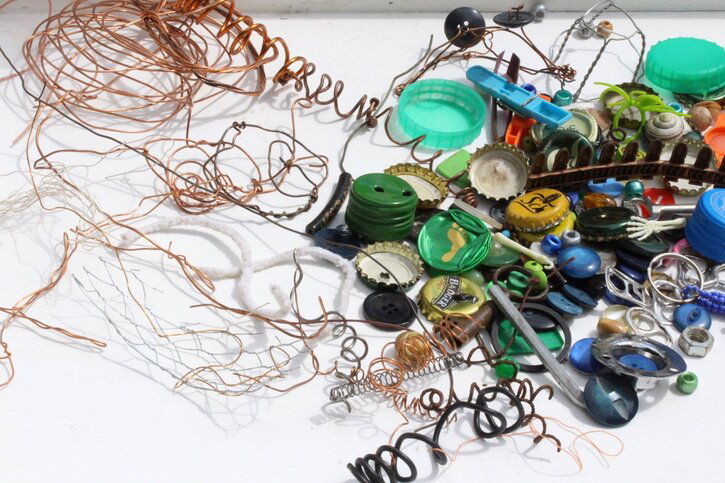 Step 1. Part of the fun is collecting objects to use in your piece! Collect materials, especially recycled and found objects. A small branch or root may suggest a creature. Collect objects with holes in so you can attach them easily. Also, find linear materials that create lines, e.g. wire or twine.
Think of how you can transform these materials into a creature with a few additions.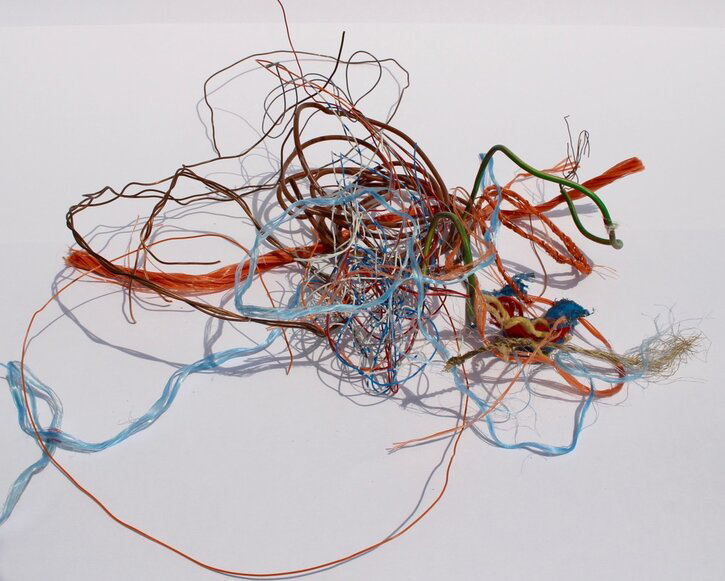 Step 2. Design your creature. You can make a template to scale. For the template, just draw the basic outlines, with all lines touching at least one other. Keep it simple. Alternatively, download and print out my design here as a template.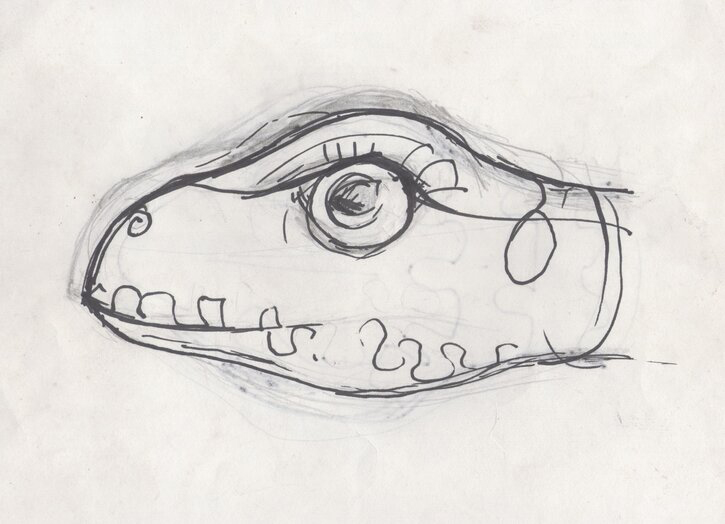 Step 3. Add pea-sized pieces of Blu Tack around your main outline. Use thick wire to trace around the outline to start off the three-dimensional structure. Leave 1–2 cms of wire sticking up at each end so you can attach more wire if necessary.
To join wires, cross the ends over, bring them underneath and over and wrap one around the other. Squeeze tightly with pliers if you have some. Wire can be easily manipulated with your fingers to reshape.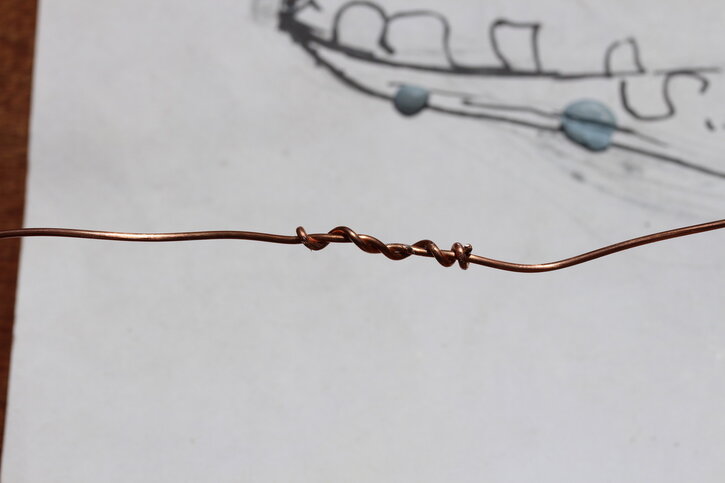 Step 4. Create a 'cage' effect, so the wires become a woven, three-dimensional form. You can use thinner wire if it's easier. Use pliers or fingers to help twist the wire round and squeeze the ends together tightly. Each time a wire reaches another, wrap it over and under at least once to secure it. Think of how it will be attached to your found branch/stick. If you are making a wire head for your creature, you'll need to create an opening at one end that fits over your branch or stick. Make sure your different parts are the right size.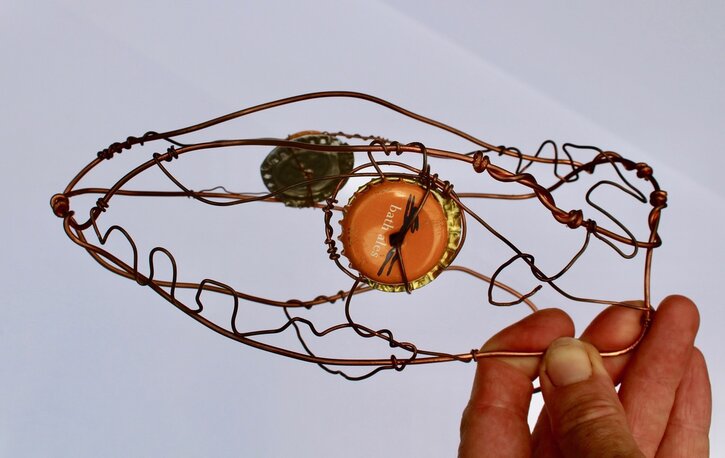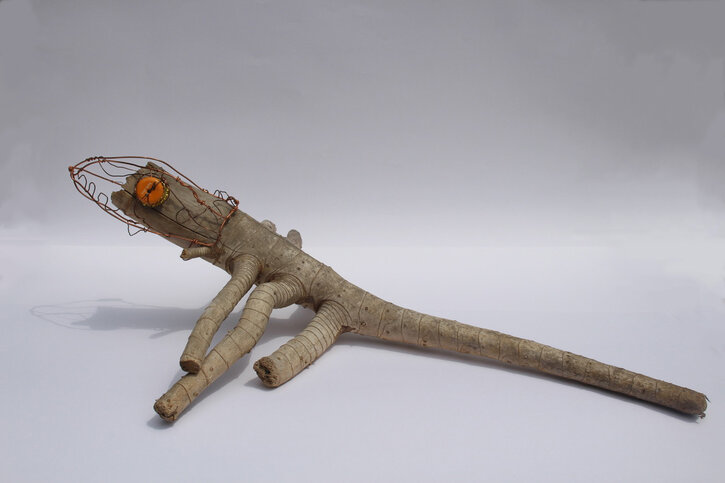 Step 5. You can twist wire around twine or wool to make it more colourful and decorative. Get someone to hold your twine taut while you wrap (watch out for your eyes!).
Step 6. To add buttons and beads, make 1 or 2 small holes in your bottle tops with your hammer and nail. To keep them in place, so they don't slide up and down, each bead, button and bottle top needs to have wire fed through it and wrapped around it once.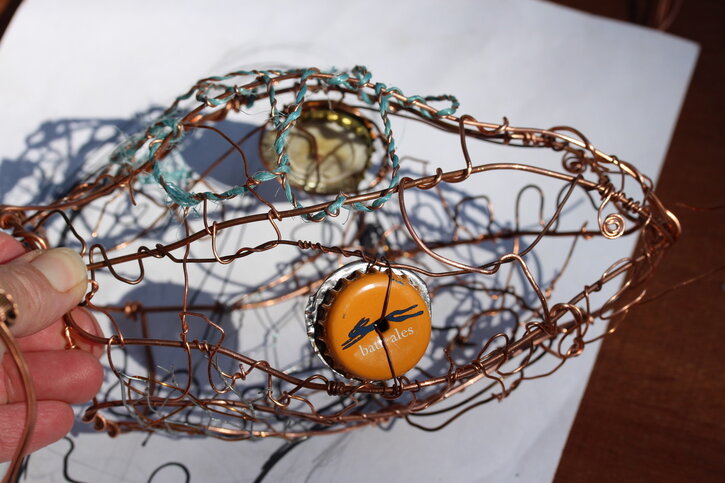 Step 7. Add a decorative surface layer with your found objects. Try to think about a colour scheme. Fill in the gaps with your objects.
For eyes, you can use larger shapes and even layer a button over a bottle, so it looks like a real eye.
You can make spirals and zig-zag patterns by wrapping wire around a pencil (not too tightly) and pulling it off. Zig-zags can be made by bending the wire at a sharp angle – first one way then the other – up and down. Zig-zag wires could become antennae, tentacles, a mouth, tail, or just a pattern on your surface. Springs can be flattened with a hammer.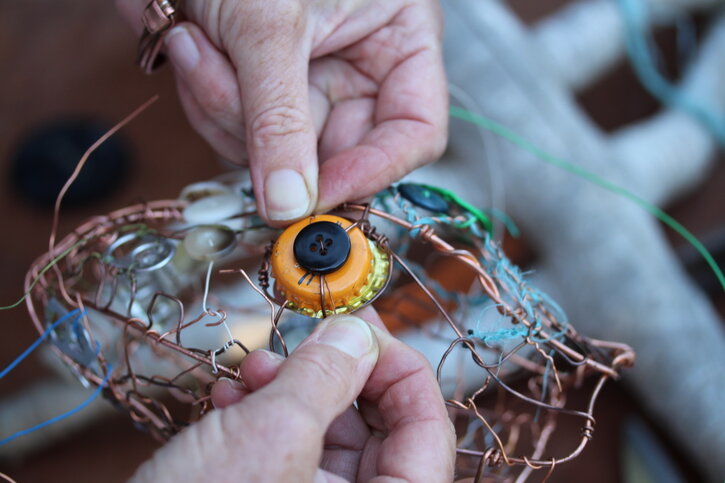 Step 8. Attach your head to the branch body and you have your very own hybrid creature.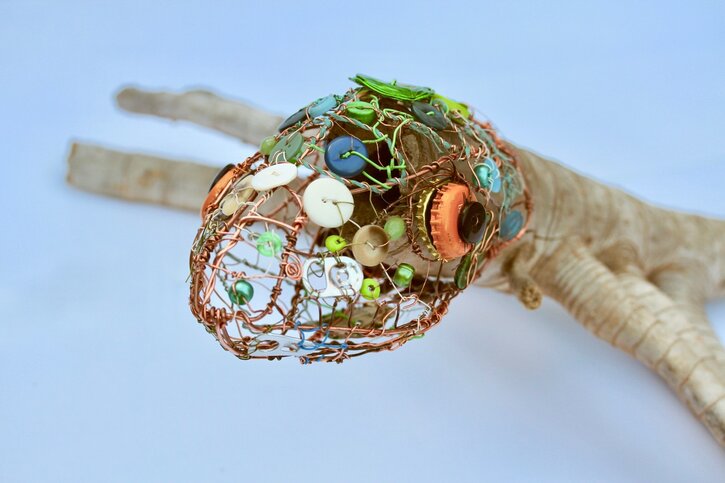 Have a look at other artworks made from wire and recycled materials for inspiration.
What can you create at home? Show us your masterpiece by sharing them on Twitter or Instagram and tagging @artukdotorg with the hashtag #ArtUKHomeSchool.
Fiona Campbell, artist and educator