A new exchange programme has provided a unique opportunity for museum professionals from Greece to learn about Art UK's innovative Masterpieces in Schools initiative. As part of the Art UK Sculpture project, the Stavros Niarchos Foundation provided funding for seven delegates from Greece to take part in a week-long knowledge exchange programme.
The exchange was devised to inform participants about Masterpieces in Schools, our learning programme which takes sculptures into schools across the UK. Participants were given advice on how to replicate the scheme in Greece with their own collection and create links with local schools.
Three delegates visited the UK in July 2019, with a further four visiting in November 2019. They learned about Masterpieces in Schools and the challenges of arranging the loan of an artwork to a school. They were able to question our learning and engagement team about how they work and the lessons they have learned so far. Most importantly, they were given the opportunity to see a Masterpieces in Schools event in person.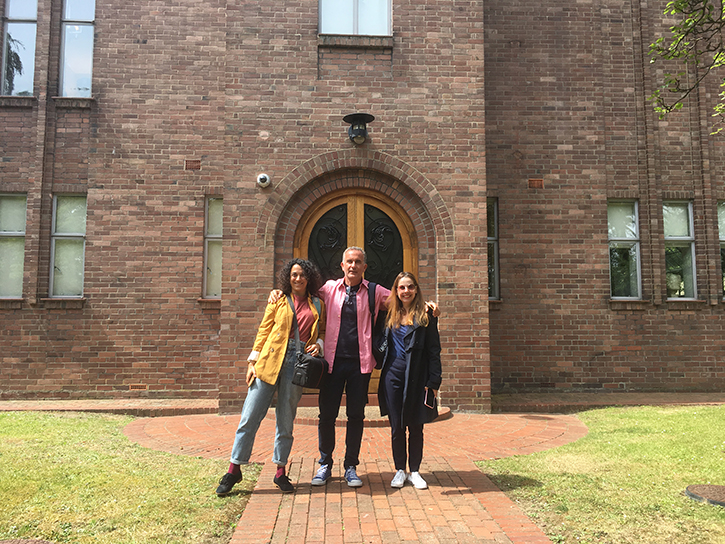 Our July delegates were Anna Dimitropoulou, Benaki Museum, Athens; Fani Kampani, Historical Museum of Crete; and Giannis Koutoulias, Acropolis Museum, Athens. The group attended a Masterpieces in Schools event at St Andrew and St Marks Primary School, Surbiton, London, with three sculptures loaned from Dorich House Museum.
The workshops at the school were based around three sculptures by Dora Gordine (1895–1991). As an artist, Gordine would spend hours in conversation with her sitters, concentrating on who the sitters were as people. Through her sculptures and drawings, Dora drew upon these observations to express the true character of her sitters. The focus of the activities at the Masterpieces in Schools event was about careful observation – what it means to be both the observer and the observed.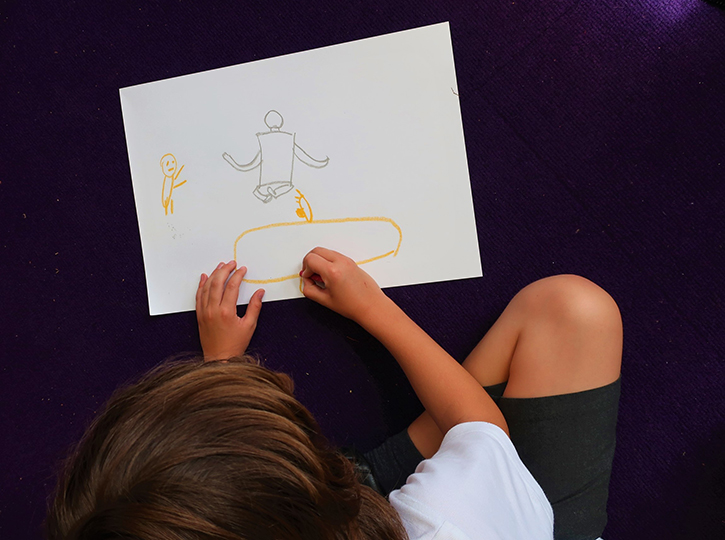 Pupils from Year 3 at the school took it in turns to pose for quick-fire line-drawings. Year 4 pupils worked in groups of three, taking turns to be Dora, moulding their piece of clay into the form of one of Dora's sitters. While this is going on, the observer sketched the sitter. The trios rotated positions, with observers having the option to draw over each other's drawings.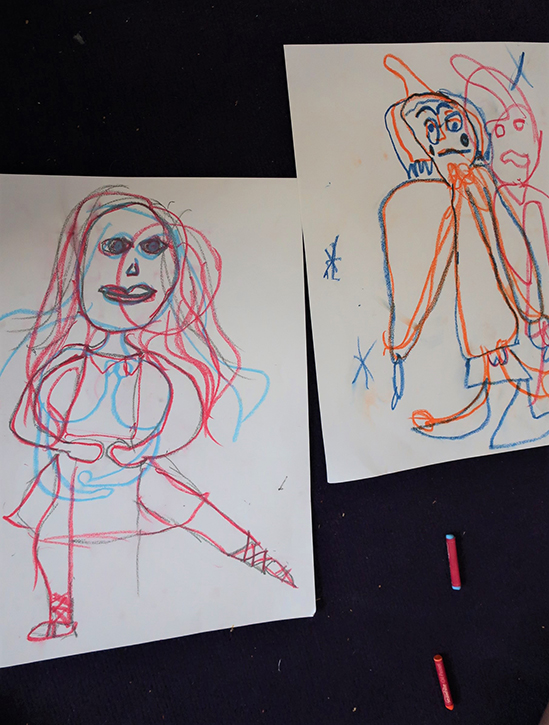 Year 5 cut forms from paper from observation, 'curating' the final results to tell a story. Year 6 drew a study of one of the heads, swapping their drawings with another pupil to create new heads – new 'masterpieces'.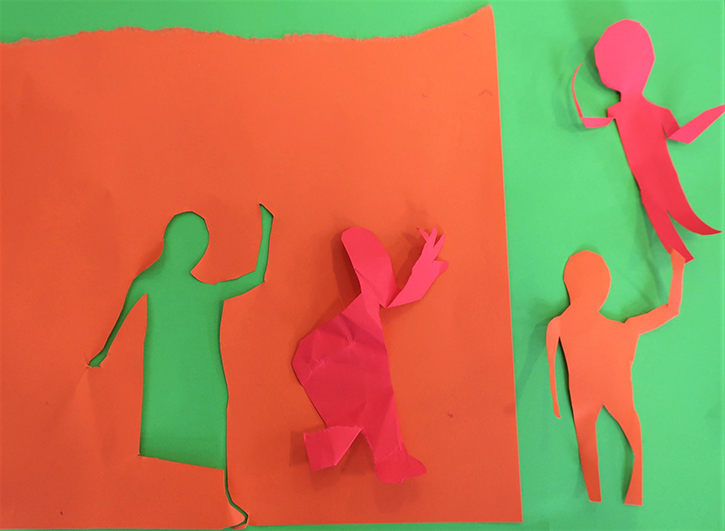 Our November delegates were Eirini Alexandraki, The B & M Theocharakis Foundation for the Fine Arts & Music; Valentina Soumintoub, Thessaloniki Olympic Museum; Sofia Trouli, Museum of Contemporary Art of Crete; and Konstantinos Vlachos, Folk and History Museum of Xanthi.
These delegates were given the opportunity to travel to Manchester as part of their exchange and visited Crompton House School, Oldham, to observe a Masterpieces in Schools event with sculptures loaned from Gallery Oldham.
The sculptures loaned to the school were Standing Armed Figure by Bernard Meadows and Daphne by Claire Curneen. Both artworks look at what happens after a conflict, and how this changes people both physically and emotionally. The school workshops were designed to work with Year 9 Art and Design students, who explored how people show their emotions in their postures by doing sketches of each other in a variety of poses. The pupils created a mood board of ideas for their own sculptures, adding their own words. They were then shown basic techniques for making their own sculpture.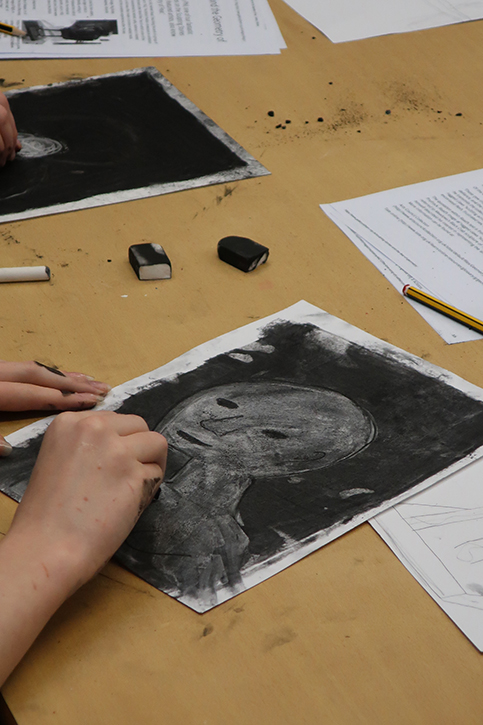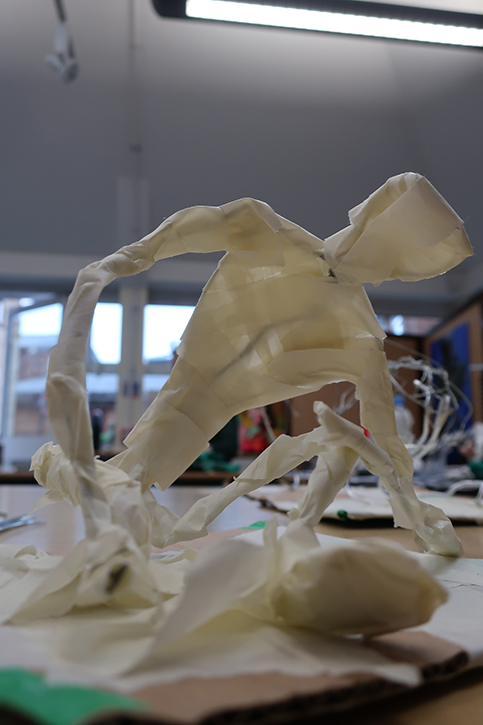 All of the delegates took part in reflection and discussion sessions with the Art UK learning team, and were given the opportunity to plan their own Masterpieces in Schools activity at their own museum, using a sculpture from their collection as an example.
On completion of the more formal part of the programme we arranged a private tour of Sculpture in the City, a major open-air exhibition held each year in the part of London close the Art UK office. This gave the delegates a chance to relax and socialise with each other and with Art UK staff before the end of the exchange.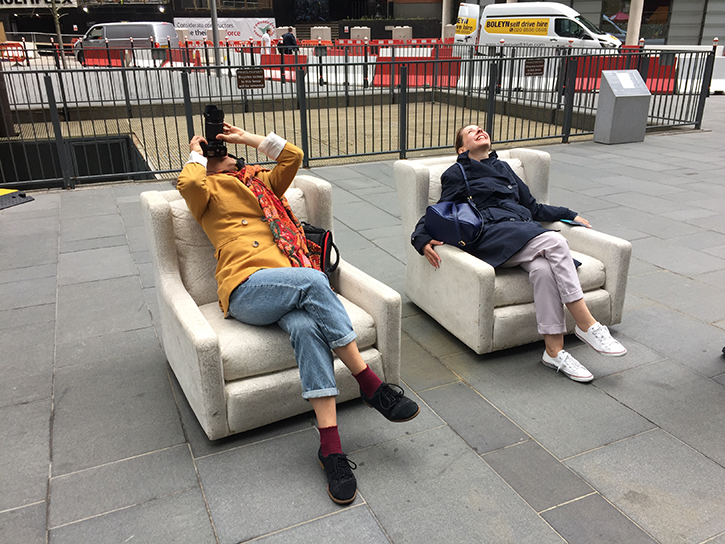 Feedback from the delegates was very positive. Anna Dimitropoulou said that 'it was an excellent opportunity for museum professionals to attend such a programme and meet people from different organisations, museums and galleries. I believe that Art UK is a programme perfect for smaller collections, modern and contemporary art masterpieces and it also provides ideas on how a Museum could work on creating roots and routes with schools.'
Eirini Alexandraki told us that she 'especially loved your approach through sculptures as a mean to make meaningful connections. Specifically, the choice of "conflict" as a subject, in order for pupils to connect with the Oldham artworks was spot on! It is very important to understand that every age has different "issues and concerns" and you have to provide space for an open dialogue for these things to surface. Art is a process of healing it's a way to better understand ourselves and express our emotions.'
Art UK is very grateful to the Stavros Niarchos Foundation for funding this opportunity. Sofia Trouli sums up how we all felt at the end of the exchange: 'Thank you that you have offered us this unique opportunity! I would also like to thank Stavros Niarchos Foundation from the bottom of my heart. You are all kind and passionate with your work. I really enjoyed all the presentations in the Art UK Office and the conversations we had. With your hospitality I felt safe. I wish to see you again!'
Katey Goodwin, Art UK's Deputy Director, and Head of Digitisation and Public Engagement