In celebration of its 30th anniversary, London Art Fair invited Art UK to stage an exhibition created from the nation's public art collections. Each of the five artists invited to take part were encouraged to make a personal selection of five works from the Art UK website.
In making her selection, Wylie first determined her title – 'Leaving the door open' – knowing that it would directly inform her choices. Her aim has been to celebrate work that is not usually valued, eager to include 'painting that isn't on the face of it acceptable to the art establishment', challenging the canon and systems that place artists on the outside of the art world. Happily, however, the inclusion of recent Turner Prize winner Lubaina Himid's In Spinster's Salt Collection might suggest that some battles are now starting to be won. The openness and generosity that Wylie champions sees her theme deliberately including, in her words, 'innocent, poignant, non-arty work, and paintings that are a treat to look at. There's nothing pompous or artificial about them, they are just a joy to look at.'
Wylie herself creates paintings and drawings that are joyous and that on first glance appear aesthetically simplistic, not seeming to align with any recognizable style or movement, but on closer inspection are revealed to be wittily observed and subtly sophisticated mediations on art history and the nature of visual representation itself. The layers of newspaper that line her studio floor in Kent, as well as the wide-ranging sources of popular culture including film, fashion, photography, news images and the more intellectual literature and mythology, are a frequent source of inspiration for her.
Kathleen Soriano, curator, art historian and broadcaster
About the artist: Rose Wylie (b.1934, Kent, lives in Kent)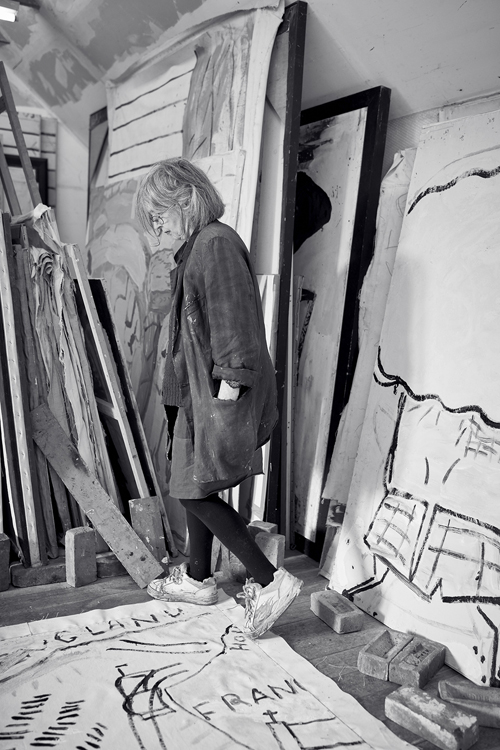 Rose Wylie lives and works in Newnham, Kent, UK. She previously studied at Folkestone & Dover School of Art and Royal College of Art, London. In 2010 she was selected as single UK representative in the 'Women To Watch' exhibition at the National Museum of Women in the Arts in Washington DC, USA.
Previous group exhibitions include 'Rose Wylie, Evan Holloway' at The Approach, London (2011) and East International (2004, selected by Neo Rauch and Gerd Harry Lybke). Previous solo exhibitions include 'Picture on the Wall' at Michael Janssen Gallery, Berlin (2011), 'What with What' at Thomas Erben Gallery, New York (2010), and 'Film Notes' at Union Gallery, London (2010). In 2011 she was a recipient of the Paul Hamlyn award.