In celebration of its 30th anniversary, London Art Fair invited Art UK to stage an exhibition created from the nation's public art collections. Each of the five artists invited to take part were encouraged to make a personal selection of five works from the Art UK website.
To my friend Oscar
The most beautiful sea … the one that was not visited by anyone
The most beautiful children … the one who is not yet born
The most beautiful words … those that I have not yet said
By Akram Mansour
About the artist: Oscar Murillo (b.1986, Colombia, lives in London)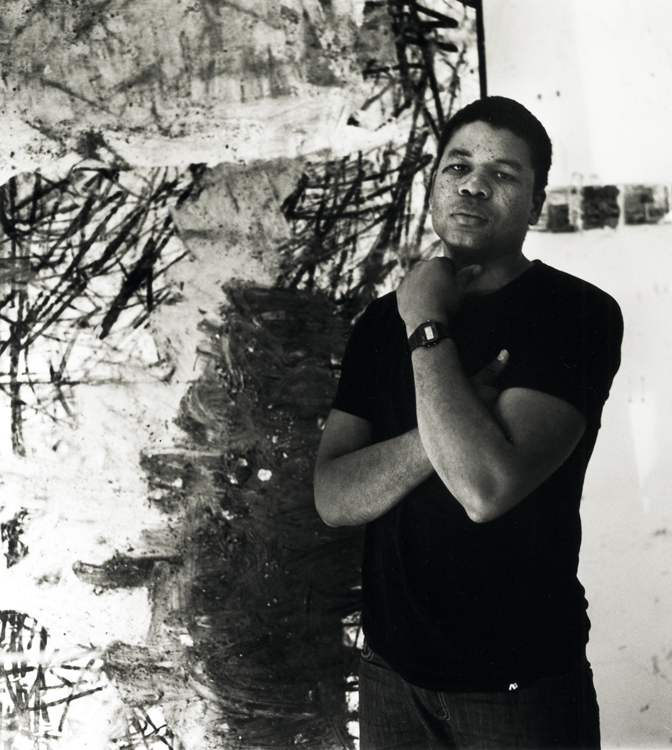 Oscar Murillo earned his BFA in 2007 from the University of Westminster, London, followed by his MFA in 2012 from the Royal College of Art, London. His large-scale paintings imply action, performance, and chaos, but are in fact methodically composed of rough-hewn, stitched canvases that often incorporate fragments of text as well as studio debris such as dirt and dust. His paintings, video works, and performances are tied to a notion of community stemming from the artist's cross-cultural ties to diverse cities and places in which he travels and works, and Colombia, where he was born.
He joined David Zwirner in 2013 and had his inaugural exhibition, titled 'A Mercantile Novel', at the gallery in New York the following year. 'binary function' marked his first solo presentation at David Zwirner, London in 2015. On view in 2016, the gallery in New York presented, through patches of corn, wheat and mud, a solo exhibition of the artist's new work.
Murillo's works and projects have been the subject of solo exhibitions at prominent institutions worldwide. Most recently, presentations were held in 2017 at the Yarat Contemporary Art Centre in Baku, Azerbaijan and in 2015 at the Museo de Arte de la Universidad Nacional de Colombia, Bogotá; Centro Cultural Daoíz y Velarde, Madrid (part of ArcoColombia 2015); and Artpace, San Antonio, Texas. Also in 2015, as part of Performa 15 in New York, Murillo presented 'Lucky dip', a series of performances and installations that took place over the course of one week at the Alexander Hamilton US Custom House, an important historical site in downtown Manhattan. In 2014, Murillo's paintings, sculptures, and video works were presented at 40mcube in Rennes, France, organised as part of the 4th Les Ateliers de Rennes – Biennale d'art contemporain. In 2013, the South London Gallery hosted the artist's first major solo show in the United Kingdom. He recently debuted the 'Frequencies' project with a large-scale installation of canvases as part of the '56th Venice Biennale: All the World's Futures' in 2015.
About the curator
Kathleen is an independent curator, art historian and broadcaster. She is currently Chair of the Liverpool Biennial and was previously Director of Exhibitions at Royal Academy of Arts and Director at Compton Verney.

Kathleen Soriano, curator, art historian and broadcaster