In celebration of its 30th anniversary, London Art Fair invited Art UK to stage an exhibition created from the nation's public art collections. Each of the five artists invited to take part were encouraged to make a personal selection of five works from the Art UK website.
In his selection, Mirza chose to subvert the very notion of personal choice, embracing the role of artificial intelligence. By engaging with the algorithms that enable the internet and websites to interact with us as users, Mirza is both acknowledging the randomness of choice whilst alluding to a future world where our personal preferences and desires have already been determined by others, identified by the cookies that lurk on the websites that we surf.
In this particular case, Mirza surrendered his choice to the shifting algorithms of Google, his first search being 'artuk artworks'. Due to the algorithms employed by search engines it is likely that results will differ day-to-day and even computer-to-computer. Interested in the idea of a search through Google, rather than through the Art UK website, Mirza felt that it expanded even further on the democratisation of artworks. Mirza's second search was on the subject of 'waves', reflecting upon his own pre-occupation with waves of all kinds, from electromagnetic to sound to ocean.
Mirza has won international acclaim for installations that test the interplay and friction between sound, light waves and electric current. An advocate of electro-acoustic or radio interference, he creates situations that purposely cross wires. He describes himself as a composer, manipulating electricity, a live, invisible and volatile phenomenon, making it dance to a different tune and employing 'instruments' as varied as household electronics, vinyl and turntables, LEDs, furniture, video footage and existing artworks.
Kathleen Soriano, curator, art historian and broadcaster
About the artist: Haroon Mirza (b.1977, London, lives in London)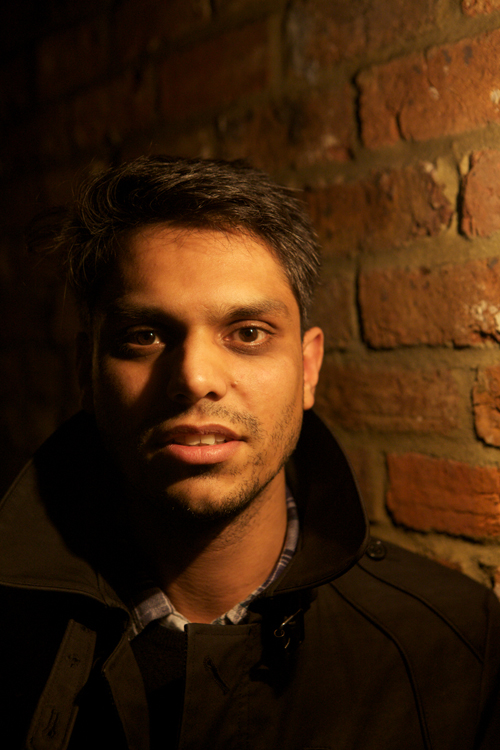 Haroon Mirza has a BA in Painting from Winchester School of Art, an MA in Design Critical Practice and Theory from Goldsmiths College (2006) and an MA in Fine Art from Chelsea College of Art and Design (2007). He has won international acclaim for installations that test the interplay and friction between sound and light waves and electric current. He devises kinetic sculptures, performances and immersive installations.
Recent solo exhibitions include: 'LiFE', Saint-Nazaire, France (2017); Contemporary Art Gallery, Vancouver, BC, Canada (2017); Summerhall Festival 2016, Edinburgh, UK; Pivô, São Paulo, Brazil (2016); Nam June Paik Center, Seoul, South Korea (2015); Matadero, Madrid, Spain (2015); Museum Tinguely, Basel, Switzerland (2015); Museum Haus Konstruktiv, Zurich, Switzerland (2014); Le Corbusier's Villa Savoye, Poissy, France (2014); IMMA, Dublin, Ireland (2014); Le Grand Café, Saint-Nazaire, France (2014); The Hepworth, Wakefield, UK (2013); MIMA, Middlesbrough, UK (2013).
His work was included in the 7th Shenzhen Sculpture Biennale, China (2012) and the 54th Venice Biennale, Italy (2011), where he was awarded the Silver Lion. He was awarded the Northern Art Prize in 2011, the DAIWA Foundation Art Prize in 2012, the Zurich Art Prize in 2013, the Nam June Paik Art Center Prize in 2014 and the Calder Art Prize in 2015.