Art Matters is the podcast that brings together pop culture and art history, hosted by Ferren Gipson.
Download and subscribe on iTunes, Stitcher or TuneIn
'Twas the night before Christmas and all through the house, not a creature was stirring, not even a... dead robin? No, I must be thinking of Victorian Christmas cards. Christmas cards originated with the Victorians in the nineteenth century and unless you've seen some of the early cards before, there's no way you could accurately picture what they looked like. Before we go into what I promise will be a dark and weird look at Christmas cards, let's start from the beginning.
'What's strange about the history of Christmas cards is that they start as Valentine's cards,' says Greg Jenner, historian, author and Historical Consultant for the award-winning BBC series Horrible Histories. 'You can see it quite early on in the design of Christmas cards – they're very floral, they have flowers on them and cherub, and romantic imagery... It seems to borrow the Valentine purpose.'
Prior to the cards with romantic themes, stationery with Christmas themes existed for the purposes of sending letters or for giving children reward cards in school. These might have had elegant illustrations with wintry themes and sometimes even had paper laced edges. They were costly to purchase at that time and the cost of postage was also high – these were two major reasons that sending letters was often saved for special occasions.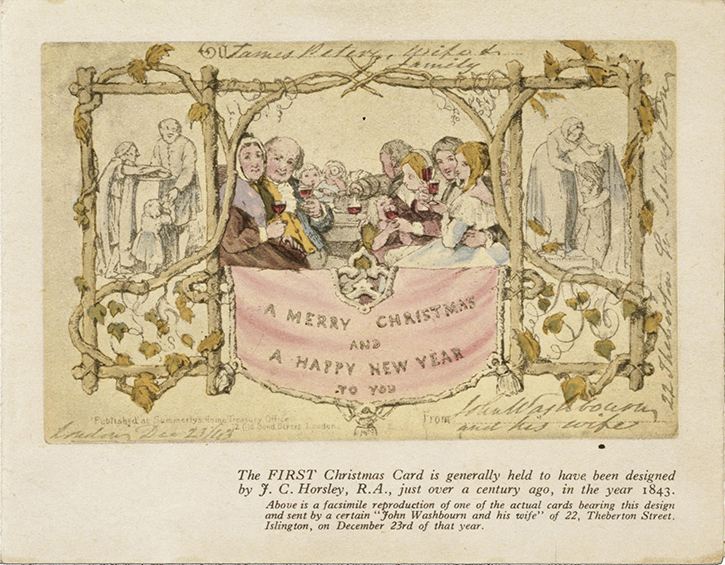 Another mildly annoying aspect of sending so much correspondence was the need to rewrite the same message again and again. In the 1843 Christmas season, founding director of the V&A Museum Henry Cole (1808–1882) had an idea to produce illustrated cards to streamline the process. After commissioning the design, there were a thousand cards printed, and they were made available for a shilling each – quite expensive at the time. For this reason, they weren't a great commercial success, but they did lay the groundwork for future cards.
Around the 1850s and 1860s, there was an increase in the popularity of Christmas cards. There are a couple of contributing factors such as the advent of the Baxter method, a commercial colour printing technique invented by English artist George Baxter. This enabled the cheaper mass production of cards and therefore made them more widely accessible. In addition, the 1840s saw the advent of the penny post, which created fixed postage rates and drastically reduced the cost of mailing items.
As happens with content in pop culture today, the card designs began to make an interesting shift in theme as they became more popular in the late 1860s, and when I say interesting, I mean down-right bizarre.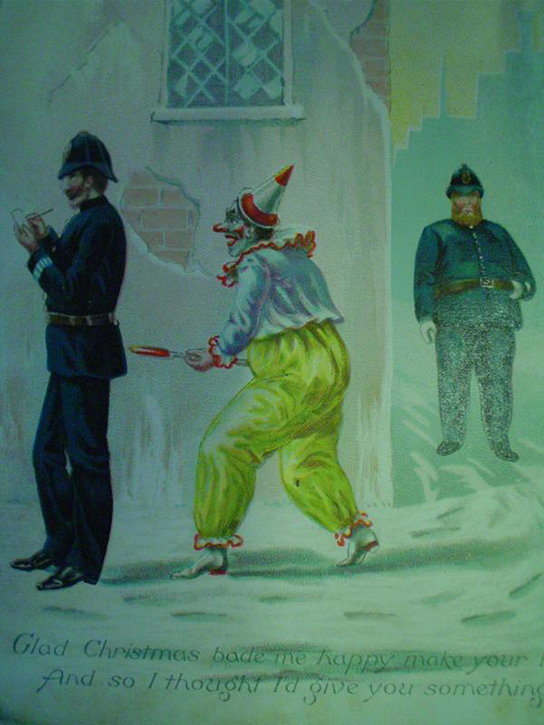 'When the cards start to get much cheaper, you start to see a wider variety of imagery,' says Greg. 'What's most interesting about Christmas cards isn't necessarily the bizarreness of them, it's the wideness of the imagery. We tend to think of Christmas cards as having relatively consistent themes visually – winter scenes, robins, snowmen, ivy, holly, those kinds of things – but the Victorians are much more interested in any kind of image.'
The unexpected dark themes of the images paired with cheerful holiday messaging pull each component out of context and make the cards quite funny to someone viewing them today, but if we look past the quirkiness of the cards, we gain insight into Victorian culture and values.
'The Victorians were delighted by animals. They found them charming and funny, and they find the idea of animals as humans amusing,' Greg tells me. 'From a slightly more subtle point of view, you also from the 1850s have Charles Darwin turning up with his On the Origin of Species which resets the understanding of the animal kingdom.'
There was a similarly high level of interest depicting the natural world and images of children as a symbol of innocence and nostalgia – both of which pop up as recurring themes in Christmas cards and paint an idealistic picture of the period. 'What's surprising is that there's very little representation of what the Victorian world really looked like, which of course was factories, trains and cities,' says Greg, though he also pointed out that the Victorian period spans many decades with vast amounts of change. 'The Christmas cards just cling to this image of a glorious, simple, beautiful past.'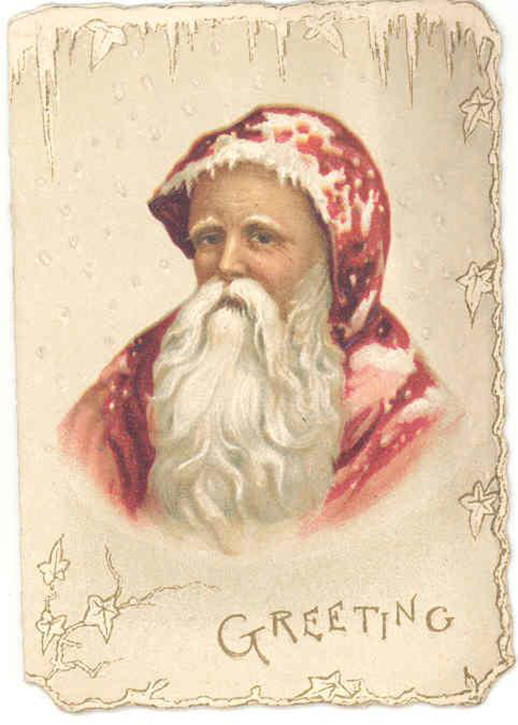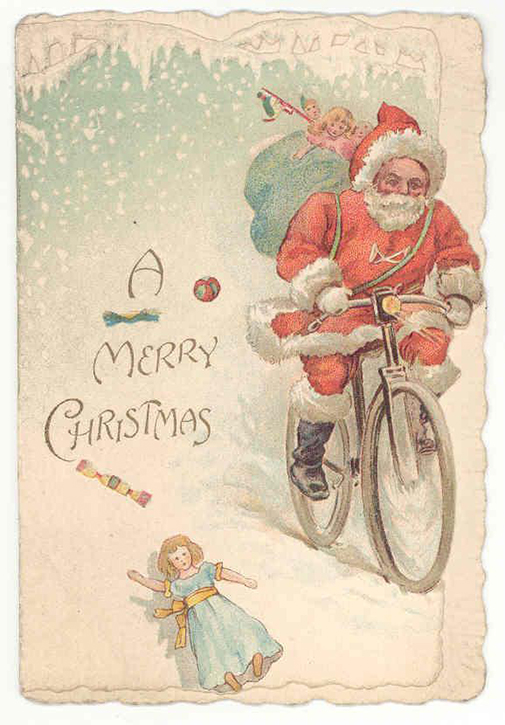 In all of this chat about Christmas cards, you may have noticed the absence of a few themes we've come to associate with the holiday – for example, where's Father Christmas (or, as I call him, Santa Claus)?
'There's obviously this ongoing pop culture myth that Coca-Cola invented Father Christmas or Santa Claus, gave him the red costume and therefore Father Christmas wears red because of Coca-Cola, and it's just not true,' says Greg. 'He had been depicted in cards from at least the 1870s... and he wears red, but he also wears green and brown and blue – he's a changing figure.' The story and origin of Father Christmas get a little confusing because he appears to come from a conglomerate of influences including the Dutch Sinterklaas, Saint Nicholas and a mixture of other sources.
It's interesting to note that though the Victorians are known for their morality and faith, there wasn't much religious imagery included on the cards. 'When I looked at the data – and I looked at 750 cards, so a small sample, but an interesting sample – only 12% had a religious greeting,' says Greg. 'Overwhelmingly, the most dominant motif in terms of the iconography of the cards was flowers.'
In the early part of the cards' history, they would have been made with great care and could sometimes include a few surprises inside. Greg told me about stories of people including bacon or a dead mouse in a card (why?!). 'From a point of view of art appreciation, many of the cards are really quite beautiful and there are some innovative techniques going on.'
Listen to the full episode above for more details on the origins of Christmas cards and to hear our thoughts on the quirky designs.
Explore more
Ten ways to celebrate Christmas like a Victorian
From stable to studio: five nativities that go against the norm
All I want for Christmas... is art
Listen to our other Art Matters podcast episodes
.