Download and subscribe on iTunes, Stitcher or TuneIn
Art Matters is the podcast that brings together popular culture and art history, hosted by Ferren Gipson.
Maybe you only think about stamps when you need to pop a card to your gran on her birthday but, even with the wonders of email and the internet, they still remain a necessity today. Despite only dating back to the nineteenth century, they have a rich cultural history. Before the advent of the stamp in 1840, it might cost two shillings to send a letter from London to Edinburgh. In today's money, that's equivalent to about £6 ($7.50). With the introduction of the stamp, letters up to 14 grams could be sent for just one penny – around 25 pence in today's money.
'[Prior to stamps] if you were sending a letter from London to Edinburgh, the postage was paid by the person in Edinburgh who received the letter,' says Paul Skinner, Lead Curator for Philatelic Collections at the British Library. 'There was quite a complicated system of charging the mail, and it was based on the distance that the letter travelled and the number of sheets of paper that were actually used to write on.'
The decision to reform postage was led by Sir Rowland Hill, and a Treasury Competition was held in 1839 to create a design for a stamp and a pre-paid envelope. There were over 2,600 entries and though awards were issued, there was no single winner that went on to become the final design. Instead, Hill and his associates went on to create the Penny Black, which drew on several ideas.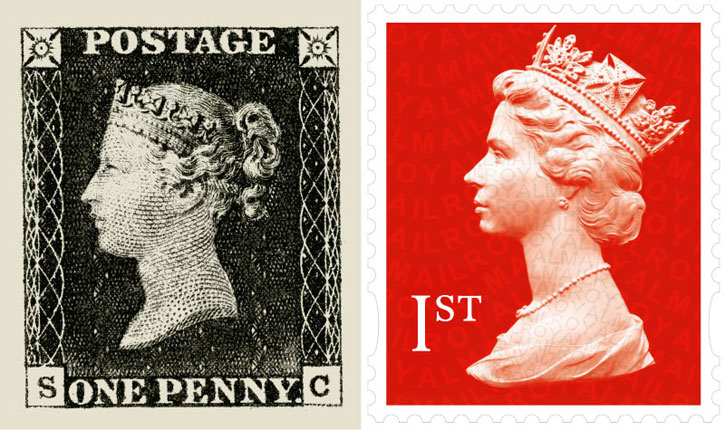 The portrait design was seen to be a good way to protect against forgeries and the visual legacy of the Penny Black lives on in the current definitive stamp, designed by Arnold Machin featuring Elizabeth II.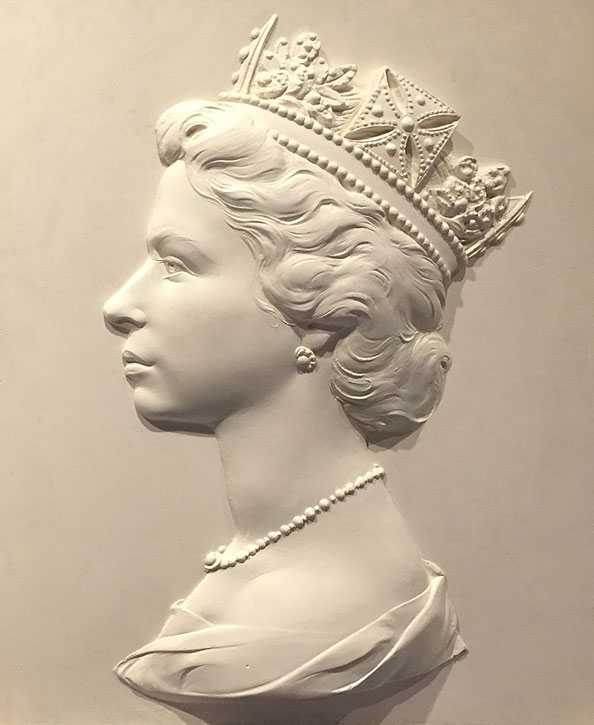 When Elizabeth became queen in 1952, the new stamp design was based on a photograph by Dorothy Wilding. Some artists took issue with the design and Machin was eventually selected to design a new portrait for stamps in 1966, having previously designed a portrait of the queen for decimal coinage. To make the design, he created a relief sculpture in clay, incorporating the same diadem that Queen Victoria wears on the Penny Black stamp.
Similarly, in the United States, early stamp designs often featured political leaders. 'On our first two stamps, it was George Washington and Benjamin Franklin, who was our first Postmaster-General,' says Antonio Acala, Art Director for the United States Postal Service.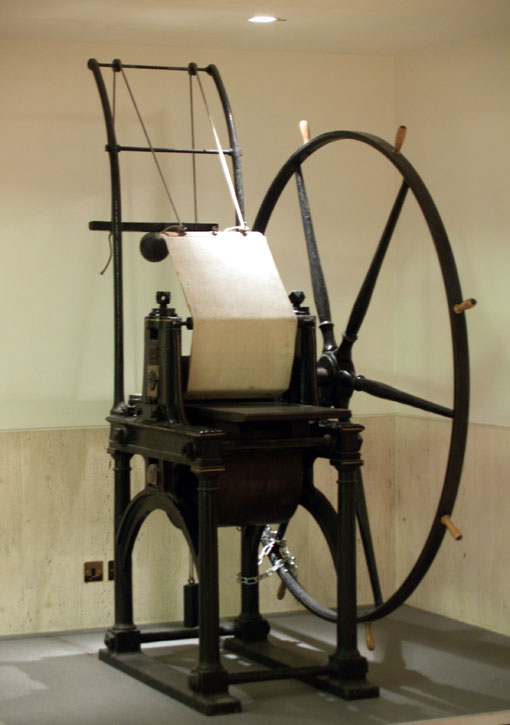 Early stamp designs were limited by the printing techniques available. At the time, the best options were intaglio, letterpress or lithography. With the introduction of more sophisticated printing techniques came more creative design possibilities. 'In the beginning of the twentieth century, countries started to experiment with photogravure and photolithography,' says Paul. 'It was at that stage that design options improved dramatically.'
Due to their international reach, stamps function like little ambassadors for their countries. As such, they're taken very seriously as a reflection of national identity – especially in the nineteenth and early twentieth centuries. There have historically been guidelines to regulate the sorts of things that can be featured. For example, there used to be a rule in the UK that the only living person that could be featured on the stamp was the reigning monarch, but these guidelines have relaxed in more recent years.
'The postal service works to – what they call – represent the best of America,' says Antonio. 'Whether it is sports heroes and their accomplishments, to visual artists and their creations, to natural landscapes that we have, natural parks that we have, literature – there's lots of different areas of American culture that the postal service hopes to represent in their stamp programme.'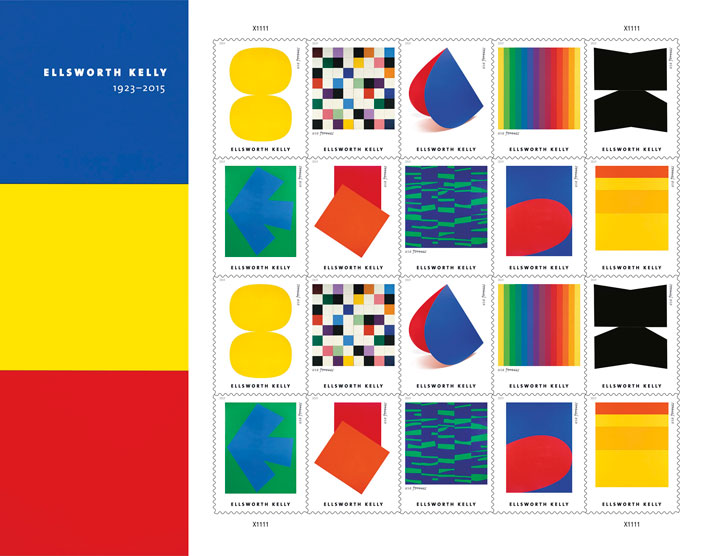 Recently, there have been a few stamps that made me excited as an art-lover. A stamp commemorating the work of Ellsworth Kelly was issued in the US in May 2019, and a stamp marking 500 years since Leonardo da Vinci's death was issued in the UK in February 2019.
In the case of an artist like Leonardo, whose work is out of copyright, using an artist's work on a stamp is less complicated. For in-copyright artists, postal services have to work with the estates of artists to provide images or collaborate on an appropriate design. Sometimes the postal service is able to work around these challenges by commissioning new portraits of the person or artist they wish to feature.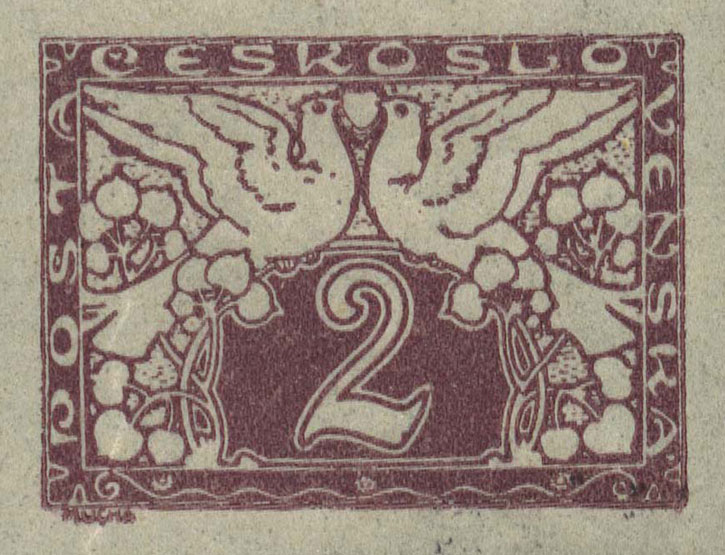 On the flipside of this, there are examples where postal services have worked directly with living artists to commission designs. 'Alphonse Mucha... designed the first issues for Czechoslovakia and a couple of the later ones as well. This was 1918, around the Art Nouveau period,' says Paul. 'In this country we've had... people like Eric Gill, Dorothy Wilding, Edmund Dulac – all of those people were involved in aspects of designing stamps.'
So far, we've discussed individual stamps, but don't forget that these are intended to be mass-produced for public use. On the low end, Antonio tells me that print runs in the US can range from tens to hundreds of millions – quite a good commission for an artist! One of the bestselling stamps for the USPS was a special stamp with a surcharge called a semi-postal that was designed to help benefit breast cancer research.
'I believe they've sold over a billion stamps and it's raised, probably, a hundred million dollars or so,' says Antonio.
In the episode, we go into greater depth about the commissioning and designing process, so be sure to listen to the full episode via the player or links at the top of this story. There's also a great story about the time the postmaster in New Brunswick bought an entire stock of stamps and burned them...
Listen to our other Art Matters podcast episodes
.