Download and subscribe on Apple Podcasts, Stitcher or TuneIn
Art Matters is the podcast that brings together popular culture and art history, hosted by Ferren Gipson.
Many of us grew up enjoying the magic of Disney films, whether you watched classics like Cinderella and Lady and the Tramp, Disney Renaissance treasures like The Lion King and Beauty and the Beast, or any of the more recent Pixar blockbusters. They're often touching films that transport the viewer to another world through good storytelling and stunning visuals. For the first 43 years, the company was led largely by Walt Disney. These days, we think of Disney for his vision and entrepreneurial prowess, but he began his career as an illustrator.
'The rumour that he couldn't draw isn't true,' says animation critic and historian Charles Solomon. 'However, he was never a great draughtsman and he quickly realised that he could hire people who could draw better than he could [and] who could help bring the ideas that he created to the screen and give them form in a way that he could not.'
Snow White and the Seven Dwarfs was among the studio's first feature-length hand-animated films and it was quite an undertaking, with costs over $1 million. Hundreds of artists worked to produce the opus, which had technicolour, musical numbers and synchronised sound. Disney invested in upskilling his animators, and much of the production costs went towards research and development. Fortunately, the popularity of Mickey Mouse merchandise provided the company with funds to hire teachers and set up art classes.
'By the early 1930s, Walt realised that if he wanted better animation, he needed his artists to be better artists. He started with classes in life drawing,' says Charles.
There's fascinating footage from this period of artists sketching live actors for films like Cinderella and Alice in Wonderland to attain better realism in the way people and garments move. While they took an almost scientific approach to accurately convey movement, they looked to more art-historical resources to inspire the stylistic elements.
As one might expect, storybook illustrations were a source of inspiration for earlier films, which were often adaptations of popular literature. Films like Snow White and Lady and the Tramp were based on academic drawing traditions, but this changes in the 1950s as the studio began work on Sleeping Beauty.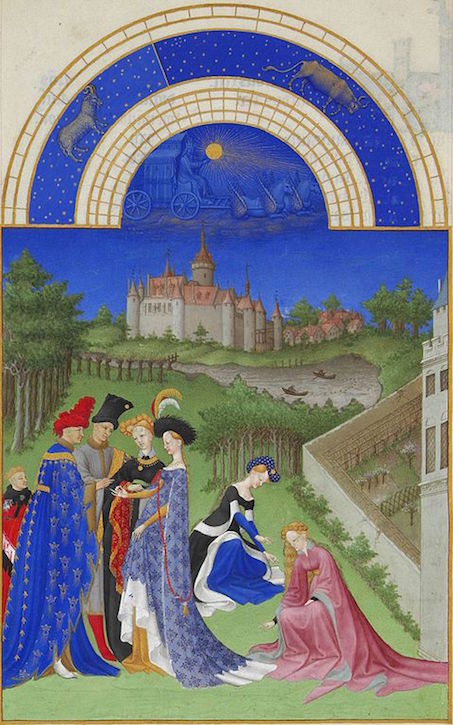 'Sleeping Beauty is largely painted to resemble the paintings of Van Eyck, Pre-Raphaelite artists and especially one lovely illuminated manuscript that's at the museum in Chantilly – the Très Riches Heures du Duc de Berry,' says Charles.
In comparing scenes from the film with reproductions from the Très Riches Heures, one will notice that the pink and blue hues of Aurora's gown, Maleficent's green skin, and the lapis blue banners were inspired by the colour palette of the manuscript. The angular lines of the figures and composition of some scenes also embody this influence.
Eyvind Earle, who styled Sleeping Beauty, cited Northern European painters amongst his influences as well, and at least a couple of members of the Brueghel family can be counted among them.
Some of Earle's preliminary paintings of the fairies' house are as dense and detailed as a painting by Pieter Bruegel the elder, while some of the lush backgrounds in the forest scenes remind me of Jan Brueghel the elder with the detail of a Pre-Raphaelite painting.
Some of those early stylistic elements of Sleeping Beauty would become more prominent in films like 101 Dalmatians – we see that the characters have a flattened, more angular style.
While Disney looked to academic art traditions, one of their rival studios, UPA, was looking to modern artists such as Picasso and Klee for inspiration in their angular drawings. Disney would eventually take this idea further when Milt Kahl, one of the lead animators, took an interest in Picasso's work.
'Pongo is this perfect Picasso dog,' says Charles. 'He has long, thin legs, larger paws, and a blocky head that's really kind of different from what a Dalmatian looks like.'
Not all style references were drawn from western art traditions. Tyrus Wong was a Chinese-born American artist who worked as the principal designer of Bambi and introduced stylistic elements from Chinese landscape paintings.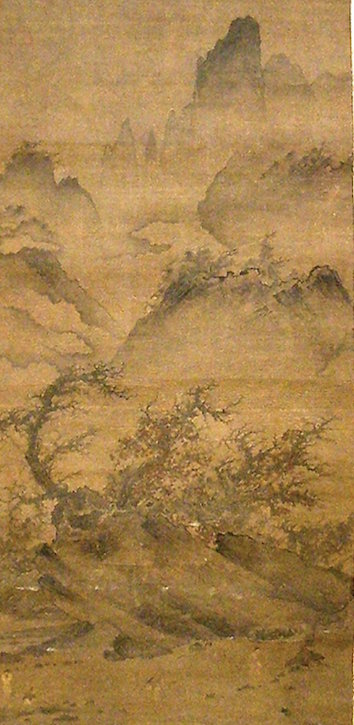 He employed elements from Song dynasty paintings wherein the foreground would be more detailed, the middle-ground is a wash of mist, and jagged mountains might be shown in the distant background. This model allowed Wong to convey a sense of space while leaving room for the characters to move in the middle distance.
Animators looked back at the work of Tyrus Wong when they worked on Mulan, as well as other Chinese art traditions. As one example, Mulan's horse, Khan, resembles the work of Yuan Dynasty painter Zhao Mengfu, who is regarded for his paintings of horses.

As seen in several of Zhao's paintings, Mulan's horse has a sturdy build and he even has the same black coat and white nose of a horse in Zhao's painting Bathing Horses.
One of the clearest and biggest fine art crossovers for Disney comes in the form of a seven-minute surreal animation titled Destino, written by none other than Salvador Dalí.
The project was first conceived in 1945, but was shelved due to the studio's financial issues after the Second World War. Destino was finally released in 2003 and includes the original 17-second test footage created at the start of the project. The finished short looks like a Dalí painting come to life, and has many moments that resemble his painting Metamorphosis of Narcissus.
From this example, we can see that in the same way Disney animators were inspired by art history, fine artists have also taken an interest in the captivating visuals coming out of the Disney studio.
In 1961, Roy Lichtenstein painted Look Mickey, a scene taken from a children's book showing Mickey Mouse and Donald Duck fishing.
Roy Lichtenstein's "Look Mickey" in perfect place in Times Square! #ArtEverywhereUS pic.twitter.com/vDdoBSaNll

— National Gallery of Art (@ngadc) August 4, 2014
Donald has snagged his line on his own shirt and says to Mickey that he's 'hooked a big one'. This is the first time Lichtenstein drew inspiration from popular cartoons and imitated the Benday dots seen in printing processes. This would set the foundations for his signature style.
Artists continue to be inspired by Disney imagery to this day, and that speaks to the cultural significance of the studio's oeuvre.
'I think it would be more surprising to think that there weren't artists looking to that for inspiration,' says Charles. 'It's as much a part of our culture – our world culture, really – as anything.'
Listen to our other Art Matters podcast episodes
.