Download and subscribe on iTunes, Stitcher or TuneIn
Art Matters is the podcast that brings together popular culture and art history, hosted by Ferren Gipson.
Whether you grew up reading them or not, you're probably familiar with classic children's early readers comprised of simple sentences and colourful illustrations. In the US, there was the Dick and Jane series, and the UK had a series of readers by Ladybird Books including fairy tales, the People at Work series and, of course, Peter and Jane. In recent years, the books have gained new life through a parody series that include subjects like hangovers and dating.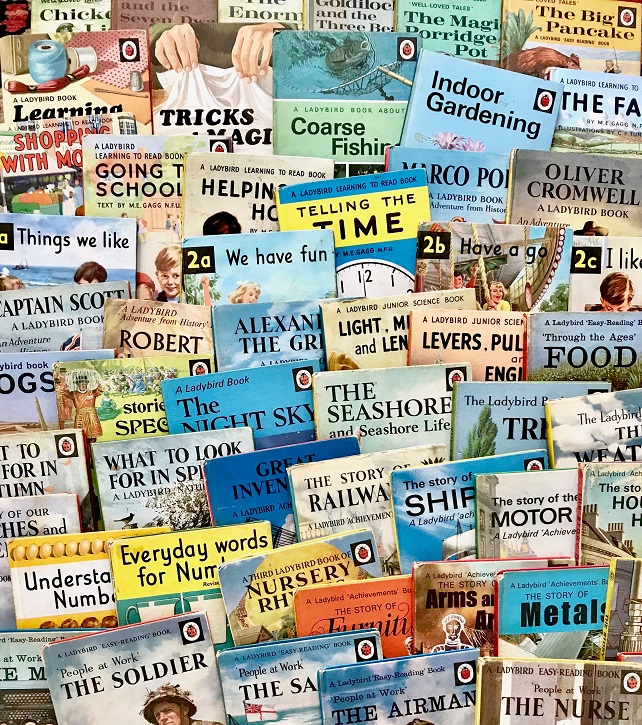 Even if the books aren't quite from your era, we all seem to have a shared nostalgia for them, and I suspect the images play a big part in that feeling. The had a standard format of text on the left with large illustrations on the right, giving equal importance to each.
'Ladybird books are fundamentally picture books,' says Helen Day, a historian and collector of Ladybird books and the curator of the exhibition 'The Wonderful World of Ladybird Artists'. 'The pictures were quite particular. They were always very dense and generally very colourful, and you read the picture. And if the picture engaged you, you read the text.'
The artists were always credited equally with the writers on the title page, and the pay was good for the time period – this was important at a time when crediting and good pay were not common for commercial artwork.
Inspired by her love of Ladybird Books, Helen began to collect them and share her findings on her website Ladybird Fly Away Home. It was this site that enabled artists and other collectors to reach out to her with stories and she began to get an interesting perspective on the social history of the books. They began publishing in 1940, just after the start of the Second World Way, and the factory closed in 1999 (though it would later be acquired by Penguin Random House). In this time span, they tackle subjects that document modern British culture.
War turns out to be one theme threaded throughout the history of the publisher. Work shortages during the First World War inspired Wills & Hepworth – the owners of Ladybird – to print children's books to maintain steady production.
Today, Ladybird books have changed with the times – now, you may find titles for Peppa Pig or even children's books about feminism. If you ask someone about their classic books, however, you're likely to hear two names: Peter and Jane. They were the main characters from the Key Words Reading Scheme books, which saw them go out on adventures and introducing new words to young readers.
'The books, which first came out in 1964, hung around in schools. They were revised in the 1970s and they were still around on the shelves in the '80s and maybe '90s, so generations of children grew up with these books,' says Helen. 'William Murray, who devised the reading scheme, had a pseudoscientific way of introducing new words which meant that you had very few words to write your first books with. So the books completely stood or fell on the success of the picture to engage young eyes.'
While Peter and Jane is one of their more famous series, there were several other popular themes commissioned under the guidance of Douglas Keen, the commissioning editor during Ladybird's golden years. Having been through the war, it was his desire to facilitate a collection of books that were a safe and pleasant escape for children. He also sought to tap into the growing educational market and produce books that could aid in learning.
Keen realised that there was a need to cover non-fiction topics, and that the illustrations would play an essential role. He settled on animals and nature for the first theme, and wrote the text for the first book on British birds himself. He then commissioned artists who were specialists in their field, such as nature artist Charles Frederick Tunnicliffe and John Leigh-Pemberton to carry out the illustrations.
'These artists had a name for themselves outside and it was as if to guarantee that [the books] would be taken seriously as the first non-fiction series that Ladybird did,' says Helen.
Once they established trust in the Ladybird brand, Keen was able to commission they artists he felt were most appropriate for the task and they put in an incredible amount of work to produce the illustrations for these books. The artists were always credited equally with the writers on the title page, and the pay was good for the time period – this was important at a time when crediting and good pay were not common for commercial artwork.
It was often through artists commercial and fine art achievements that artists came to the attention of Douglas Keen. John Berry, whose style is so representative of classic Ladybird illustrations, was initially accepted into the Royal Academy before he was drafted into the Second World War. His talent was such that he was pulled from the ranks to become a war artist, and his works can be found in the Imperial War Museum collection today.
Ronald George Lampitt is another artist with connections to the war and his paintings showcase his impeccable eye for detail and topography. He also was commissioned to do works for travel posters and three of his paintings are part of the National Railway Museum collection. Each one looks like a scene from the 'happily ever after' portion of a fairy tale, with dreamy colour palettes and verdant landscapes.
Because these artists' works were most widely disseminated in the form of book illustrations, some of their own legacies have become secondary to that of the Ladybird brand over time. Some artists felt like they couldn't be fully recognised in their talents through this type of commercial work, and they longed for more success for their more 'serious' work in the fine art world. With hindsight, it's exciting to look back at these paintings and lift up the incredible talent displayed across the golden years of Ladybird.
'As I look through Ladybird books and other publications of the time, you're just bowled over by the skills of the artists who were illustrating the advertisements, the posters, the information leaflets, [and] the magazines of the time,' says Helen. 'Now in the days of photography and digital imagery, we can go back and just be awed by [these artists'] skills.'
Helen Day has curated an exhibition celebrating these artists called 'The Wonderful World of Ladybird Artists' that will open at New Walk Museum and Art Gallery in Leicester on 13th July 2019.
Explore more
Art Matters podcast: the magic of fairy tales in art
Art Matters podcast: artists as book illustrators
Listen to our other Art Matters podcast episodes
.