Art UK is inviting submissions for papers for the conference 'Rediscovering our sculpture', which will be held on Friday 18th and Saturday 19th September 2020 at Cloth Hall Court, Leeds.
This symposium will celebrate the completion of Art UK's ambitious sculpture project. It will be an opportunity to thank the project partners and funders. We will be able to share what we have learned and provide practical guidance on using sculpture for learning and engagement and methods of digitisation.
From 2017 to 2020 Art UK has been digitising sculptures in galleries, museums and public buildings, as well as outdoors – in parks, streets and squares across the UK. The largest sculpture cataloguing project ever undertaken in the UK will be completed as a result of the hard work of a team of dedicated and enthusiastic project staff, photographers and volunteers. Thousands of sculptures are now free to browse and search on the site and many more will be added by the end of 2020.
Our extensive learning and engagement programme has taken sculptures into schools, engaged people and communities with their local sculptural heritage, made a series of films with young people and provided opportunities for blind and partially sighted people to engage with sculpture collections. Professional development training has been made available for staff and volunteers from collections to develop skills around sculpture care and digitisation.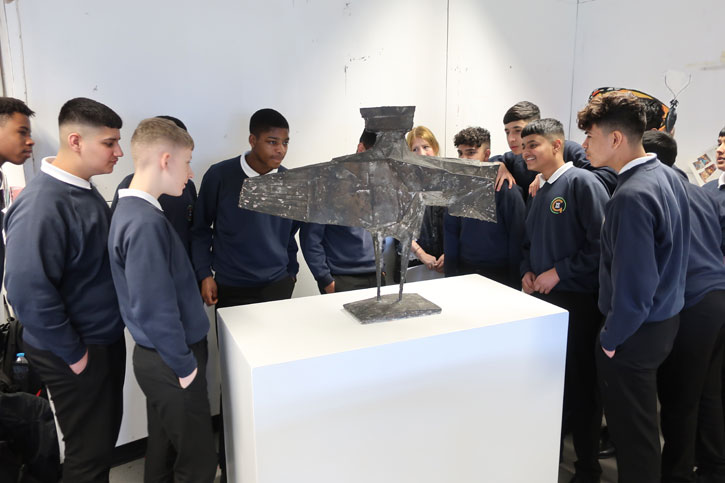 The conference will feature a selection of papers on a wide range of sculpture-related subjects. We welcome papers on topics that may include, but are not limited to:
Sculpture in the UK – research and mapping using Art UK data; new discoveries or research on sculptors, sculptures or collections; materials of sculpture; public sculpture
Sculpture curation – contemporary curation and collections development; collecting and dealing; acquiring new works; display and exhibition; collections research
Public engagement with sculpture – how we grow public interest in sculpture; interpretation and telling stories; access; digital engagement
We welcome proposals for 20-minute presentations. We will also consider proposals for shorter 10-minute case study talks.
Please send an abstract of no more than 300 words, as well as a biography of around 200 words, to katey.goodwin@artuk.org
The deadline for proposals is 9am on Monday 11th May 2020.
Katey Goodwin, Deputy Director, Art UK