Andrew Logan (b.1945) is the King of Mirrors, a sculptor whose main material is mirrored glass which he cuts and places with the authority of long practice. He is also a painter, jeweller and performance artist who, 50 years ago, founded The Alternative Miss World, a surreal art and fashion event, which is also the world's greatest and most glamorous drag act.
His friends span the worlds of art, fashion and pop music, and feature generously in my latest book about his world and work. Entitled Reflections, it comprises a series of conversations between Logan and myself, recounting the entwined narrative of his life and career, which the book explains and contextualises fully for the first time.
Drawing from the book, this article pays particular tribute to the artist Duggie Fields (1945–2021), one of Logan's oldest friends, who sadly died last year of cancer.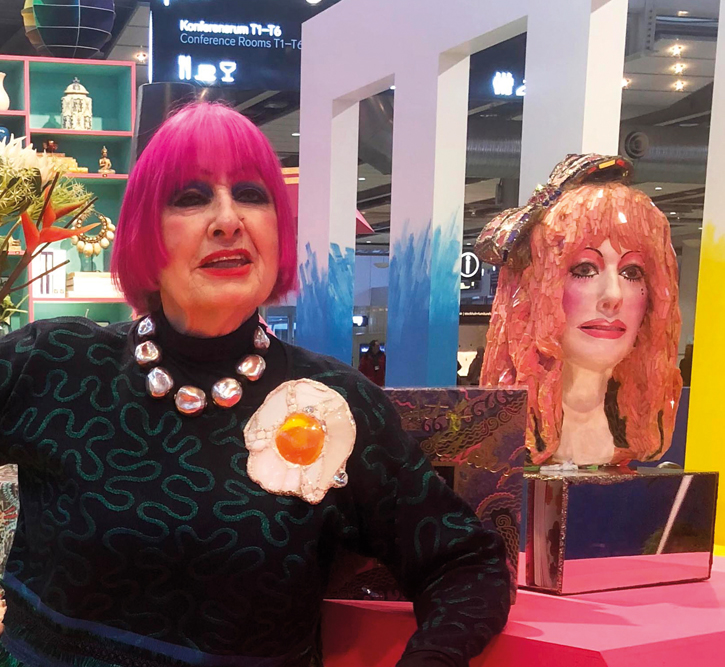 Andrew Logan has been fortunate in his friends, who have supported him through dark times as well as sharing his triumphs. Chief among them is the fashion and textile designer Zandra Rhodes, who some see as Logan's muse. What is it about her that makes them so close? 'She's very loyal to her friends, and she's like all human beings, very vulnerable. You never see that in the public face. And we travel so well together: we both love to paint and draw, go to museums, don't really mind where we're staying (rough and ready doesn't really matter), so a great travelling companion.'
Rhodes is a long-time supporter of Logan's work and has worn some of his jewels every day since they got to know each other back in the 1970s; they have become part of her identity and her style.
Andrew has made several portraits of Zandra besides the bust now in the National Portrait Gallery. One of the most spectacular is called Rajas Zandra, a freestanding sculpture made from aluminium sheet, fibreglass, fabric, glass, resin and found objects. I asked Logan about it: 'The title means "spirit of movement", and this applies both literally to the sculpture (the upper half pivots on the lower) and to Zandra's life then, as she travelled all over the world. In her hands are male and female musicians and incense cones. The lily motif and painted lady's head on the skirt are typical of Zandra's own work. The head, which I did first, is a portrait from life with the famous pink hair.'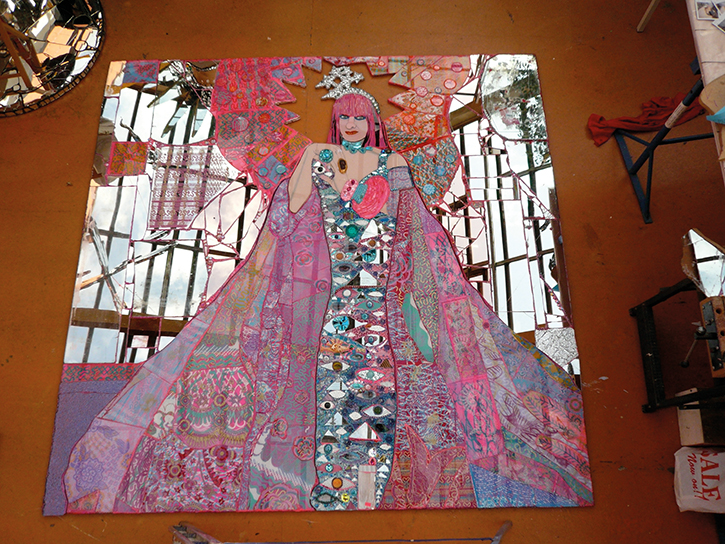 Another large portrait of Zandra was inspired by Klimt's Woman in Gold in the Neue Galerie in New York. This portrait was a real collaboration with the sitter, something the artist welcomes: 'I got her to silkscreen glass and then I painted it on the back and set it into the work. So Zandra is surrounded by her own work, basically. It's in five panels and weighs a ton. And I used lots of surreal images for the dress. I've always loved gold. It's reflective but not. When you're bathed in gold, you feel emotionally much calmer. Gold I feel is spiritually nourishing.'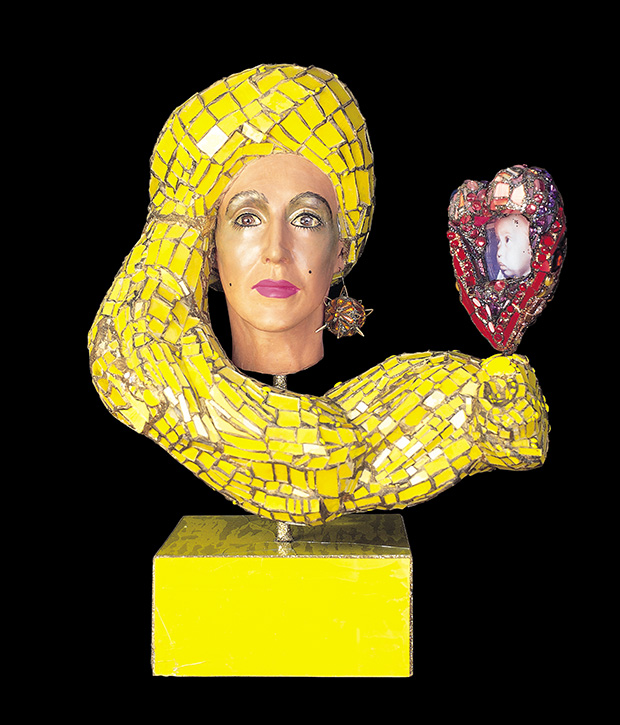 Another dramatic portrait is of Chelita Salvatori with her daughter, Tallulah. 'What with Chelita being so exotic', Logan explains, 'you know she was born in Trinidad to an English mother and Corsican father, wearing that yellow turban wrapped round her was perfect. We discussed the form of that together, so she was involved in the portrait. She was a force: one of those people behind so many things you never hear of. Great friends of Duggie.'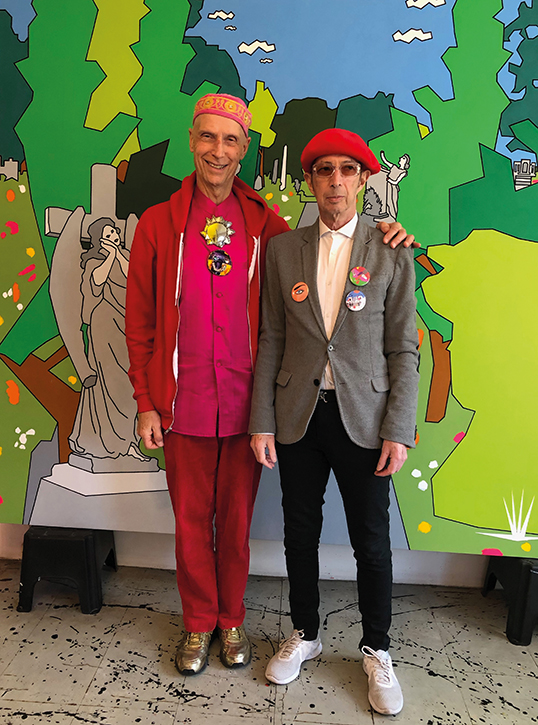 And it is to Duggie Fields, a man of great originality and style, that we must turn now. The following passage is an edited version of the tribute to Duggie in Reflections.
'We were blood brothers, really', says Logan. 'We both loved humour and glamour and these are rather frowned on by the art world, so we felt like partners in crime. We'd talk and talk on the telephone about work, life, gossip and everything – Duggie was a telephone addict and you'd have the whole gamut of life when you talked to him. And I saw his work progress in such a beautiful subtle way. There was a great richness that came out of his work as time progressed. So the last painting, which is of the Queen wearing a great big pink hat and pink coat against his landscape, was so rich and colourful it was wonderful.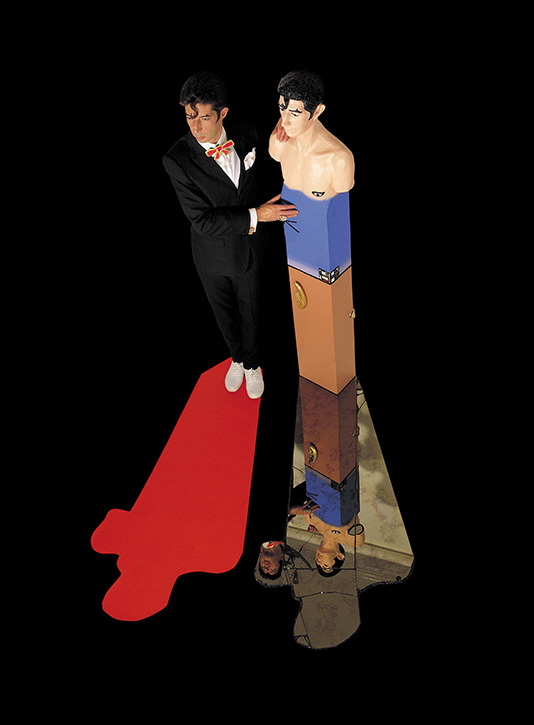 'I've got a marvellous standing portrait I did of him – one of my early busts. He's on a plinth with cut-off arms and mirrored ends, a kiss curl, and the plinth itself is painted à la Duggie. People always think his paintings are one-dimensional because they're very graphic. But actually they are extraordinary. Because he never sized his canvas they were built up layer after layer: eight, 10, or 12 layers. The paint was absorbed into the canvas and just got richer and richer. It's a joy. Just thinking of him adding those layers and then refining, and then adding more layers and then refining again, I find it so exciting – it sends shivers up my spine. To me, Duggie's work embraces the classical, the surreal and the contemporary, so it is beyond time. He really was unique.'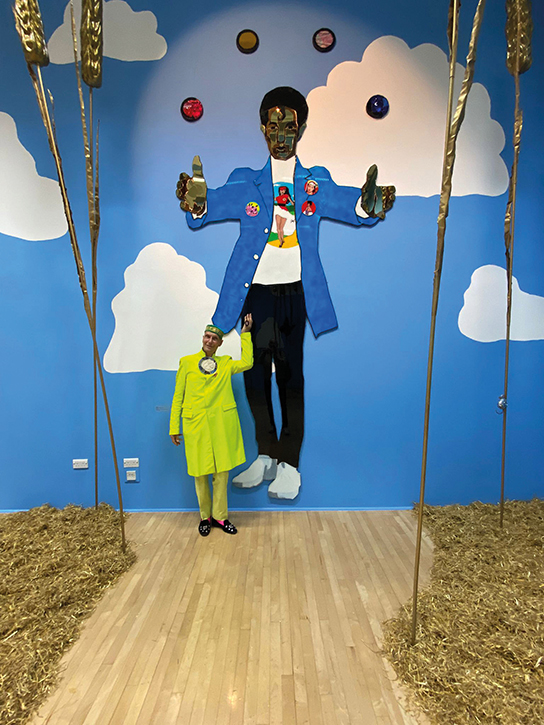 Logan has made a big mirror portrait of Duggie as a memorial to him. Based on a self-portrait of Fields standing in a landscape with his arms outstretched, he is shown wearing a bright blue jacket with some of his own badges decorating it. Logan commented while still making it: 'It's of course his look, and it's a stunning painting. I've taken just the figure, so I'm actually doing a portrait of Duggie from his painting as opposed to real life. I've done the face, and it's going to be big, about 14 feet tall. And there are four jugglers' balls suspended between his hands.
'As an artist, he was totally dedicated. He'd paint every day and if he wasn't painting, he'd do film or music, every day he achieved something. For me he's a visionary, certainly in the computer world, able to create these magical films in which he used his own paintings, old and new. He used to say, "We're visual people, Andrew, we're visual". Even when he was in hospital at the end he said "Oh, I need a haircut", and that was so important to him. His look. He didn't make a huge amount of money because he didn't really sell. He never worried about the art market and the art mafia, he had his vision and that's what he stuck to. As he said: "Surely art is supposed to be irreverent?" Art should be rather underground and question things.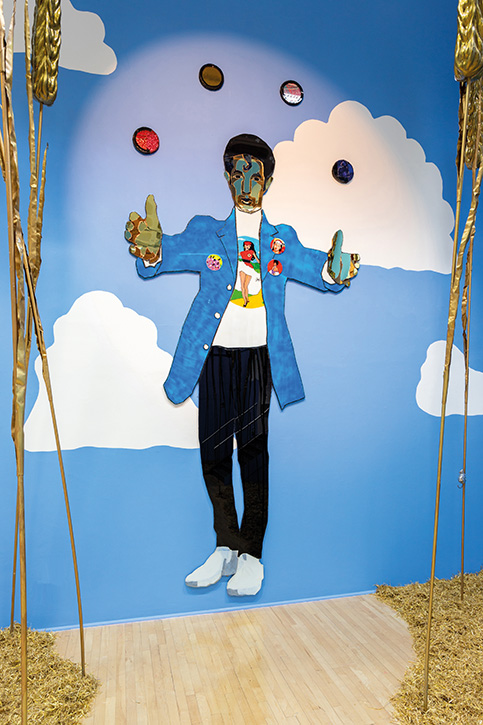 'I was very privileged really to have known Duggie over so many years. A lot of friendships come and go, but we were constant. I shall miss him, but it helps so much to be working on his portrait. Artists are lucky to be able to do that.'
One of the friends Logan and Fields had in common was Luciana ('Lulu') Martinez de la Rosa, a great character and a bold painter in her own right.
Logan describes her: 'She was bisexual, so she had girlfriends and boyfriends, and she was luscious, she was beautiful. An Italian beauty: long dark hair and red lips. She was my Scintillating Secretary for The Alternative Miss World, but she retired from that when she went to America. She had gone to California and set up house there, because she'd had no luck with her paintings in England and she thought all the movie stars would want to have a portrait done. But they didn't, for some reason. I have such fond memories of Luciana. She even looked glamorous in a towel!'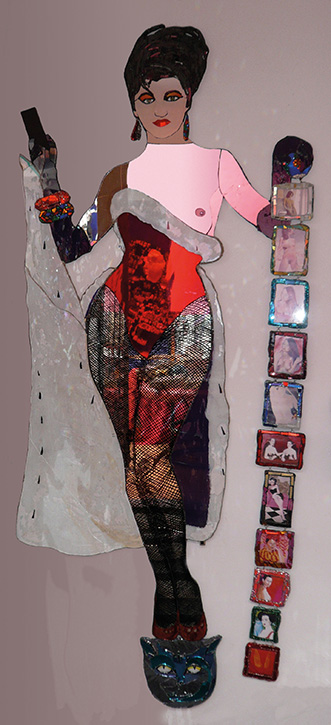 'Luciana had her own very individual look, like Frida Kahlo, who she dressed like at one stage. She loved clothes, so any new designer who came along, even before they were known, she'd be wearing their costumes. And her liking for just wearing a black slip as evening wear, with all my jewellery of course, well, no one else was doing that. It was kind of shocking then. She was always one step ahead somehow. She used to wear lots of my bracelets up her arms, a bit like Nancy Cunard in the 1930s. She lived opposite Quentin Crisp in Beaufort Street and I remember having tea with my mother at Luciana's and Quentin came over.'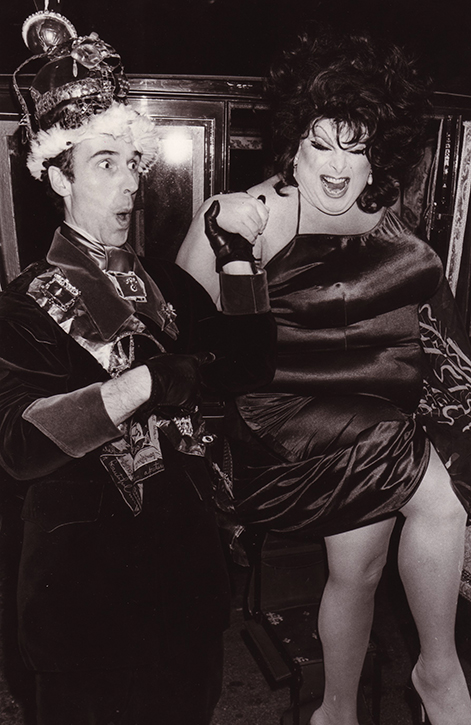 In 1980, Logan and a group of friends were staying in Cannes for the Film Festival, as a film about The Alternative Miss World, entitled I Wanna Be a Beauty Queen, directed by Richard Gayer, was being launched.
Logan takes up the story: 'We were given Colette's villa to stay in. We had a ball! We never went to any films. Well, we did go to one, Divine and myself, because Divine knew the secret. You go in, up the red carpet, flash the photographers lots of smiles, then nip out the back door. So we did that! Divine had started life as a hairdresser. Luciana had long thick black hair, and of course he back-combed it. She ended up with a two-foot beehive, and she kept that look for quite a while. It was fantastic.'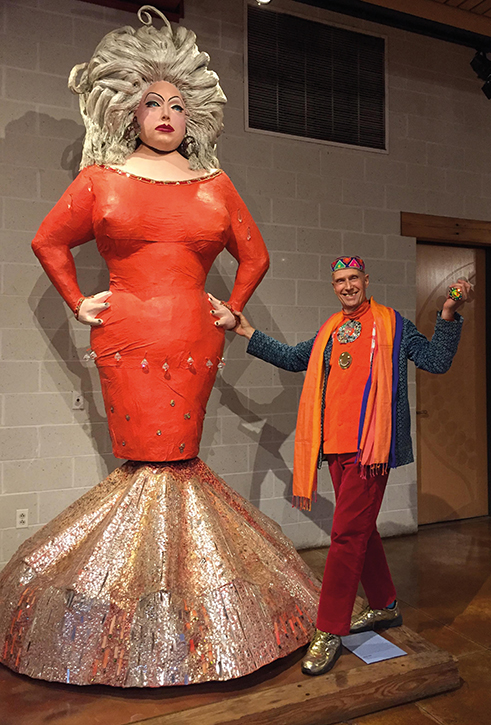 Another of Logan's monumental portraits is the articulated sculpture of Divine in a Pink Flamingoes outfit with his hands on his hips: the fishtail moves, then the body moves, then the head moves as well.
Andrew recalls how he met the actor, singer and drag queen. 'I first met Divine in 1977 at the Queen's Jubilee when they were doing the river procession. Zandra brought him to our Jubilee party at the studio. We had a mannequin of the Queen standing on the flap by the loading doors on the quayside. That's where everyone would sit to watch what was going on. We had the mannequin there waving, and Prince Philip came out on the boat and waved back. That was a wonderful day.'
Andrew first met Derek Jarman in the early 1960s. 'I suppose I really got to know him properly when I did the first Alternative Miss World in 1972. He was a friend of Robert Medley, who was a judge, and part of that gang. Then in 1973 he filmed it.'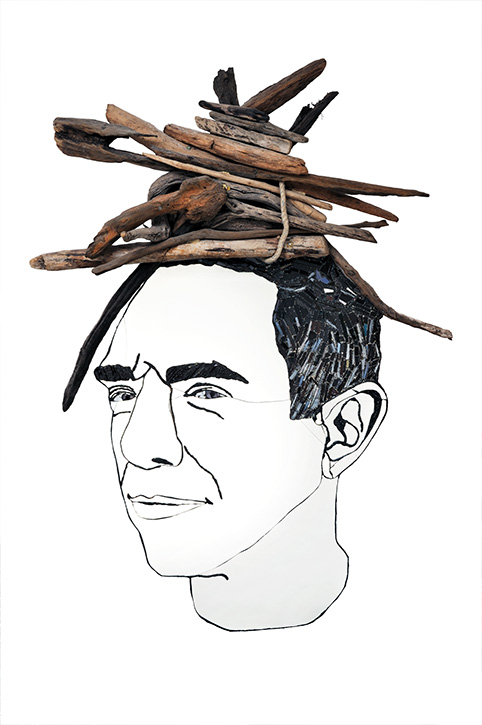 In 1975, Jarman won The Alternative Miss World. 'He was in radical drag,' remembers Logan, 'he was Juliet's nurse in daywear; swimwear was a kind of evening gown and he had a frog with diamond earrings on his head (which I still have in the studio); and his evening wear was a sort of Greek-Roman armour beautifully made out of silver cardboard. He brought on his own interview on a tape recorder, a Walkman. It was very clever.'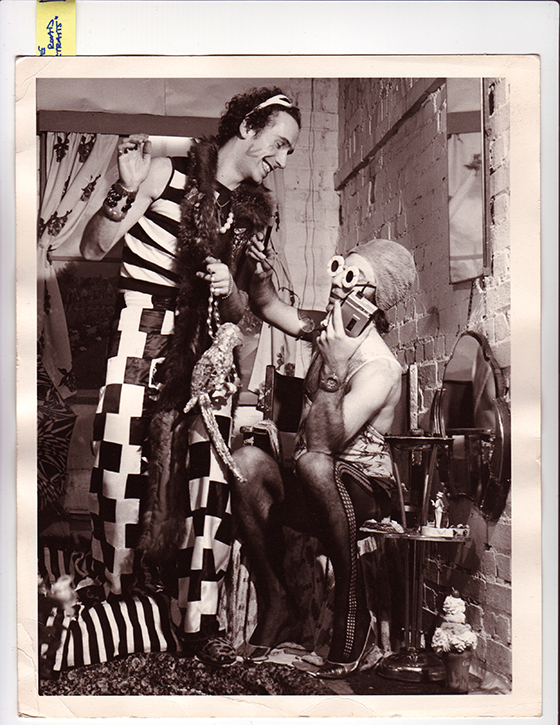 I wondered whether Logan rated him more as a film director than a painter. 'We used to go to the premieres. I remember very early on everyone was awful, they'd all come out and say, "Oh God, not this again!" But that's just friends, isn't it? Yes, I think he was a good director. I think he was able to get work out of people that perhaps others couldn't. He had a casual approach: "Let's have a joint and then do a bit of this". He was very informal. I remember when he directed Sebastiane: it was all very easy, it was like having a party with Derek. He was having a lovely time. There was no angst or anything. My memories of Derek are of having fun! We were celebrating our lives at that time, and we were very lucky that we could.'
Andrew Lambirth, art critic and author of Reflections (Unicorn Press)
An exhibition of sculpture, costume and printed material entitled 'Andrew Logan's Alternative Miss World' celebrates 50 years of this iconic countercultural pageant, showing at the Leicester Gallery, De Montfort University from 13th July to 22nd October 2022.