On 30th June 2020, just as Britain was coming out of summer lockdown restrictions, a brand new six-metre-tall, unpatinated bronze sculpture by Tony Cragg (b.1949) was installed outside of the new Bundestag building in Berlin. The sculpture was commissioned by the art advisory board of the German Bundestag and inaugurated that day by Claudia Roth, President of the German Bundestag and Chairperson of the Green Party in the European Parliament.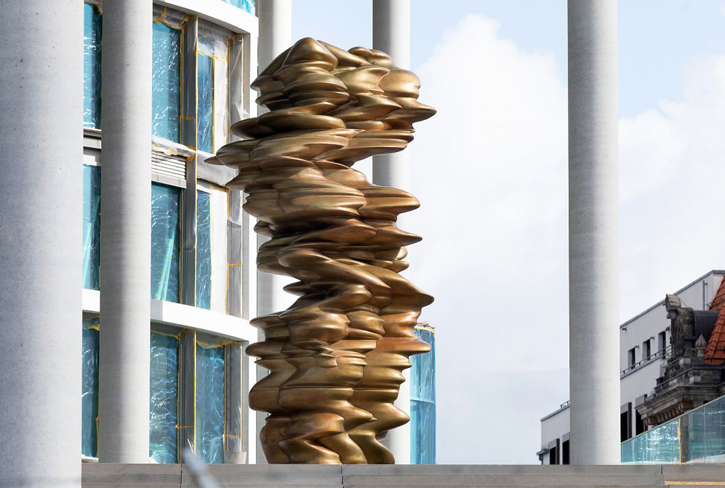 Positioned beside the new building, this large sculpture stands on the city loggia of the Marie-Elisabeth-Lüders-Haus and at the culmination of the Band des Bundes ('Federal Ribbon') which stretches for just under a kilometre: a bridge formed by Berlin's government buildings connecting former eastern and western parts of Berlin across the River Spree.
The work is one of Cragg's elliptical columns and is called Werdendes, meaning 'that which is becoming'. It is an evocative title, not only resonant of things emerging and coming into being, but also of change and development more generally. The parliamentary poetry of the word is fitting, but so is its broader contemporality.
When I caught up with the artist in his studio recently, it was clear that the special quality of this commission shines through. As Cragg explained: 'It is an honour. It is a remarkable site and a very public place to install a sculpture. It is at the centre of the city of Berlin and a place which is frequented by a huge number of people on a daily basis.'
Cragg's work has been in the public eye for many years now and it occupies a fascinating place within the sculpture cultures of both Germany and the United Kingdom. Works by him, mainly dating from the 1980s and 1990s, can be found in a number of important UK collections.
New Stones: Newton's Tones (1978) and George and the Dragon (1984) sit in the Arts Council Collection and Kolbenneblok (1989) in the grounds of the Scottish National Gallery of Modern Art in Edinburgh, while Britain Seen from the North (1981), Axehead (1982) and Raleigh (1986) are in Tate's collection, and Dancing Columns (2000) in the Government Art Collection.
Alongside these works, Cragg's extraordinary Terra Novalis (1996) can also be seen on display on the outskirts of Consett in County Durham, a place associated with the steel manufacturing industry. Cragg's large stainless-steel sculpture paid tribute to this 150-year history and to the district's steelworkers.
Cragg first emerged as an artist in the late 1970s, soon becoming a key part of the New British Sculpture movement in the 1980s, and he has been exhibiting internationally ever since. His career in Britain started in 1977 when, at 28 years of age, he was the youngest artist to be invited to contribute to the 'Silver Jubilee Exhibition of Contemporary British Sculpture' in Battersea Park. The same year he moved to Wuppertal, in the Nordrhein Westfalen district of Germany, where he still lives and works today. There he also now runs the impressive Sculpture Park Waldfrieden, where he has staged exhibitions of the work of many artists over the last decade or so, including Henry Moore, Richard Long, John Chamberlain, Jean Tinguely, Luise Kimme, Markus Lupertz, Sean Scully, Eduardo Chillida and Mario Merz.
Cragg has also always been very involved in art education in Germany, working for 35 years at the Düsseldorf Academy and then – after a stint as Professor at the University of the Arts in Berlin – going back to Düsseldorf to become Director there. It was thus with good reason that Cragg was awarded a knighthood in 2016 for his unique and longstanding contribution to the visual arts and to Anglo-German cultural relations.
Despite the pandemic, Cragg has been busy with a number of other projects.
'There are always several concerns going on in my work at any given time. One is completing larger projects and bringing them to fruition. The other is constantly working to make new forms and new sculptures in the studio. I've been doing lots of new drawings in recent months and so the studio work continues at a good pace. I came into 2020 already working on several larger projects. I have just finished making the largest stainless-steel sculpture I have ever made for a private collection in England and hope, restrictions permitting, to install it in the next few months. I also exhibited a new seven-metre high sculpture in a new museum in Wiesbaden and a large sculpture in St Agnes' Church in Köln.'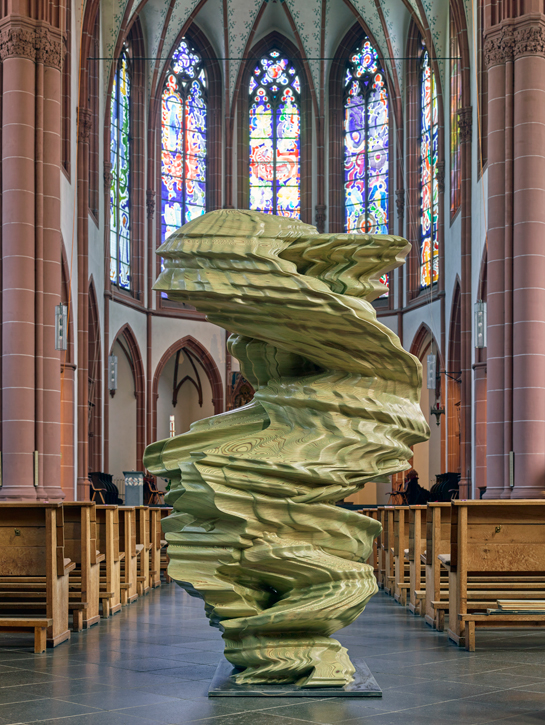 Cragg pointed out the importance of the church: 'St Agnes is a very large church, the second-largest in Köln after the cathedral, and they have had a tradition of showing sculpture there over the last 30 years. It was exciting to work in that enormous space. I was very happy with it and interested to see it in that context.'

At the same time, Cragg has also just installed a three-part sculpture in a public space inside a new building very near Central Station in New York and so he has been working across a range of different kinds of public spaces.
When asked what he thinks nowadays about the shifts in physical size required for these projects and the effects of such recalibrations, Cragg replied that: 'I know how big things can be made, but I don't really see the necessity for that. I don't really want to 'break space'. I see it more as an adventure and as part of my wanting to develop the work and see what happens when one or other of the works gets bigger. I'm always very struck by what that involves. The way the surface works and the tempo and the rhythms of the volumes change as well. The contours also become much more critical. You start to see it less from the side and you begin to get views looking up at the work, views you have never thought of before.'
His preoccupation with sculpture as a dynamic art form and its relation to the space it occupies is also reflected in the title of his recent exhibition, 'Inhabitants: Sculpture', at Galerie Ropac in Paris. The exhibition, which opened in September before going online as an exhibition, features a dozen sculptures in bronze, steel and wood, made between 2018 and 2020.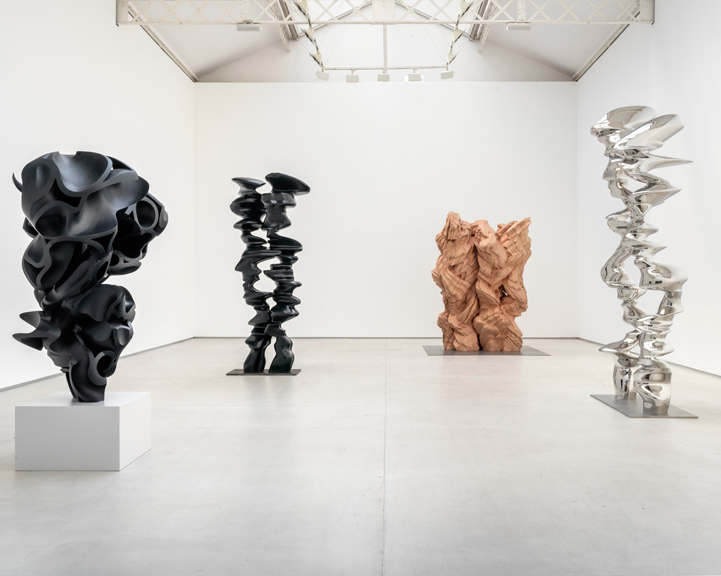 As is often the case with Cragg's work, objects and organisms share the same space: materially, biologically and emotionally. As he reflects: 'I have always talked about things, as well as people, inhabiting places. 'Inhabitants' does imply a population, something living and vital that inhabits the space.'
2020 has been, if nothing else, a year of great change, and it will be fascinating to see what this prolific artist has in store for us in 2021.
'Inhabitants: Sculpture' runs at Galerie Ropac, Paris until 23rd December 2020 (online only). To see more works by the artist visit tony-cragg.com
Jon Wood, independent writer and curator