Nahem Shoa (b.1968) is a contemporary painter based in Notting Hill. An artist on the rise, he's best known for his detailed oil portraits of Black and brown sitters.
This year, Nahem has curated an exhibition of portraits by artists including Sonia Boyce, Chris Ofili, and Desmond Haughton, entitled 'Face of Britain' at Southampton City Art Gallery. Alongside these contemporary painters, you'll also see portraits from across the centuries, by figures such as Anthony van Dyck to John Singer Sargent and Gwen John.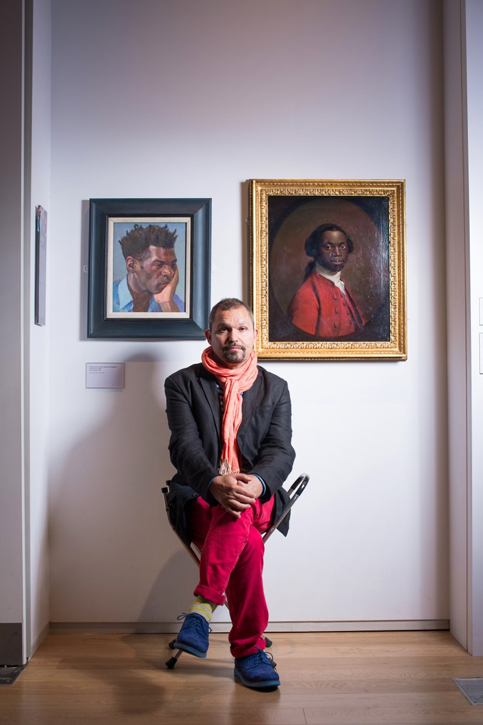 The show is open to the public and will remain so until 20th February 2021 (though due to COVID-19 the show may temporarily close). In celebration of his show, I sat down with Nahem to discuss how identity politics forms the basis of his work. In particular, how London's multiculturalism underpins his approach to portraiture, which shines a light on the rarely 'monumentalised' faces of Britain. The underlying question of his show might be: what does it mean to be British in 2020?
Siham Ali: Your oil paintings are striking and, more times than not, your sitters are people of colour. Can you tell us what led you to specialise in portraiture painting, and what attracts you to your subjects?
Nahem Shoa: It was one of my father's best friends and a genius painter named Robert Lenkiewicz. He was famous for painting neglected and ostracised individuals and communities, which turned into his 'Vagrancy Project'. I would go to his studio as a four or five year old, and I remember how exciting it all was. After I dabbled in graffiti art at around 16, Robert offered to teach me how to paint. He urged me to go check out Jasper Johns, and The Toilet of Venus ('The Rokeby Venus') in The National Gallery.
I knew all of the painters back then but my friend Desmond Haughton and I were kept out of the club. In the 1970s racism was rife – with the National Front chasing you down the street. I wasn't seeing many positive images of Black people so I began painting them and painting them well. It was a need, especially as I had a lot of diversity around me, in my friendship group, and where I was brought up. I needed to paint what I knew. The only Black imagery you saw in British art was of servants and slaves, and pageboys in people's properties – and they were never given names. I needed to change that.
Siham: Your 'Face of Britain' exhibition at Southampton City Art Gallery has brought together artists like Sonia Boyce, Chris Ofili, and Desmond Haughton to question what 'Britishness' means. What do you think it means to be British today?
Nahem: Firstly, the title of the exhibition 'Face of Britain' is very provocative. There's so much history behind the whole project, and it's essentially putting 'Britishness' under a lens. I was born here, but my whole life I've been asked 'where are you from?'
My world is very multicultural, I grew up in Notting Hill and my friends are from all different backgrounds and so I wanted to create a provocative title. I also wanted to include some masterpieces by Van Dyck, Gwen John, John Singer Sargent, Chris Ofili as well as Peter Doig. I asked myself, how do I tie it all together?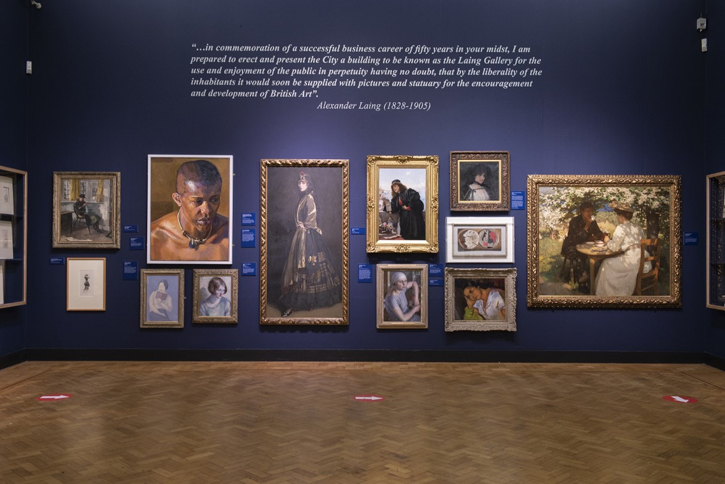 Siham: You've described yourself as a master of colour who only uses hot and cold colour palettes – can you tell me about your use of colour, and specifically the complex nature of painting skin tones?
Nahem: It's a challenge but I'd say I have a natural skill for painting skin – white or black. I don't use brown, ombres, or blacks in my palette – because skin varies and there's no blueprint. It is somewhat political.
Giant Head of Gbenga was the first of the giant heads, and it took me the longest to complete. Gbenga's pose is so gentle and quiet and the mood is soft. I wanted to break the stereotype of the aggressive Black man, as it's so terrible and false. I use the same palette whether I'm painting white or black skin. I ensure I have a hot and cold orange, blue, red, and so on, as you can create any colour from the rainbow with those.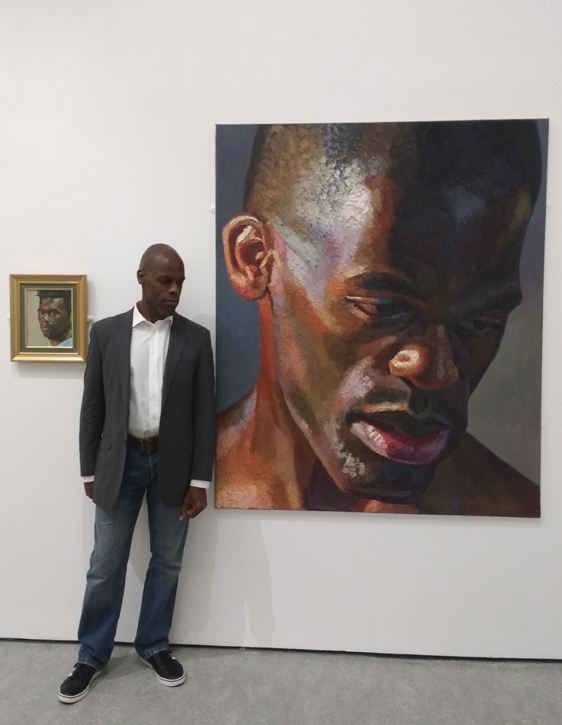 Siham: What is your painting process? Are you measured with the brush, or do you let the colours guide you?
Nahem: It's both. There's no underdrawing – I just get the shape and the colour of the tone in the right place. It looks like abstract blobs of paint for a while and in the first session, I cover the whole canvas. At first, it looks furious and wild as I tend to frantically paint. After the first session, I begin to paint the subjects talking and moving, as I'm trying to paint life – and life is not often very still.
Siham: Did you stumble across any initial challenges when putting this exhibition together?
Nahem: I thought I might because I had this wishlist of paintings I wanted to borrow from various collections. Luckily I was able to secure them all, including work by Chris Ofili and Sonia Boyce.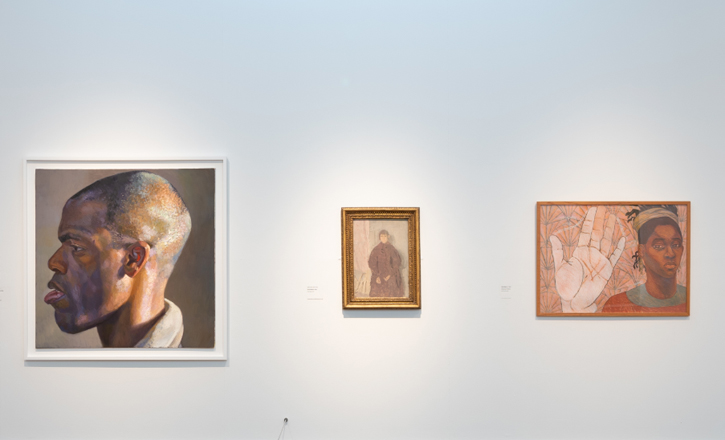 Siham: You've spoken publicly on the reality of institutional racism in the art world, and how it has on countless occasions prohibited you in showcasing your work in prominent galleries.
Nahem: It's getting better but we're not completely there yet. I've had interviews, emails, and discussions with various institutions – most recently Tate. I offered them some of my work, – and look, at least I'm getting responses now! I did a painting of a subject taking the knee back in 2002 and I remember that being rejected by institutions. I'm 50% there and these institutions are seeing me as a person for the first time.
Siham: When you walk into spaces like the National Portrait Gallery, you are often met with the same homogeneous white faces on the walls. Last year, British rapper Stormzy's portrait by Mark Mattock was hung up at the National Portrait Gallery, and it was described as a 'contemporary intervention'. How do you think race influences portraiture, self-portraiture and our perception of diversity?
Nahem: Right now you have Lynette Yiadom-Boakye at the Tate and Jennifer Packer at the Serpentine, which is just fantastic. Of course, Black artists should be showcased at these levels: if you're good at something you should be rewarded for it. I think the portrait is a very powerful weapon for change, because it becomes iconic, like the Stormzy portrait. You know, things are changing, but never as fast as you would like.
Siham: And finally, what makes a great portrait, and how important is the sitter and painter's connection to one another?
Nahem: I love people. I love talking to my sitters. When you paint people it's not about you, it's about them. I paint from live models, rather than photographs because I want to be in the moment every time. All of the pieces from my 'Giant Heads' collection were painted live. I wanted to be in the now and so I changed things radically. Over many months, I spent over 600 hours painting Giant Head of Gbenga. Relationships do form and that's important.
View this post on Instagram
I'm not in the business of vanity, so I tend to not take commissions – meaning I paint those I know – some are friends and others later become friends. It's a beautiful thing – painting life.
Siham Ali, freelance writer
'Face of Britain' at Southampton City Art Gallery runs until 20th February 2021 (subject to COVID-19 updates).